This post may contain affiliate links. Please see my full
Disclosure Policy
for details.
This delicious Baked Eggplant Parmesan Pasta is one of the best things to come out of my kitchen this year! I've always been intimidated by eggplant – if not cooked correctly, it can be pretty tough. Eggplants are little sponges, so the traditional fried version is extremely greasy. This recipe is so easy, it will be sure to be a family favorite!
Today I'm partnering with Chickapea Pasta ~ Chickapea Pasta produces organic, gluten free pasta made from just 2 ingredients – chickpeas and lentils.  Thanks for supporting me and the brands I work with. I only share this space with the very best ~ and that's a promise.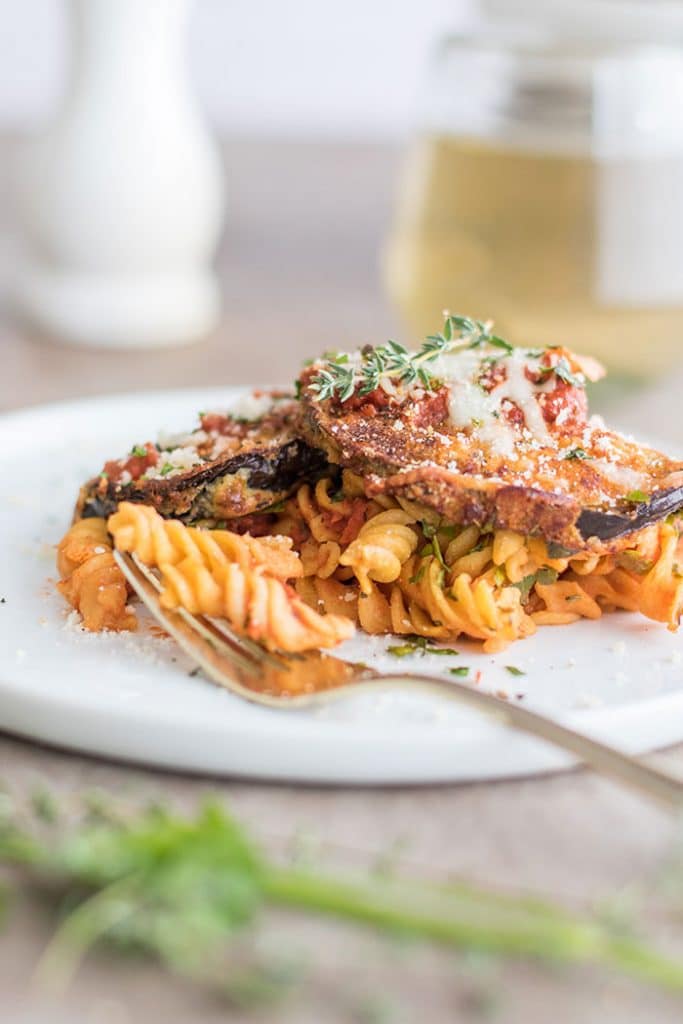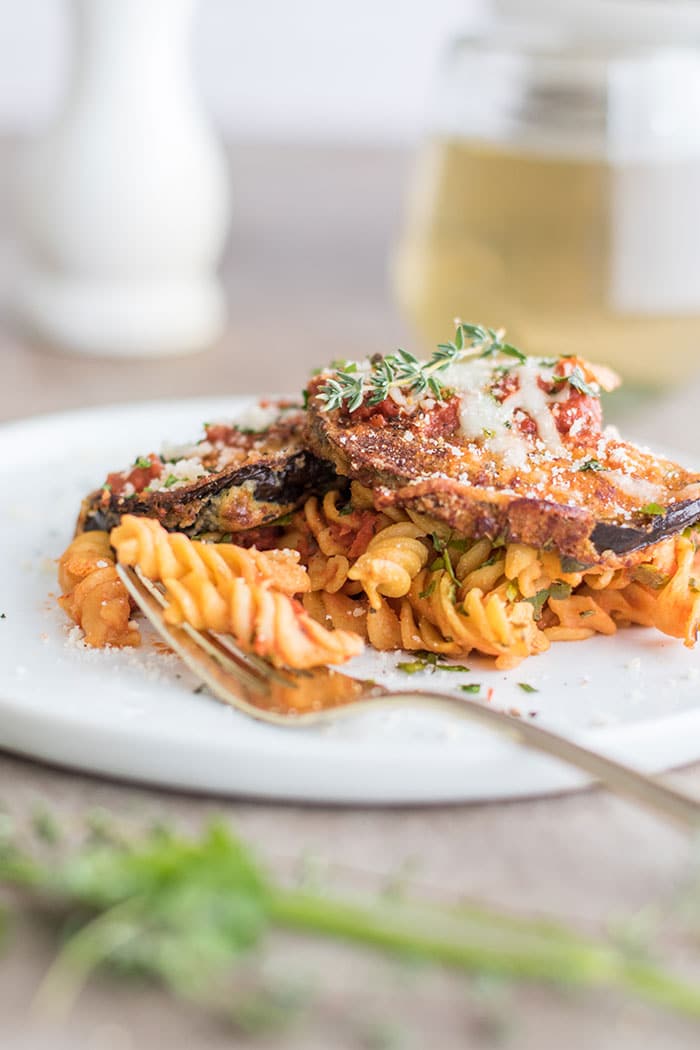 I worked in restaurants throughout college, and learned a lot about food in the process.
At that point, I had already began my healthy eating journey, and because of being overweight and having to lose weight as a teenager, I already knew all about calorie counting and was fairly knowledgeable about nutrition.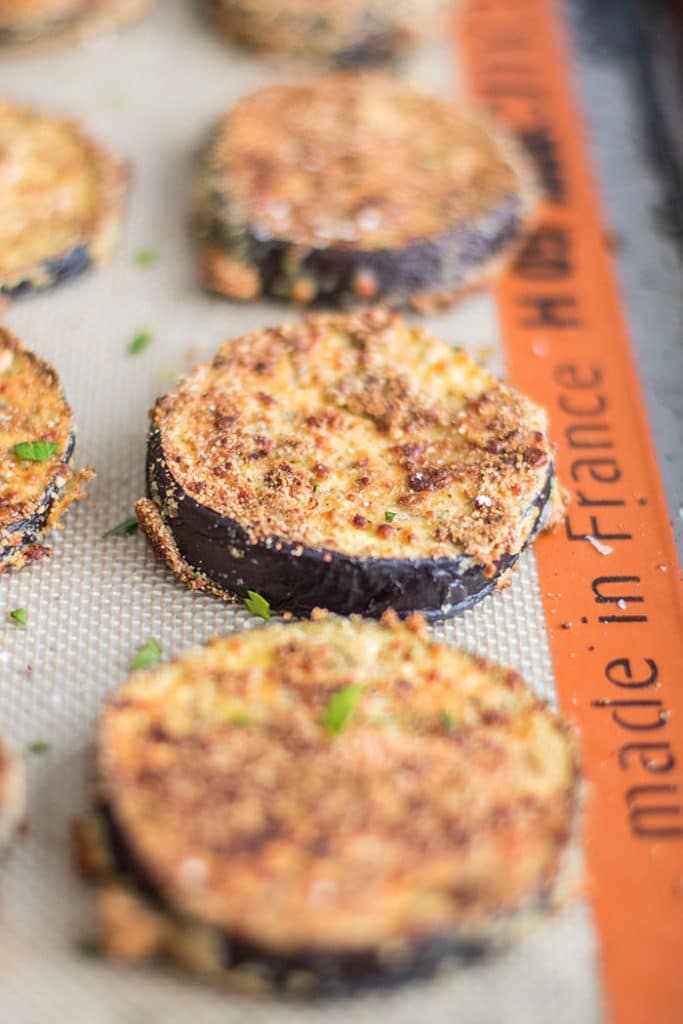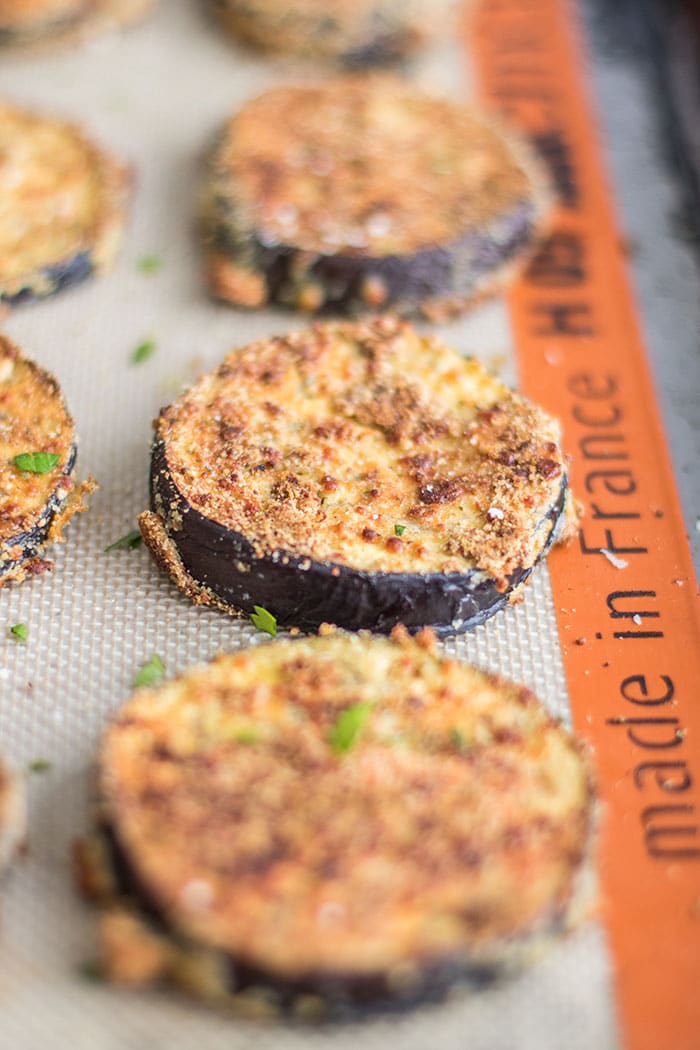 My first job serving tables was at an Applebees. The most popular lunch item by far was the Oriental chicken salad. I used to silently laugh when women would come in and make a big deal about having a "light lunch" and then order it. It had more fat than a cheeseburger and fries — fried chicken, fried crunchy noodles, all saturated in a dressing whose main ingredients were sugar and chicken fat.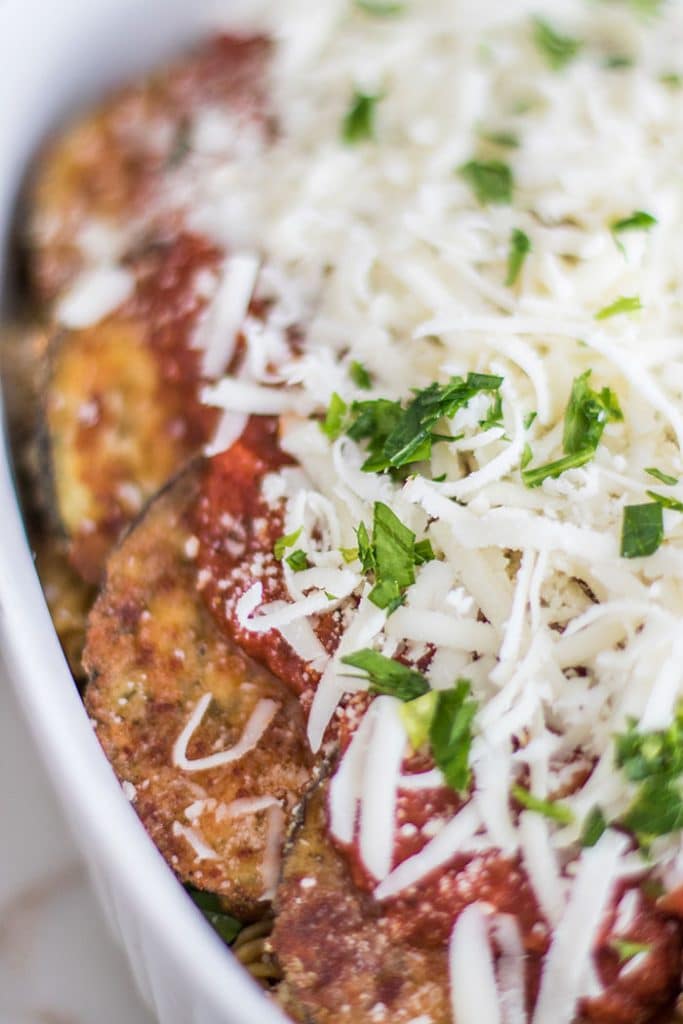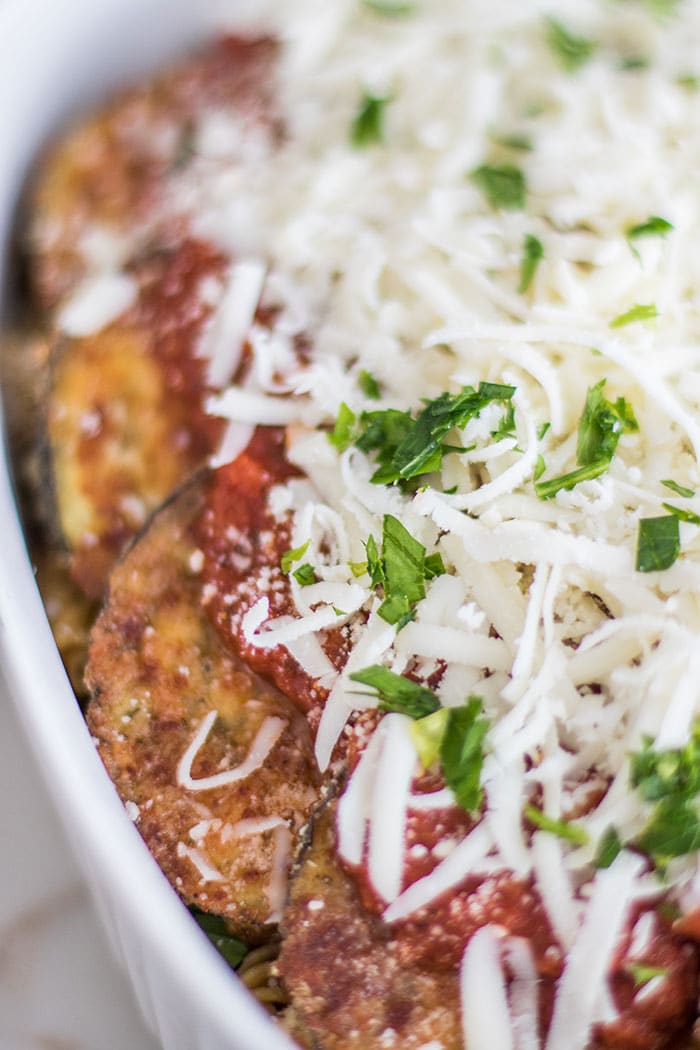 My roommate at that time worked at The Olive Garden. She also had access to the restaurant's nutrition facts (at the time, these weren't available on menus like they are now). The equivalent of the Oriental chicken salad at the Olive Garden was the eggplant parmesan. I wasn't happy to hear that, because it was my favorite dish!
The first time I tried to make eggplant parmesan at home, I tried to lightly pan fry it – only to find that as I added slices of eggplant, the oil in the pan would quickly disappear. Eggplants are little sponges, and they absorb whatever liquid they are put in – so if you're adding them to a pot of oil, they become completely saturated with oil.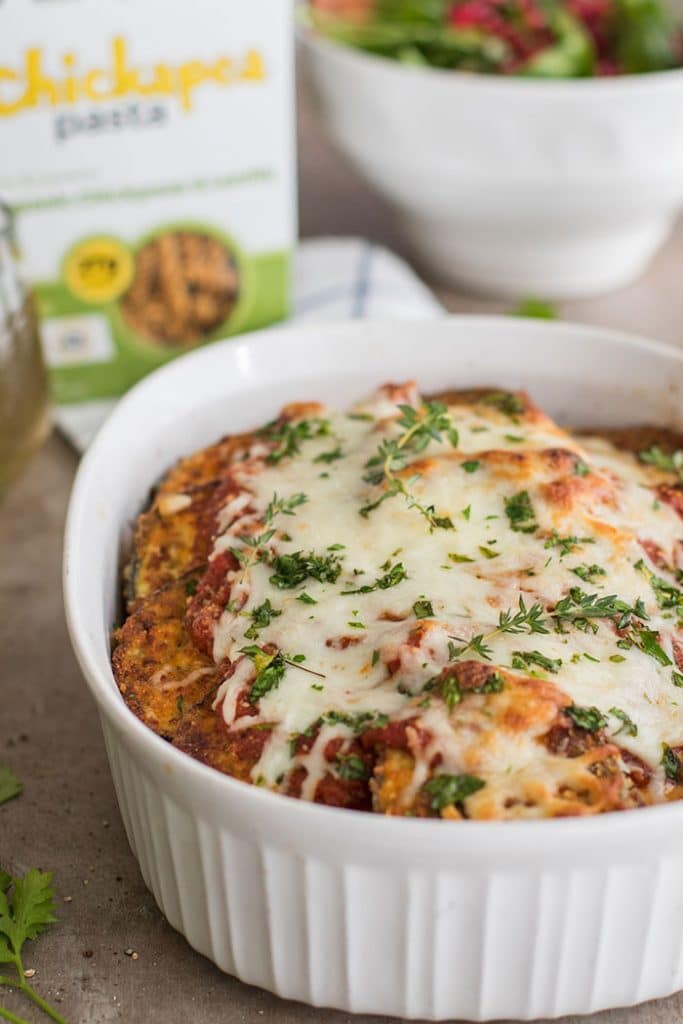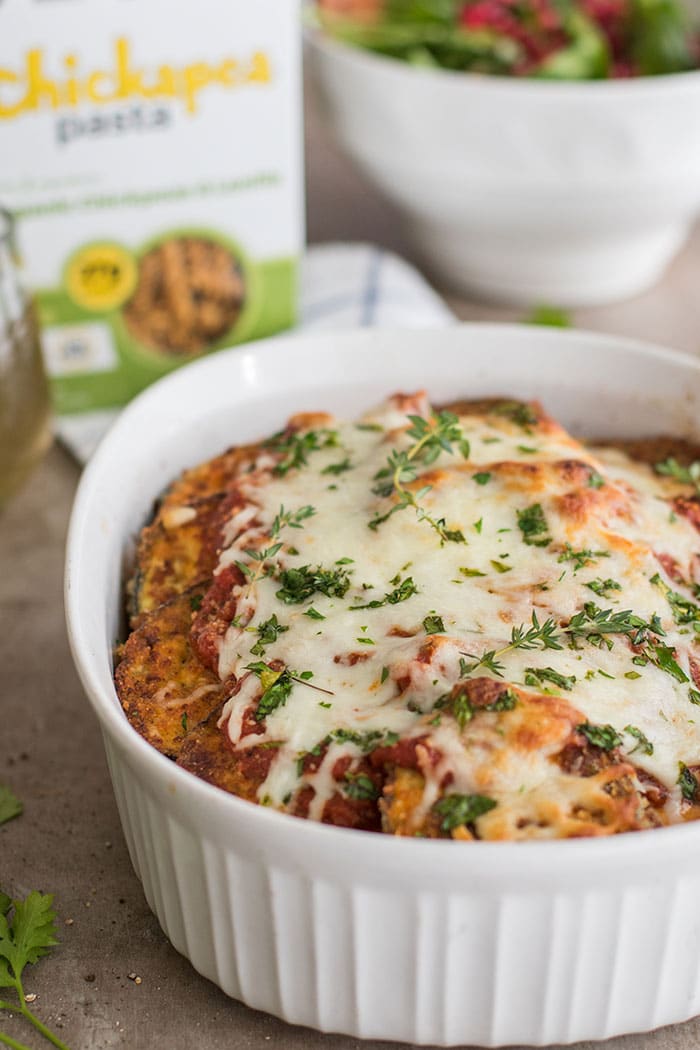 I have long been wanting to come up with a recipe just as delicious as a restaurant version of eggplant parmesan, but infinitely healthier.
To keep this recipe gluten free (and nutrient packed!), I subbed breadcrumbs for some ground up brown rice cereal (my favorite trick for gluten free breadcrumbs!) and almond flour (because healthy fats are a good thing!).
I had planned on lightly spraying these with olive oil, but I forgot — and discovered it's really not necessary. The parmesan cheese and gluten free "breadcrumbs" browned nicely and made the eggplant slices perfectly crunchy and flavorful.
Instead of serving pasta on the side, I added gluten free Chickapea Pasta into the baking dish, and covered it with a layer of eggplant slices and cheese!
Chickapea Pasta is a favorite – it's an excellent alternative to white pasta for anyone, not just those requiring a gluten free diet. It is made from only 2 ingredients- chickapeas and lentils (I love a short ingredient list!), meaning it is high in protein and fiber.
Creating this Baked Eggplant Parmesan Pasta with Chickapea Pasta makes it extra good-for-you, but it's still packed with all the delicious and comforting flavors and textures of the original dish!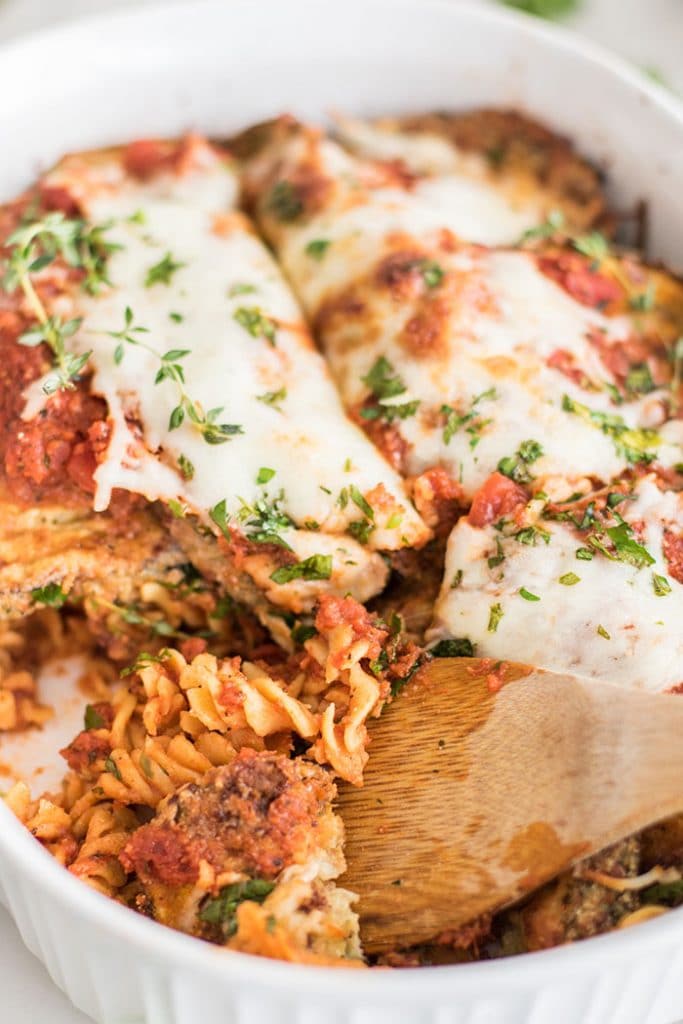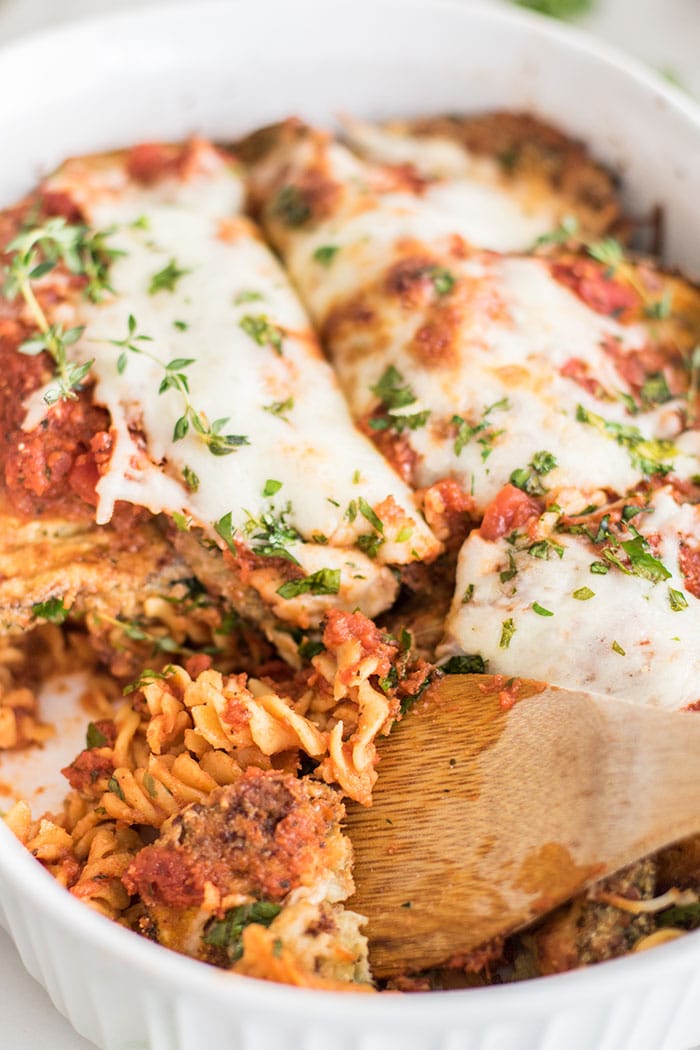 If you're looking for other healthy and comforting pasta dishes made with Chickapea Pasta, try one of these ideas!
Tips for Baked Eggplant Parmesan Pasta
Chickapea Pasta has 27 grams of protein per serving — meaning it's ideal for vegetarian dishes. Subbing this pasta keeps a vegetarian pasta dish from being overly-carb laden. This dish has 30 grams of protein if using Chickapea!
Make it Gluten Free: This recipe is made gluten free by using blended brown rice crisp cereal in place of breadcrumbs, and with organic Chickapea Pasta.
Make it Ahead: This is the perfect meal for the upcoming holiday season! Baked dishes are great for company because it's easy to make them in a large batch, and easy to prepare ahead of time. Chickapea pasta absorbs a lot of liquid, so if preparing this ahead of time, I would recommend baking your eggplant slices, and cooking the pasta, but not assembling the casserole until ready to put in the oven. This will keep the dish tasting as fresh as possible!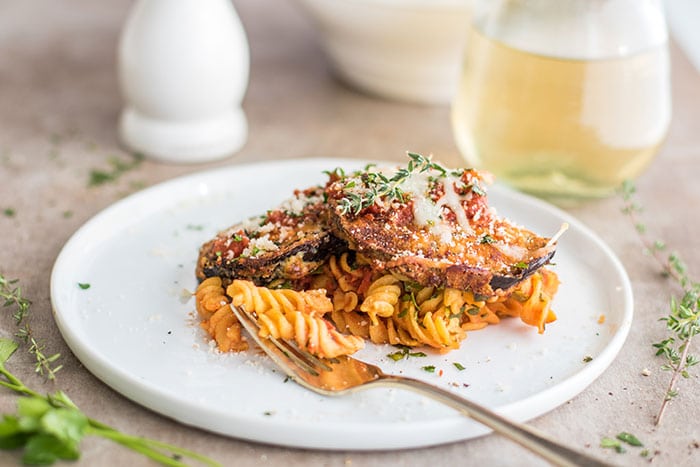 Baked Eggplant Parmesan Pasta
This comforting pasta casserole has all the amazing flavor of a traditional eggplant parmesan recipe, but made gluten free with Chickapea Pasta, and with homemade gluten free breadcrumbs. Baking the eggplant instead of frying it saves a ton of calories making this a very healthy dinner choice!
Print
Rate
Servings:
4
large servings
Ingredients
Pasta Bake
1

box

Chickapea Pasta

1

jar

marinara sauce

organic, if possible

1/2

cup

parsley

chopped, optional

3/4

cup

mozzarella cheese

shredded
Instructions
Preheat the oven to 425 degrees F.

Line a baking sheet with a Silpat mat, or with baking paper. If neither of these options is available, use olive oil to generously grease your baking tray.

Slice eggplant into 1/3-1/2 inch slices.

In 1 bowl, add an egg and beat it.

In a 2nd small bowl, add the rest of the eggplant ingredients (parmesan, blended brown rice crisp cereal, almond flour, Italian seasoning and sea salt).

Dip a slice of eggplant into the egg, and then coat with the parmesan breadcrumb mixture. Repeat until all eggplant slices are coated and laid out on the baking sheet. Allow a little space in between each slice of eggplant so they get crispy all around.

Bake the eggplant for 15 minutes, then flip, and bake for another 15 minutes, until slices are golden brown and crispy.

Reduce oven temperature to 375 degrees F.

Cook Chickapea pasta in a pot of boiling water for 3-5 minutes. You'll want your pasta a bit undercooked, because it will continue to cook in the casserole.

In a casserole dish, add the pasta, and then pour on 2/3 of a jar of marinara sauce. Top with chopped parsley, and then arrange crispy baked eggplant slices across the top. Top eggplant slices with mozzarella cheese.

Bake casserole for 20-25 minutes, until sauce is bubbly and the cheese is beginning to brown.

The leftovers of this dish are amazing, but if you're preparing this ahead of time for a gathering, I recommend precooking the eggplant slices and pasta, but assembling the dish just prior to baking for best results.
Nutrition
Calories:
470
kcal
|
Carbohydrates:
58
g
|
Protein:
30
g
|
Fat:
15
g
|
Saturated Fat:
5
g
|
Cholesterol:
66
mg
|
Sodium:
1393
mg
|
Potassium:
1221
mg
|
Fiber:
15
g
|
Sugar:
13
g
|
Vitamin A:
1710
IU
|
Vitamin C:
26.1
mg
|
Calcium:
374
mg
|
Iron:
7.1
mg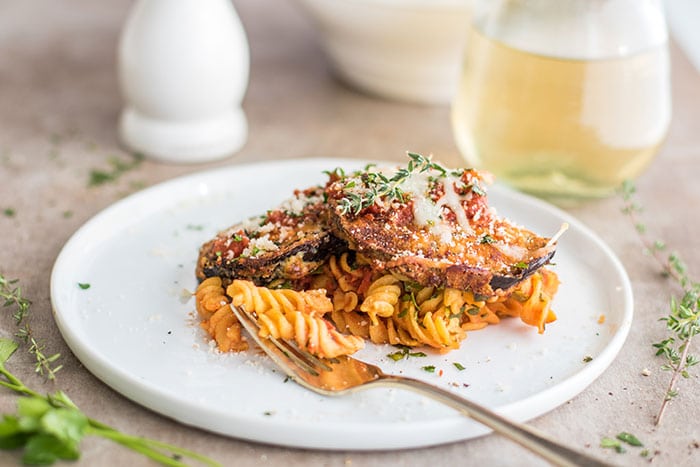 Recommended for Baked Eggplant Parmesan Pasta
I am always asked where to buy Chickapea Pasta — it is now available at over 1500 retailers across the US and Canada – but it's easy to order online if there's not a store near you carrying it yet.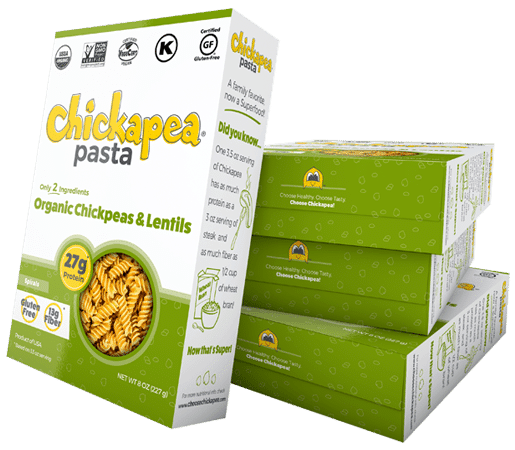 You can order the pasta through Amazon, or off Chickapea Pasta's website (<– and they offer free shipping, too!).
Also, if you follow Chickapea Pasta on social media (Facebook or Instagram), they often run specials for 20% off a featured product, making it easier to stock your pantry!
This post contains affiliate links, which means that if you click on one of the product links, I'll receive a small percentage of any purchases made.