This post may contain affiliate links. Please see my full
Disclosure Policy
for details.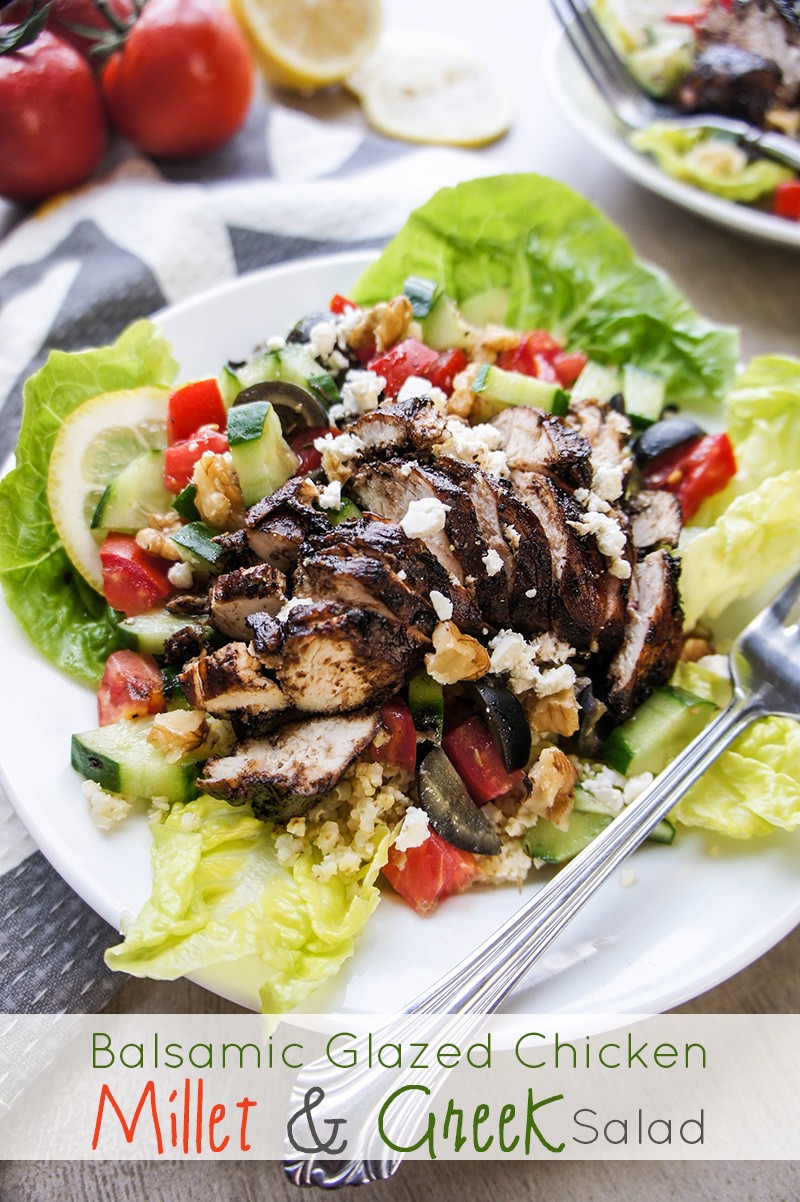 Hello chicken dinner. Or lunch.
Just like baked salmon and this Mediterranean Zucchini and Quinoa Salad, this Balsamic Glazed Chicken Millet & Greek Salad has been a repeat in my kitchen all summer– because both recipes are very healthy, fresh, dee-licious, and can be put together in 30 minutes without too much effort.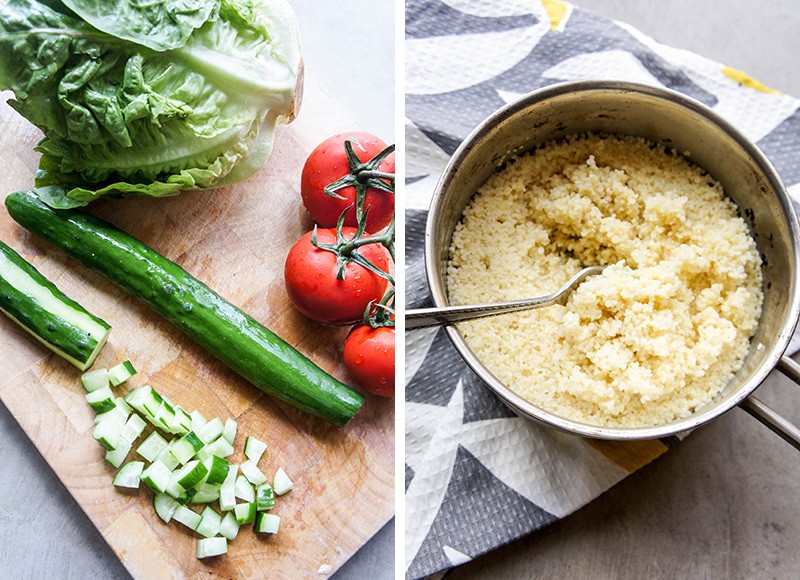 Have you ever tried millet? We love millet– I've used it in my Artichoke Millet Power Salad, and my Butternut Millet Spinach Salad. We also love it just as a side, served like rice. The texture varies a little by brand– but if you find the right one, it can have a texture like couscous, and makes the perfect gluten-free stand in in dishes like tabbouleh. If you buy a brand that cooks up more like polenta (I have, and it's actually good- but very dense!), or one that is too dry (it shouldn't be!), keep looking.
One of the things that attracted me to millet was its price! I am not sure about in the States, but here in Malaysia, quinoa prices have more than doubled over the past 5 years. Millet is 1/4 of the price of Quinoa here in Malaysia, and it looks to be about 1/2 the price in the States. (The links I included there are for price comparison reasons- I can't recommend a brand of millet available in the States–I have only started using it since moving overseas).
And, millet has more fiber, and nearly as much protein as quinoa.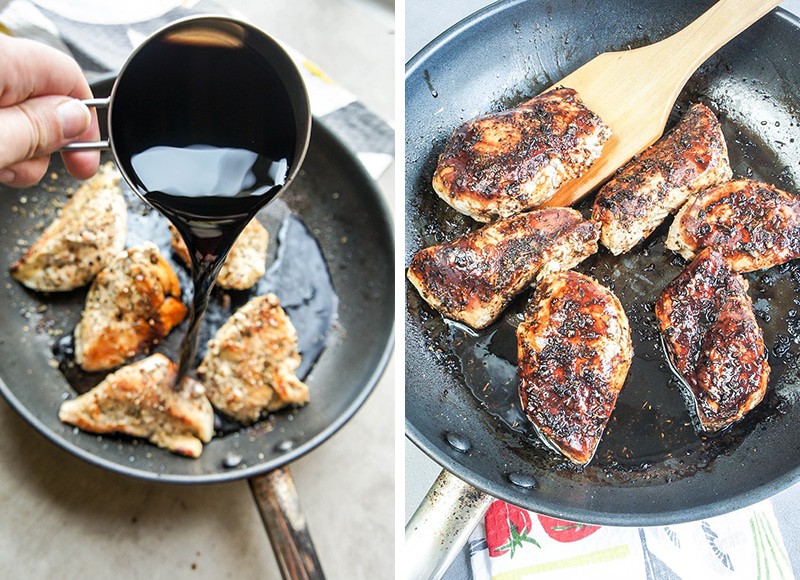 The star of this salad is the balsamic glazed chicken. It's super easy to make. Add a bit of olive oil to a pan, toss in some chicken breasts (I like to cut them in half to cover them in more sticky-sweet-deliciousness), and season with salt, pepper, italian seasoning, and some cayenne. Brown on the bottom, flip, season the top, and pour in the vinegar. Then, reduce the heat, and let the chicken simmer in the balsamic as it reduces. As you're chopping veggies for the salad, just occasionally flip the chicken to allow the sauce to soak in and completely coat it.
It's done with there is a thin layer of sticky vinegar left on the bottom of the pan, and a glaze is coating the chicken. Do not leave the chicken unattended when the vinegar is almost done cooking down, or you might end up with this. It evaporates very quickly as it thickens and you'll want to watch it to make sure it doesn't start to burn!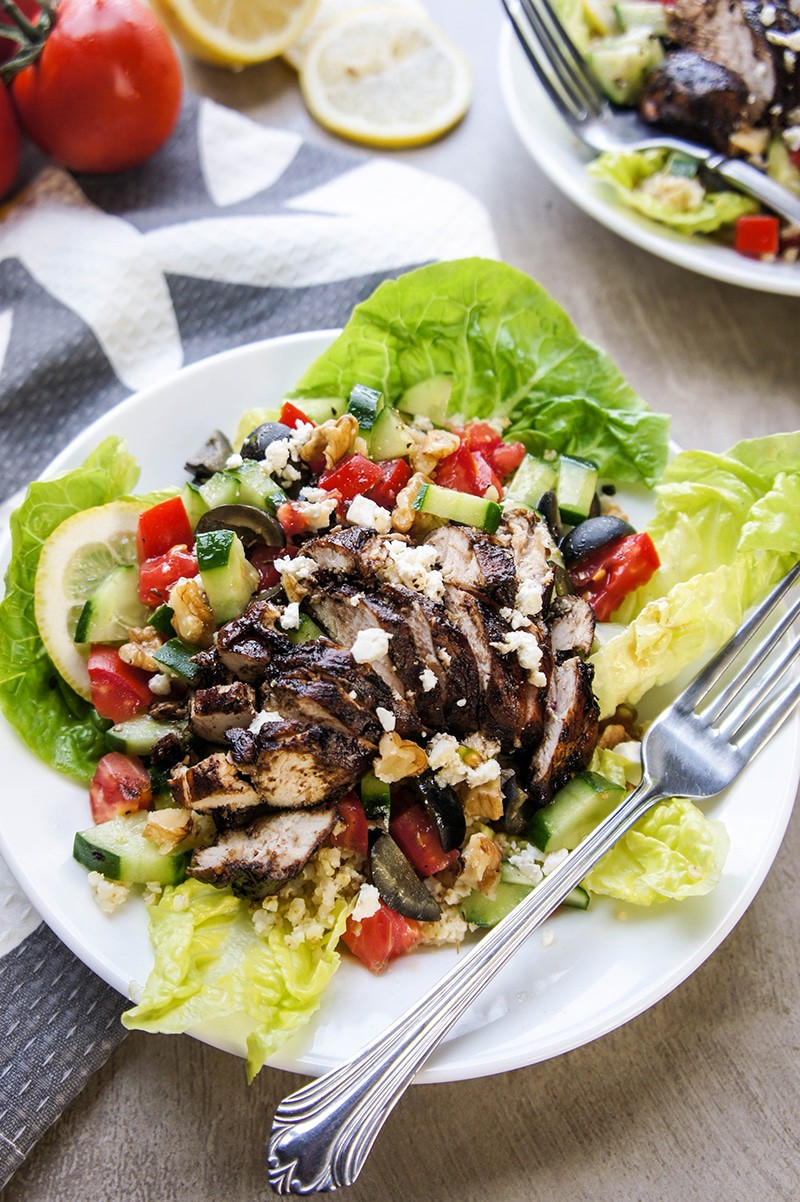 This is another perfect-for-weekday lunches salad. The components can be kept separate, prepared, for several days, making throwing together a filling, healthy, delicious lunch a snap.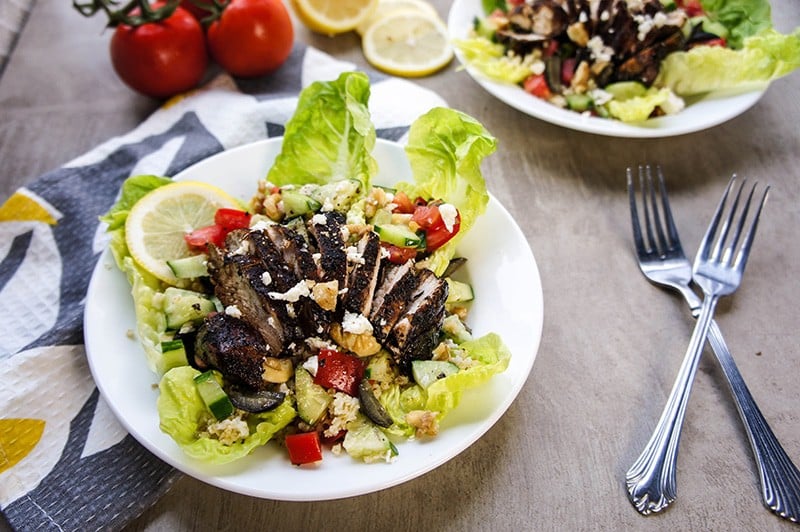 Balsamic Glazed Chicken with a Millet Greek Salad
This salad will spice up your summer dinner routine! A sweet, perfectly glazed chicken breast sits on top of vibrant, crunchy bed of vegetables and millet with a bright lemon dressing.
Print
Rate
Ingredients
Balsamic Glazed Chicken
1/2

tablespoon

olive oil

1 1/2

pounds

chicken breasts

or 3 breasts, cut in half

2

teaspoons

Italian seasoning

cayenne pepper

to taste, optional

sea salt and plack pepper

to taste

1

cup

balsamic vinegar
Millet Greek Salad
3/4

cup

millet

cooked to package directions, or follow instructions below

1

head romain lettuce

2

medium cucumbers

or 1 large

2

large tomatoes

1

can

black olives

6

tablespoons

lemon juice

2

tablespoons

red wine vinegar

2

tablespoons

olive oil

black pepper

to taste

6

tablespoons

feta cheese

optional, to garnish

6

tablespoons

walnuts

chopped, optional, to garnish
Instructions
Cook millet to package directions. For this recipe, I used ¾ cup dry millet, and 1½ cup cold water. Over high heat, bring the pot to a boil. Once it begins to boil, cover and reduce heat to medium-low. Millet will only take about 20 minutes total to cook, so watch for when the water is boiled out, and remove from heat. Fluff with a fork, then leave covered to further "fluff" for 10-15 minutes. You can either cool the millet for a cold salad, or spoon it over still hot.

In a large frying pan over medium-high heat, add olive oil and chicken breasts (cut in half- you'll want 6 4-ounce portions). Season with spices, and allow to brown.

Flip chicken over, and season the other side. Then, reduce heat to medium-low, and add balsamic vinegar.

Continue to cook on medium low for 15-20 minutes, until balsamic has turned into a glaze. Ocassionally flip chicken to evenly coat with the glaze. The glaze is done when it no longer has a "vinegary" taste, is sweet and thick, and there is only a thin coating on the bottom of the pan left.

Remove chicken from heat.

While the chicken is cooking, prepare your salad.

Chop cucumbers, tomatoes, and olives, and put in a bowl. Add olive oil, lemon juice, and red wine vinegar. Season with black pepper.

If serving the whole recipe right away, layer romaine, chopped vegetable mixture, and millet on each plate. Top with chicken, and optional feta and walnuts. Drizzle extra salad dressing or spoon extra balsamic glaze over the top to serve.

If only serving part, and reserving leftovers, mix the leftover millet and chopped vegetable mixture. Leave the romaine lettuce and chicken separate, as well as the garnishes. Put the salads together before serving.

Adding the millet to the vegetable salad will keep it fresher. Millet tends to dry out quicker than other grains, but the lemon juice and olive oil will keep it tasting fresh for up to 3 days.
Notes
*Nutrition Facts include feta cheese and walnuts.
Nutrition
Calories:
543
kcal
|
Carbohydrates:
35
g
|
Protein:
33
g
|
Fat:
30
g
|
Saturated Fat:
6
g
|
Cholesterol:
88
mg
|
Sodium:
1349
mg
|
Potassium:
866
mg
|
Fiber:
7
g
|
Sugar:
11
g
|
Vitamin A:
1193
IU
|
Vitamin C:
16
mg
|
Calcium:
175
mg
|
Iron:
3
mg

Other Healthy Gluten-Free Grain Salads: