This post may contain affiliate links. Please see my full
Disclosure Policy
for details.

The Best Vanilla Iced Coffee made with non-dairy cashew milk. If you're looking for coffeehouse quality, but a healthier option, you'll love this easy-to-make Vanilla Cashew Iced Latte.
This post is sponsored by Nespresso. All thoughts and opinions are my own.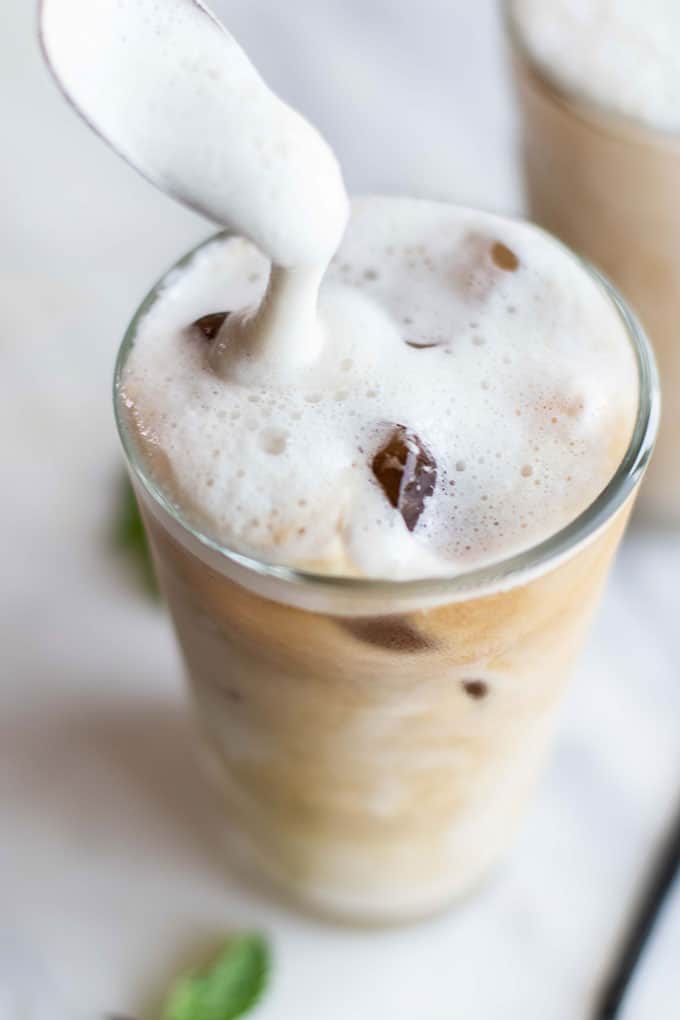 How do you make Vanilla Iced Coffee?
This easy dairy free recipe for vanilla iced coffee is made with one of my favorite non-dairy milks – cashew milk. I love using cashews for plant based milk because it's thick, it's naturally sweet, and almost the whole cashew blends down into a creamy, frothy milk, whereas almonds leave quite a bit of pulp behind.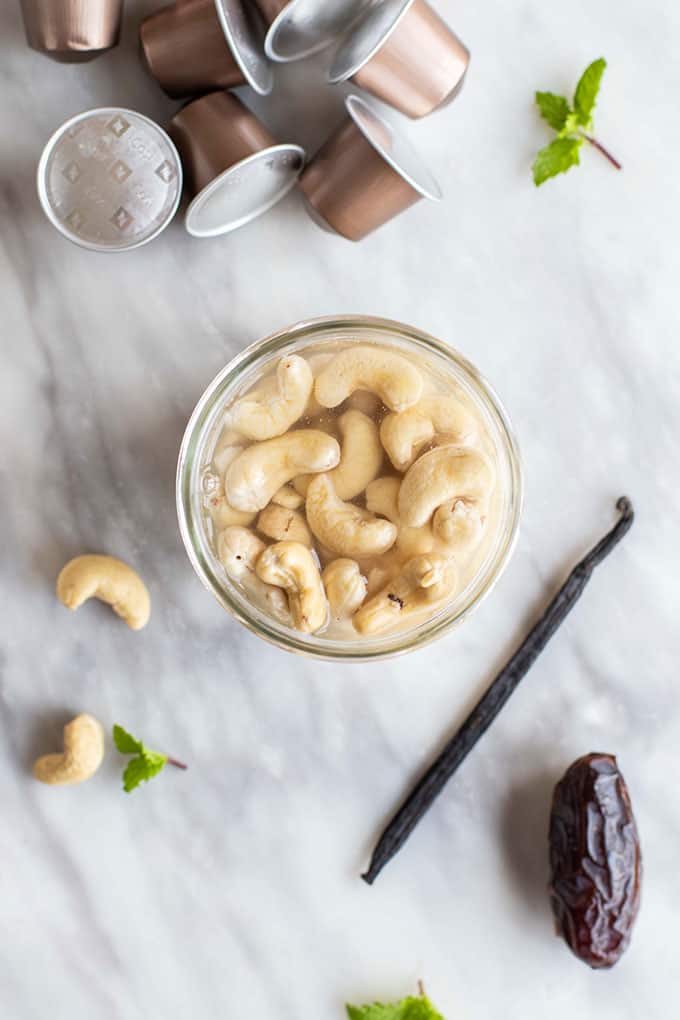 I have a Nespresso Essenza Mini, which I love for its coffeehouse quality drinks and ease of use. No messing with grinding beans or brewing a whole pot when I just need 1 cup. It makes building the perfect iced coffee so easy.
For this vegan cashew latte, I used the Cosi Espresso capsules. I wanted a dark coffee taste to meld with the creamy cashew milk.
The Aeroccino is a fun accessory if you love frothy drinks (who doesn't?!). It takes milk, or plant-based milks, and turns them into a beautiful froth. I especially love that you have the option of heating the milk or chilling the milk directly in the machine while it's frothing. My son has been having me make him "babyccinos" daily—steamed, frothed milk!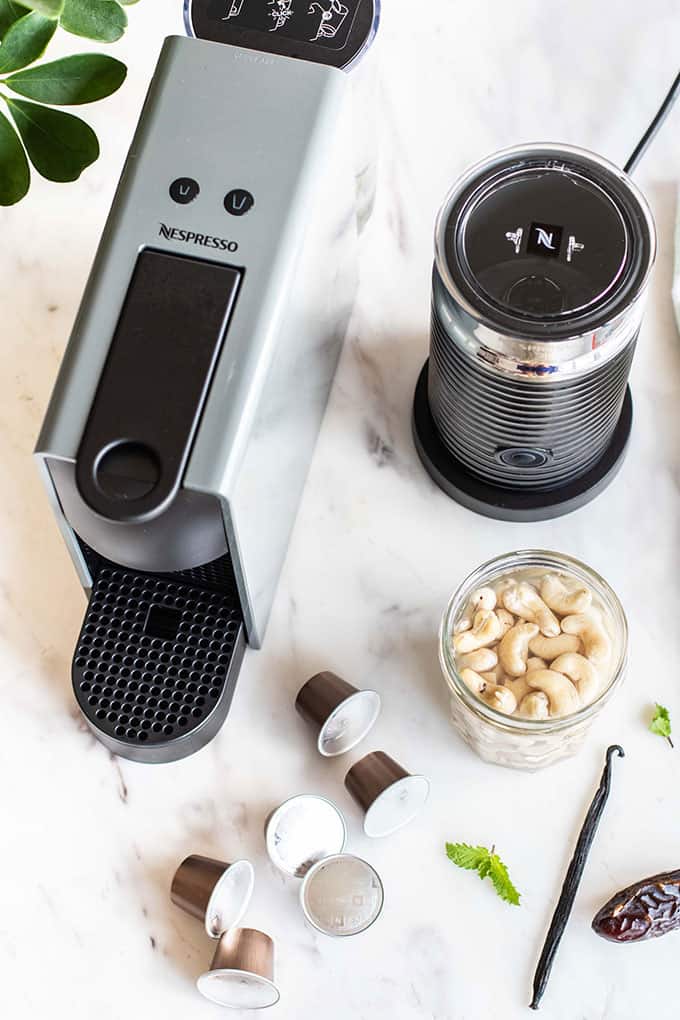 This perfect vegan latte uses a homemade vanilla cashew milk, made in 3 easy steps:
Soak cashews in boiling water for 20 minutes.
Add the soaked cashews, a vanilla bean, and a date, to a blender, along with cold water.
Process until a very smooth and frothy milk is made.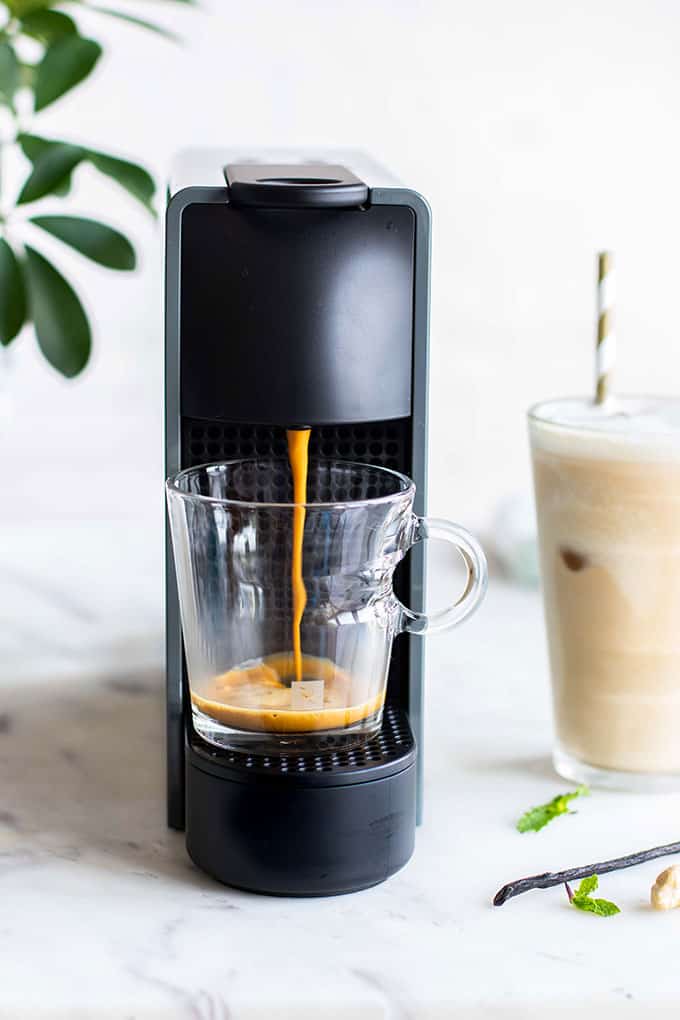 Cashews almost entirely blend into milk, so it isn't necessary to strain it through a nut milk bag. I sometimes strain it anyway to get the little bits of date out and to make the milk extra smooth. Your choice!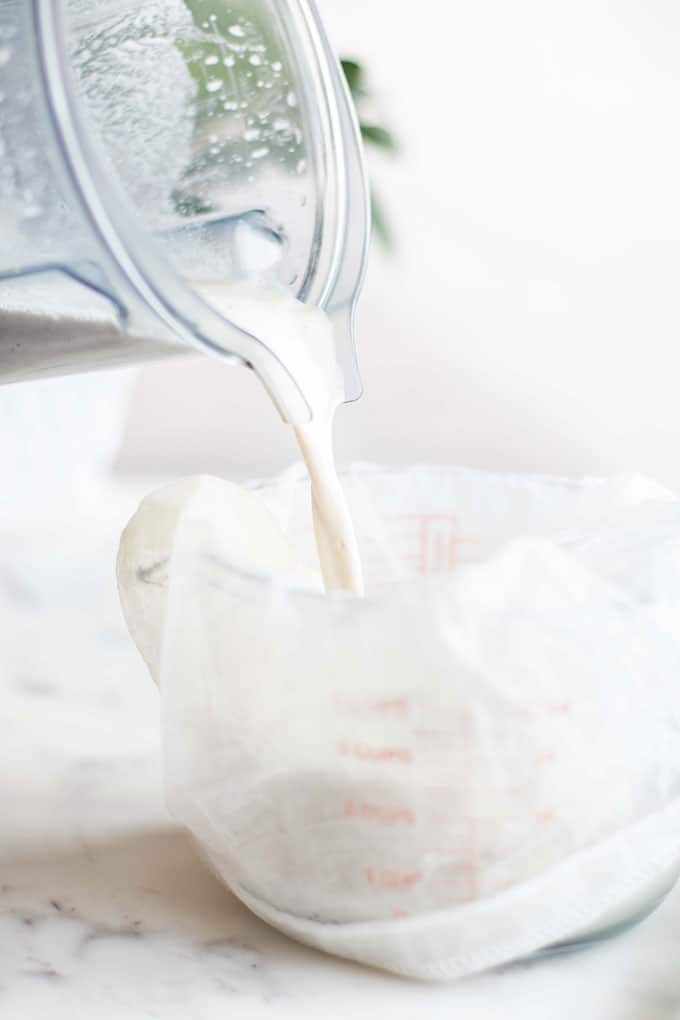 The Perfect Vegan Latte for Summer
This vanilla cashew milk latte can be made hot or iced. I drink my coffee hot in the winter, and iced as soon as the weather begins to warm up in the spring. I definitely prefer iced!
The homemade cashew milk in this recipe is lightly sweetened with a date, which gives it a hint of sweetness without tons of calories or a sugar crash. Dates are much lower on the glycemic index than honey or other sweeteners, so it's a great option if you'd like to indulge in a coffeehouse style drink but keep your diet clean.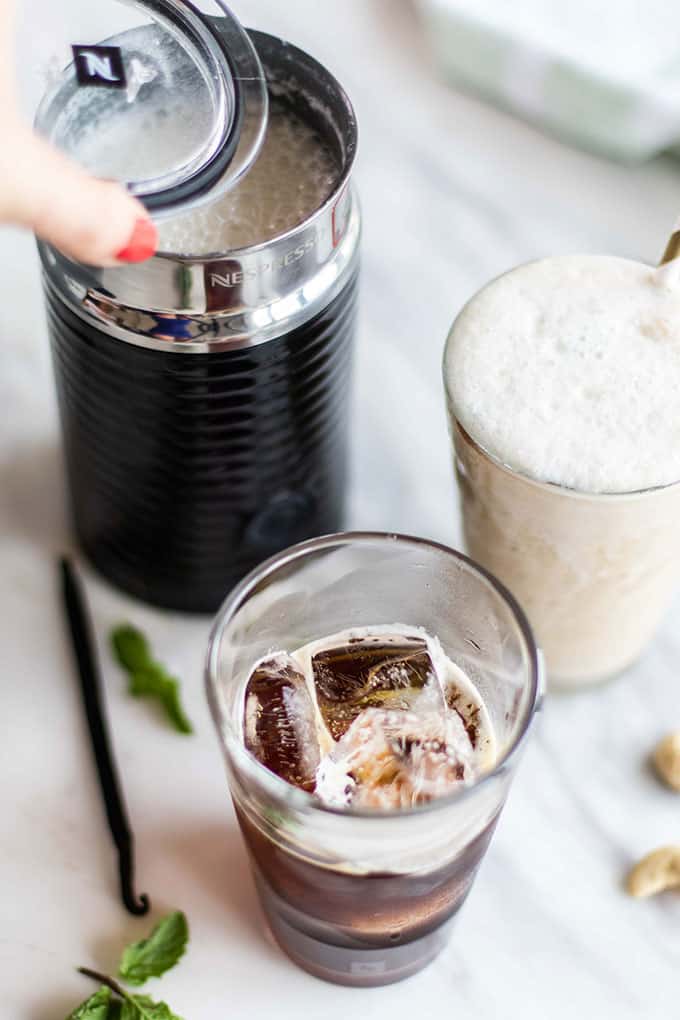 Take this drink with you to go and avoid the lines (and the price) of the coffee shop!
This recipe makes enough vanilla cashew milk for 3-4 coffees, so make a batch, and keep it chilling in the fridge for afternoon coffee breaks!
Variations for Iced Vanilla Coffee
Vanilla is such a classic flavor, and is the perfect addition to coffee!
Mix up this Iced Latte by adding:
A tablespoon of cocoa powder to make this an Iced Cashew Mocha
A 1/2 teaspoon of peppermint extra—leave the vanilla in, or take it out, for a Vanilla Mint Iced Coffee
Make this with pure cashew milk for a classic vegan iced latte.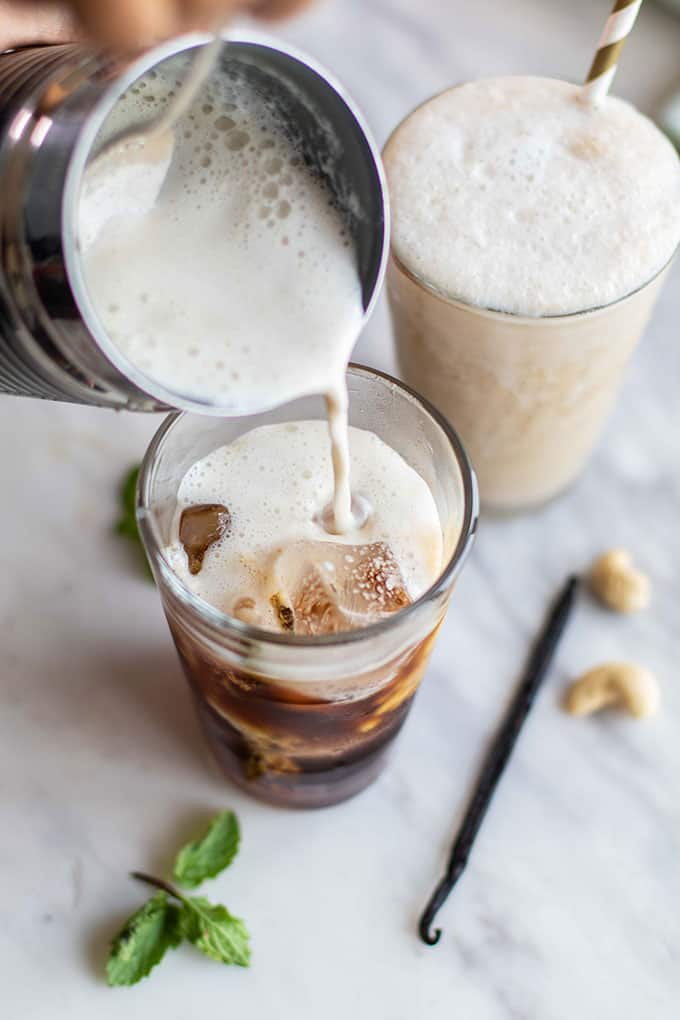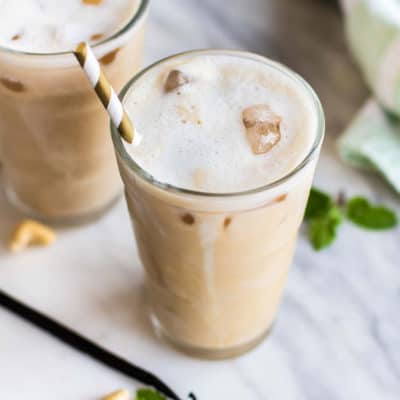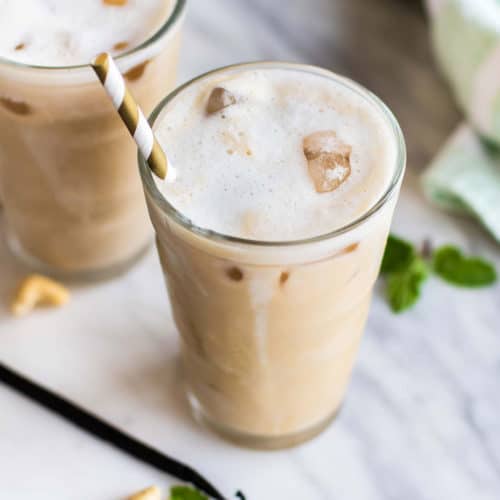 Vegan Vanilla Iced Coffee
A delicious vanilla cashew iced latte made with a homemade vanilla cashew milk. Enjoy this drink hot or iced!
Print
Rate
Ingredients
1

cup

cashews

1

vanilla bean

1

medjool date

or 3-4 small dates

2

cups

cold water

4

Nespresso Cosi Espresso Capsules
Instructions
Boil water, and pour over cashews in a bowl. Allow to soak for 20 minutes.

Add soaked and drained cashews, whole vanilla bean, Medjool date, and water to a blender, and process until very smooth and creamy.

If desired, the milk can be made even smoother by filtering through a nut milk bag or a piece of cheesecloth.

Prepare coffee by adding a Nespresso Cosi Espresso capsule to the Nespresso Essenza Mini machine, and brewing a shot of espresso.

Use the Aeroccino to froth the milk on the cold setting.

Pour espresso over ice, and then add frothy vanilla cashew milk.

If preparing hot, use the Aeroccino to heat and froth the milk, and pour over hot coffee.
Notes
Allergen Information: This coffee contains cashews (tree nuts).
Nutrition
Calories:
197
kcal
|
Carbohydrates:
14
g
|
Protein:
5
g
|
Fat:
14
g
|
Saturated Fat:
2
g
|
Sodium:
3
mg
|
Potassium:
254
mg
|
Fiber:
1
g
|
Sugar:
5
g
|
Calcium:
16
mg
|
Iron:
2.2
mg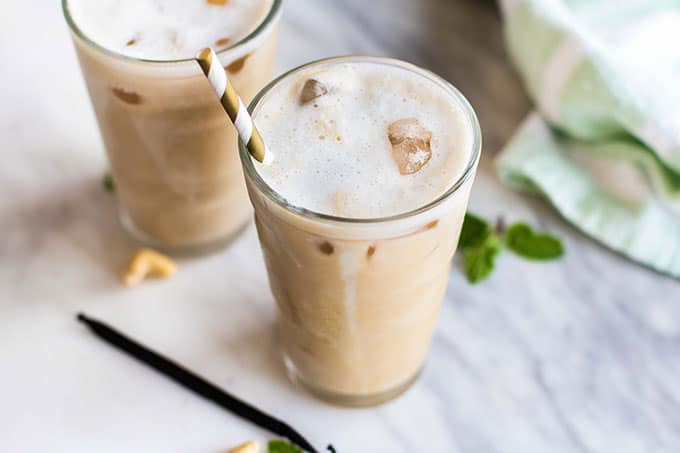 Other Iced Coffee Recipes:
I'd love to connect with you on social media! Find me on Facebook or Instagram where I post daily healthy eating and lifestyle inspiration.
This Vegan Vanilla Iced Coffee post contains affiliate links, meaning if you make a purchase, I will receive part of the sale as a commission. This helps me continue to bring you lots of fresh and inspired recipes!