This post may contain affiliate links. Please see my full
Disclosure Policy
for details.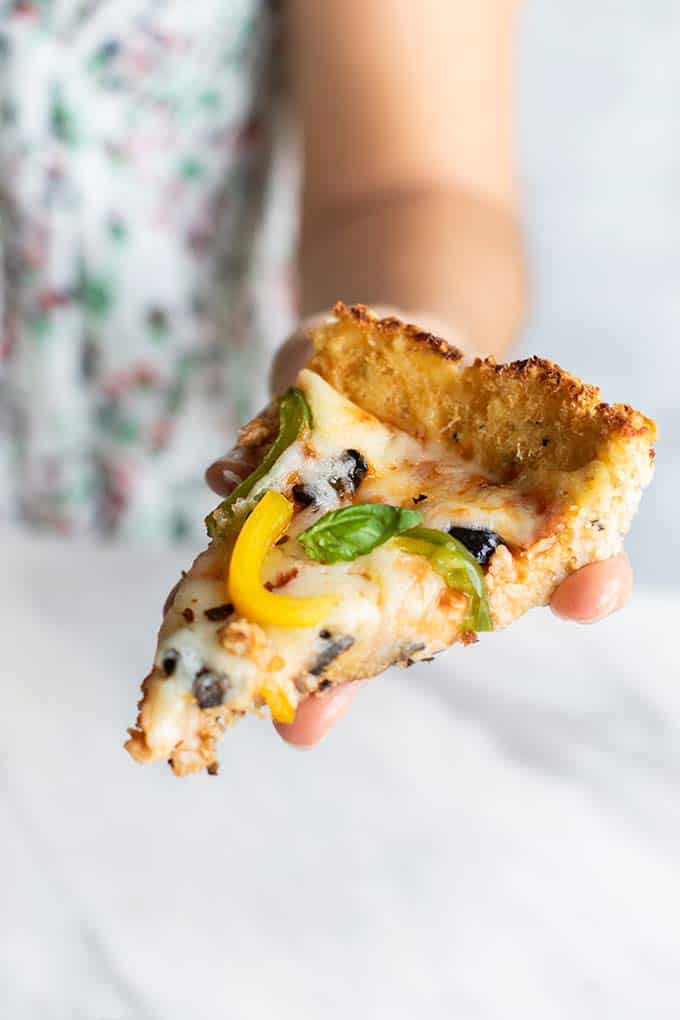 A cauliflower pizza crust recipe, perfect for baking deep dish style in a cast iron pan. This versatile low carb pizza recipe can be topped as desired! Instructions for baking in a cast iron pan or on a baking sheet are included.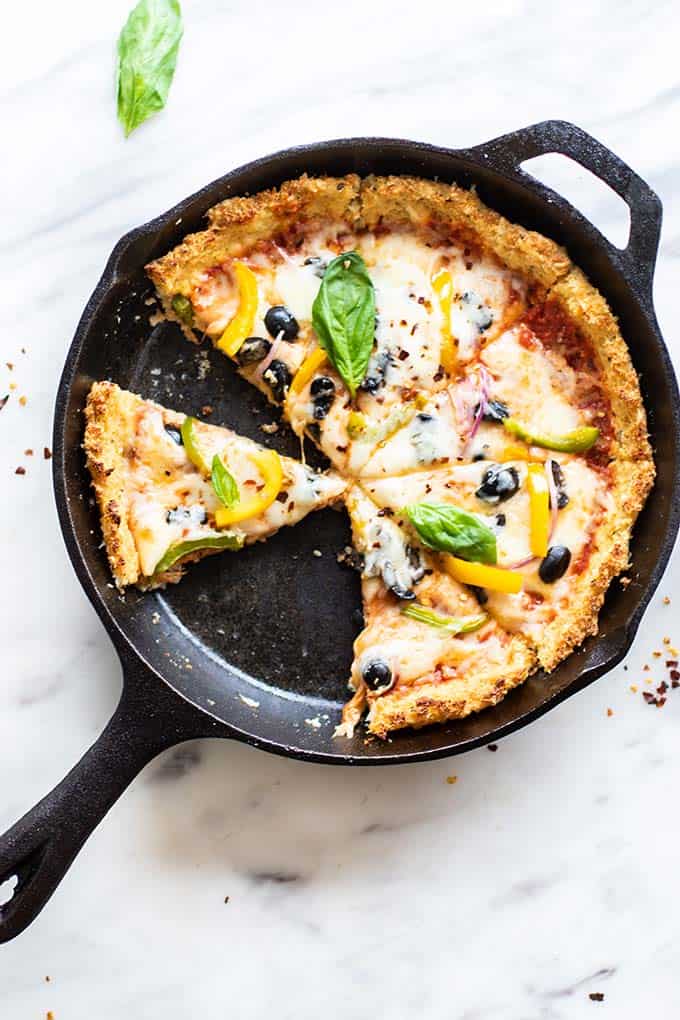 What is life without pizza? Not a life I am interested in living!
Pizza is one of those universal things – who can resist a saucy slice with melty mozzarella? This cauliflower pizza crust is a great gluten free, grain free and low carb option that you can load up with any of your favorite toppings.
How to Make a Cauliflower Pizza Crust
Cauliflower pizza crust is not hard to make if you're comparing it to a regular yeast dough. It's actually faster!
The messy part is "ricing" the cauliflower. This just means to chop the cauliflower into little tiny pieces that resemble grains of rice. I do this in my food processor and it takes minutes.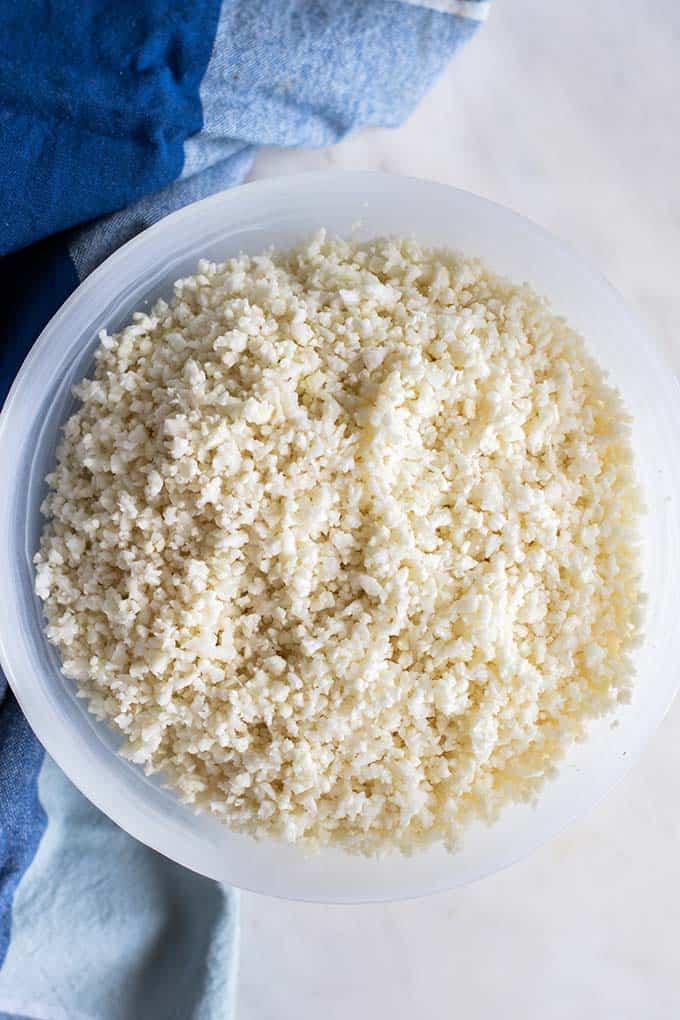 A cauliflower-everything health trend has taken off, so you can buy riced cauliflower at chain stores like Trader Joe's and Costco. I have never used frozen cauliflower rice (it's seriously so easy to make!), but if you have some of that, I am pretty sure it would work here.
The easy steps to making this pizza are:
Rice cauliflower (give some cauliflower florets a whir in your food processor!)
Add riced cauliflower to a microwave safe bowl, and cook for 4-5 minutes. You can also steam the cauliflower on the stovetop if you prefer!
Pour cooked (and cooled!) cauliflower rice into a large dish towel, an SQUEEZE the excess moisture out. This is essential to creating a crust that isn't watery and that holds together into firm slices. Keep squeezing until about 1 cup of water is removed from the cauliflower.
Add cauliflower to a bowl, and mix well with egg, almond flour, parmesan cheese, salt and Italian seasoning. Just a few ingredients to add flavor and hold it together!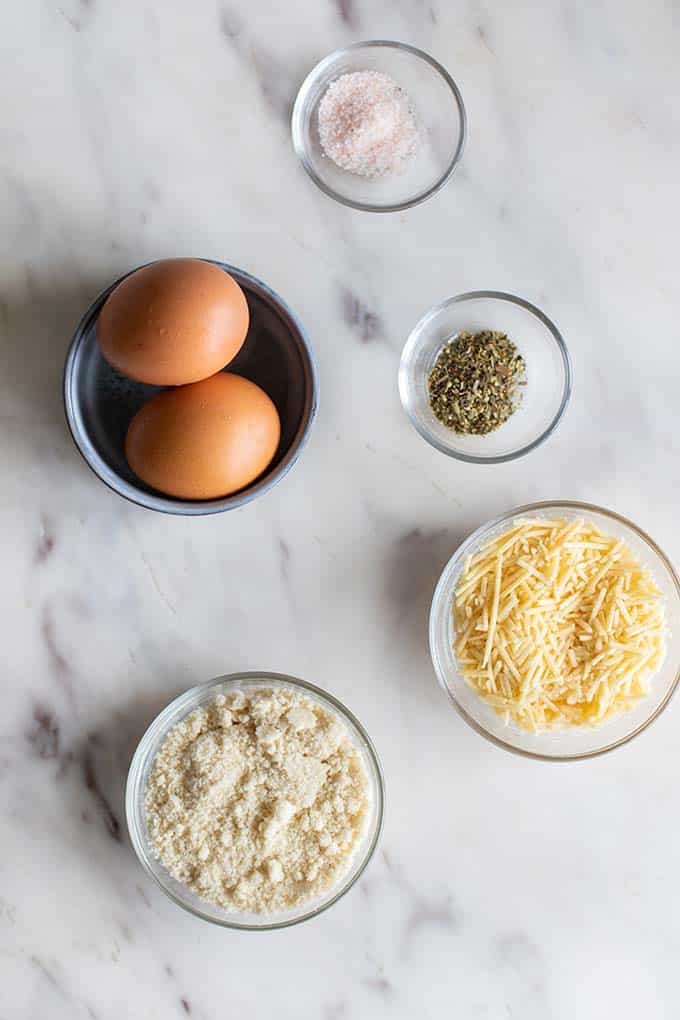 The really fun part of this cauliflower crust is that I've made it in a cast iron pan. I wanted to create a crust that got a bit crunchy on the bottom, and found that it was really hard to do this on a baking sheet.
Heat the cast iron pan over medium high heat, and generously coat it in olive oil. While the pan is hot, pour the cauliflower "batter" in, and use a flat-bottomed measuring cup to press the crust into the shape of a deep dish crust.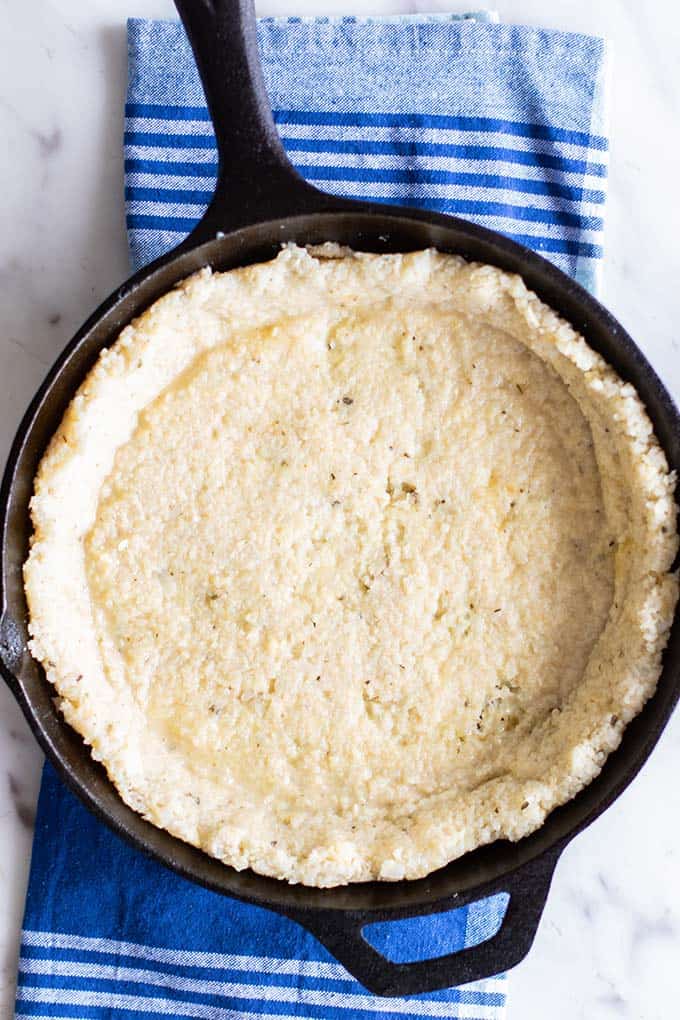 If you don't have a cast iron pan, it's okay! Just form the crust on a baking sheet on a piece of parchment paper. Instructions for that in recipe below.
Does Cauliflower Pizza Crust Taste Good?
I might prefer cauliflower pizza to a regular pie! The crust bakes up firm, but is light, and doesn't leave you with a food coma like a slice deep dish pie normally would.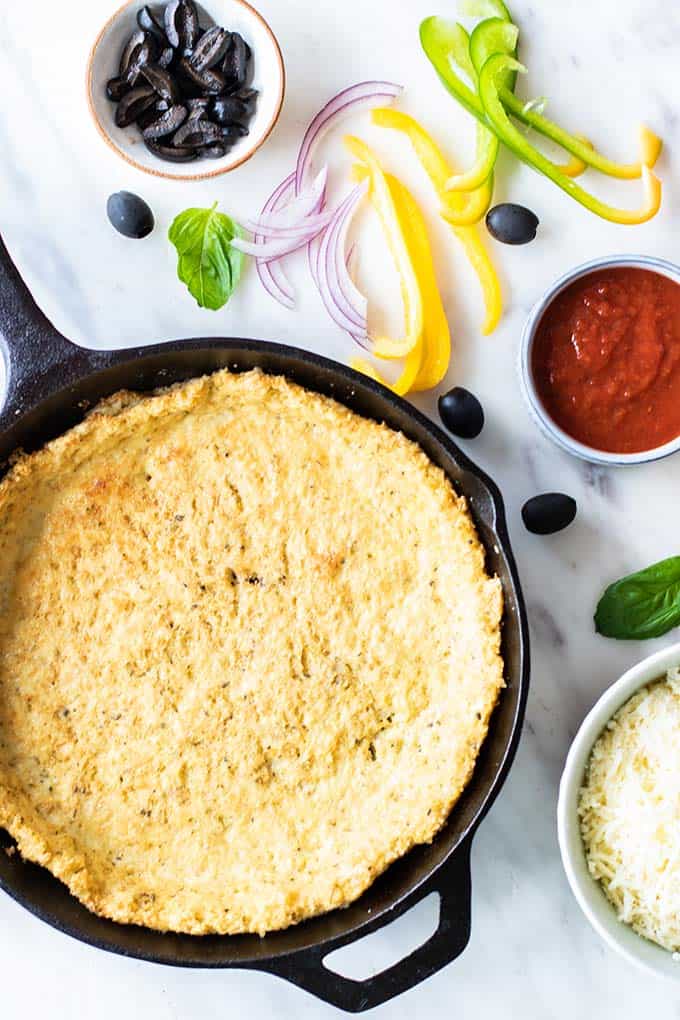 Using a cast iron skillet to partially cook the crust before sliding it into the oven adds a slightly crunchy texture also.
Top this low carb pizza crust any way you'd like! I tend to go really simple, and stick with sauce and cheese. Throw on some veggies, or go wild and add sausage or salami, if that's your thing!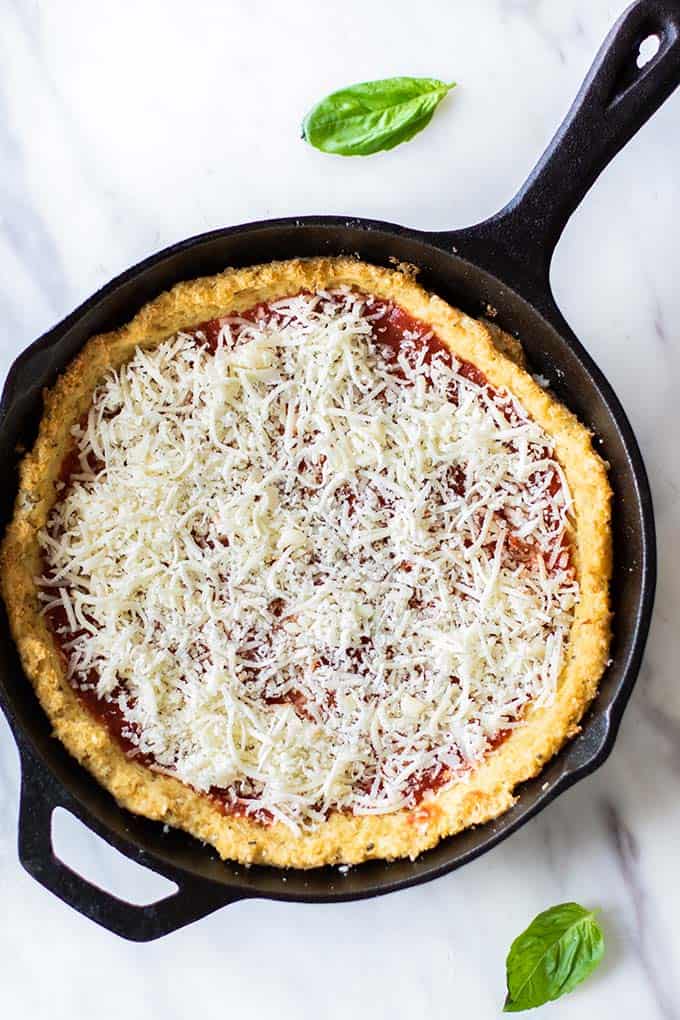 Bake this Pizza Deep Dish Style
There are a few steps to follow to make this crust.
Prepare the cauliflower "dough," and press it into a hot cast iron pan (using a measuring cup) to form a deep dish crust shape.
Continue cooking the crust on the stovetop for about 7-10 minutes, until you see the edges of the crust browning.
Slide the cast iron skillet and crust into the oven to bake for 25 more minutes. This leaves a mostly-cooked crust that is a little crunchy and brown on the bottom and around the edges (the long baking time removes excess moisture!).
Top the pizza any way you'd like — sauce, cheese, veggies, or even pepperoni and salami. Make it your own!
Slide the pizza back into the oven for 10-14 minutes, depending on how many toppings you added. A cheese pizza will bake in 10, one loaded with veggies will take about 14.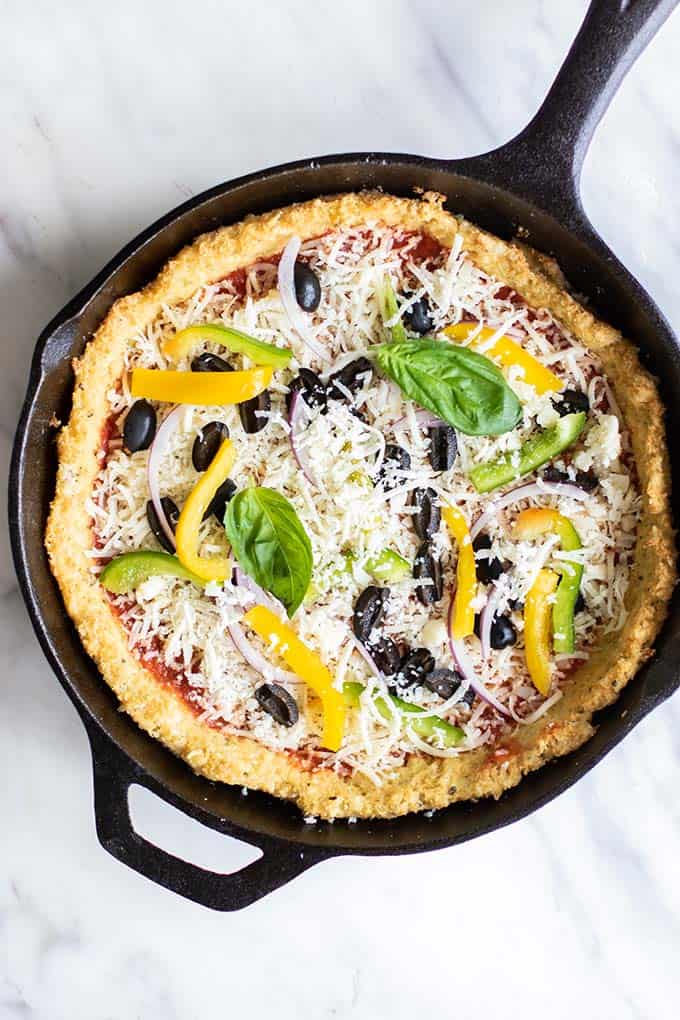 Allow your pizza to cool for about 5 minutes before slicing! The first slice is always a bit tricky to remove from the pan. Use a spatula to loosen the edges and gently pull from the pan. The other slices will be easier!
Bon Appétit!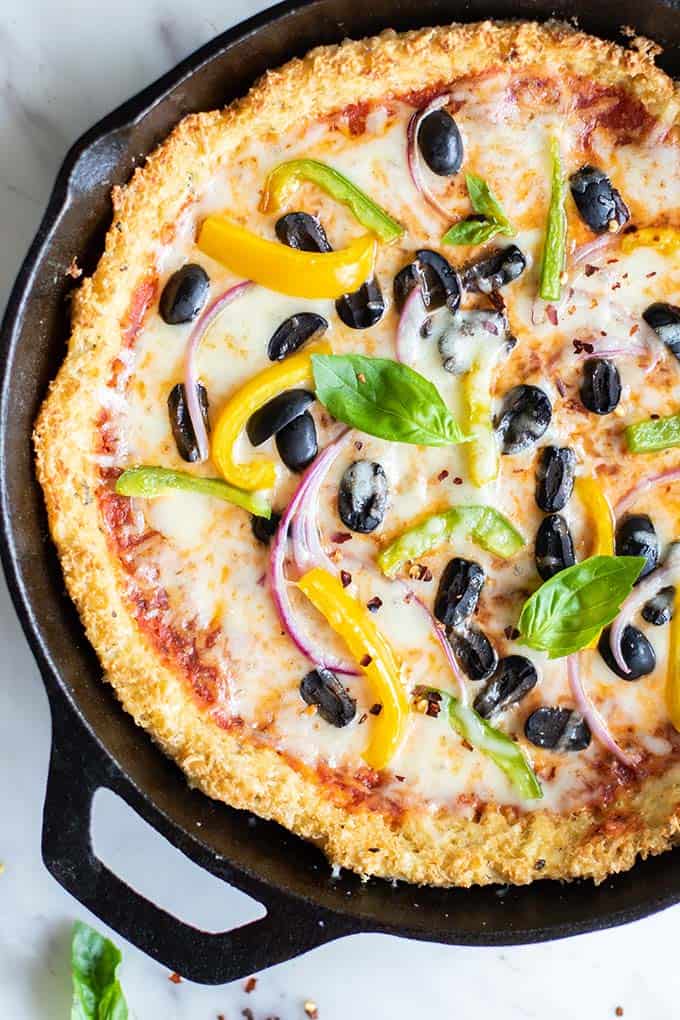 Love cauliflower? Try these recipes!
Other Gluten Free Pizza Crust Recipes:
I'd love to connect with you on social media! Find me on Facebook or Instagram where I post daily healthy eating and lifestyle inspiration.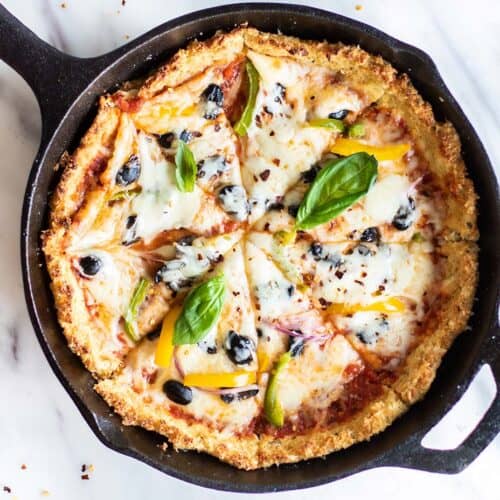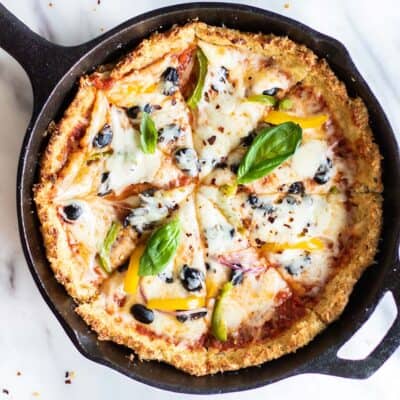 Cauliflower Pizza Crust
A healthy low carb pizza crust made with riced cauliflower and baked until golden brown! We love this pizza crust topped with sauce and cheese, but load it up any way you'd like it.
Print
Pin
Rate
Ingredients
1

head

cauliflower

medium, riced (about 8 cups riced cauliflower)

2

eggs

1/3

cup

parmesan cheese

1/3

cup

almond flour

1/2

teaspoon

sea salt

1/2

teaspoon

Italian seasoning

olive oil

for skillet (use generously)
Topping Suggestions
pizza sauce or pesto

mozzarella cheese

veggies

peppers, olives, onions or mushrooms

pineapple

just do it!

pepperoni, sausage or salami
Instructions
Rice cauliflower by taking florets, and adding them to a food processor bowl. I do this in batches, so my food processor isn't overfilled. Process until the cauliflower is broken into rice-grain sized pieces.

Add riced cauliflower (about 8 cups) to a large microwave-safe bowl. Microwave for about 5 minutes, until the cauliflower is hot all the way through.

Allow to cool, and then pour the cauliflower into a large, clean dish towel. Pull the edges of the towel together, and squeeze the cauliflower to drain out excess liquid. Twist the towel and squeeze until you've removed about 1 cup of liquid or more.

Add the cauliflower to a dry bowl, and then add the eggs, almond flour, cheese, salt and Italian seasoning. Mix well to combine into a dough.

Preheat the oven to 425º F.

Put a 9 inch cast iron skillet on the stove, and heat over medium-high heat. Generously coat with olive oil.

Pour the cauliflower into the pan, and use a metal flat-bottomed measuring cup to press into the pan, forming a high, thick crust around the edges of the pan.

Allow the crust to begin cooking on the stove top for about 8 minutes. While the crust is browning, I use a silicone spatula to gently separate the edge of the crust from the sides of the pan, so the crust stands about 1/2 inch inside the pan on it's own. This will help is come out of the pan in neater slices after it's baked.

Add the cast iron skillet to the oven, and continue to bake the crust for 20-25 minutes, until the crust has browned and firmed. If you like your crusts to have a crunch to them, allow the crust to brown a few extra minutes.

Remove the crust from the oven (but leave the oven on!), and top your pizza. Add sauce, cheese, and any toppings you desire.

Return the skillet to the oven and bake for an additional 10-14 minutes, until the cheese is melted and bubbly.

Cut into slices, and gently loosen the slices from the edge and bottom of the pan. The first slice is a bit tricky to remove, but the others come out pretty cleanly.
Notes
*To bake this crust on a baking sheet, instead of a cast iron pan:
Prepare the dough as instructed.
Instead of pressing the dough into a cast iron pan, line a baking sheet or pizza tray with parchment paper.
Dump the dough onto the parchment paper, and then use slightly wet hands to press the dough into a round shape. The thinner it is, the more crisp it will get, but also the easier it will break. I find about a 9 inch pizza works well.
Bake the pizza crust for about 30 minutes, until the crust is firm and has begun to brown.
Top as desired, and bake an additional 10-14 minutes.
Nutrition
Calories:
76
kcal
|
Carbohydrates:
4
g
|
Protein:
5
g
|
Fat:
4
g
|
Saturated Fat:
1
g
|
Cholesterol:
43
mg
|
Sodium:
249
mg
|
Potassium:
230
mg
|
Fiber:
1
g
|
Sugar:
1
g
|
Vitamin A:
90
IU
|
Vitamin C:
34.7
mg
|
Calcium:
83
mg
|
Iron:
0.8
mg