This post may contain affiliate links. Please see my full
Disclosure Policy
for details.
This authentic Chicken Satay recipe will be a hit at your cookouts! This grilled Thai chicken satay is a great appetizer or main course. The best part is the sweet, spicy, creamy, and salty sauce!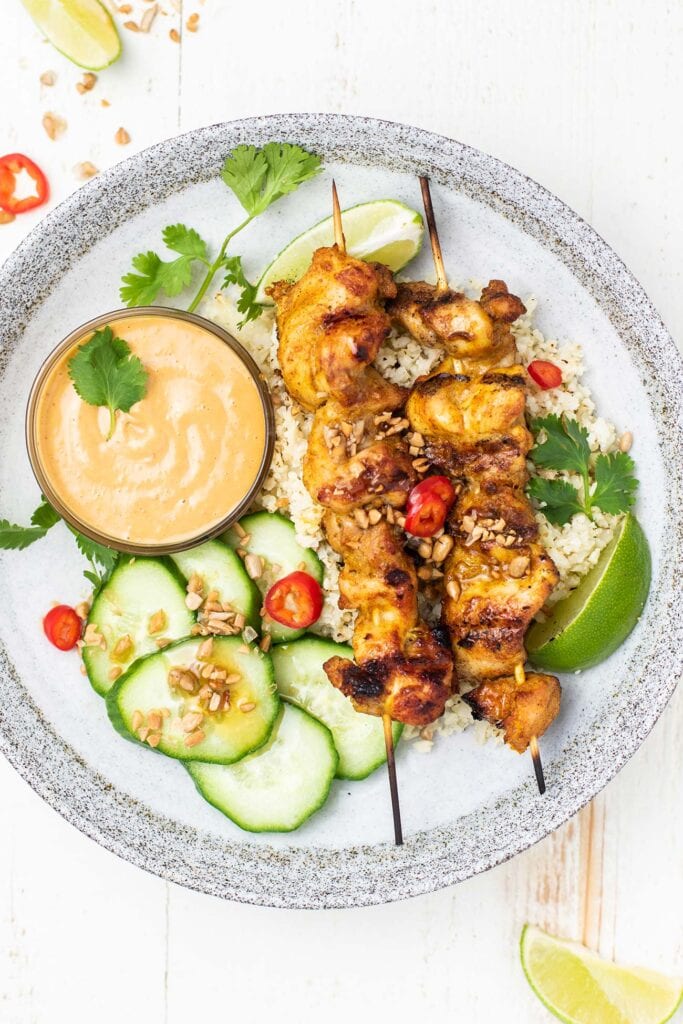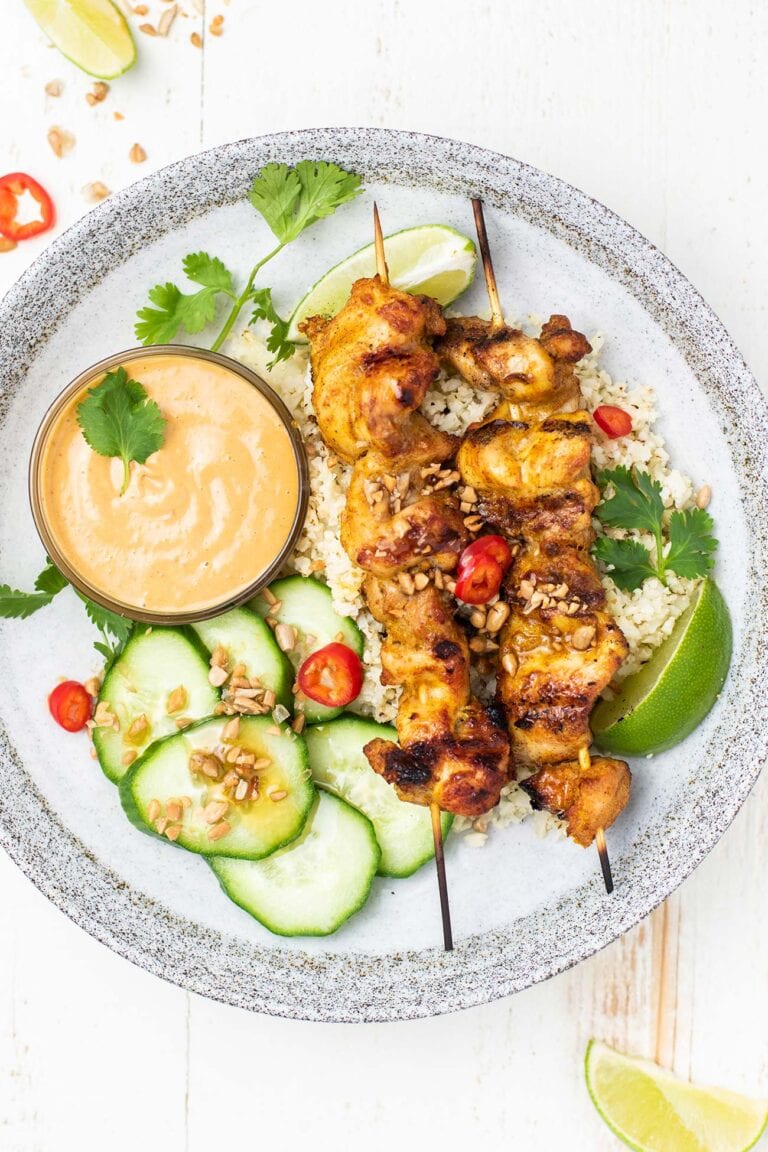 *This post is sponsored by SunButter, a sunflower seed spread perfect for allergy-safe baking and cooking! Thanks for supporting the brands that keep Sunkissed Kitchen running.
What is Chicken Satay?
Chicken satay with peanut sauce is a delicious dish popular in SE Asia. It's made throughout Indonesia, Malaysia, and Thailand, with slight variations in the seasonings and the dipping sauces.
This version has a Thai twist and uses Thai Red Curry Paste. If you've never used curry pastes at home, they are such a great way to add tons of flavor super fast. I recommend and use this Thai Red Curry Paste.
The chicken is marinated, skewered, and then grilled. You can opt to use an indoor grill pan if your BBQ isn't up and running.
In SE Asia, you'll see street vendors cooking these skewers on flat tops. They are typically sold as-is, just chicken skewers and a peanut dipping sauce. However, adding some rice and a cucumber salad are authentic additions and turn these into a healthy meal.
Why this recipe works:
Asian recipes often have long ingredients lists! Don't let that scare you off of this easy recipe. It's really as simple as whisking together a marinade for the chicken, and blending up a creamy and nutty dipping sauce. Once you have those things covered, you skewer and grill the chicken and serve!
This authentic chicken satay recipe is really very simple to make – a novice in the kitchen can master this easily!
The bold flavors will remind you of a trip to SE Asia (and after months of quarantine, we could all use a little vacation on our forks!).
It works just as well as an appetizer as it does a main course. I serve this with cauliflower rice and sliced cucumbers for a light and satisfying summer meal.
While the flavors in this dish are spot-on, it's made healthier by swapping peanuts and peanut butter for sunflower seeds and SunButter — great for Paleo and keto dieters, or anyone concerned about their health and the mold found on peanuts!
If you adore spicy flavors, check out this Honey Sriracha Chicken Skewers recipe also!
How to Make Chicken Satay Marinade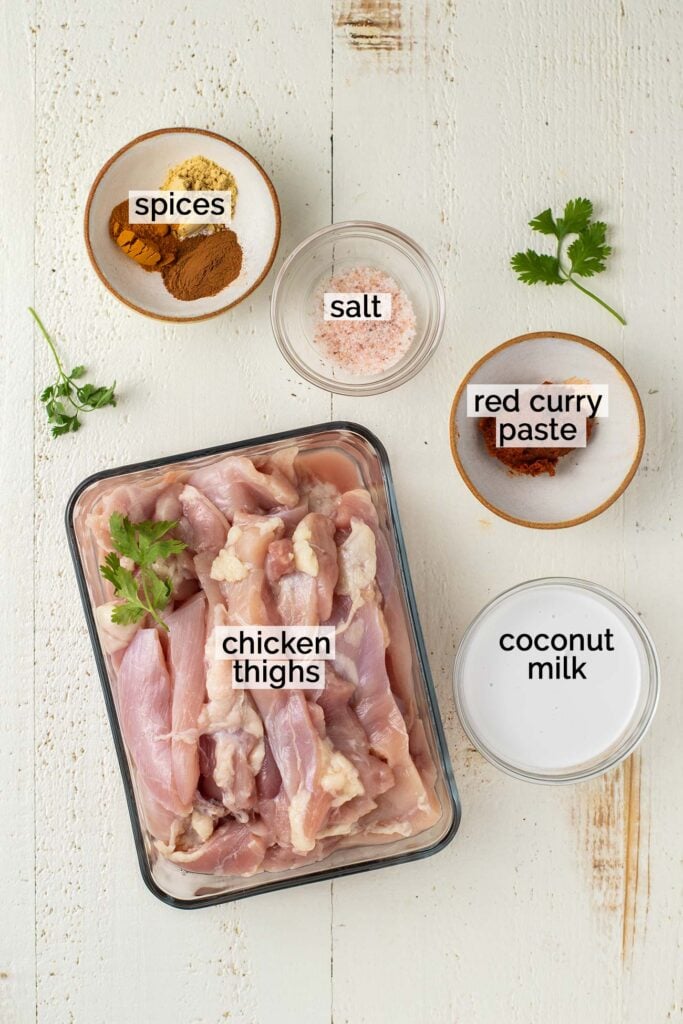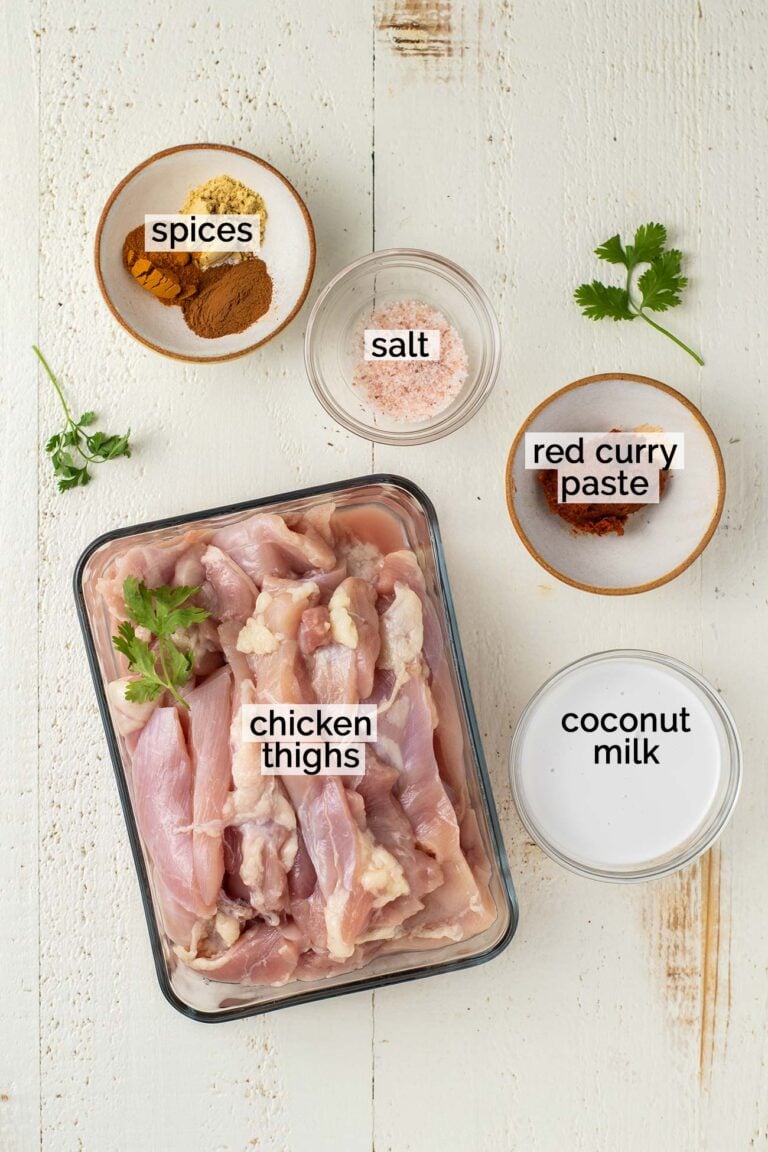 Step 1: Cut the chicken thighs (or chicken breasts) into long strips (see above in ingredients image). These will be woven onto skewers after they are marinated.
Step 2: Add all the marinade ingredients to a small bowl, and use a fork to combine them into a smooth paste. I like to use turmeric, ginger, and cinnamon for the spices, but feel free to substitute 1 tablespoon of a high quality curry powder.
Step 3: Pour the marinade over the chicken, and work it in to evenly coat the strips. Refrigerate for at least an hour, up to overnight. I recommend planning ahead and having these marinated 24 hours for maximum flavor and tenderness!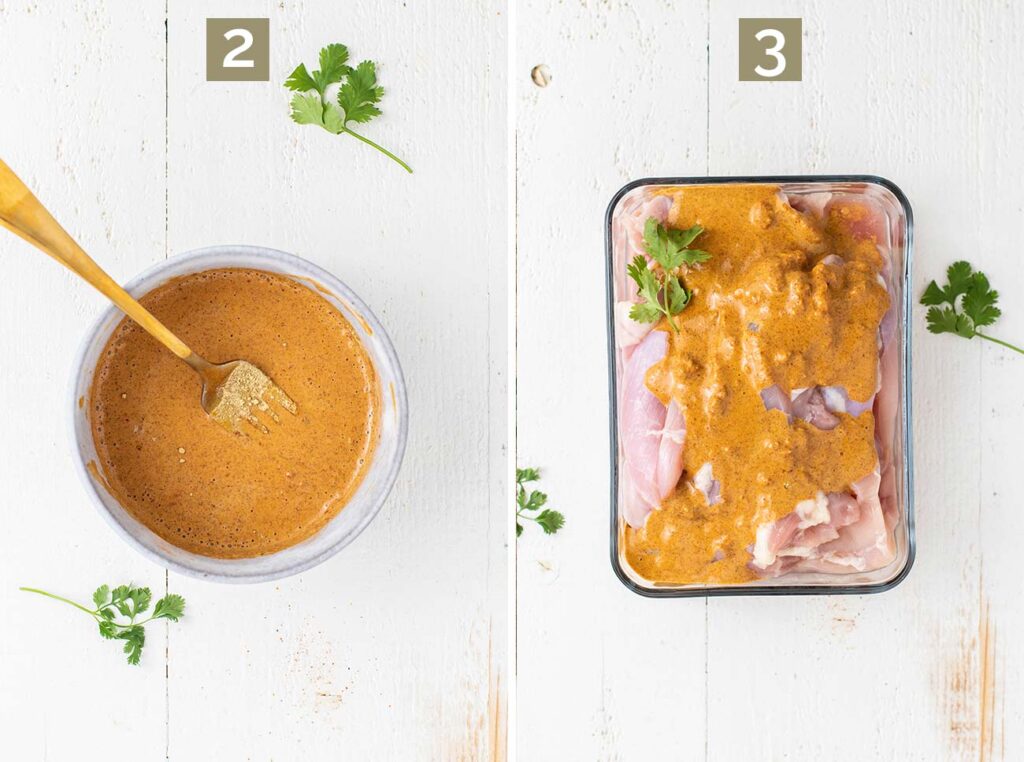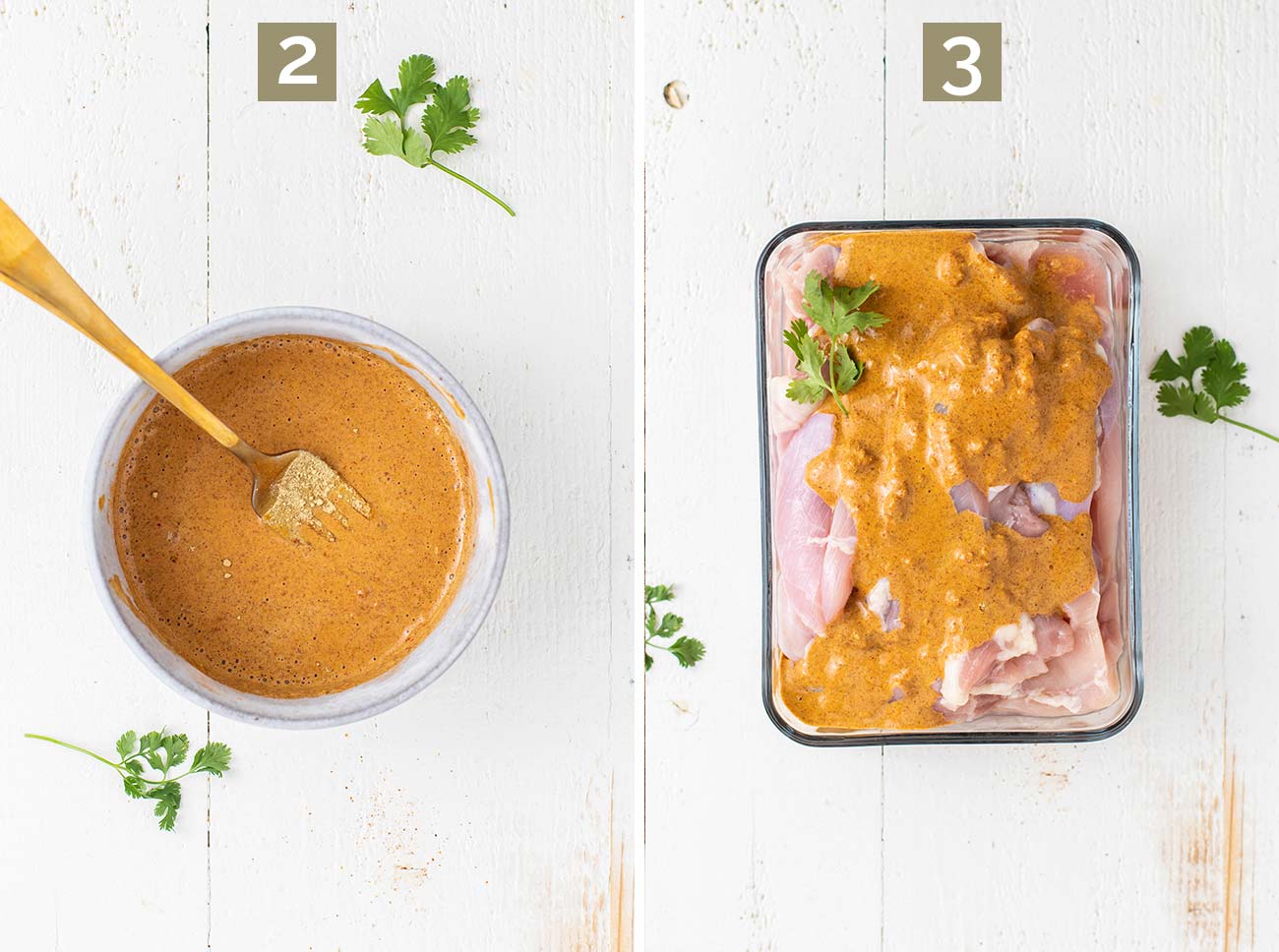 Step 4: Soak bamboo skewers in water. This keeps them from burning when the chicken is grilling.
Step 5: When ready to grill the chicken, add 2-3 strips of the chicken onto 8 inch bamboo skewers. The chicken is woven on to the stick, rather than being in chunks.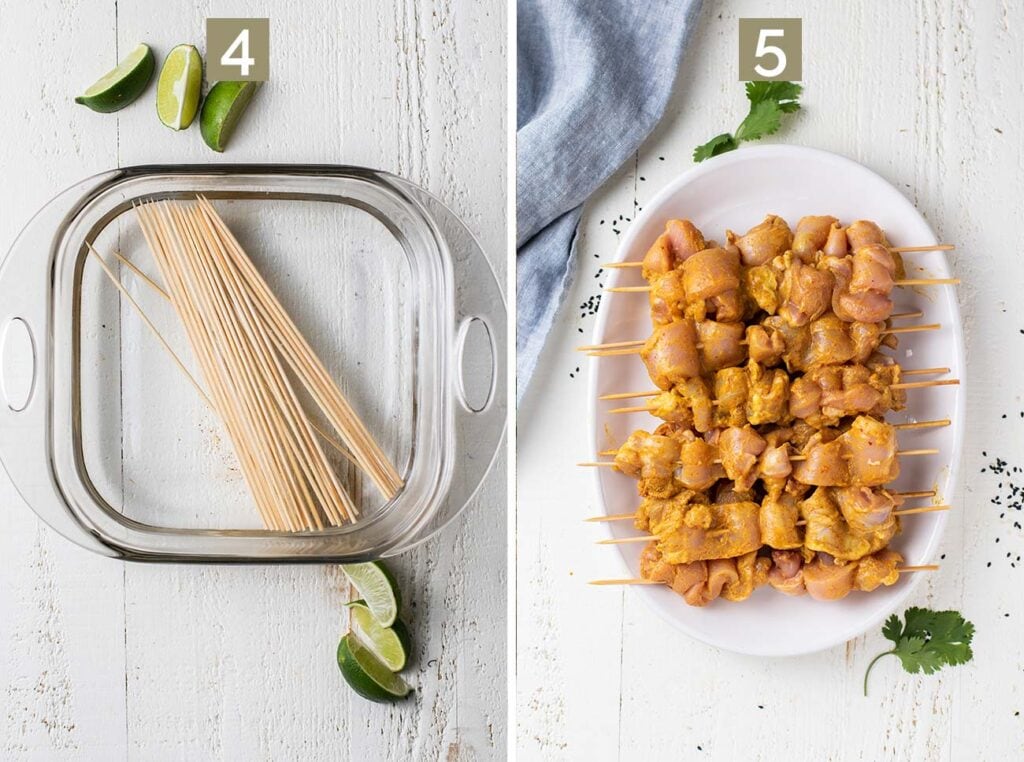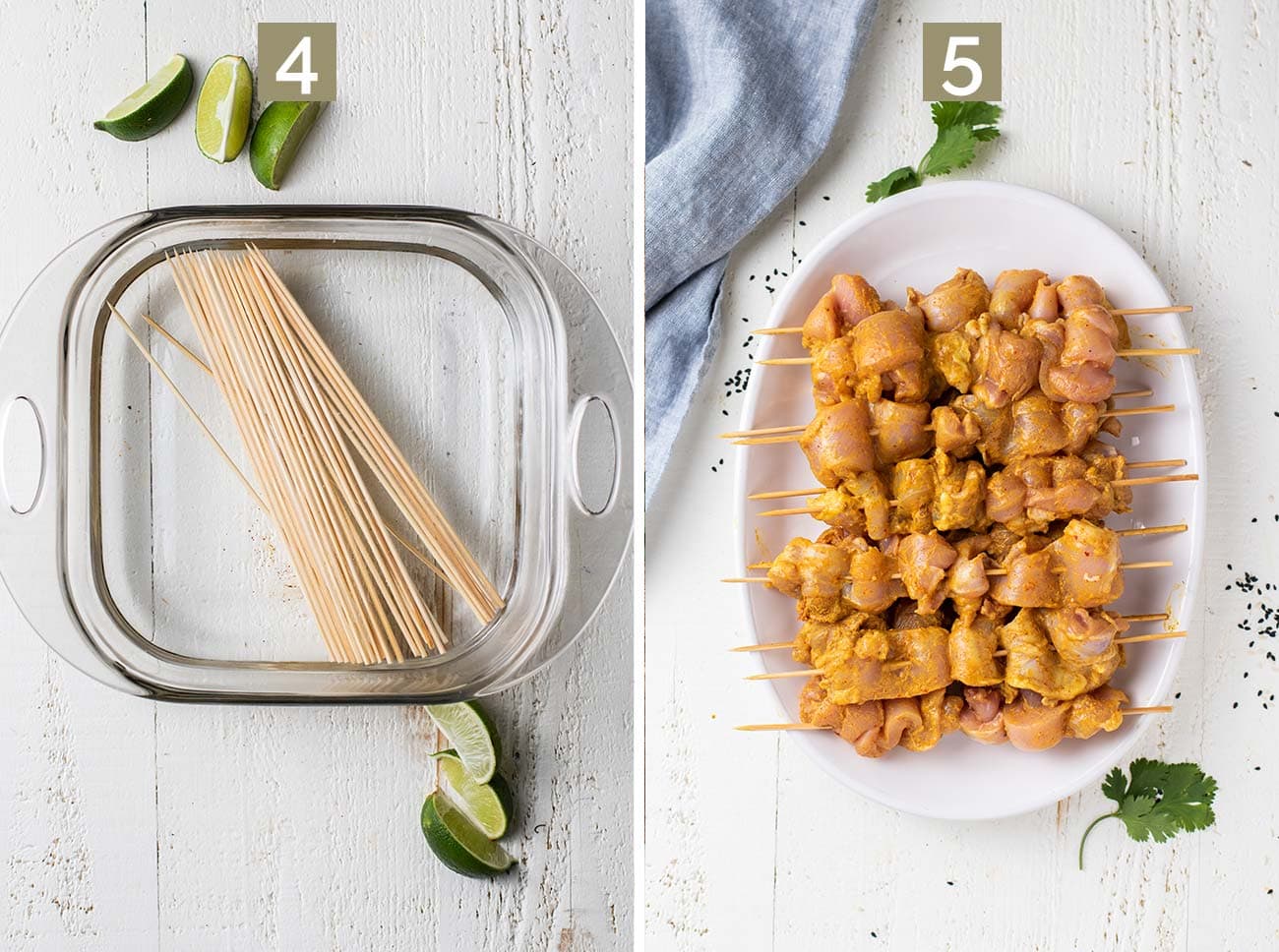 Step 6: Grill the chicken for about 5-6 minutes one each side on a hot grill. The chicken is cut thinly, so it really doesn't take very long!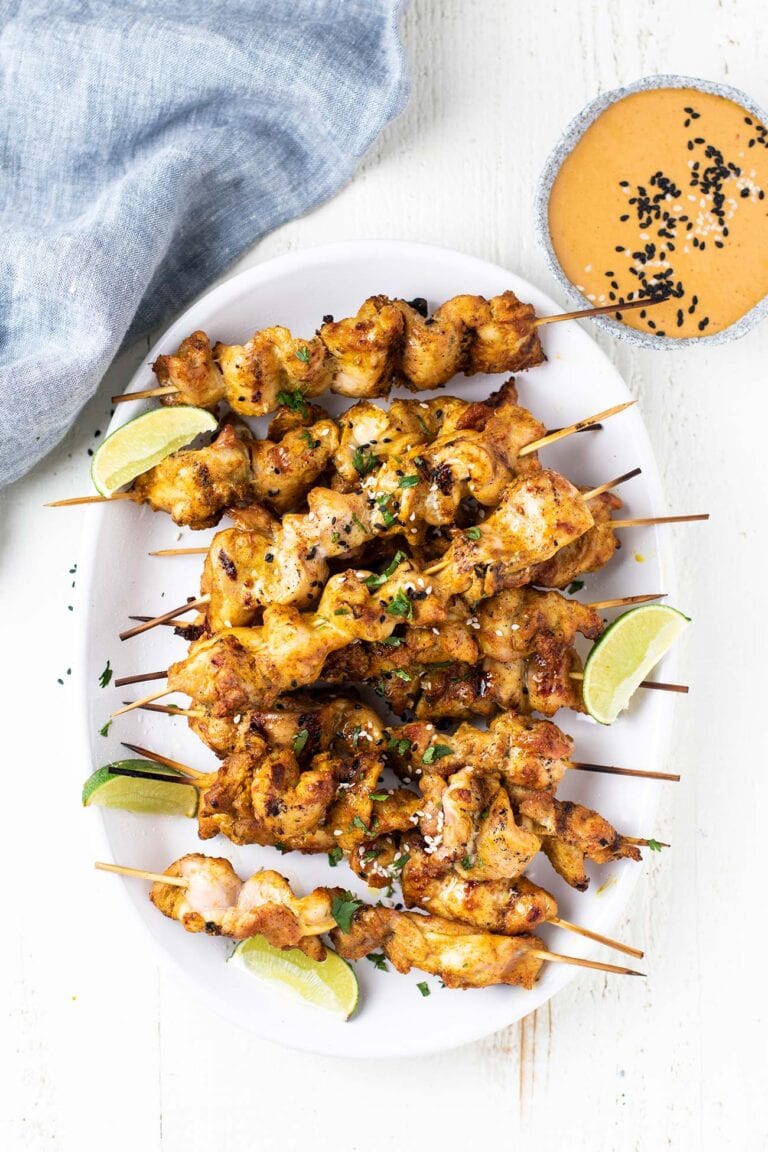 How to Make Chicken Satay Sauce
The traditional chicken satay sauce is made by blending peanuts with coconut milk, vinegar, and spices. This version is every bit as flavorful as the original, but uses SunButter sunflower seed butter instead. This keeps is allergy safe!
I use SunButter No Sugar Added. It's delicious just off a spoon — but I use it for breakfast recipes, smoothies, cookies, and lots of Asian inspired recipes, like this chicken satay recipe.
You can buy SunButter at many health food stores, and it's also available on Amazon!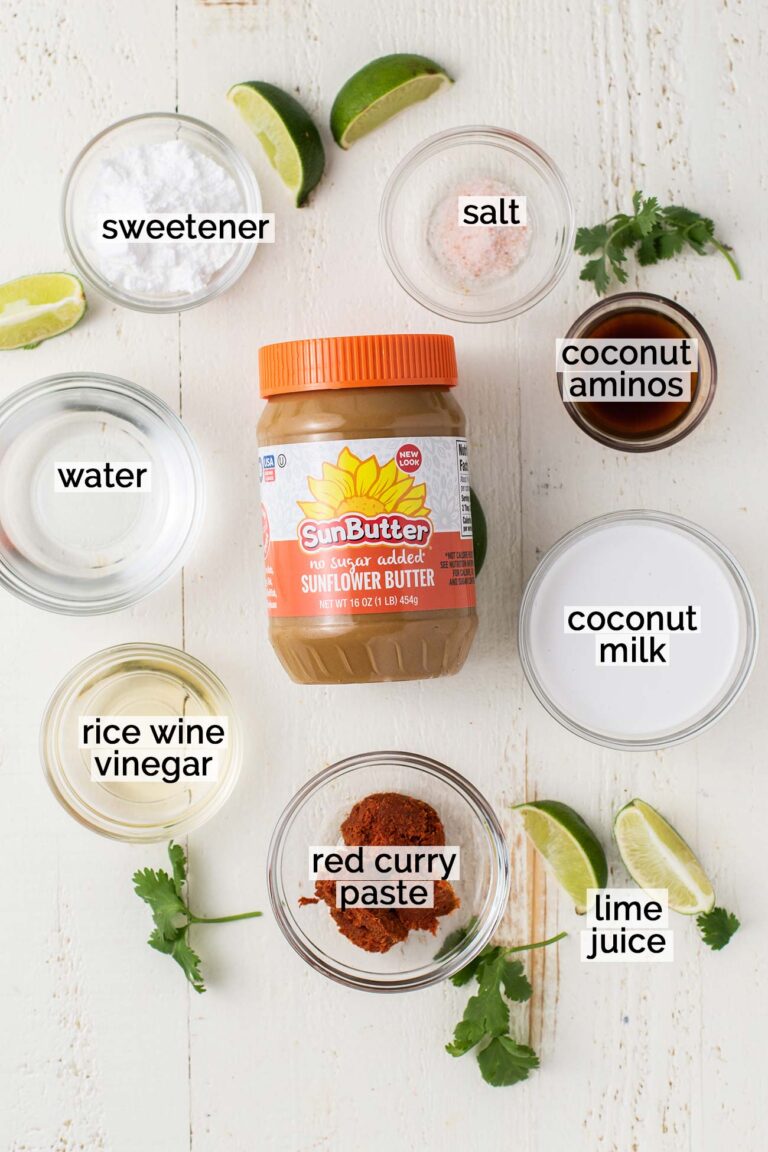 Step 1: Add all ingredients shown above to a blender, and blend until super smooth. The sauce will be slightly runny right out of the blender (which is a great texture to serve this with). The coconut milk hardens and makes the sauce more of a light and airy paste, but you can whip is and gently warm it (or even add a little more water or coconut milk and whisk it) to soften it again.
I make this with a little bit of coconut aminos to keep it gluten free and paleo (rather than soy sauce). Some authentic recipes call for fish sauce. I don't find it's necessary with the shrimp paste in the red curry paste.
Step 2: Serve it with the chicken satay skewers, but also as a dipping sauce for cucumbers. Drizzle it on your rice. Top your salads with it. You might even find yourself drinking out of the jar (just me?).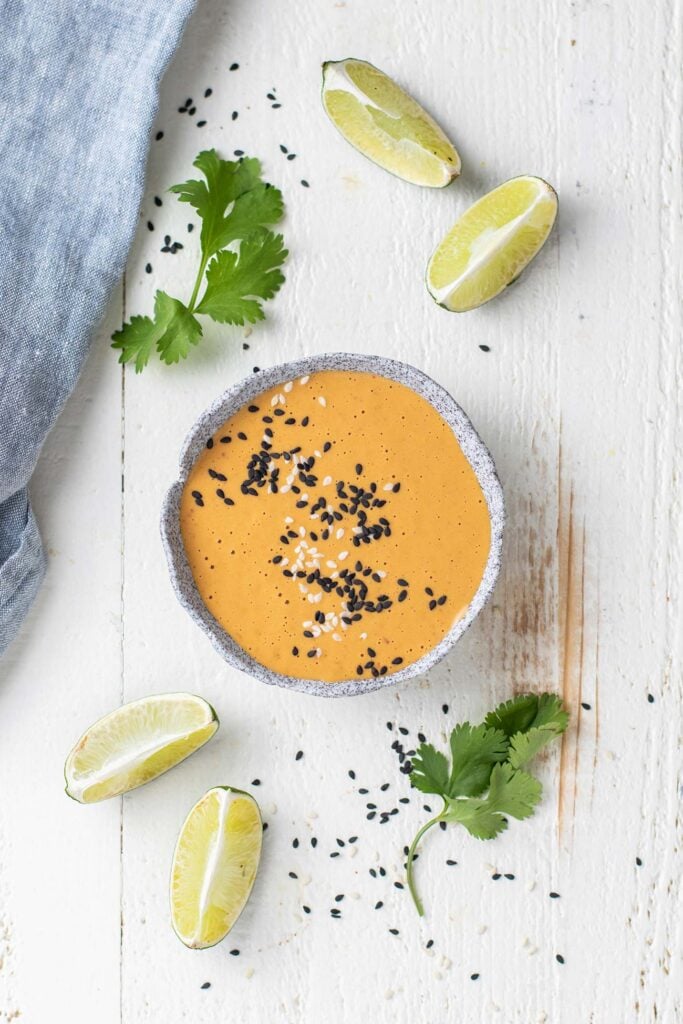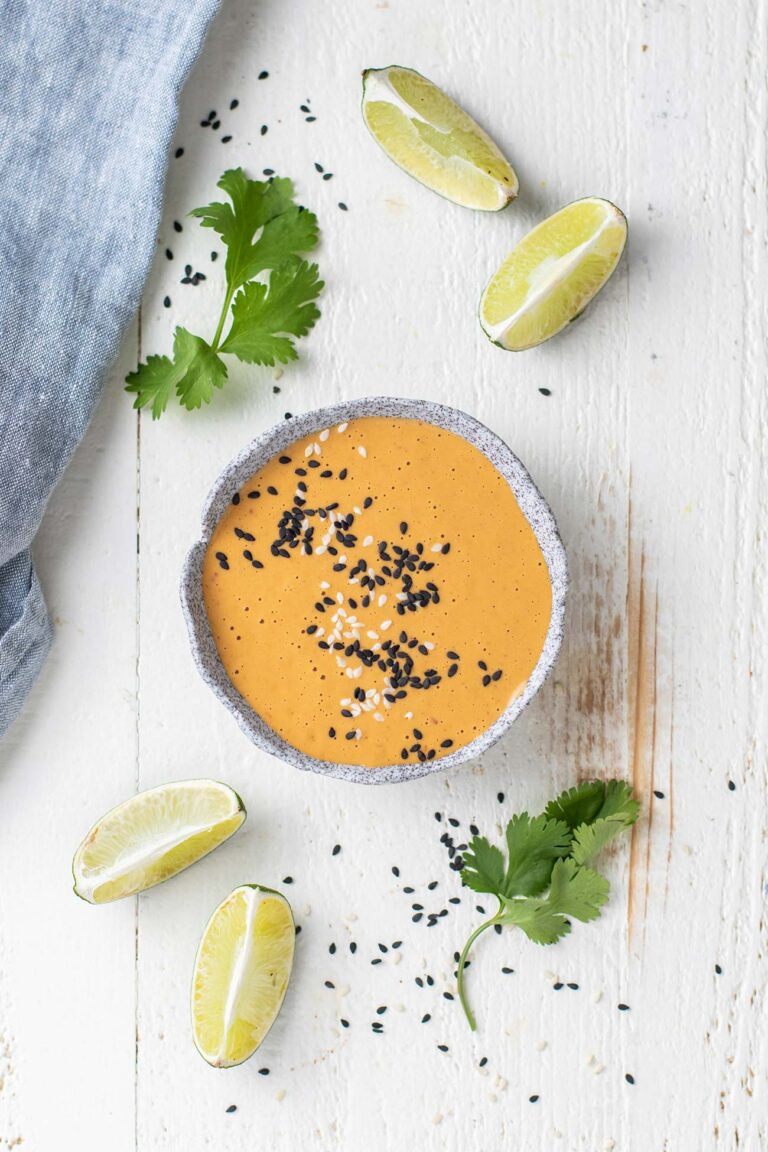 If you make this recipe, be sure to share it with me! Find me on Facebook or Instagram and be sure to tag #SunkissedKitchen @SunkissedKitch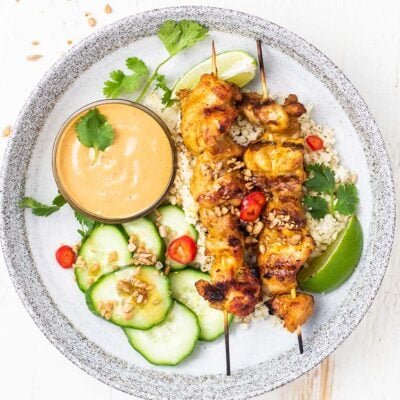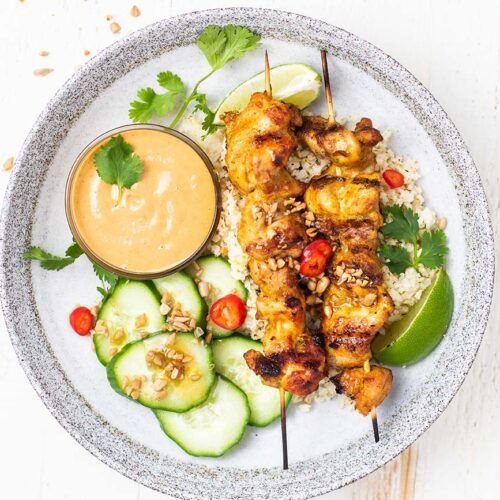 Thai Chicken Satay
A healthy, classic SE Asian dish, this chicken satay is incredible easy to make, and absolutely bursting with flavor. The best part is the creamy SunButter dipping sauce, a great sub for the traditional peanut sauce served with satay, so don't skip it! Serve this over rice or with cauliflower rice, and with a simple cucumber salad, for a delicious and balanced meal.
Print
Pin
Rate
Ingredients
Chicken Satay
1 1/2

pounds

chicken thighs

cut into long, thin strips

1/4

cup

coconut milk

full fat

2

teaspoons

red curry paste

1

teaspoon

sea salt

1

teaspoon

turmeric powder

1

teaspoon

ginger powder

1/2

teaspoon

cinnamon
Instructions
Chicken Satay
Thinly slice chicken thighs in long strips, and add to a container with a lid.

In a medium sized bowl, add the rest of the satay ingredients. Mix the marinade together until a thin paste forms. Pour the marinade over the chicken thighs, and use a fork to evenly coat the chicken.

Cover the chicken and refrigerate for at least an hour, up to overnight.

Add 12 skewers to a container of water and allow to soak. This keeps the skewers from charring or lighting on fire when grilling the chicken.

Heat a grill over medium high heat.

Weave the strips of chicken onto the bamboo skewers, evenly splitting it up between the 12 skewers.

Grill the skewers for 5-7 minutes per side, until lightly charred and the chicken is cooked throughout.
Thai Satay Sauce
Add all of the ingredients to a blender, and blend until very smooth. Add additional water, if desired, to thin it out.

Serve with the chicken skewers.
Notes
Nutrition Facts are for 2 chicken skewers + 2 tablespoons of the dipping sauce
Fish sauce is a common ingredient used in Thai sauces. Red Boat makes a fish sauce that is paleo. If you'd like to add this in, you don't need the coconut aminos. Add 1 tablespoon of the fish sauce to the marinade and omit the coconut aminos.
If making these inside instead of on a grill, use a grill pan (or frying pan), heated over medium high heat with a little avocado or sesame oil. Cook the skewers for 5-7 minutes per side.
I highly recommend trying SunButter for the dipping sauce. However, if you'd like to use the traditional peanut sauce, swap the SunButter for the same amount of a natural peanut butter (no sugar or oils added).
Nutrition
Calories:
380
kcal
|
Carbohydrates:
6
g
|
Protein:
22
g
|
Fat:
30
g
|
Saturated Fat:
10
g
|
Cholesterol:
111
mg
|
Sodium:
729
mg
|
Potassium:
293
mg
|
Fiber:
1
g
|
Sugar:
1
g
|
Vitamin A:
745
IU
|
Vitamin C:
1
mg
|
Calcium:
36
mg
|
Iron:
2
mg