This post may contain affiliate links. Please see my full
Disclosure Policy
for details.
This Freezer Friendly Chicken Vegetable Spaghetti Sauce takes about 20 minutes to prep, 45 minutes to simmer, and makes 3 meals for a family of 4. We have been making this once, having dinner, and putting two containers in the freezer for quick, healthy dinners on busy days. It's so nice having something so tasty and nutritious ready in minutes!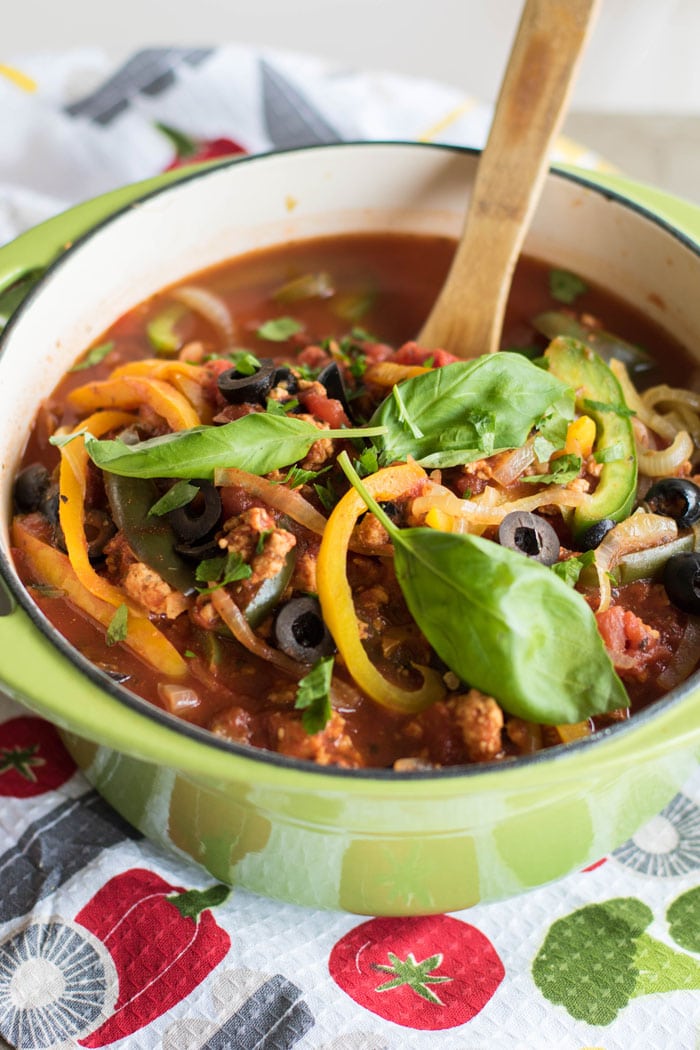 I've gotten so much positive feedback on my Freezer Friendly Meal Series (this is the 2nd recipe). The first recipe in this series was a Pumpkin Seed Veggie Burger. I've already had so many readers tell me they've made them, and are loving them! We are on our 4th batch in 4 weeks, and I just love pulling them out of the freezer and popping them in the oven for quick, delicious meals.
If you didn't read the last post, let me catch you up. I've had a lot of requests from readers lately for ideas on meals to freeze, so on busy days, healthy meals are ready to go and easy to heat up. It's a fabulous idea. I actually freeze a lot of meals (mostly soups, up until now), and rely on them when things get hectic.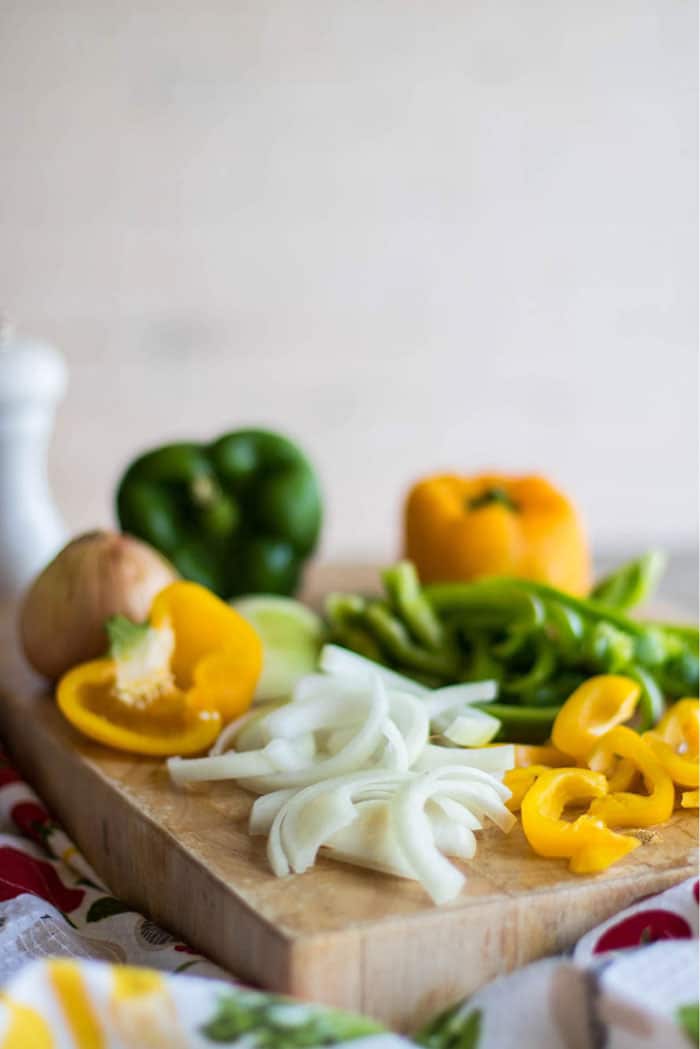 It's a great strategy if you want to eat cleaner,  but struggle with hectic schedules. Even though I am now working from home, and love that I have more flexibility in planning and preparing meals, I still get too busy with work (or with my son's activities) to make myself good meals all day long. I've really been loving preparing for this series, because it is improving my diet.
We went out of town last weekend, and the last thing you want to do when you get home from traveling is run to the grocery store to stock up on fresh produce. In the past, I've always just made sure I have bananas and spinach in the freezer, and coconut milk and yogurt in the fridge (for my Ahhh-May—ZING Dreamy Chocolate Chip Mint Smoothie), but now that I have a toddler, I really want him to get used to eating real food at meal times (smoothies definitely are real food, but he doesn't know that- to him, it's a milkshake).
When we got home at dinner time Sunday night, I pulled a container of this chicken vegetable spaghetti sauce out of the freezer to thaw a bit, and cooked some rice. When the rice was cooked, I put it in a storage container, rinsed the pot, and added the sauce to it to warm it up and allow it to simmer for 5 minutes. Dinner served. 1 pot dirtied. Healthy, clean food for the whole family (and since this recipe makes 3 meals for 4 adults, we had lunch for the next day as well).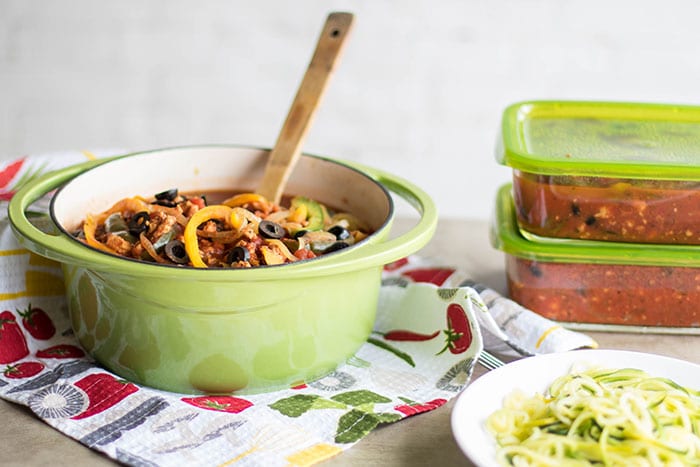 I've posted a very similar recipe to this before – my Crockpot Chicken Sausage Spaghetti. I make that version with fresh tomatoes and herbs, if you are looking for a one-meal option with fresher ingredients. This recipe is designed to be quick to put together, and with ingredients that taste just as good after being frozen as they do fresh.
I often use spaghetti squash instead of pasta with spaghetti sauce. It's certainly my favorite pasta sub. Recently, I've been making "zoodles," and have perfected a method for getting "al dente", non-watery noodles — directions below.
If you've never cooked spaghetti squash before, check out my post on my favorite way to cook it!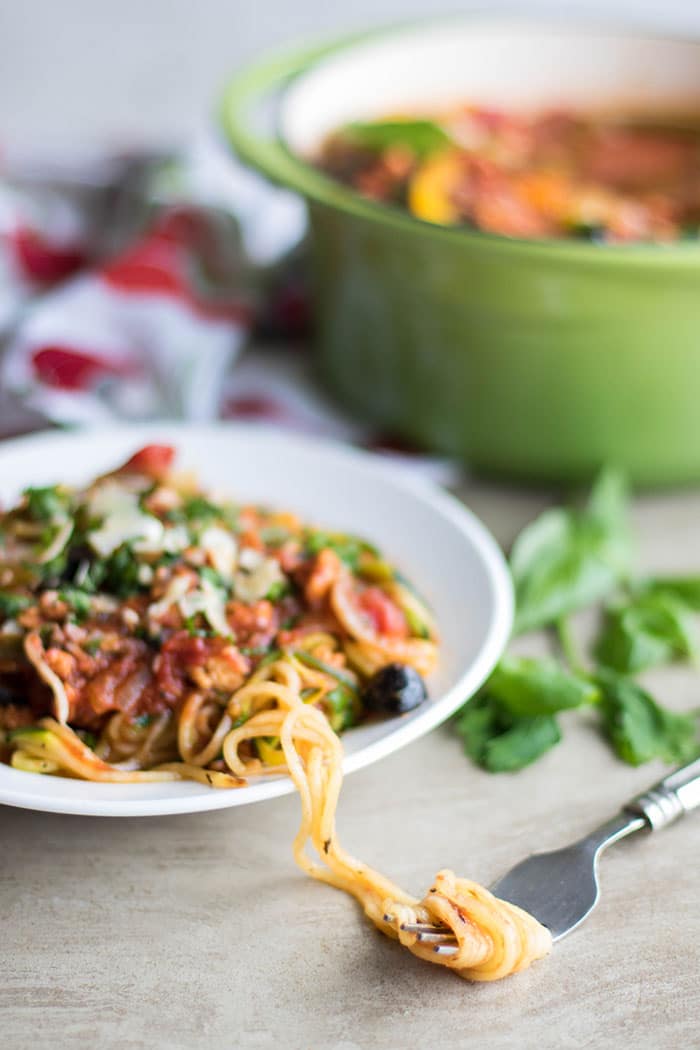 You can mix it up with this recipe, and serve a different meal with each batch of sauce. Quinoa, rice, millet, cauliflower rice, butternut squash noodles, or zoodles all make nutritious options. I often serve mine with veggie "rice" or "noodles", and make rice or a gluten free pasta for the boys.
This chicken vegetable spaghetti sauce is delicious all on it's own! I even heat it up and eat it like soup (topped with parm is my fav!) on days I just can't do anything else.
Making Perfect Zoodles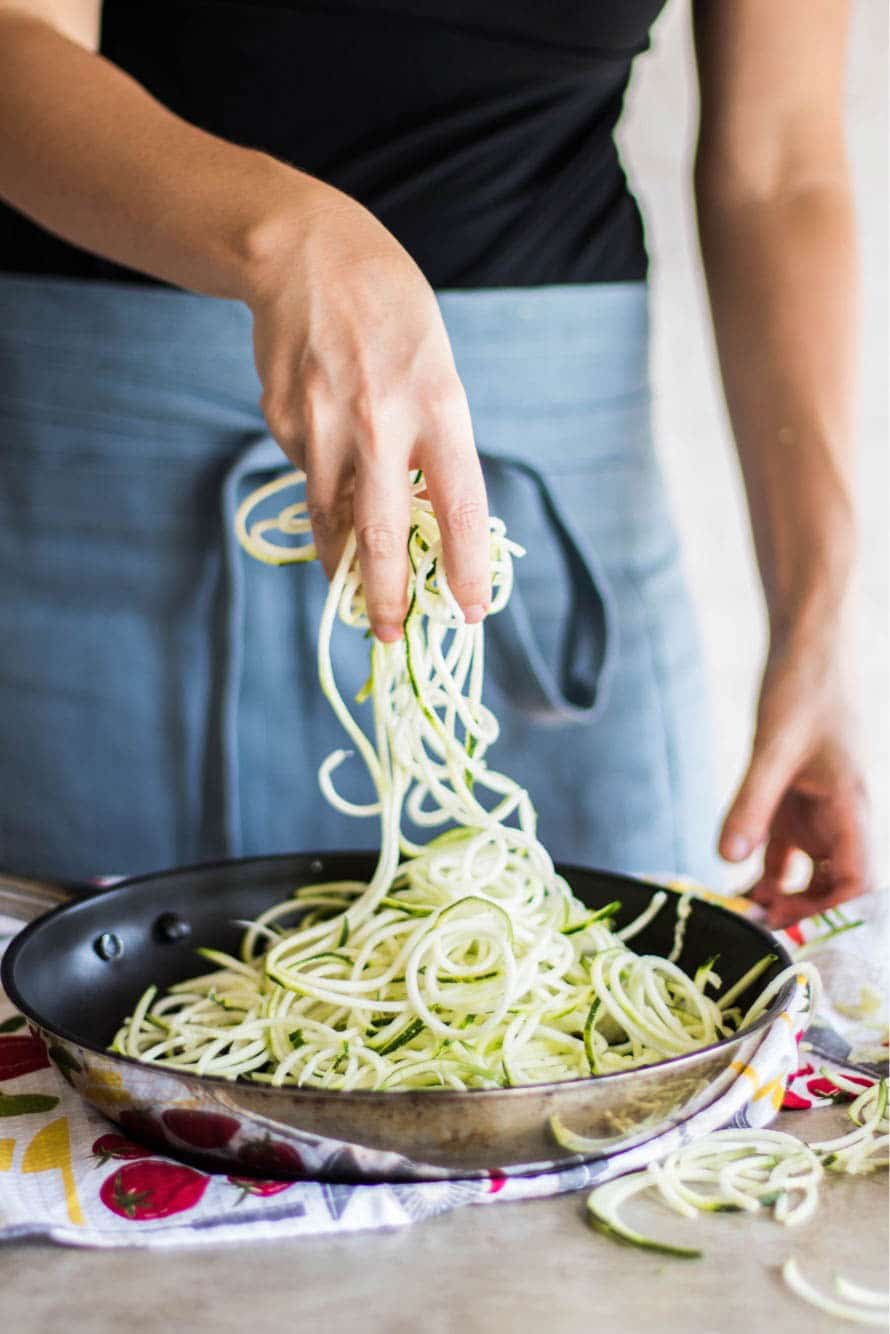 I bought an OXO Spiralizer last year, and use it so often now. I didn't use my old spiralizer often because it didn't suction well to the counter and it was just messy and difficult. The OXO is easy to use and makes beautiful veggie noodles. I am not being paid to say this! I just really love it and highly recommend it.
Zucchini noodles can be watery and mushy if overcooked. My new favorite method for making them is to preheat the oven to 450 F, and put a few paper towels down on a baking sheet (it's okay! It won't light on fire!). Lay the zucchini noodles down in a thin layer over the paper towels. Put in the hot oven for 3-5 minutes. This will make "al dente" noodles that are hot, but not cooked enough to start releasing a ton of water, which will dilute your pasta sauce.
You can also use zucchini noodles cold, which I have done in the summer when I didn't want to turn my oven on. I like raw zucchini and cucumber "noodles" in salads as lettuce-replacers!
Tips for Chicken Vegetable Spaghetti Sauce
This recipe is GIANT! There are several things good about that- cook once, and you have minimal clean up on the other two nights you serve this. ALSO — I bought a giant can (88 ounces) of diced tomatoes (equivalent to 6 cans of diced tomatoes), and it was the same price as buying just 2 small cans! Great money saver.
In the directions below, I instruct how to split this into 3 meals, each large enough to serve 4 adults. If you're feeding small children, or there is only 1 or 2 of you, you'll want to divide into even more freezer meals.
Save time: I make homemade chicken sausage because I control the ingredients, and it's a lot cheaper than buying it. However, I love Whole Foods Italian Chicken Sausage, and if time is more of a concern than saving money, that's a great time saver. You can also buy sliced olives to save a bit of time.
Make it Whole30: I sometimes add a bit of coconut sugar (1 tablespoon for this giant recipe– not much!) to boost the flavors, but it's not necessary at all. Omit for a compliant recipe.
For the Family: When Xander was smaller, I would take this sauce and pulse it in the blender to make it easier to feed him. I also love freezing this in small containers for easy meals for him. If your kids are finicky about eating vegetables, chop the peppers and onions in small pieces (or consider using red bell peppers to blend them in better!) to make it harder for your kids to pick them out.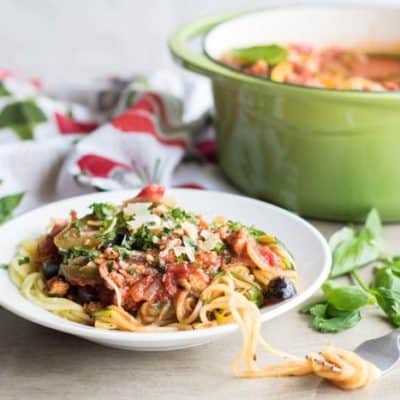 Chicken Vegetable Spaghetti Sauce (Freezer Friendly Meal Series)
This Freezer Friendly Chicken Vegetable Spaghetti Sauce takes about 20 minutes to prep, 45 minutes to simmer, and makes 3 meals for a family of 4. We have been making this once, having dinner, and putting two containers in the freezer for quick, healthy dinners on busy days. It's so nice having something so tasty and nutritious ready in minutes!
Print
Rate
Servings:
14
cups of sauce
Ingredients
Chicken Sausage
2

lbs

chicken breasts

or thighs, boneless

1

tablespoon

olive oil

2

tablesoons

Italian seasoning

1 1/2

tablespoons

sea salt

2

teaspoons

paprika

1-2

teaspoons

red pepper flakes

1/4-1/2

teaspoons

fennel seeds

black pepper

to taste
Spaghetti Sauce
1

tablespoon

olive oil

2

onion

diced

1/2

teaspoon

sea salt

4

bell peppers

I used 2 green, 2 yellow

6

cans

diced tomatoes

15-ounce

2

cans

tomato paste

6 ounce

1

can

black olives

15-ounce

1/4

cup

Italian seasoning

1 1/2

tablespoons

cumin

1

tablespoon

paprika

1

tablespoon

coconut sugar

optional

1

tablespoon

vegetable bouillon

2

teaspoons

thyme

sea salt and black pepper

to taste

fresh herbs

to garnish, optional
Instructions
Add all the ingredients for the chicken sausage to a food processor bowl, and process until the chicken is minced and the spices are mixed in well.

In a very large pot, add olive oil, and heat over medium-high heat.

Slice onions, and add to the pot, season with 1/2 teaspoon sea salt, and stir occasionally to begin to lightly brown. This takes about 10-12 minutes.

Add bell peppers, and continue to soften for another 5 minutes.

Take onions and peppers out of hte pot, and set aside.

Brown the chicken sausage in the pot, breaking it up into small pieces (it doesn't break apart as well as beef, because the fat content is so low). Cook until the chicken is about halfway done.

Add diced tomatoes, paste, sliced olives, and all spices except coconut sugar, sea salt and pepper (and fresh herbs, if using). Bring the sauce to a low simmer, and reduce heat to medium low.

Simmer sauce on medium low for 30-45 minutes.

Taste the sauce, and add coconut sugar if you think it tastes a bit too acidic (it really doesn't take much!), or a bit of extra salt and pepper to season to your liking.

Measure out 5 cups of the sauce into 2 freezer containers, and reserve the rest for your meal (or freeze 3 batches if this is a part of your meal prep!).

I like to "brighten up" the defrosted sauce by adding fresh herbs, like basil, Italian parsley, or fresh oregano. If you have some in the garden, mince some to either toss in the sauce or garnish your dish with. This is totally optional and not necessary!
Notes
*Adjust this to meet your family's needs! I also like to add broccoli, zucchini, diced carrots, and fresh parsley to my sauce to amp up the nutrition.
Nutrition
Calories:
209
kcal
|
Carbohydrates:
18
g
|
Protein:
17
g
|
Fat:
8
g
|
Saturated Fat:
1
g
|
Cholesterol:
41
mg
|
Sodium:
1560
mg
|
Potassium:
966
mg
|
Fiber:
5
g
|
Sugar:
10
g
|
Vitamin A:
2235
IU
|
Vitamin C:
67.5
mg
|
Calcium:
111
mg
|
Iron:
4
mg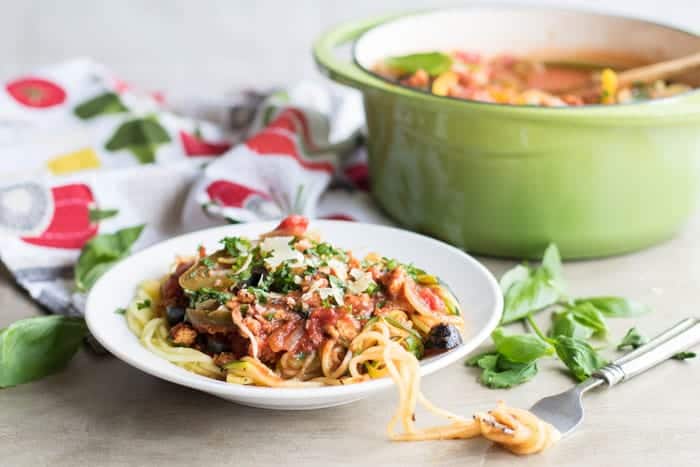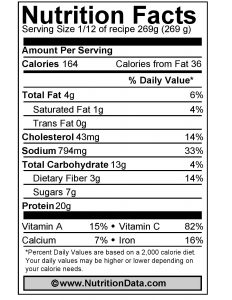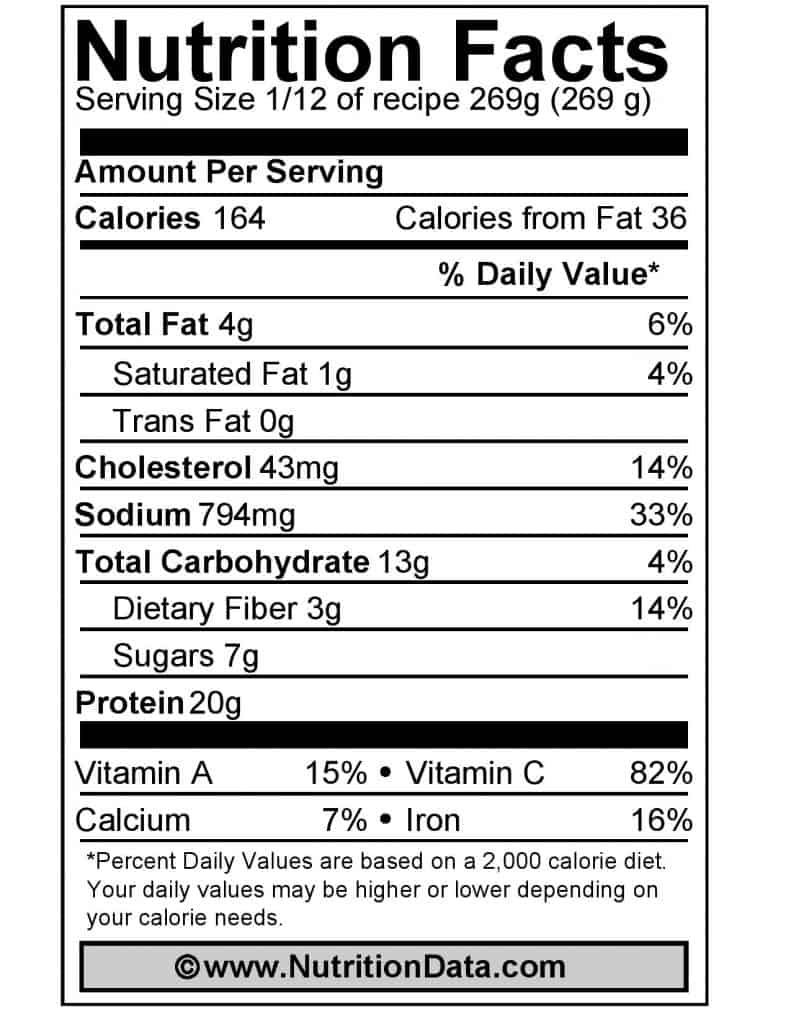 Nutritional data for Chicken Vegetable Spaghetti Sauce and images courtesy of www.NutritionData.com.
Other Similar Recipes:
I'd love to connect with you on social media! Find me on Facebook or Instagram where I post daily healthy eating and lifestyle inspiration.
This post contains affiliate links, which means that if you click on one of the product links, I'll receive a small percentage of any purchases made.