This post may contain affiliate links. Please see my full
Disclosure Policy
for details.
This easy Baked Coconut Shrimp Recipe is gluten free, and comes together quickly! These are perfect to make ahead and bake when guests start arriving. The perfect healthy party appetizer – guaranteed to be a hit!
Love shrimp recipes? Also try this delicious Coconut Shrimp Curry and this Healthy Shrimp Stir Fry.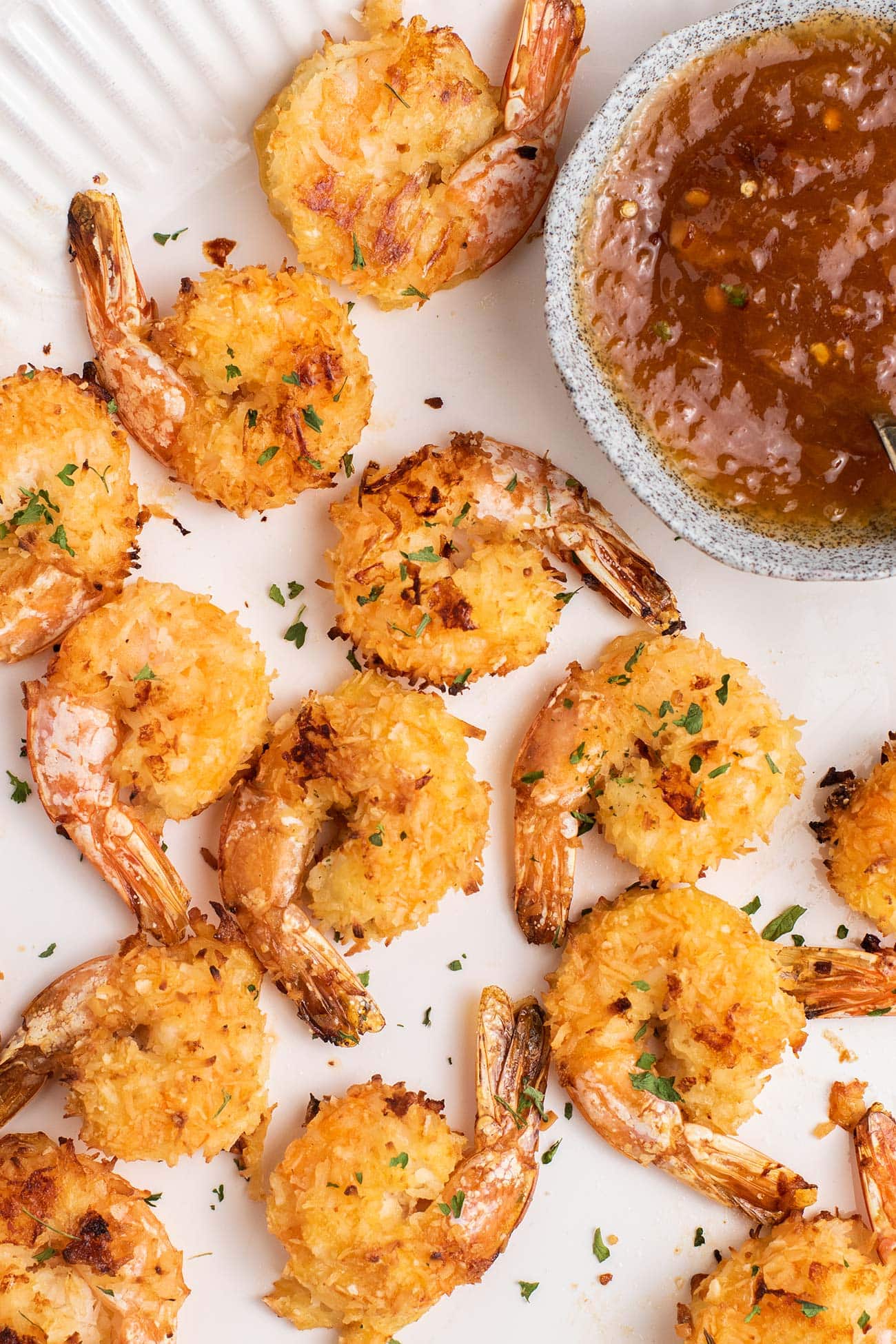 A Healthy Coconut Shrimp Appetizer!
This healthy coconut shrimp recipe is the perfect party appetizer! It's simple to put together, and can be prepped ahead and baked as guests arrive.
The ingredients are easy to keep on hand, and the shrimp is prepped while it's still partially frozen, so there's very little planning needed!
This shrimp bakes for about 20 minutes, and the coating comes out golden and crunchy, and the shrimp stay juicy and plump inside. You'll adore the simple process and how they come out perfect every time!
Plus, these crunchy baked shrimp will disappear in minutes.
I love this coconut shrimp recipe so much, I also make it for dinner!
What You Need
Frozen Wild Shrimp (the 20-24 count per pound are a good size for coconut shrimp! The tails on make a great presentation.)
Eggs (this binds the coconut crumbs onto the shrimp. I have heard that aquafaba works if need these to be egg free.)
Coconut (I use unsweetened coconut (this brand is my favorite), but sweetened coconut works too).
Gluten Free Panko Breadcrumbs (I use brown rice crackers blended into crumbs!)
Coconut Sugar (omit if using sweetened coconut)
Sea Salt & Black Pepper
Cayenne
*This recipe does not use flour in the coating. I find it to be too heavy, and the breadcrumbs and coconut crisp up better without it.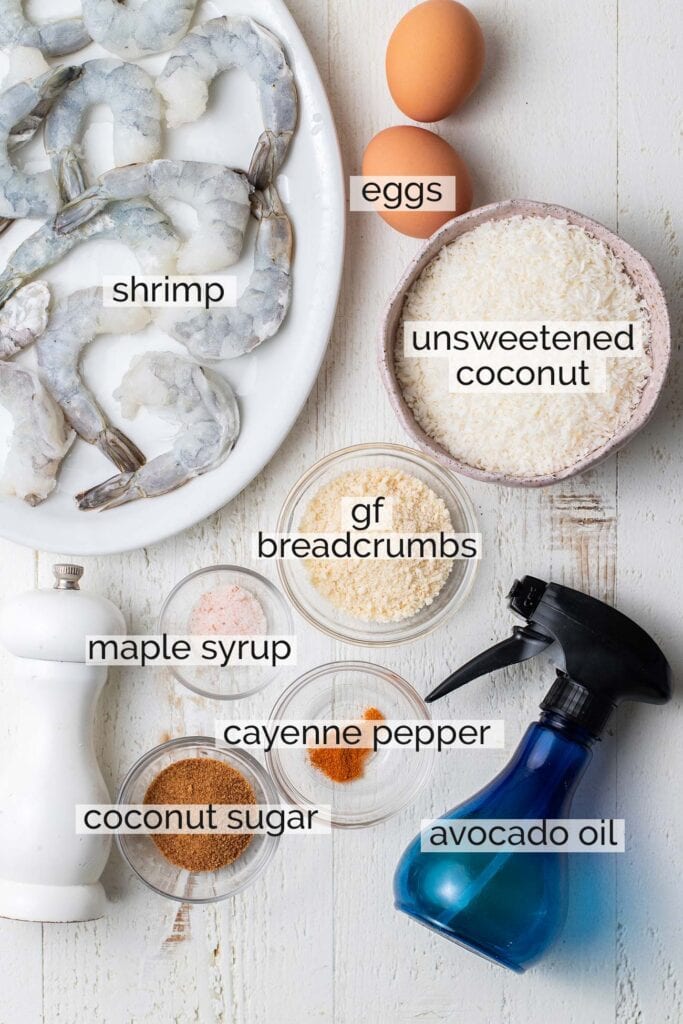 You'll Love Baking Your Shrimp Appetizer
This baked party appetizer couldn't be more impressive or more easy! It only takes minutes to put together and put in the oven, so it can be prepared last minute.
The shrimp is best cooked frozen or partially frozen, to ensure the coating gets golden and crispy, and the shrimp stay juicy and tender.
Coat shrimp and place on baking trays, and then freeze until ready to serve. Simply pop them in the oven and then serve 20 minutes later!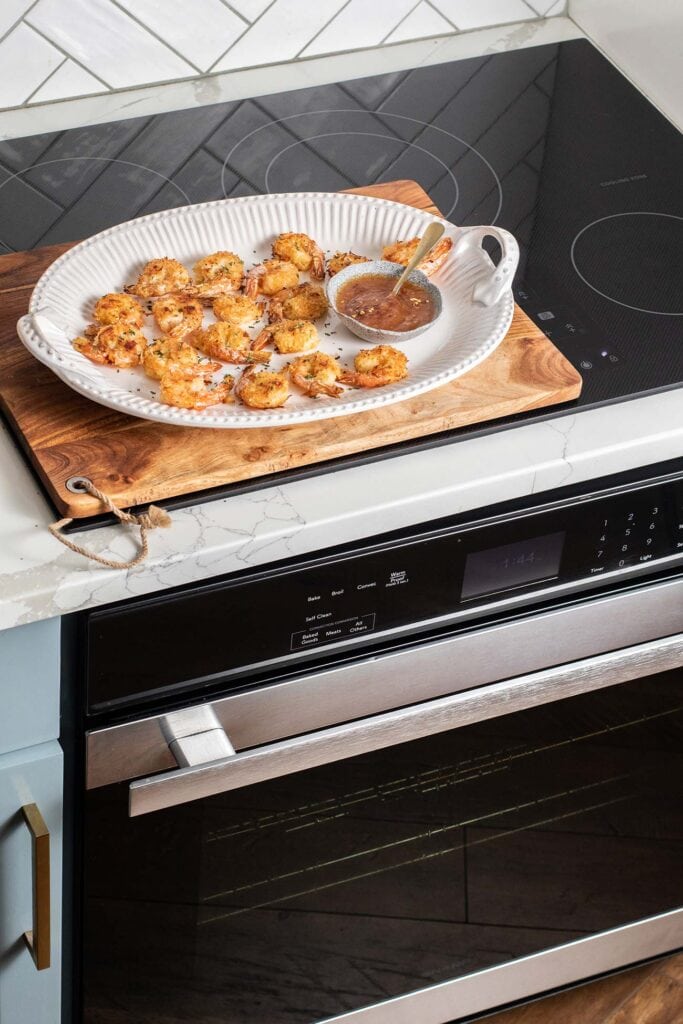 I use my Sharp European Convection Oven daily. It's roomy inside, so I can fit multiple dishes, which is perfect when I am baking for a holiday or hosting a party.
Its many settings mean I can always adjust the oven to cook my dishes perfectly.
Plus, it's gorgeous in my kitchen, paired with a Sharp Induction Cooktop.
Hop on over to the Sharp USA website to find out if this oven is the right fit for your dream kitchen!
How to Make Oven Baked Coconut Shrimp
Step 1: Add eggs, 1/2 teaspoon salt, and black pepper to a bowl, and whisk together.
Step 2: In a medium sized bowl, combine coconut, panko (or ground rice crackers), coconut sugar (omit if using sweetened coconut), 1/2 teaspoon salt, and cayenne pepper. Stir to combine.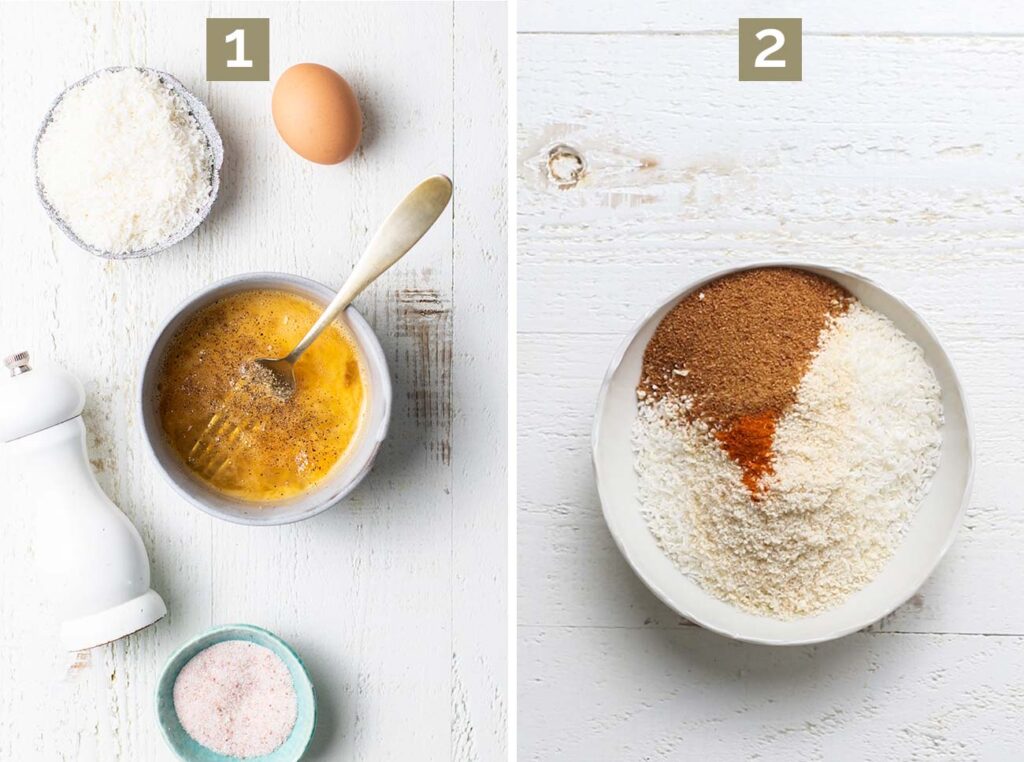 Step 3: With shrimp still at least 1/2 frozen, dip each one in the egg mixture to coat.
Step 4: Dip the shrimp next in the coconut mixture. Be sure to fully coat the shrimp, flipping it over several times to get as much of the coconut mixture on it as possible.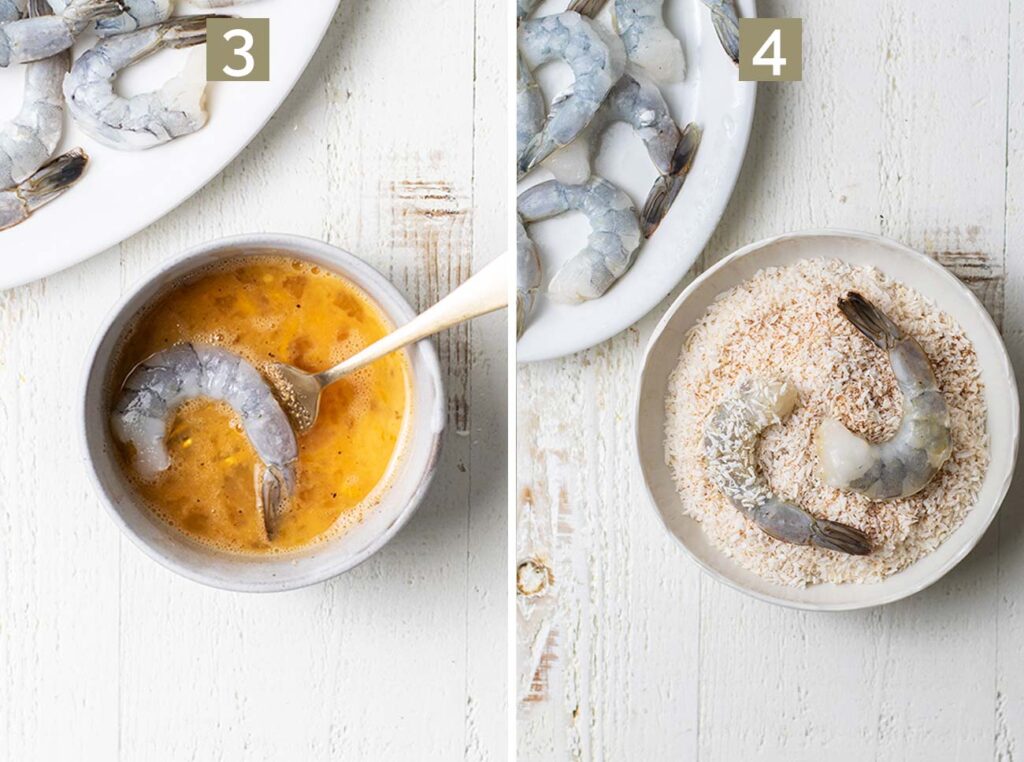 Step 5: Add the coated shrimp to a baking tray. Leave space between each shrimp to prevent them from steaming. More space = more golden brown crispiness 🙂 If you're not yet ready to serve the shrimp, cover the baking trays in plastic wrap or foil, and freeze them until ready to cook.
Step 6: Bake the shrimp at 450º F for 14 minutes. Flip the shrimp over, and continue baking for 6 minutes, until the coating is browned and crisp.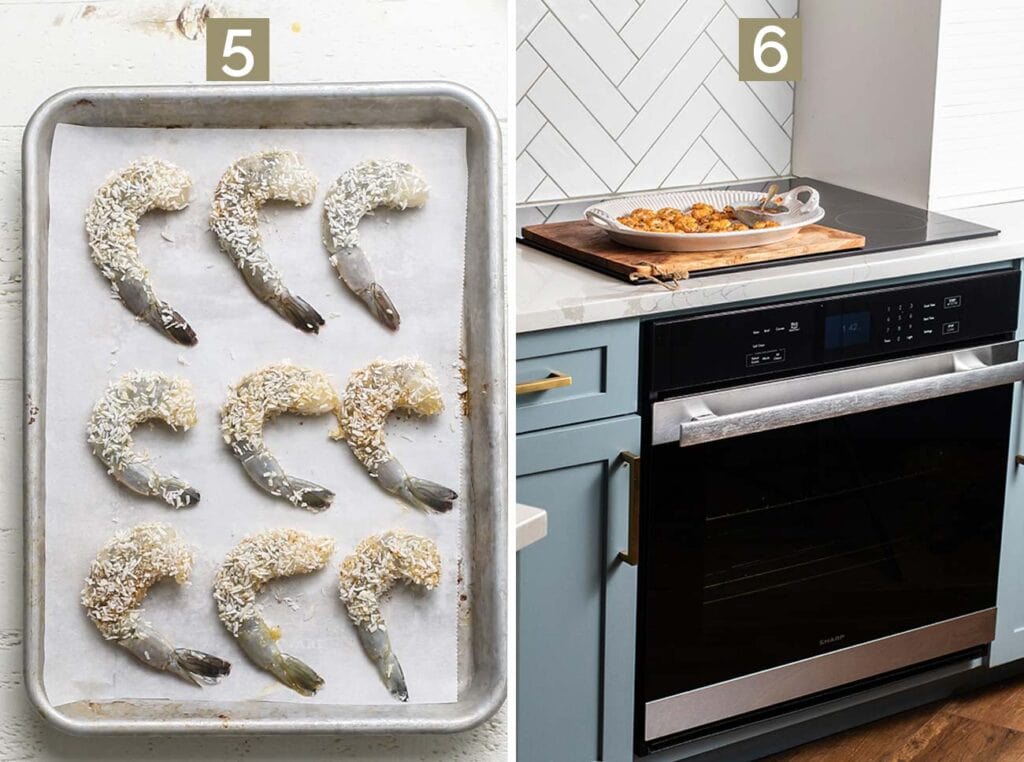 What Goes with Coconut Shrimp?
Cocktail Sauce
Thai Sweet Chili Sauce
Orange Chili Sauce
Or try making this delicious Chili Apricot Dipping Sauce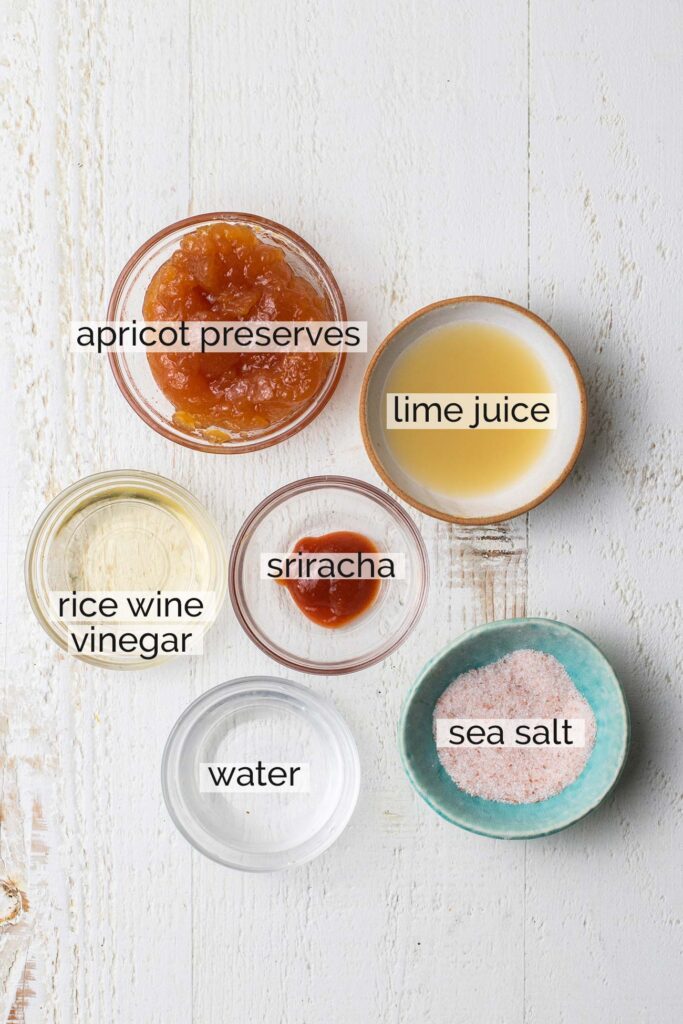 Apricot Preserves
Sriracha
Rice Wine Vinegar
Lime Juice
Water
Sea Salt
Simply stir all sauce ingredients together, and then adjust the spiciness by adding more sriracha, or another pinch or two of salt!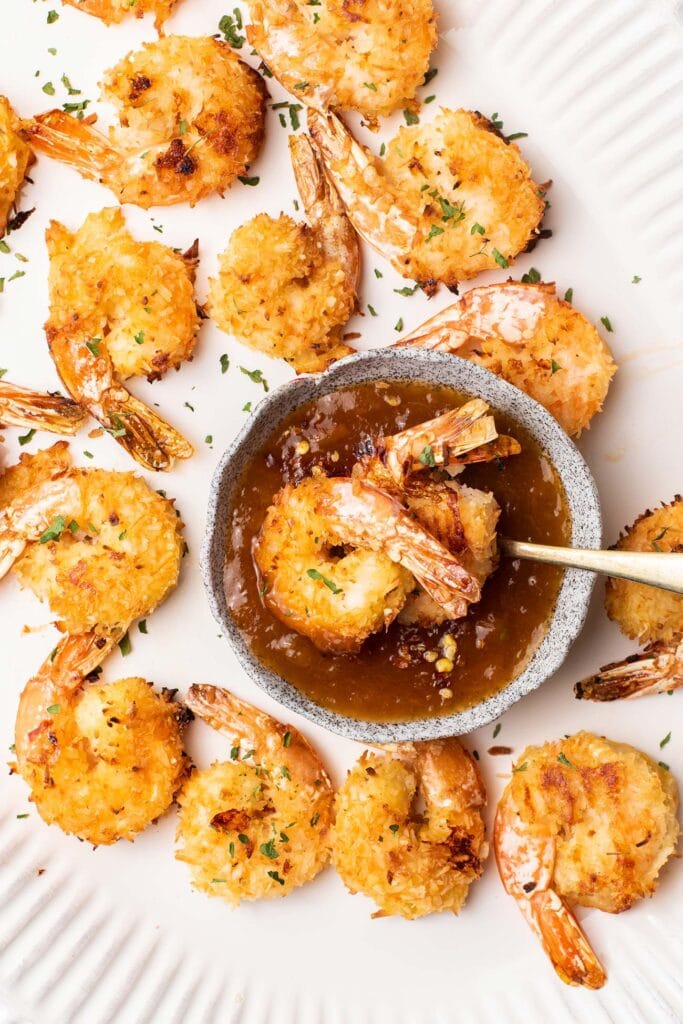 How to Store & FAQ
Store leftover baked coconut shrimp in an air tight container in the freezer. When ready to reheat, preheat oven to 450º, place frozen shrimp on a baking tray, and bake for 12 minutes, flip, and continue to bake shrimp for another 5-6 minutes. Keeping the shrimp frozen will step it from becoming overcooked.
Is Coconut Shrimp Gluten Free?
Typically, coconut shrimp is made by coating the shrimp in flour, then dipping it in a coating of panko and coconut. Both the flour and the panko have gluten, but this recipe easily makes gluten free coconut shrimp by omitting the flour and using gluten free breadcrumbs in place of the panko.
Purchase gluten free panko, or better yet, use some brown rice crackers, and blend them up to form a simple "breadcrumb" mixture with simple ingredients.
How Long to Bake Coconut Shrimp
Coconut burns quickly, so it's important to watch the shrimp closely and learn how it bakes in your own. This recipe calls for baking the shrimp for 14 minutes, then flipping it and baking it an additional 6 minutes.
The first time you bake coconut shrimp, check it at 12 minutes. If the shrimp has started to brown and become crisp, it's time to flip it and cook the other side. It might need an additional 2-4 minutes if it still looks soft.
Other Healthy Appetizer Recipes
I'd love to connect with you on social media! Find me on Facebook or Instagram where I post daily healthy eating and lifestyle inspiration.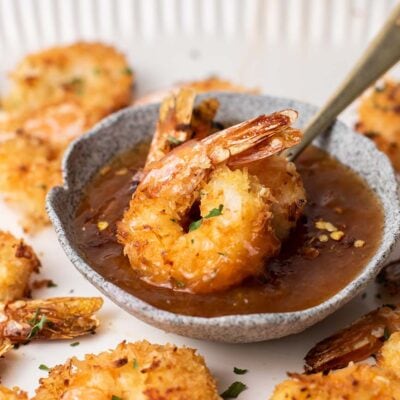 Baked Coconut Shrimp
This healthier baked Coconut Shrimp is the perfect party appetizer! It's quick and easy to prep for, and you can bake them right away or freeze them to bake as guests arrive. Serve with a classic cocktail sauce, or whisk together a simple Chili Apricot Sauce. This recipe calls for starting with frozen shrimp, so no need to thaw them ahead of time!
Print
Pin
Rate
Ingredients
1

pound

jumbo shrimp

about 20 large shrimp, frozen

2

eggs

1/2

teaspoon

sea salt

black pepper

to taste

3/4

cup

unsweetened coconut

(sweetened is okay, omit coconut sugar)

1/2

cup

brown rice crackers

blended into flour

1

tablespoon

coconut sugar

1/2

teaspoon

sea salt

1/8

teaspoon

cayenne pepper

avocado oil

spray, if possible
Chili Apricot Dipping Sauce
1/4

cup

apricot preserves

2

teaspoon

lime juice

2

teaspoons

rice wine vinegar

2

teaspoons

water

optional, to thin out sauce

1

teaspoon

sriracha chili sauce

pinch

sea salt
Instructions
Preheat oven to 450 degrees F. Line a large baking tray with parchment paper and set aside.

Remove shrimp from freezer and place on a plate. Allow them to gently thaw (we want them half frozen when they go in the oven) while preparing the egg and coconut mixtures.

In a small bowl, whisk together eggs, 1/2 teaspoon of salt, and black pepper.

In a medium sized bowl, combine the coconut, rice cracker crumbs, coconut sugar, salt, and cayenne pepper.

Working with 1 shrimp at a time, dip each one in the egg mixture, then fully coat it in the coconut mixture. Place coated shrimp on the baking tray, leaving space between each shrimp. Be careful not to overcrowd your baking tray or the shrimp will steam instead of crisping and turning golden brown.

Spray shrimp with avocado oil spray. This is optional but helps the shrimp brown more golden.

Keeping the shrimp partially frozen as they bake prevents the shrimp from overcooking while the coating is crisping and browning. Bake the shrimp for 14 minutes.

Flip each shrimp over, and continue baking for an additional 6 minutes.

Serve the shrimp hot with dipping sauce. See notes for how to prepare shrimp ahead of time.
Chili Apricot Dipping Sauce
Combine all ingredients in a small bowl, and whisk to combine. Adjust the seasonings by adding more sriracha for extra spice, or an additional pinch of sea salt.
Nutrition
Calories:
69
kcal
|
Carbohydrates:
4
g
|
Protein:
4
g
|
Fat:
4
g
|
Saturated Fat:
2
g
|
Polyunsaturated Fat:
0.1
g
|
Monounsaturated Fat:
0.3
g
|
Trans Fat:
0.004
g
|
Cholesterol:
45
mg
|
Sodium:
260
mg
|
Potassium:
52
mg
|
Fiber:
1
g
|
Sugar:
2
g
|
Vitamin A:
76
IU
|
Vitamin C:
1
mg
|
Calcium:
22
mg
|
Iron:
0.4
mg