These healthy Paleo Chocolate Chip Cookies are full of good-for-you-ingredients and are low in sugar. With only 5 main ingredients, these take minutes to whip up.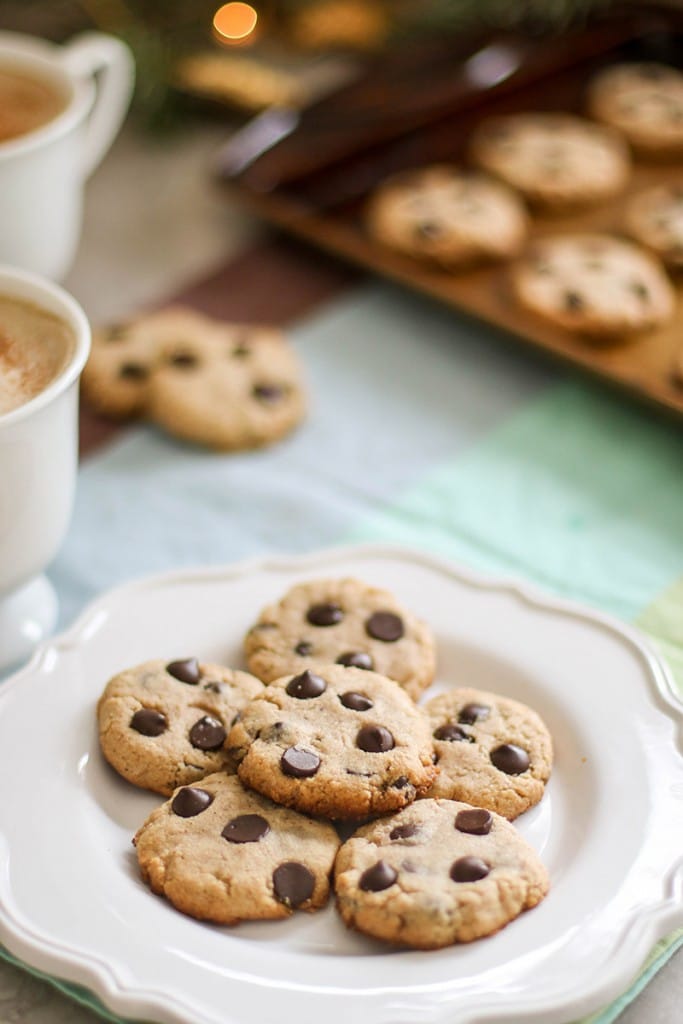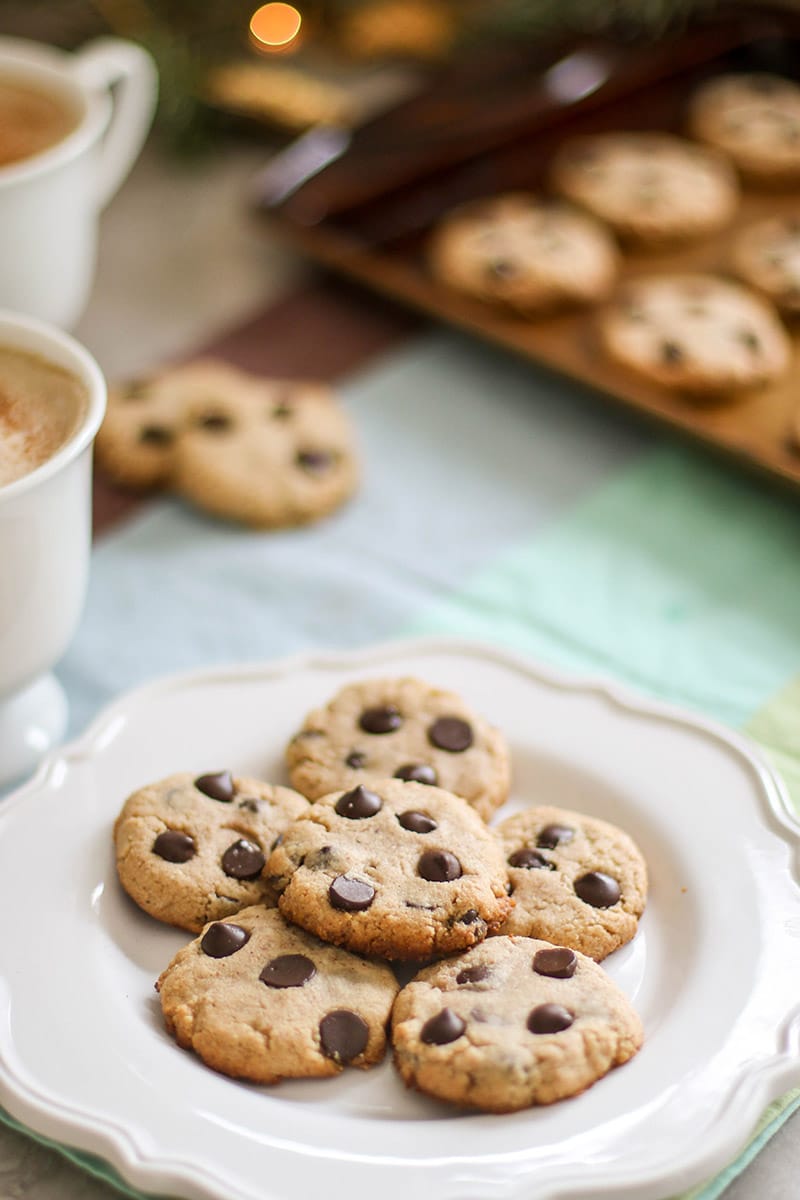 These is nothing more cozy than a plate of chocolate chip cookies. And when they are healthy Paleo Chocolate Chip Cookies, you can feel good about having a few (and giving them to your family).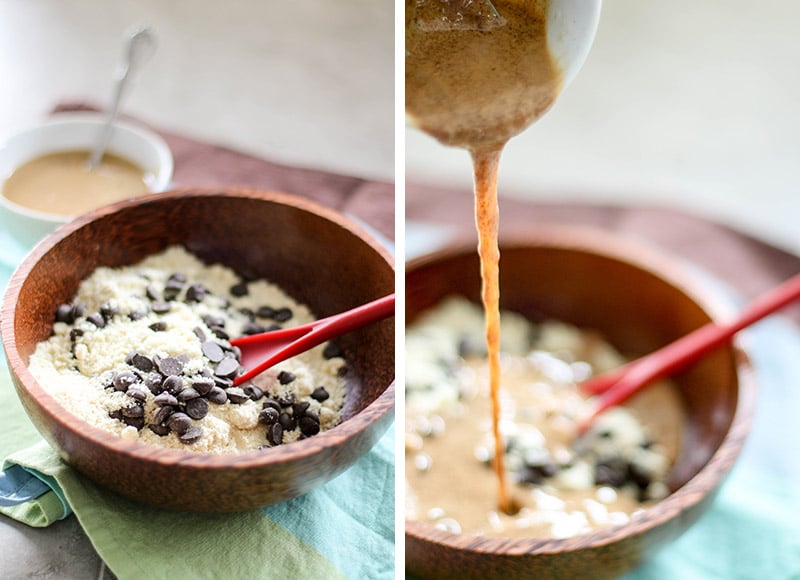 I never used to bake. Too much temptation, and too many stomach aches from eating too much sugar and processed flour.
If you read my blog often, you know I bake a lot now. I love coming up with new healthy recipes, and I love indulging my sweet tooth!
The key to baking and not derailing your healthy eating is to choose ingredients selectively. Sure, it's easy (and cheap!) to just use standard recipes, white flour, and tons of sugar. The recipes almost always turn out because, hey, they are filled with sugar that melts into chewy goodness.
Low sugar, whole grain, and grain free baking does NOT always turn out perfect. I typically make my baking recipes 5+ times before posting them on the blog, to make sure the recipes will turn out.
And it takes a little practice, just like any other type of cooking. I've had to learn through trial and error that some brands of flours work better than others, some types of honey are sweeter than others, and not in not all recipes is coconut butter and oil interchangeable.
It's totally worth it once you've mastered a few recipes though. Almond flour is an incredible flour to work with because it's nearly fool proof. It's naturally sweet, so you don't need to add much sugar at all for a good recipe. It also can't be over mixed, so mix away without fearing tough baked goods.
To top it all off, it's high in healthy fats (the monounsaturated kind), and satiating, meaning you probably aren't going to overeat these cookies.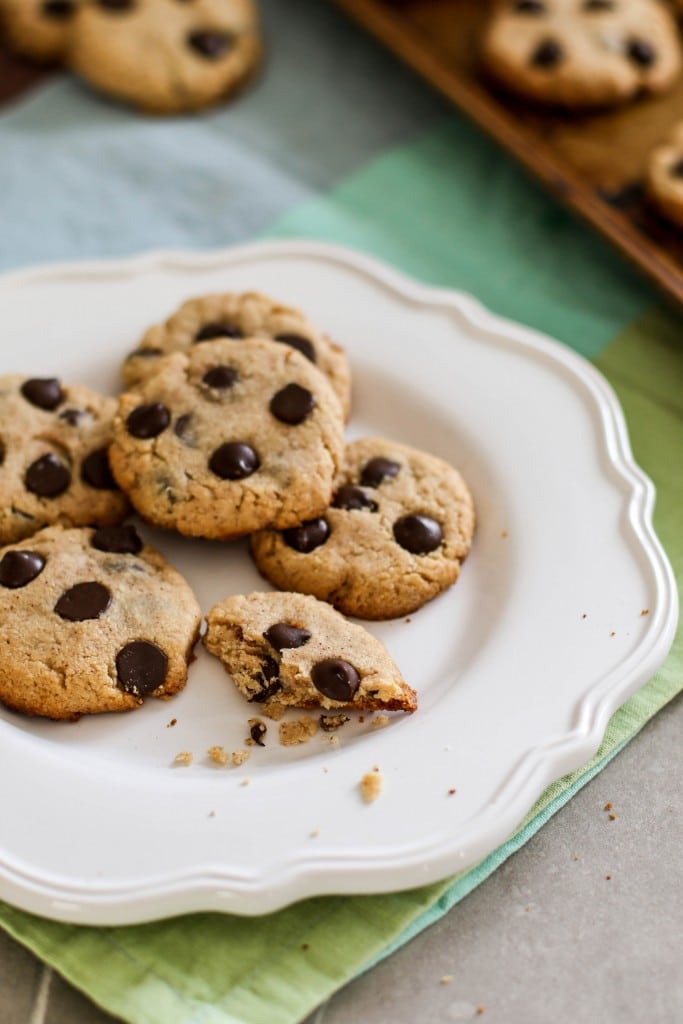 If you're looking for other healthy (low sugar) cookie recipes, I suggest trying my Chocolate Covered Raisin Oatmeal Cookies, Gluten Free Snickerdoodles, and my super popular Sugar Free, Gluten Free Date Bars. If you want to try something nut free, my Irresistible Chewy Granola Cookies are a popular option as well. I'd love to hear back how these recipes work for you!
Tips for Paleo Chocolate Chip Cookies
Sub any nut butter you have on hand for the almond butter. I most recently used cashew butter and they turned out perfect.
Make it Paleo: To keep these Paleo, use an approved soy-free brand of dark chocolate chips. I love Enjoy Life Dark Chocolate Morsels. I buy these in a 5-lb. bag (yes, serious chocolate lovers here) because they are so expensive to buy by the bag! They last for months.
Michelle @ Vitamin Sunshine
Yields 18 cookies
Paleo Chocolate Chip Cookies (5 Ingredients!)
These healthy cookies are low in sugar and full of heart-healthy almonds. The perfect snack to not derail your healthy eating efforts.
5 minPrep Time
10 minCook Time
15 minTotal Time
Ingredients
2 cups almond flour
1/2 cup dark chocolate chips
1/4 teaspoon sea salt
1/4 cup almond butter
1/4 cup coconut oil
1/4 cup honey
Instructions
Preheat oven to 350 degrees F.
In a bowl, add almond flour, chocolate chips, and sea salt.
In a small, microwave safe bowl, add almond butter, coconut oil, and honey. Microwave in 15-20 second intervals until mixture is warmed and liquid but not hot. Mix together well.
Pour wet mixture over the almond flour mixture, and mix well to combine.
Line a baking sheet with baking paper, and form small tablespoon sized balls of dough. Flatten into a cookie shape.
Bake for 8-11 minutes, until just starting to brown on top.
Allow to fully cool, and the cookies will firm up.
7.8.1.2
53
https://sunkissedkitchen.com/paleo-chocolate-chip-cookies-5-ingredients/
Michelle @ Vitamin Sunshine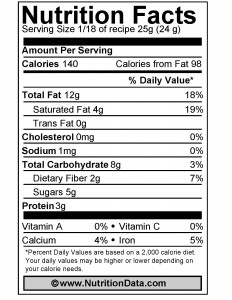 Nutritional data for Paleo Chocolate Chip Cookies and images courtesy of www.NutritionData.com.
Other Paleo Treat Recipes:
I'd love to connect with you on social media! Find me on Facebook or Instagram where I post daily healthy eating and lifestyle inspiration.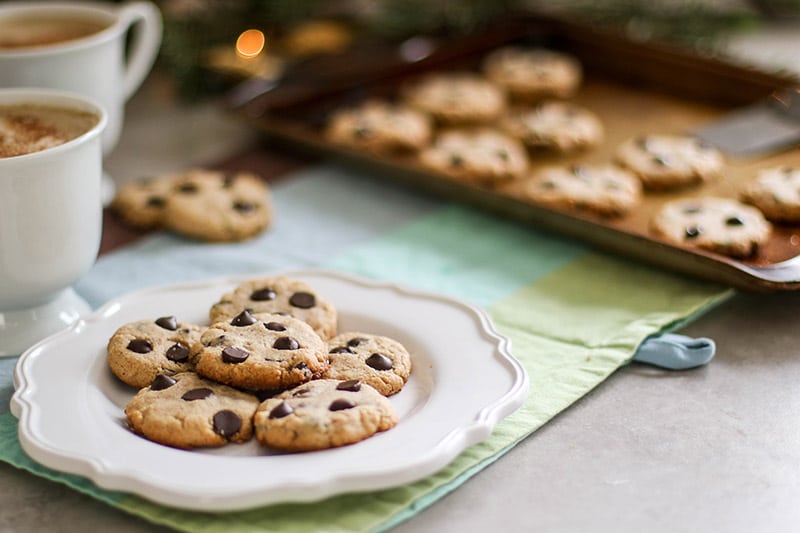 This post contains affiliate links, which means that if you click on one of the product links, I'll receive a small percentage of any purchases made.