This post may contain affiliate links. Please see my full
Disclosure Policy
for details.
These super fluffy Banana Oatmeal Pancakes are made with oat flour, eggs and yogurt– three healthy breakfast ingredients, lightly fried in coconut oil, for a delicious family friendly breakfast. My son has begun to refuse all three of these ingredients on their own, but happily eats these pancakes!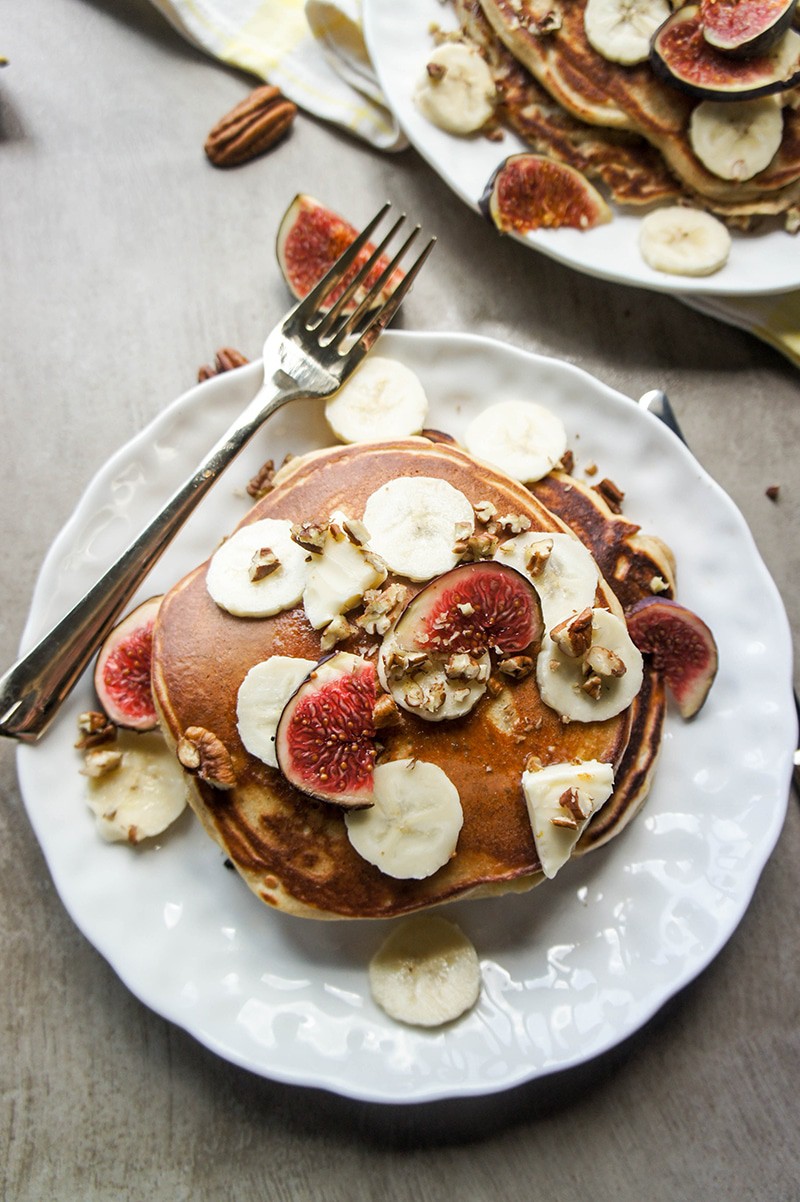 I wrote recently about my high hopes of being able to raise a naturally healthy eater, and how becoming a parent has humbled me. I am seriously hoping my little one is just going through a "bread and watermelon" phase, but until he gets out of it, I have to come up with creative ways to make sure he is getting all he needs.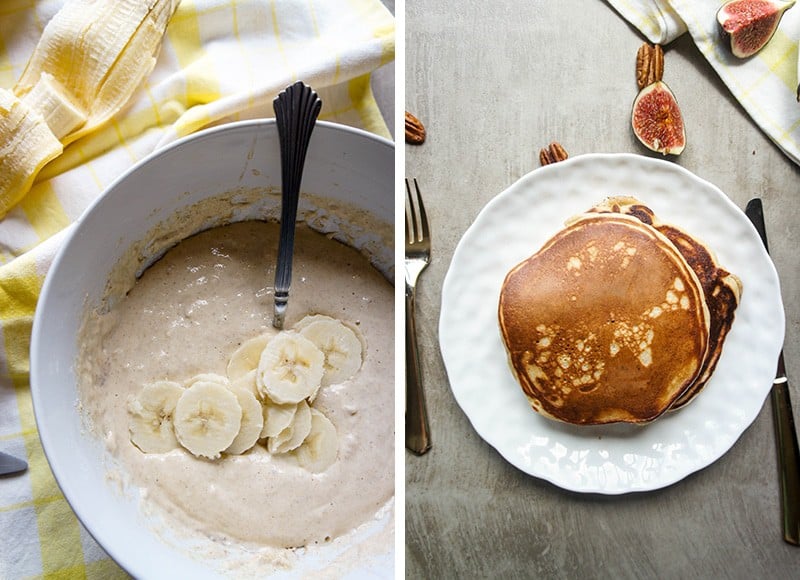 These Fluffy Banana Oatmeal Pancakes have been a great trick. Eggs, yogurt, and oatmeal– very healthy breakfast ingredients he no longer wants to eat on their own, create magically fluffy pancakes when combined.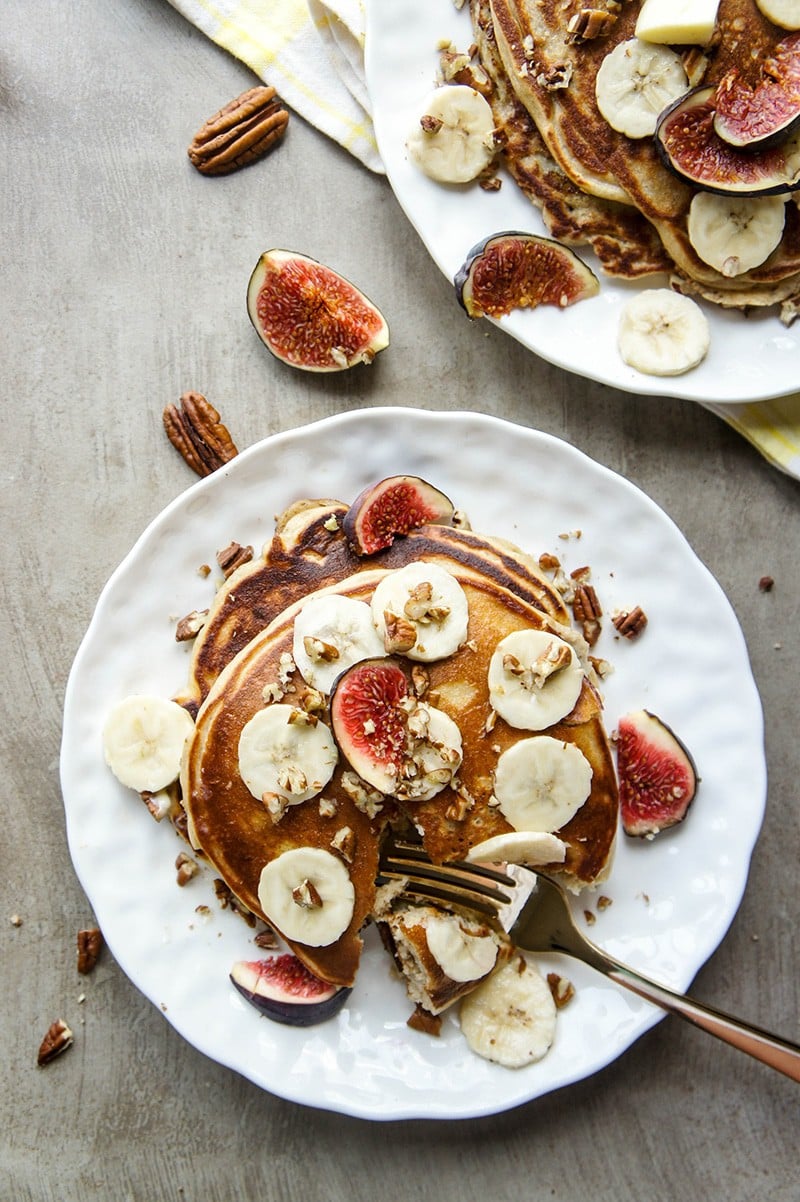 We started making these in the summer, based off Cookie & Kate's Caramelized Peach Oatmeal Pancakes. Over the past few months, we have made variations and tweaked them until they were just a perfect fit for us.
The other recipe my son has been gobbling up like no tomorrow? Green Pumpkin Pie Smoothies— I make his without the protein powder, and add 1/2 tablespoon coconut oil for some extra healthy fats.
Between those two meals, he's getting green and orange veggies, whole grains, eggs, yogurt, and healthy fats. I can relax the rest of the day and not worry too much about what he does or doesn't eat.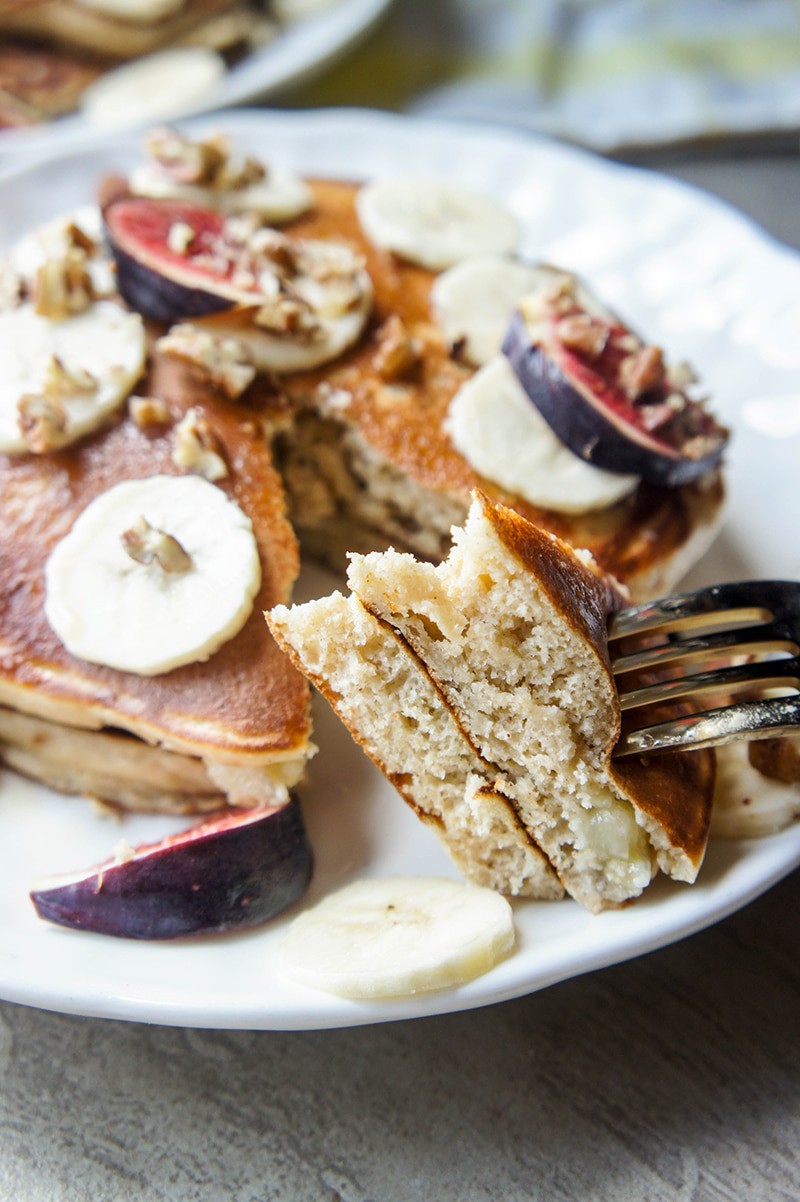 And even if you aren't trying to feed a picky toddler, these make a simple and wonderfully healthy breakfast.
We don't even top these with anything but fruit and sometimes a little real butter. To keep things less-messy for Xander, I fry his in a little extra coconut oil, which is naturally sweet and makes it crispy around the edge. I use a bit less coconut oil for myself, because I like to add extra fruit and some butter.
Tips for Our Favorite Fluffy Banana Oatmeal Pancakes
Make it Ahead: I make a double batch of this batter, and then make pancakes for my son for 3 mornings (plus I have them myself on one or more of those mornings!). I haven't tried making them and reheating them, but I can't see why they wouldn't toast well.
Make it Gluten Free: If necessary, be sure to buy a certified gluten free oat flour.
Make it Dairy Free: Substitute a non-dairy soy or coconut yogurt for the dairy yogurt.
Lower the Calories/Increase the Protein: If you'd like to make a higher protein, lower calorie breakfast, substitute 4 egg whites for the 2 eggs, and use a non-fat yogurt. This will save 50-70 calories and add 3-5 grams of protein per serving, depending on which yogurt is used (in place of the low fat yogurt I used in the nutrition analysis). Swapping berries in place of the banana will also lower the calories and sugar content.
Mix it Up: We've made these pancakes with peaches, blueberries, and mangoes, and I'm pretty sure my nephew threw some chocolate chips in one morning. Any fruit you'd typically add to pancakes will work in here!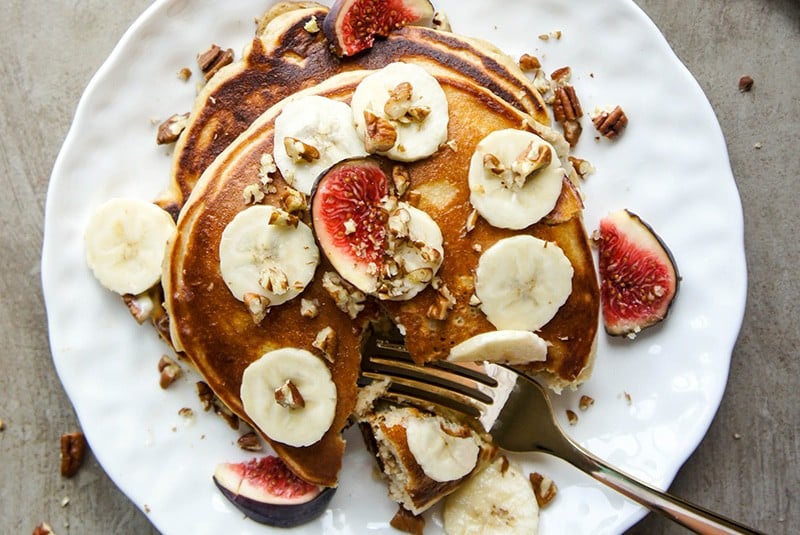 Banana Oatmeal Pancakes
These delicious, fluffy pancakes are a very healthy breakfast in disguise! Made of high protein eggs, yogurt and oat flour, they are sure to get the attention of kids and adults. Customize with any fruit!
Print
Rate
Instructions
In a bowl, beat together eggs and yogurt.

Add oat flour, cinnamon, baking soda and sea salt. Mix together until all the flour is wet (be careful not to over mix or you will have chewy pancakes instead of light and fluffy ones!).

Thinly slice banana, and fold into batter.

Add coconut oil to a frying pan, and preheat the pan over medium high heat. Once the oil sizzles when a drop of water is splashed in the pan, reduce the heat to medium, and add 1/2 cup of pancake batter for large pancakes, or 1/3 cup of batter for small pancakes.

Once bubbles appear on the top of the pancakes, flip, and cook the other side until they are cooked through. I feel these cook better on a slightly lower temperature than typical pancakes to keep them from being raw in the center.

I use 1/2 tablespoon of coconut oil for a pancake when I make these for my son to add extra healthy fats to his breakfast.

Recipe makes 4-1/2 cup pancakes, or 6-1/3 cup pancakes.
Nutrition
Calories:
413
kcal
|
Carbohydrates:
61
g
|
Protein:
17
g
|
Fat:
12
g
|
Saturated Fat:
4
g
|
Cholesterol:
172
mg
|
Sodium:
677
mg
|
Potassium:
589
mg
|
Fiber:
6
g
|
Sugar:
15
g
|
Vitamin A:
336
IU
|
Vitamin C:
5
mg
|
Calcium:
141
mg
|
Iron:
3
mg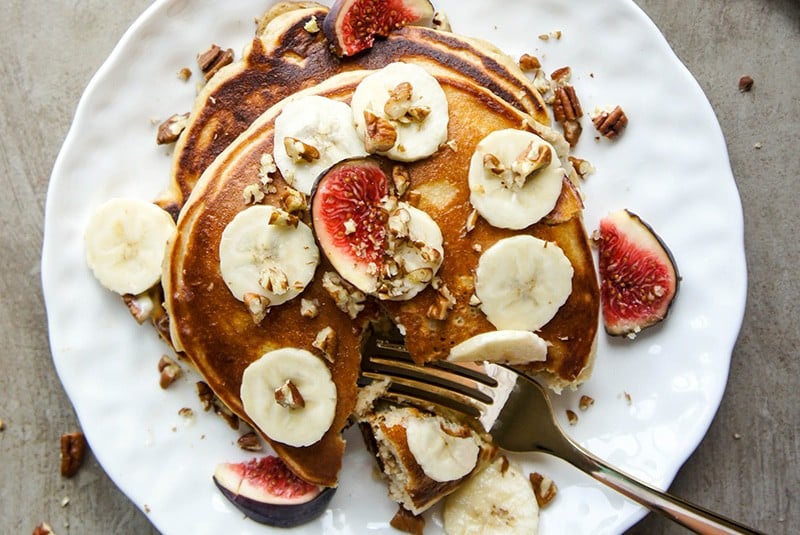 Other Gluten Free Pancake Recipes:
I'd love to connect with you on social media! Find me on Facebook or Instagram where I post daily healthy eating and lifestyle inspiration.