This post may contain affiliate links. Please see my full
Disclosure Policy
for details.
This Sticky Date Pudding with Caramel Topping is almost too good to be true! Sugar free and gluten free, this high energy dessert is all the things a holiday dessert should be and more. Feel better about the treats you serve your family.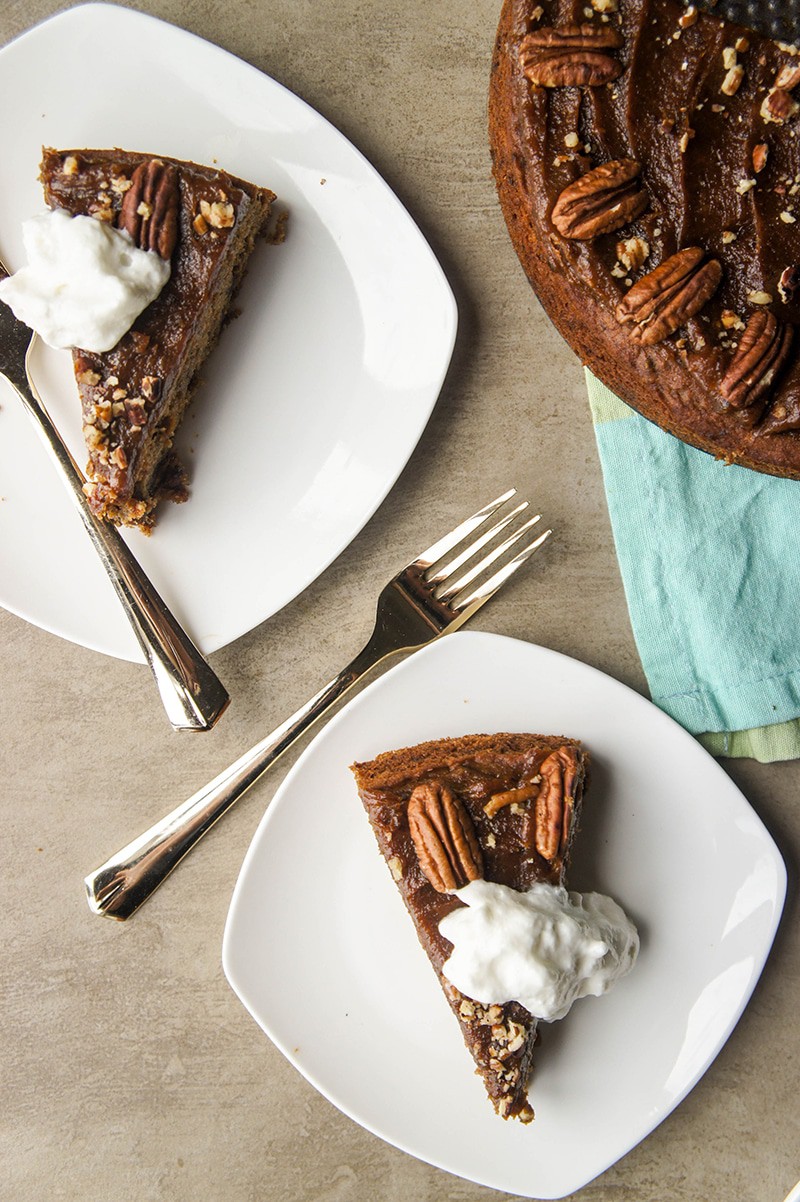 We've spent the past few weeks in Australia with my husband's family. His family is not actually Australian. Born in London, my husband's family moved to Zimbabwe when he was 7. He and his sister left for university and traveled the world looking for work afterwards. First, he ended up in Australia (for a short time), and shortly after, his sister and her husband moved there, and his parents finally left Zimbabwe and moved to Australia. No one wanted to return to the dreary England weather.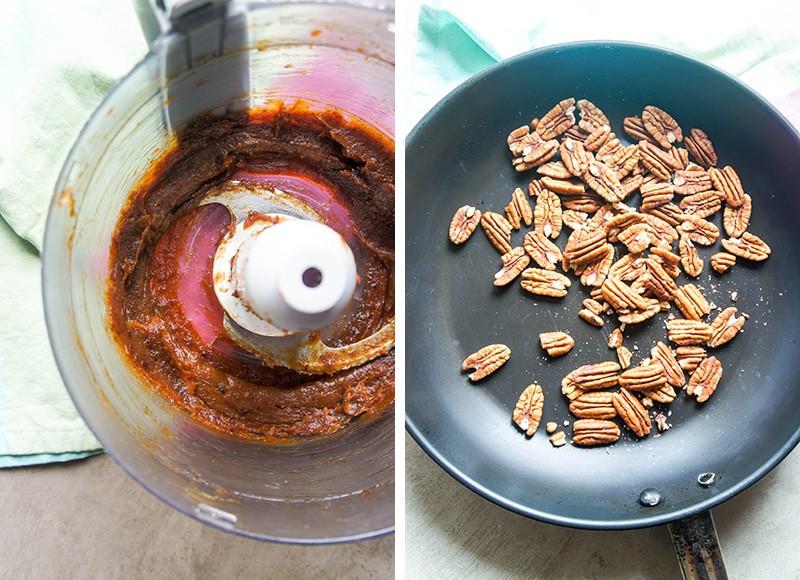 My husband's parents love their sweets. It's a bit of a junk-food fest when we visit. Every day, they'll have afternoon tea with some sort of cake or cookie, and then just an hour or two later, happy hour with chips ("crisps" if your Aussie!) and drinks.
And boy did that grandma want to spoil Xander. The first day we were there, she kept saying, "I bought this for the baby, but I know you won't let him have it." Wanting to let her spoil him in her own way, we let him eat a cupcake, some gelato, vanilla ice cream, and a chocolate (after his happy hour chips, of course) the first day we were there. We tried to restrain her the rest of our time there, but towards the end of our trip, Xander would motion towards the freezer babbling his sweet baby talk whenever we went into the kitchen. Ice cream! He knew exactly where it was hiding.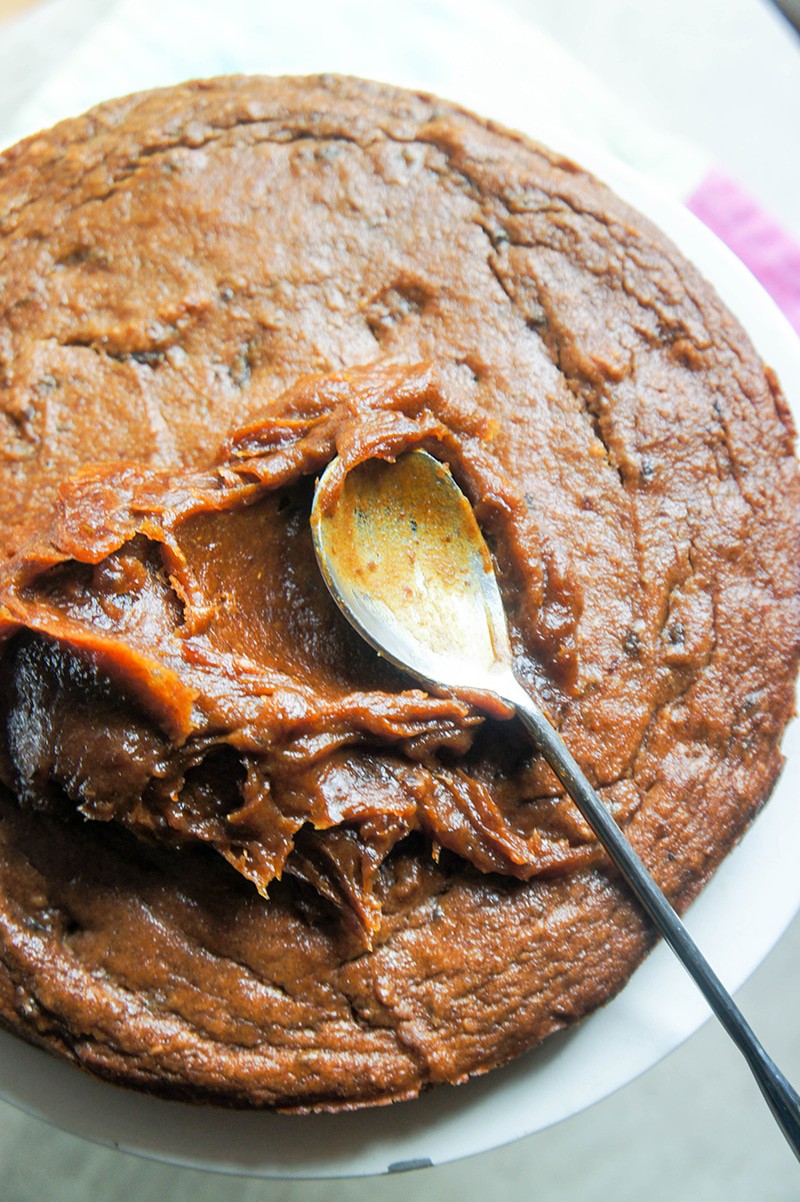 I want to continue some of those traditions for my family, but in a healthier way- a way that's more in line with my beliefs about health, nutrition, and food culture.
And serving lots of healthy, but either low sugar or sugar free, treats, is a part of those beliefs.
Food should be fun. It brings people together, and helps mold memories. But it also has an impact on how we feel, how we perform, and on our overall health as well.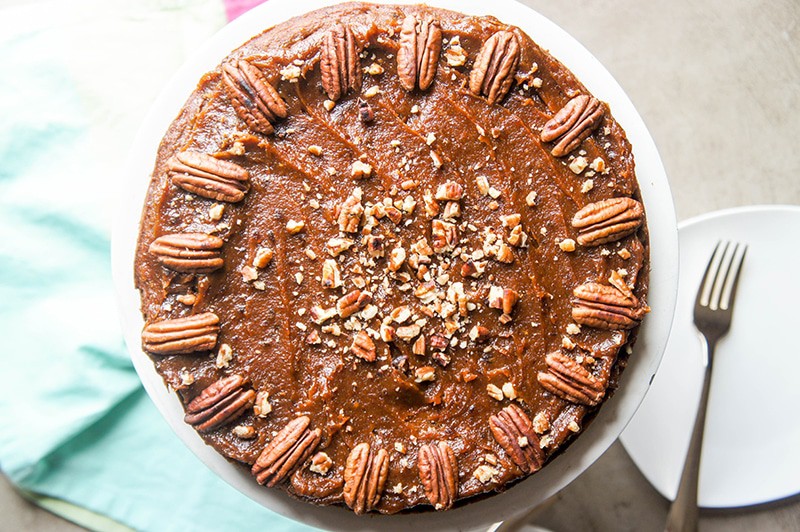 I have been using dates for years now, and absolutely love them (Read about my initial feelings towards them here). Some of my favorite recipes are sweetened entirely with dates– Oatmeal Walnut Date Bars, Blissful Blueberry Breakfast Bars, No Bake German Chocolate Cookie Bars, and some of the truffles in my Valentine's Truffle Box. Not to mention some of my favorite beverages- Caramel Mocha Concentrate, Coconut Mint Iced Mocha, and Iced Hazelnut Chai Latte.
Before Xander started eating things like honey and eggs, I made him Carrot Muffins from OhSheGlows, but subbed all the sugar in the recipe for pureed dates. It worked so well, I wondered why I hadn't been using date paste for quick breads and muffins for years.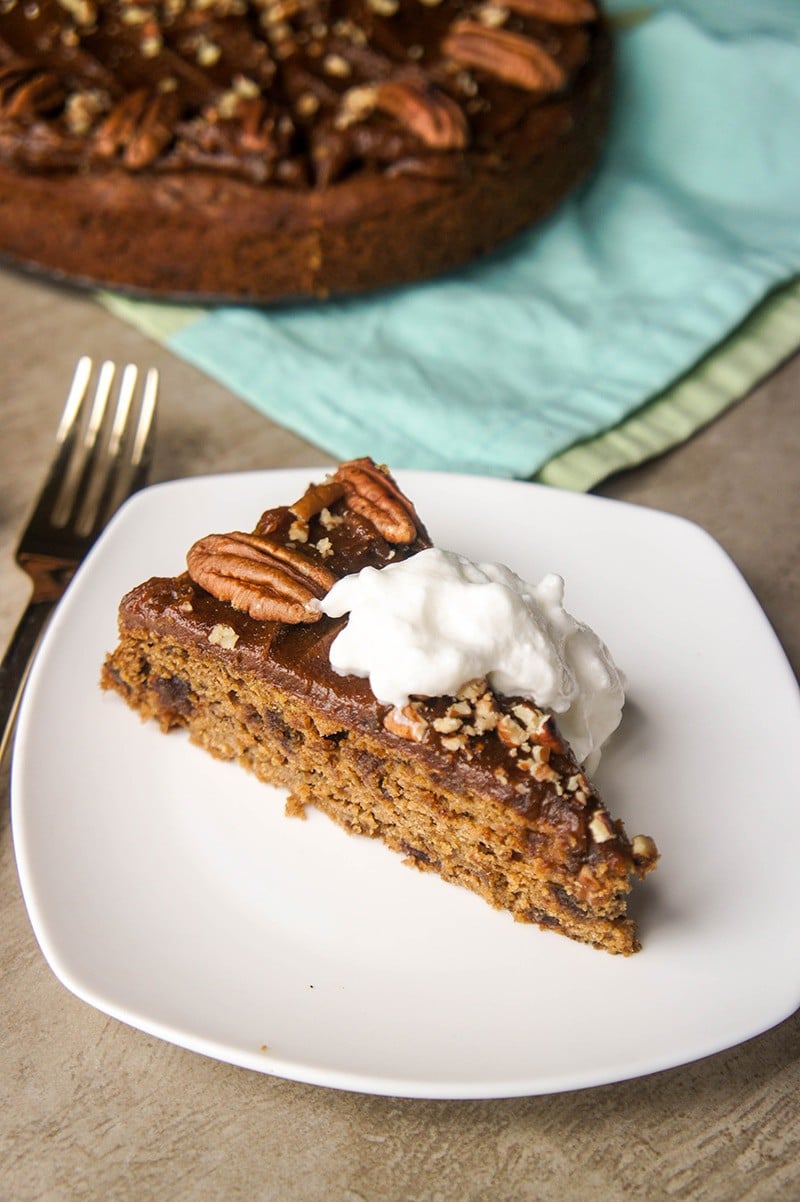 This cake is actually the result of my first attempt to make date bread without sugar– it was so sweet, and so delicious, I knew it needed to be made into Sticky Date Pudding with Caramel Topping.
So. Dang. Good. No sugar needed.
Tips for the Sticky Date Pudding with Caramel Topping
For the best results (and easiest processing), both the cake and the caramel topping can be made in a Vitamix or other high speed blender. I did test this in a normal blender. The cake worked fine in the blender, although it took a little more time. The caramel topping didn't work in a regular blender, but it worked fine in my food processor.
Make it Ahead: The whole thing can be put together and frozen. Wrap it in plastic wrap (the pecans will help the wrap from sticking to the "caramel"), and then put in a freezer bag or container, and it should be fine for a month or two. We will see! I've made 3 this week, so one is going in the freezer for later.
Make it Dairy Free: Sub the yogurt for coconut yogurt, or just use 3/4 cup hot water in place. I did test this with all water, and the difference between the two was very subtle.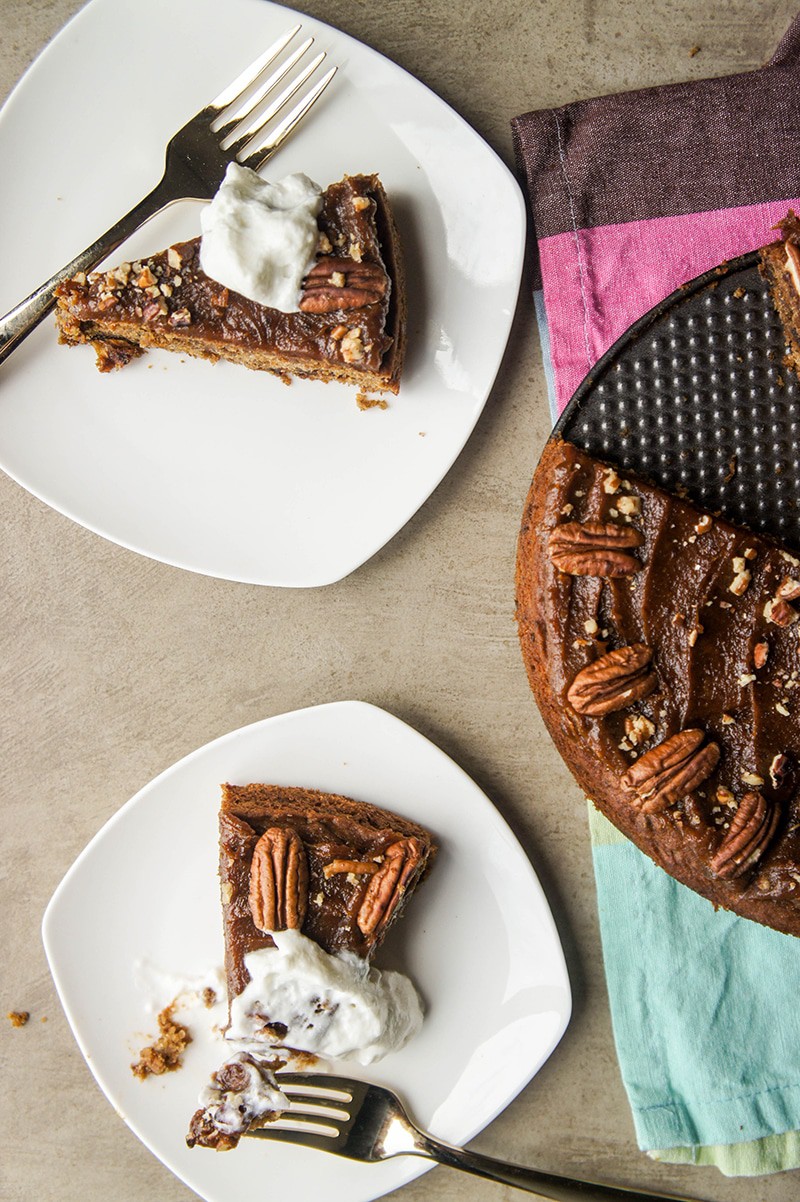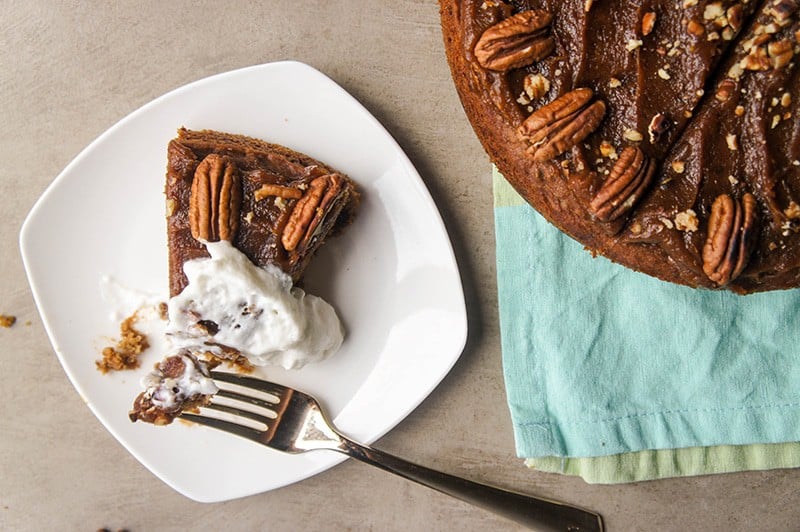 Sticky Date Pudding with Caramel Top
This recipe turned out too good to be true! Gluten free and sugar free, it is everything a holiday dessert should be and more.


Print
Pin
Rate
Ingredients
2

cups

Medjool dates

1/2

cups

hot water

1/4

cup

Greek yogurt

plain

2

eggs

2

tablespoons

coconut oil

2

teaspoons

vanilla

1/2

cup

millet flour

1/2

cup

oat flour

1/2

cup

almond meal

1

teaspoon

baking powder

1/2

teaspoon

baking soda

1/2

teaspoon

cinnamon

1/2

teaspoon

ginger powder

1/4

teaspoon

sea salt

pecans

toasted, for garnish
Date Caramel Sauce
1

cup

Medjool dates

2

tablespoon

butter

salted

2

tablespoon

coconut oil

pinch

sea salt
Instructions
Line a 9x9 cake pan (I use my springform because it's easy to remove the cake, but use any cake pan you have) with parchment paper and spray the sides with coconut oil. Set aside.

Add medjool dates (pitted) to a medium sized bowl, and pour hot water over the top. Allow to soak for 5-10 minutes, depending on how dry the dates were to start. Fresh dates will require less soaking time.

Add dates, along with soaking water, to a blender. I use my Vitamix for this, but if the dates are soft, they should be fine in a regular blender.

To the blender, also add Greek yogurt, eggs, coconut oil, and vanilla. Process until the mixture is very smooth.

In a medium sized bowl, add all dry ingredients, except pecans. Whisk to combine the dry ingredients, then pour the wet mixture from the blender into the bowl, and stir to combine until no dry ingredients are left.

Pour the cake batter into the prepared pan, and then bake for 32-38 minutes, until the center is fully cooked. Use a toothpick to check for gumminess or undercooked batter in the center, and cook a little longer if necessary.

While the cake is cooling, prepare the caramel topping. Add the dates, butter, coconut oil, and salt to a food processor bowl, and process on high, scraping down sides as necessary. If your dates have dried out, or if you're using a smaller date variety other than medjools, you will need to soak your dates in hot water for 5 minutes, and drain them well, prior to this step. Medjool dates are more dense than other dates, so if using a smaller date variety, you will need 2 cups of dates here. I process the dates until they start to become lighter in color and no pieces of dates are left visible.

Once the cake has cooled, spread it with the date caramel, and garnish with pecans. If the date caramel is very thick and hard to spread, add 1-2 tablespoons of hot water and process for another couple of minutes.
Notes
*Smaller varieties of dates will work in place of the medjool dates, although the Medjools are softer and easier to work with. I tested this cake using small dates, and it still turned out wonderful. If you don't have millet flour, you can sub 1/2 oat and 1/2 almond flour. Don't increase the amount of millet flour by subbing more for the other flours. The oat and almond flours are softer and sweeter than millet, so the cake will become crumbly with more millet flour. I use store bought oat flour in this recipe. Oatmeal blended in a high speed blender until a fine flour forms will also work.
Nutrition
Calories:
240
kcal
|
Carbohydrates:
36
g
|
Protein:
4
g
|
Fat:
10
g
|
Saturated Fat:
6
g
|
Cholesterol:
33
mg
|
Sodium:
125
mg
|
Potassium:
335
mg
|
Fiber:
4
g
|
Sugar:
25
g
|
Vitamin A:
153
IU
|
Calcium:
59
mg
|
Iron:
1
mg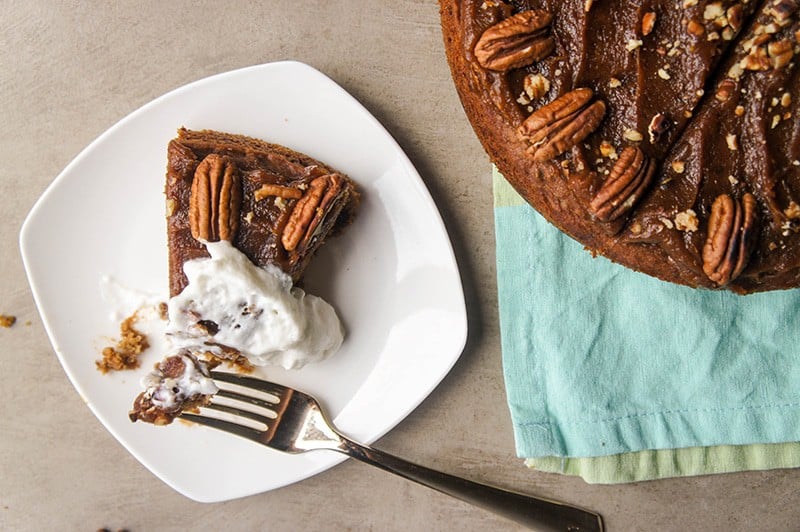 Other Fruit Sweetened Dessert Recipes:
I'd love to connect with you on social media! Find me on Facebook or Instagram where I post daily healthy eating and lifestyle inspiration.
This post contains affiliate links, which means that if you click on one of the product links, I'll receive a small percentage of any purchases made.