This post may contain affiliate links. Please see my full
Disclosure Policy
for details.
This Secret Veggie Mint Fudge Chunk Frozen Yogurt has all the amazing classic flavor, but with added nutrition! It gets its beautiful green color from 2 nutrient dense vegetables. Who says your kids won't eat their veggies?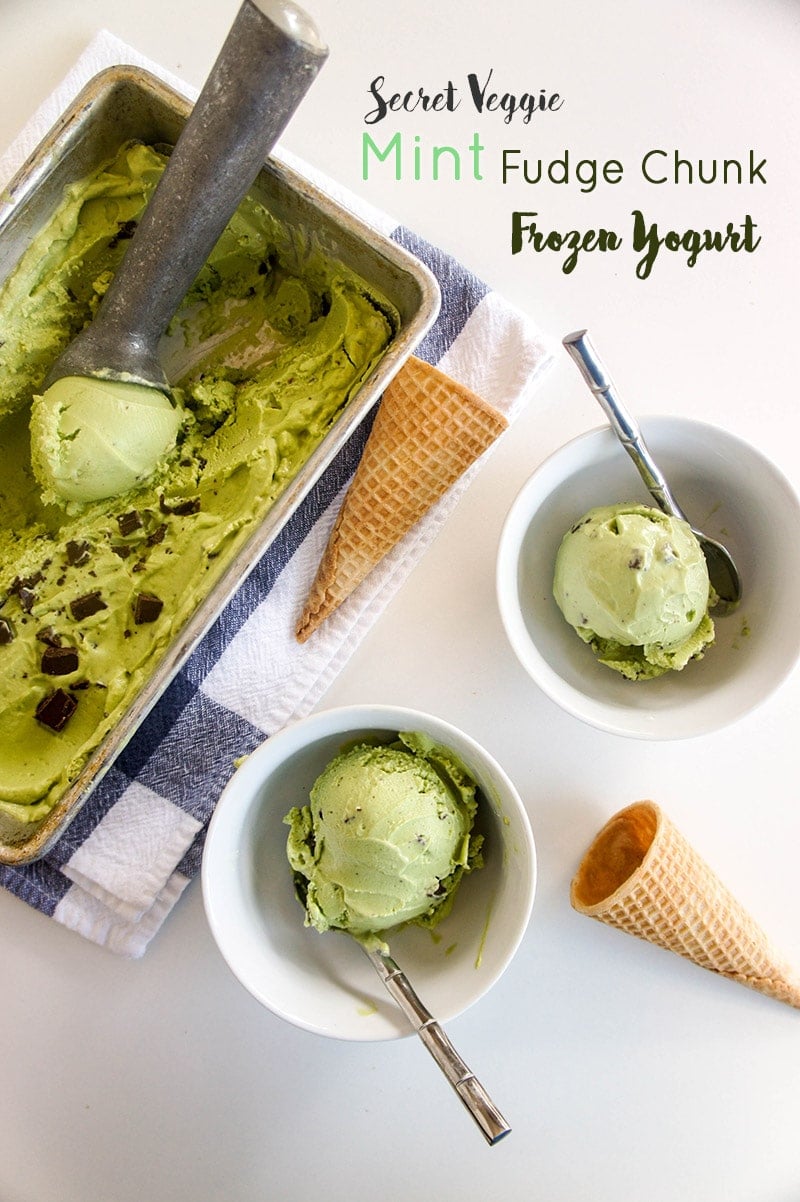 Before I was pregnant, I was one of those judgmental people who didn't understand why people don't feed their small children healthy food all of the time. I mean, the parent controls the child's diet, yes? And then when I was pregnant, I ate tons of strong smelling vegetables, intent on getting Xander used to the flavors in utero.
When Xander started eating, his first food was avocado. Then we moved on to cauliflower, banana, sweet potatoes, and beets, and I pureed spinach into his pears and apples. Not only did he eat all of these things, he started grabbing roasted asparagus and brussels sprouts off our plates and sucking on them, even before he had teeth. He would eat large bowls of carrots mixed with oatmeal, and salmon blended into millet and spinach.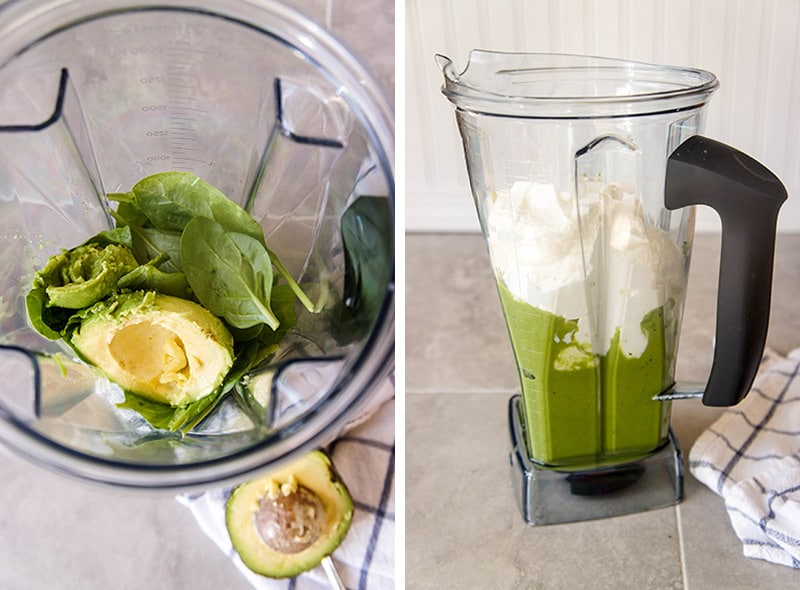 And then somewhere around 10 months, he started refusing his baby purees. He only wanted food off our plates. That was fine too, seeing as they are usually filled with roasted veggies, sweet potatoes, and flavorful meats.
I started giving him snacks between meals- healthy breakfast cookies, and bites of my frozen yogurt at night, sharing his dad's bread when he stopped by the bakery. This is probably where we started to go wrong. Bit by bit, he started refusing his normal meals, and patiently waiting for snack time when the cookies came out.
Developing good eating habits is certainly not as easy as it seems it should be. He wants to try everything we eat, and he certainly has his favorites!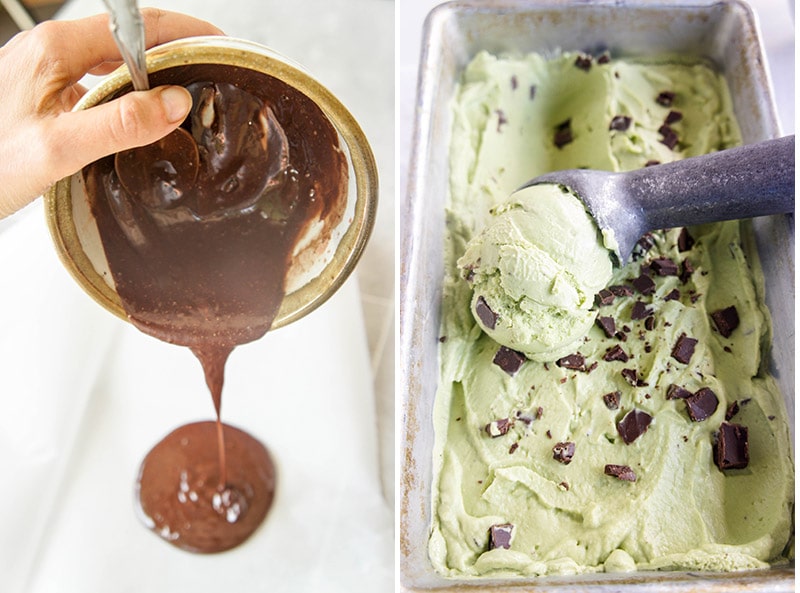 Now, at 13 months, he changes day to day. Some days he will eat everything we put in front of him. Sometimes, he will only eat fruit, smoothies and cookies.
So, I've started packing his smoothies with vegetables, and even sneaking some into his cookies. I still give him 3 balanced meals a day, and encourage him to eat eggs, salmon, chicken, and vegetables during meal times, but on the days he refuses these things, at least I know he is getting adequate nutrition!
My nephew (almost 4) wasn't fooled by my zucchini muffins. He ate the chocolate chips off the top and didn't want to eat it because there were green specks. But this Secret Veggie Mint Fudge Chunk Frozen Yogurt certainly wasn't refused!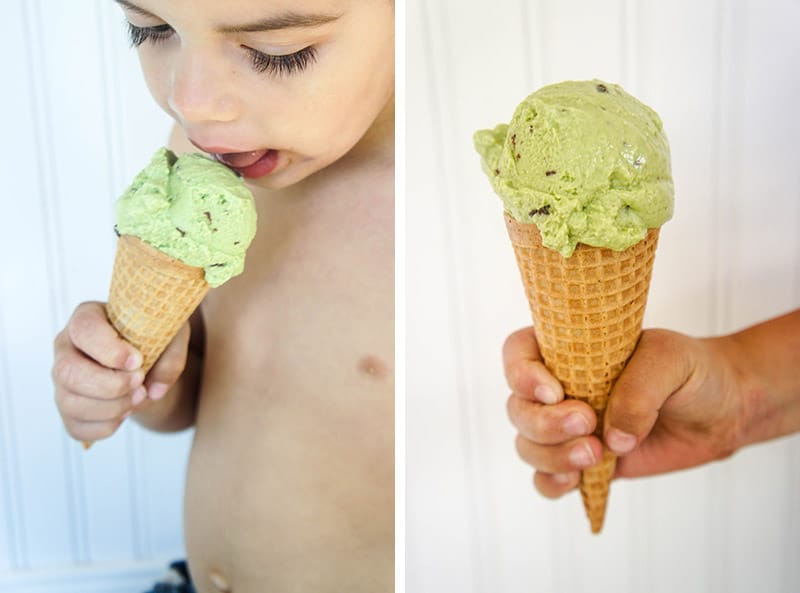 Secret Veggie Mint Fudge Chunk Frozen Yogurt Tips:
Make it Ahead: This recipe doesn't freeze well because it uses non-fat yogurt and it's low in sugar. I read adding gelatin will help, but it still froze rock solid. You can prepare the fudge and the yogurt mixture ahead of time, and wait to freeze it until you want to serve it. With leftovers, I have frozen them, and then pulled it out of the freezer and set on the counter top for 45 minutes- 1 hour, then mash with a spoon to try to make it creamy again. I haven't tried this, but I am also thinking leftovers could be frozen into an ice cube tray then added to a Vitamix to make creamy. If you try anything that works well, let me know!
For the Family: Xander loves peppermint, so this recipe is already healthy and family friendly. If your child doesn't like peppermint, try subbing extra vanilla extract or even almond extract for flavor (if your child is older- they may want an explanation for the green color!).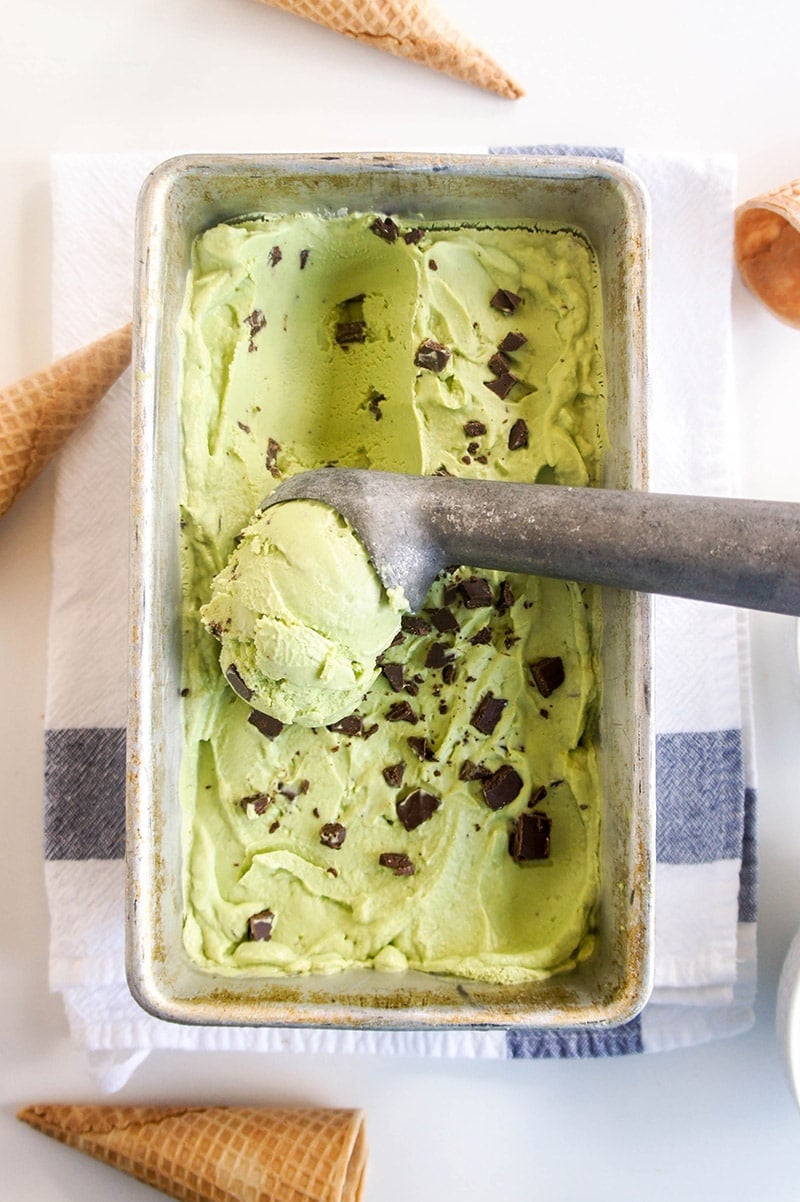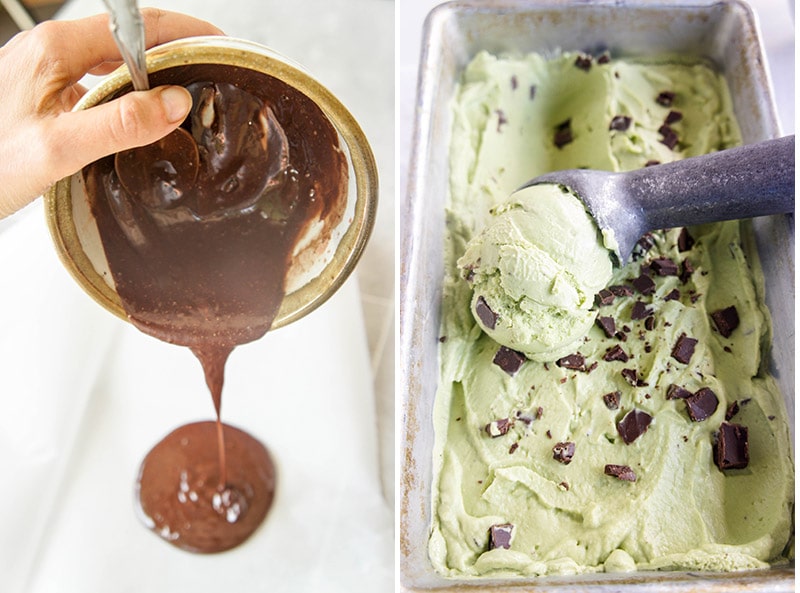 Secret Veggie Mint Fudge Chunk Frozen Yogurt
This frozen yogurt isn't your average frozen treat! High in protein from Greek yogurt, it's sweetened naturally with honey, and it gets its beautiful green color from spinach and avocado. Kid approved!
Print
Pin
Rate
Ingredients
Fudge Chunks
2

tablespoons

coconut oil

2

tablespoons

cocoa powder

1

tablespoon

cashew butter

1/2

tablespoon

honey

1/2

teaspoon

vanilla

sea salt

pinch
Instructions
Add all fudge chunk ingredients to a bowl, and stir to combine, continuing until mixture is glossy.

Prepare a piece of parchment by folding it down the center, and placing on a plate or cutting board (that will fit in your freezer).

Pour the fudge onto the parchment, and cover with folded side. Place in the freezer to harden.

All all ingredients, except yogurt, into a blender. Blend on medium to high speed until the spinach is completely blended in and no green specks remain.

Add the yogurt, and combine until fully mixed.

Add the yogurt mixture to ice cream freezer, and freeze according to the machine's instructions.

When the yogurt is almost frozen, pull fudge out of the freezer, and chop into pieces.

Add the fudge chunks, and allow to be mixed into the yogurt.

Either enjoy the yogurt immediately, or put into a covered container and freeze for 2-4 hours for a harder consistency.

Read notes in post above recipe for ideas on how to make ahead or freeze leftovers.
Notes
See notes in post regarding freezing leftovers. Chocolate chips can be subbed for fudge chunks to save time, but I prefer making a fudge because it stays soft and creamy with frozen.
Nutrition
Calories:
319
kcal
|
Carbohydrates:
25
g
|
Protein:
7
g
|
Fat:
23
g
|
Saturated Fat:
15
g
|
Cholesterol:
16
mg
|
Sodium:
73
mg
|
Potassium:
539
mg
|
Fiber:
3
g
|
Sugar:
19
g
|
Vitamin A:
1108
IU
|
Vitamin C:
7
mg
|
Calcium:
171
mg
|
Iron:
2
mg
 

Other Hidden Veggie Recipes:
I'd love to connect with you on social media! Find me on Facebook or Instagram where I post daily healthy eating and lifestyle inspiration.
This post contains affiliate links, which means that if you click on one of the product links, I'll receive a small percentage of any purchases made.