This post may contain affiliate links. Please see my full
Disclosure Policy
for details.
These homemade granola bars couldn't be easier to make. I like to add a lot of healthy mix-ins, but you could make them super simple and just add chocolate chips, raisins, or your favorite nut. They are super crispy out of the freezer, and more of a chewy bar if left at room temperature. We like them both ways!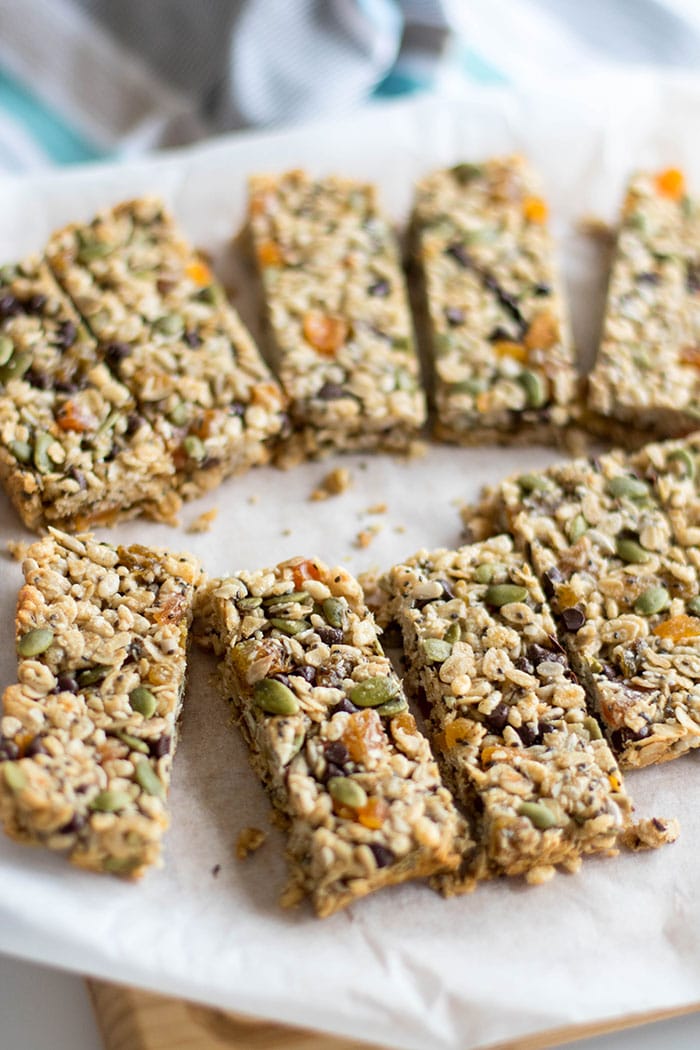 I've been a little stressed lately trying to figure out how to accomplish all my work. Working from home is AMAZING. Getting to take breaks and play with my tiny one is AMAZING. Doing work I am passionate about, that I am excited to do every single day, that I did completely for free while working full time for years, and am now making money doing, is AMAZING.
Working from home is also challenging. My son has a class at the baby gym? I'm there. My friends want to go have coffee? I'm there. It's painfully sunny and gorgeous outside, and the pool is calling my name? I'm there all too often.
This past week, I walked away from my computer twice to meet friends for coffee. With intention. Not just because I needed to be caffeinated and I wanted to shoot the shizz-nit.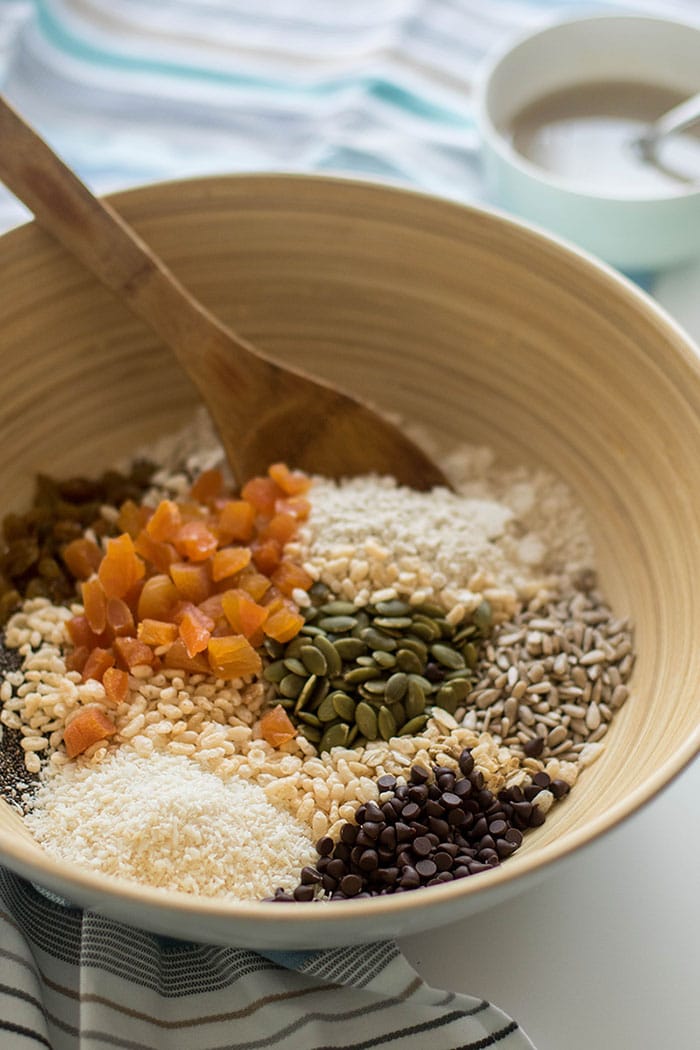 One friend is an amazing photographer. She did Xander's newborn photos (I didn't know her personally at the time, but she and I clicked). I asked her to come meet me to discuss the portraits I have been taking, because I admire her work so much and really wanted a professional's feedback.
When we met, instead of launching right into looking at my portraits, she started making some comments about my food photography. It was constructive- but for a second I was taken aback. She wanted to make recommendations for my food photography, which I have been feeling pretty good about? Some of the things she said stung a bit, but only for a second, and then I started to feel energized. She was giving me the kick in the pants I needed. I have spent this week reshooting some recipes (this Chocolate Quinoa Cake, for one — you should really check out this recipe/photos!).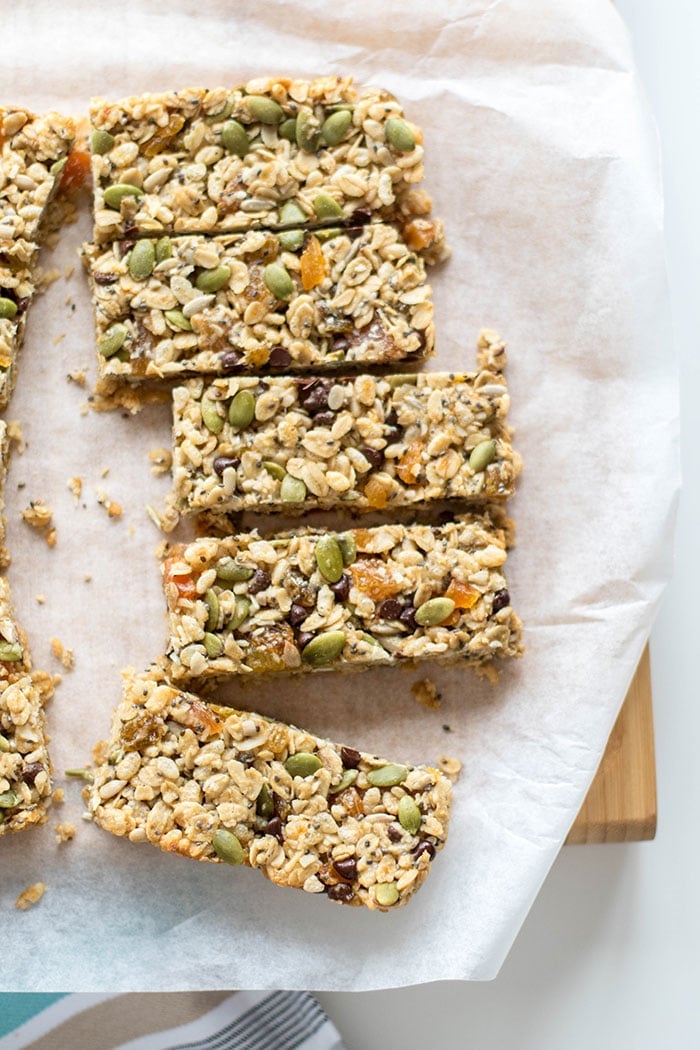 Just yesterday, I met with another friend. He has started a blog and needed some photos of himself, and here I am, always begging my friends to model for me.
Our photoshoot was great, but that's not the point of this story. Our talk reminded me of advice I had given him a few months ago. He has struggled to work on his blog this year, and is having time finding motivation after finishing work at his full time job. I told him a while back he needs to think of his blog not as a final, published product, but as a portfolio. As teachers, when we give our students a portfolio in the fall and start adding pieces, we don't expect the work to look consistent from September through June. We hope it doesn't!
We expect the work to begin at a certain point, and grow as the child's skills develop. It's okay it's not perfect. Perfection isn't the goal. Growth is.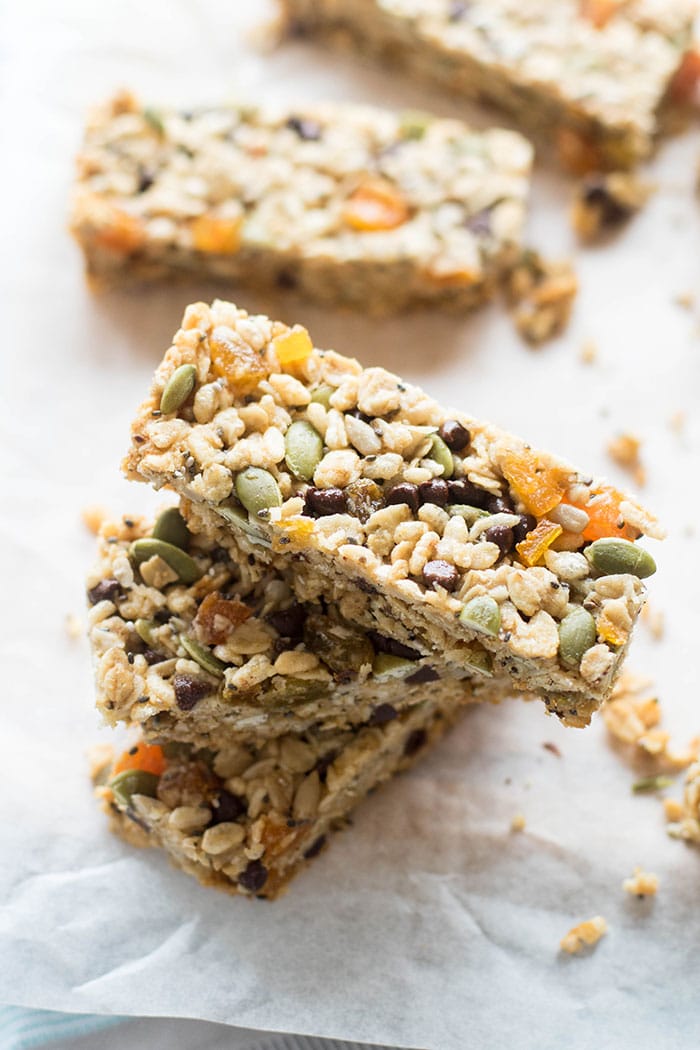 So as he was encouraging me to finish my first video, and stop striving for perfection, I realized I wasn't taking my own advice. So here it is. Not perfect. But finished.
I have so many ideas to make the next one better. I'd really love feedback (honesty is encouraged!) on this one! The next one is already in the works.
If you'd like to follow along as I make more recipe videos, follow my YouTube Channel!
So, my lessons today are threefold:
Granola bars are so easy to make at home. You'll save money, control the amount and type of sugar added, and you can add anything you really love!
It pays to procrastinate. If I hadn't closed my computer to go have smoothie bowls at the cafe with my friends this week, I wouldn't have made the growth I have.
Don't let a desire for perfection get in the way of progress. Have you ever heard the quote, "don't compare your beginning to someone else's middle." It's okay to be new at something!
Tips for making Homemade Granola Bars
I've added apricots, golden raisins, pumpkin seeds, sunflower seeds, and chocolate chips to these. However, use whatever you love! Try raisins, cranberries, dried cherries, or your favorite nuts. Try to keep the proportions the same to the ingredients I added so the liquid is enough to bind the bars.
These get soft (and crumbly) if they warm up. In our tropical climate, we have to eat them out of the freezer or refrigerator.
Make is Gluten Free: If necessary, be sure to use certified gluten free oat flour.
Make it Vegan: Sub date syrup for the honey. I make them this way often and you can't tell the difference! If you want to learn more about healthy sweetener options, check out my clean eating guide to healthier sweeteners.
For the Family: If you're making these for a tiny eater, you might need to modify the mix ins. When Xander first started eating these. I would use instant oats and omit the seeds so they were easier for him to chew. Now he eats them just as is.
If you're looking for Nut-Free Granola bars, try this recipe!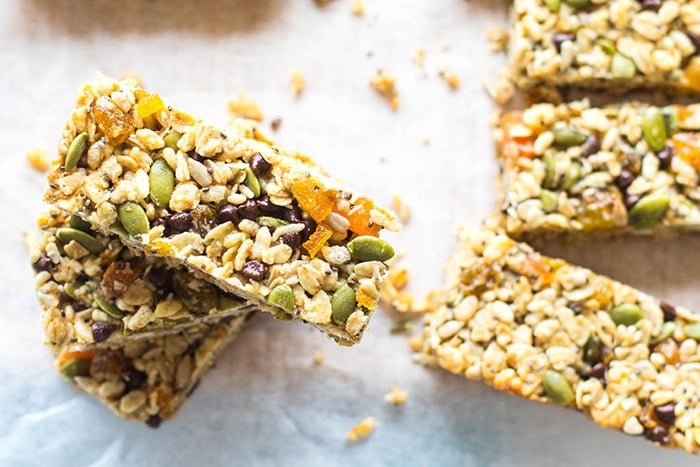 Homemade Granola Bars
These homemade granola bars couldn't be easier to make, and can be customized with your favorite add ins. We eat these for breakfast, snacks, and dessert! These are adapted from my Cranberry Dark Chocolate Granola Bars (posted on Delicious Meets Healthy ).
Print
Rate
Ingredients
Dry
3/4

cup

oatmeal

3/4

cup

crisp brown rice cereal

1/2

cup

oat flour

(grind whole oats in a blender to form a flour)

1/4

cup

unsweetened coconut

1/4

cup

dried apricots

(roughly chopped)

2

tablespoons

sunflower seeds

2

tablespoons

pumpkin seeds

(pepitas)

2

tablespoons

mini chocolate chips

(or chopped dark chocolate)

1

tablespoon

chia seeds

1/4

teaspoon

baking powder

1/4

teaspoon

sea salt
Wet
1/4

cup

coconut oil

3

tablespoons

honey

(or date syrup)
Instructions
Preheat oven to 350 degrees Fahrenheit.

In a bowl, add together all dry ingredients.

In a small microwave safe bowl, add liquid coconut oil and honey. Microwave for 20-30 seconds. The mixture needs to be warm enough the honey is very thin, but not warm enough to melt the chocolate.

Pour the coconut oil/honey mixture into the dry ingredients, and mix until there is no dry flour left.


Press into the bottom of a 8x8 pan. I line my pan with baking paper for the easiest cutting, but greasing the pan will also work. I use a pastry roller to make an even, packed layer, but a pint glass would work as well.


Bake for 12-14 minutes, until the top of the granola bars are lightly browned.

Cool completely, and then refrigerate until the granola bars are chilled. Cut with a very sharp knife for best results.

Store bars in the freezer for up to 1 month. I like to eat them right out of the freezer- they are crunchy when frozen and are more of a chewy bar at room temperature.
Nutrition
Calories:
139
kcal
|
Carbohydrates:
13
g
|
Protein:
2
g
|
Fat:
8
g
|
Saturated Fat:
5
g
|
Sodium:
53
mg
|
Potassium:
83
mg
|
Fiber:
1
g
|
Sugar:
6
g
|
Vitamin A:
70
IU
|
Vitamin C:
0.3
mg
|
Calcium:
18
mg
|
Iron:
0.8
mg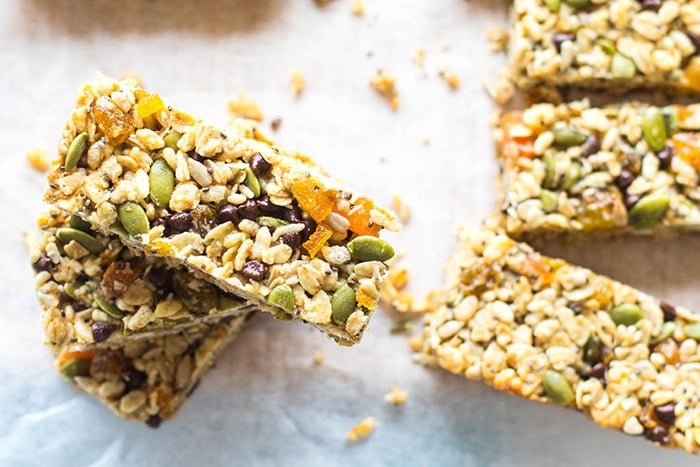 I'd love to connect with you on social media! Find me on Facebook or Instagram where I post daily healthy eating and lifestyle inspiration.
This Homemade Granola Bar post contains affiliate links, which means that if you click on one of the product links, I'll receive a small percentage of any purchases made.