This post may contain affiliate links. Please see my full
Disclosure Policy
for details.
Make a delicious Mango Dragonfruit Refresher at home! Keep it healthy by using just a few healthy ingredients, and save money. I love this drink with soda water, but you can also make a Mango Dragonfruit Refresher with coconut milk for an indulgent fruity drink.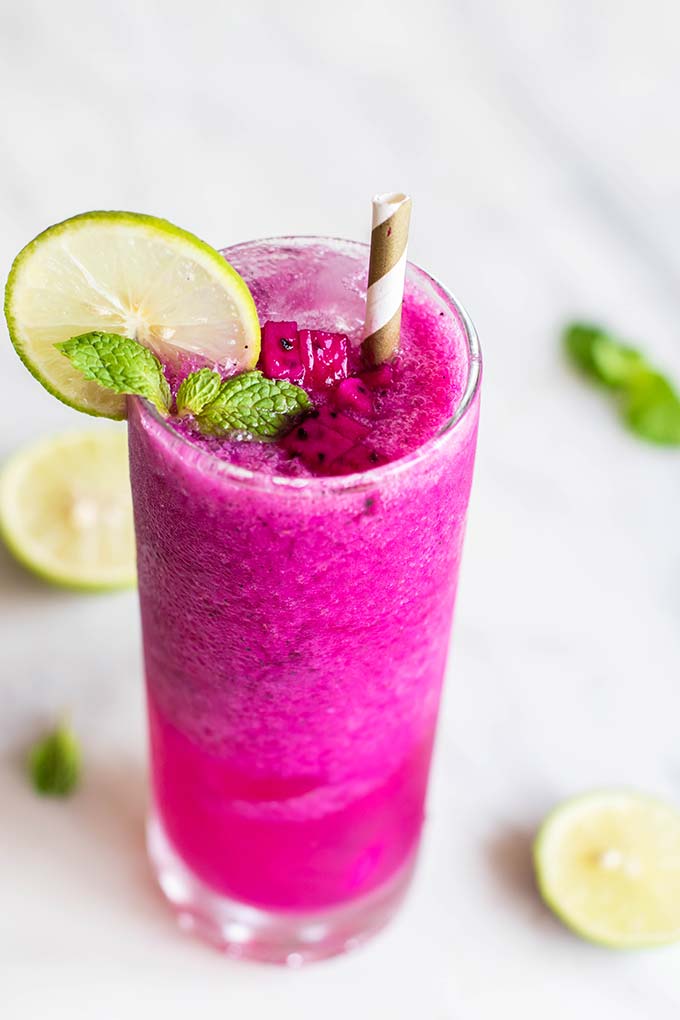 How to Make a Mango Dragonfruit Refresher
This healthy drink is inspired by the Mango Dragonfruit Starbucks Refresher. The vibrant colored drink is as delicious as it is inviting to look at!
I adore dragonfruit. If you've been following along, you might remember my Pitaya Bowl and my Dragon Fruit Smoothie. The tropical fruit is delicious, packed with nutrients, and naturally low in sugar and calories, giving it superfood status.
If you've never tried it, try picking one up the next time you see it at a grocery store, or ordering a smoothie with the vibrant fruit the next time you notice it on a menu.
If you want to be inspired by another bright and delicious drink, try this Hibiscus Sweet Tea.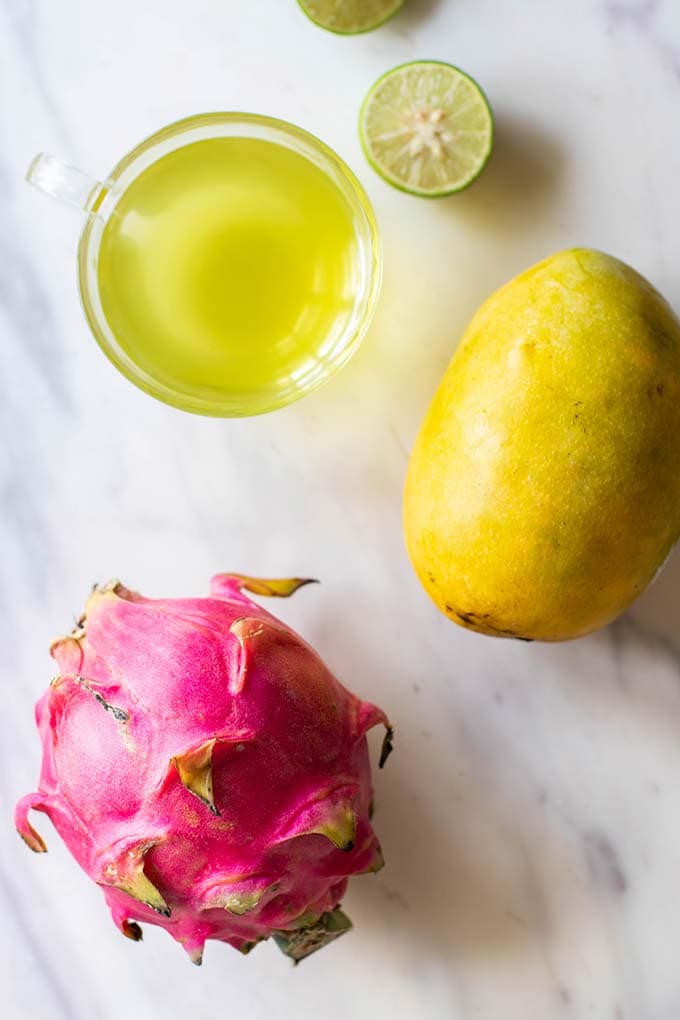 Ingredients in a Mango Dragonfruit Refresher
Dragonfruit – if you can't find this fresh, you can buy it frozen at health food stores. You can also sub freeze fried dragon fruit, like these dragon fruit chips. Starbucks actually uses freeze dried fruit in their drink!
Mango – use fresh or frozen mango for the best flavor! Just peel the mango and chop up the flesh to use it in this drink.
Lime juice (omit if using coconut milk)
Green tea, strongly brewed. I use 2 green tea bags, and the amount of water I would typically use for 1 cup of tea. Starbucks actually uses a blend of green coffee extract and white grape juice. This adds a lot of sugar to the drink that is unnecessary. Green coffee extract on its own is a healthy addition, but I prefer to keep it simple with healthy ingredients I already have stocked in my kitchen. NOTE: the link here is just for your information. I have never used this product so I am not necessarily recommending it for this drink.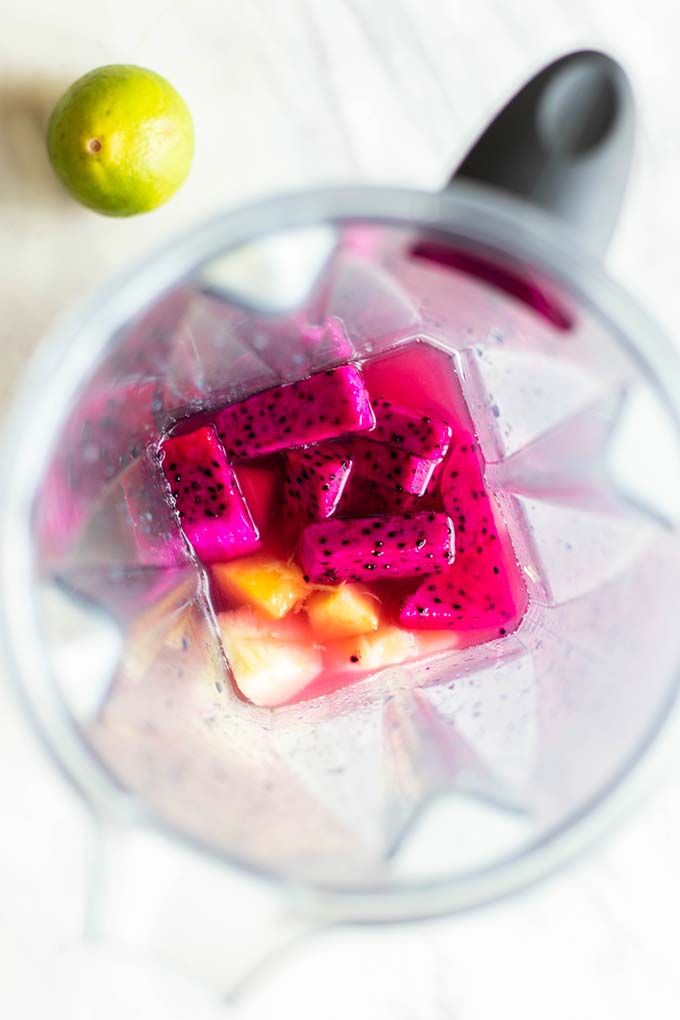 The Steps for Making a Dragonfruit Drink
Brew some green tea. I use 2 tea bags, but the amount of water for 1 cup of tea (about a cup of hot water). Allow the tea to steep 5 minutes to fully extract the green tea, without over steeping and making the tea bitter. Allow the cool before using.
Peel and chop the mango and the dragon fruit. Half of a cup of each fruit makes 2-3 drinks.
Add the green tea, mango, and dragon fruit to a blender. Also add the juice of 1 lime (or 1-2 tablespoons of lime juice). Puree the fruit into a smooth mixture.
Add ice to glasses, and then fill the glasses about 2/3s of the way full with the dragonfruit puree. Top the glasses off with soda water, or add coconut milk for a creamy treat.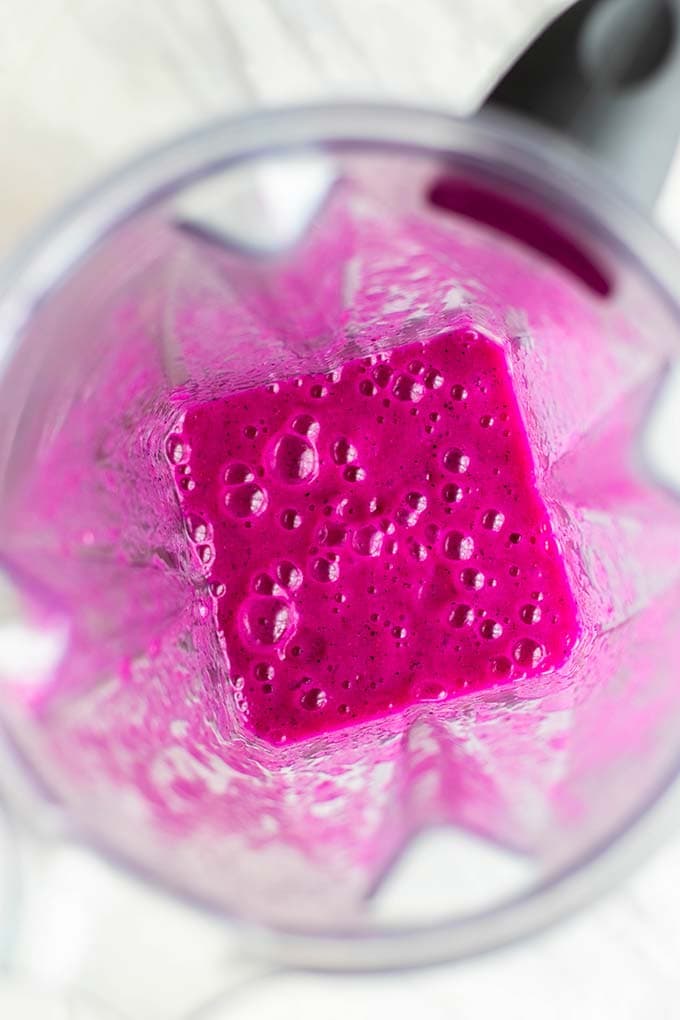 Mango Dragonfruit Refresher with Coconut Milk & Other Variations
I prefer to keep this drink light and refreshing, and top my drinks off with sparkling water. It's fizzy, slightly fruit, and perfect for a hot day.
You might want to try one of these options:
Instead of soda water, top the puree off with 2-3 tablespoons of canned coconut milk, or 1/3 cup of the coconut milk beverage you can buy in a carton. This drink is creamy and turns a beautiful soft pink color!
Like yours sweet? If you are used to drinks that are sweet and are looking for something more similar to the Starbucks drink, add 1-2 tablespoons of date syrup to your puree when blending. Date syrup is a low glycemic index and won't raise your blood sugar levels as quick as something like the grape juice used in the coffee house version.
If fresh dragon fruit isn't available, try freeze dried dragon fruit chips, or look at natural grocery stores for frozen dragon fruit.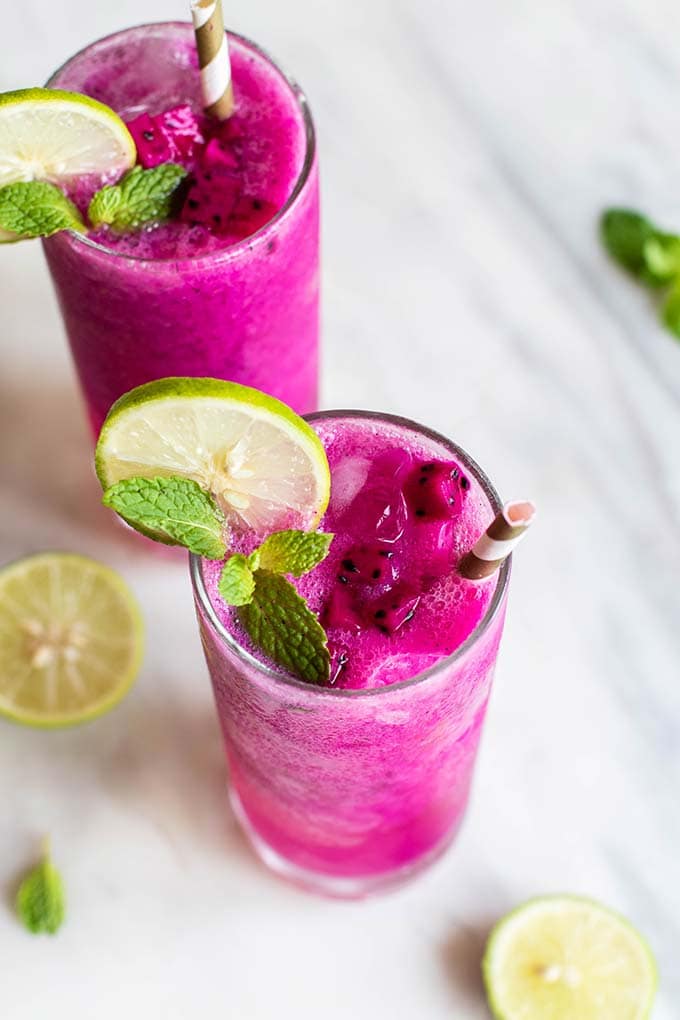 Mango Dragonfruit Refresher
A dreamy blend of fresh mango, dragonfruit, and metabolism stoking green tea. This copycat Starbucks drink has a light fruity flavor, and is a healthier choice. Forget the high sugar version and try making your own at home!
Print
Pin
Rate
Ingredients
1/2

cup

mango

peeled and diced

1/2

cup

dragon fruit

peeled and diced

2

green tea bags

1

lime

juiced, omit if using coconut milk instead of soda water

soda water

optional

coconut milk

optional

date syrup

optional
Instructions
Steep 2 green tea bags in 8 ounces of water for 4-5 minutes. Remove tea bags, and allow the tea to cool to room temperature.

Add the mango, dragonfruit, green tea and lime juice to a blender, and process until a smooth puree forms.

Add ice to glasses, and fill glasses 2/3 of the way full with the fruit puree. Top each glass off with soda water. Alternatively, top each glass off with coconut milk. Use 2-3 tablespoons of canned coconut milk, or 1/3 cup of the coconut milk beverage that comes in a carton.

If you prefer a sweeter drink, add date syrup (1-2 tablespoons) into the blender along with the fruit puree.
Notes
This drink is not as sweet as the coffee shop version. The coffee shop version is sweetened with white grape juice, which is high in fructose and can cause a quick rise in blood sugar. I prefer to make drinks unsweetened unless it's with whole fruit. If you'd like a sweeter drink that is still lower GI, use date syrup to taste.
Although the original version of this drink is made with green coffee extract, this version uses green tea, which is more accessible and often a household staple item. This makes it cheaper, with many of the same benefits touted by the trendy extract.
Nutrition
Calories:
33
kcal
|
Carbohydrates:
8
g
|
Protein:
1
g
|
Fat:
1
g
|
Saturated Fat:
1
g
|
Sodium:
11
mg
|
Potassium:
69
mg
|
Fiber:
1
g
|
Sugar:
5
g
|
Vitamin A:
298
IU
|
Vitamin C:
17
mg
|
Calcium:
7
mg
|
Iron:
1
mg
Other Dragonfruit Recipes