This post may contain affiliate links. Please see my full
Disclosure Policy
for details.
Mason Jar Salad is a great way to increase your veggie intake! Try these 3 easy Mason Jar Salad recipes, and learn how to make mason jar salads that will last up to a week in the refrigerator.
This post is sponsored by Fruit Bliss— a company committed to bringing healthy snack options to our kitchens. I only work with brands whose products I genuinely love. Thank you for supporting the brands that help keep Sunkissed Kitchen running!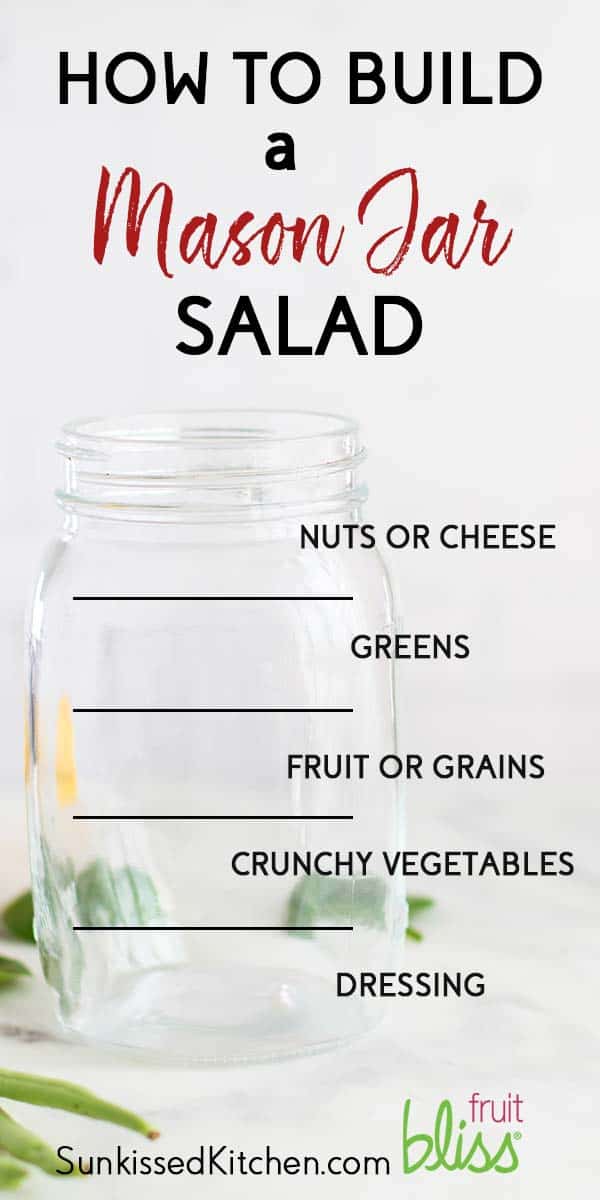 These 3 salads are great options for vegetarian meal prep.
You'll love the flavor that is added by my favorite dried fruit brand – Fruit Bliss.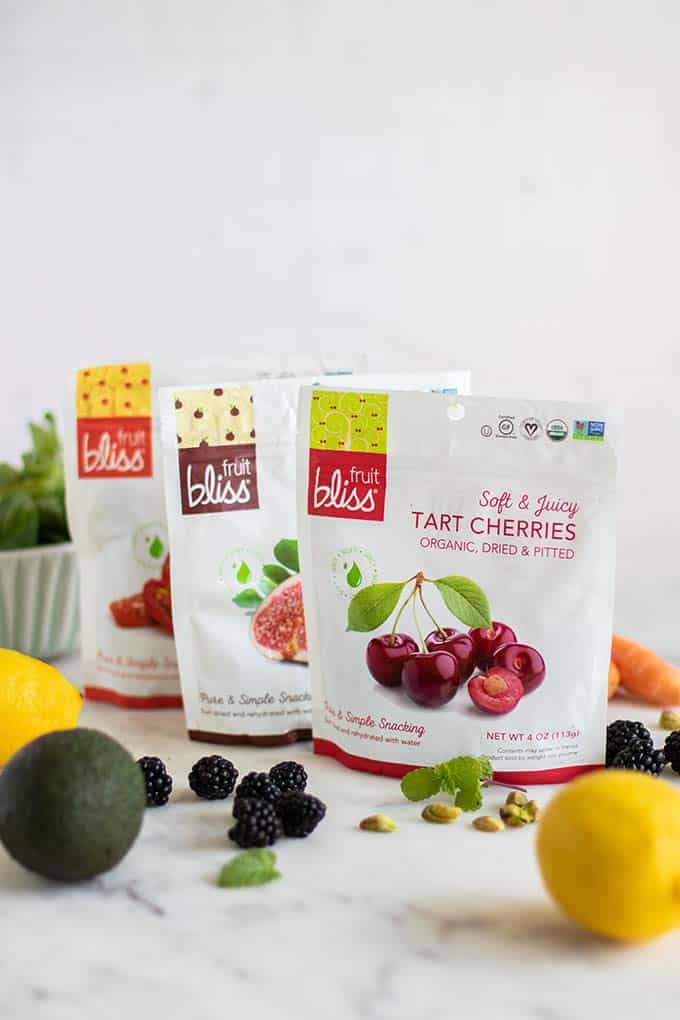 I feel in love with Fruit Bliss because of the products' short ingredient list – fruit and water, that's it. No preservatives or sugar.
Fruit Bliss products taste like what they are – pure fruit. If you're interested in trying them, order them directly from Fruit Bliss. They are also available on Amazon (affiliate link! And more links below that direct you to the product I use in each recipe).
These flavorful dried fruits are great for snacking, but I love having them on hand to add sweet pops of flavor to salads and grain dishes.
How to Make Mason Jar Salads
Mason jar salads are a great way to prep for the week and up your veggie intake! Layering chopped veggies (with the dressing right in there!), and topping them with flavorful additions and greens, makes for an easy and delicious meal. The jar seals air tight, keeping the veggies fresh and crisp.
The key to making mason jar salads that last for a week is to layer correctly. The first time I made them, I had it all wrong, and ended up with inedible mush after a couple days.
Layer 1: Dressing 
Use your favorite jarred dressing, or one of the recipes below. I've made a scaled down batch of a Balsamic Vinaigrette, a Lemon Mint Vinaigrette, and a Creamy Lemon Tahini dressing.
Layer 2: Hard Vegetables
For this layer, think about what vegetables you might enjoyed pickled, since this is essentially what will happen when they sit in a salad dressing for several days.
Good options are:
Chopped asparagus
Zucchini
Cucumbers
Carrots
Beans
Cherry tomatoes
Onions
Layer 3: Fruit or Grain
This layer will stay mostly dry, so make sure the crunchy vegetables you add to the bottom of the jar fully cover the dressing.
Some options here are:
Dried fruit (like tomatoes, figs or cherries!)
Berries
Mango
Chopped apples or pears (soaked in a lemon juice water first)
Quinoa or rice
Avocado
Layer 4: Greens
Mason jar salads often include greens. Omit this layer for a chopped and marinated veggie style salad.
Some options here are:
Spinach
Romaine lettuce, chopped
Arugula
Baby greens
Shredded Cabbage
Layer 5: Nuts and Cheese
Add flavor and texture to your salads by adding these more moisture-sensitive ingredients to the top. The dried greens will keep these fresh and from losing texture.
Some options are:
Feta or goat cheese
Shredded cheddar
Slices of fresh mozzarella cheese
Parmesan cheese
Walnuts
Pistachios
Toasted Almonds
Sunflower or pumpkin seeds
3 Bean Salad in a Jar
Beans salads are such an easy thing to prep — no cooking needed, and all the protein you need for a filling vegetarian meal.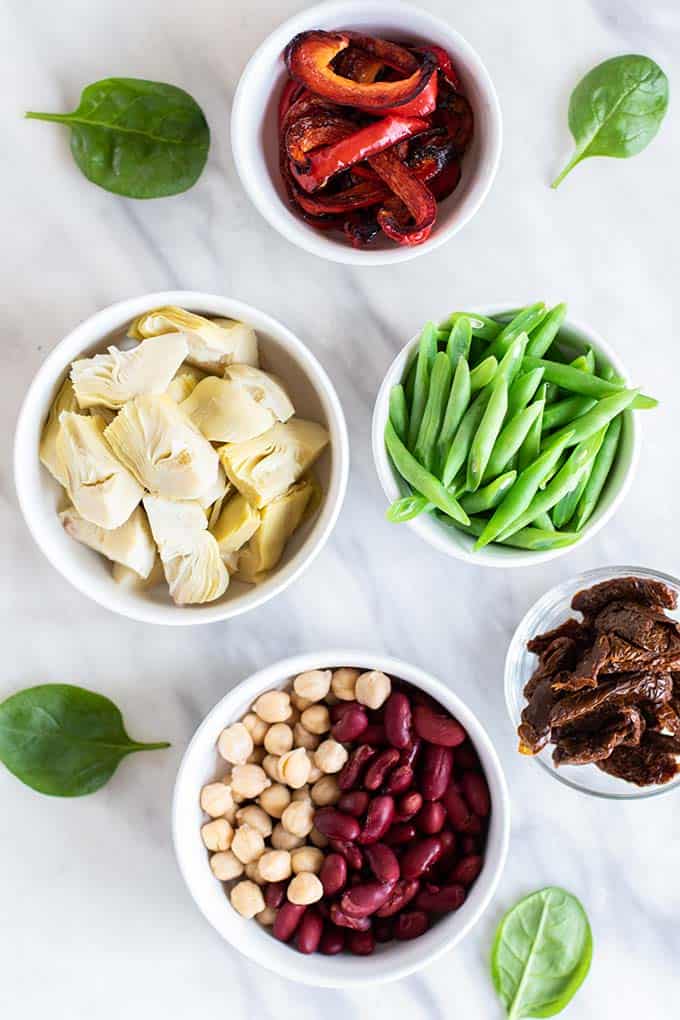 I love to use chickpeas and kidney beans, but white beans or even black beans are good swaps here. Balsamic soaked beans <3 It's a very good idea.
The Fruit Bliss Tomato Halves add great salty flavor, and I also added artichoke hearts and roasted red peppers to make this dish feel really special (all so easy to add to salads!).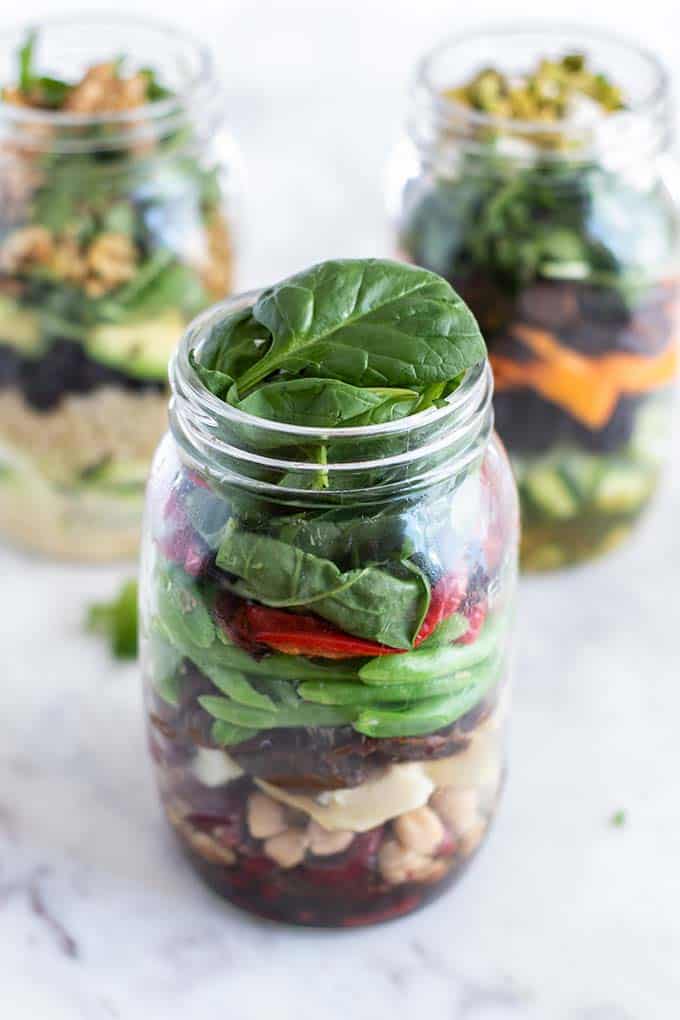 This salad is made in a simple balsamic vinaigrette. Mix the dressing right in the jar — you will shake it up before serving anyway!
Top this off with spinach, or omit the greens and just keep it a vegetable salad.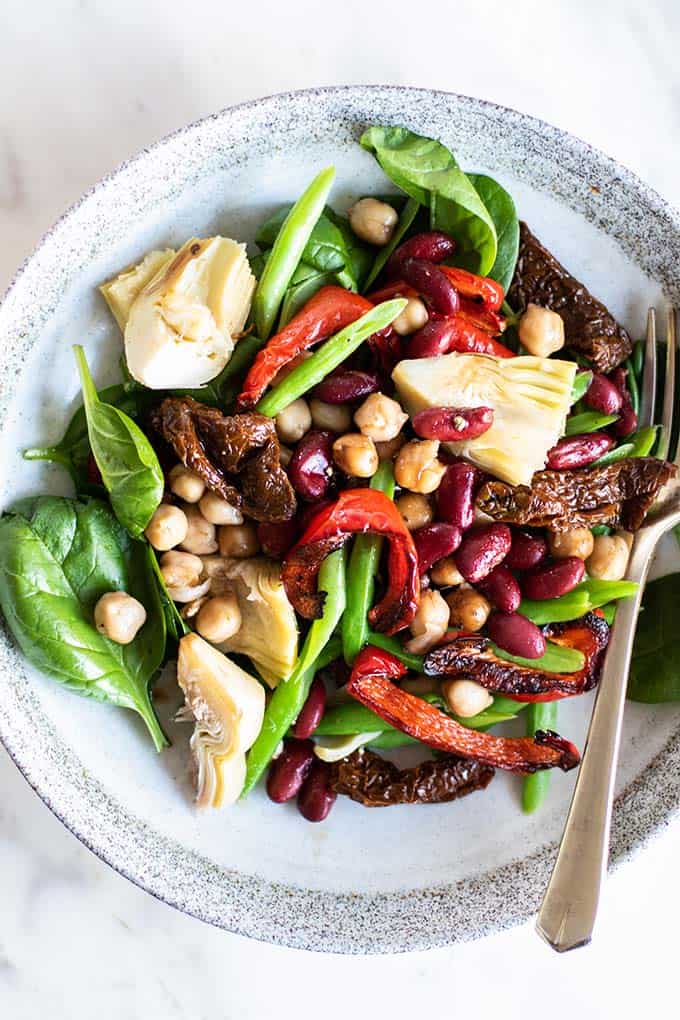 Cherry Quinoa Zoodle Mason Jar Salads Recipe
I adore zoodle salads, so this was a must to try in a mason jar!
Zucchini works well as a bottom layer in a mason jar. The dressing soaks into the vegetable, giving the salad so much flavor after a couple of days being refrigerated.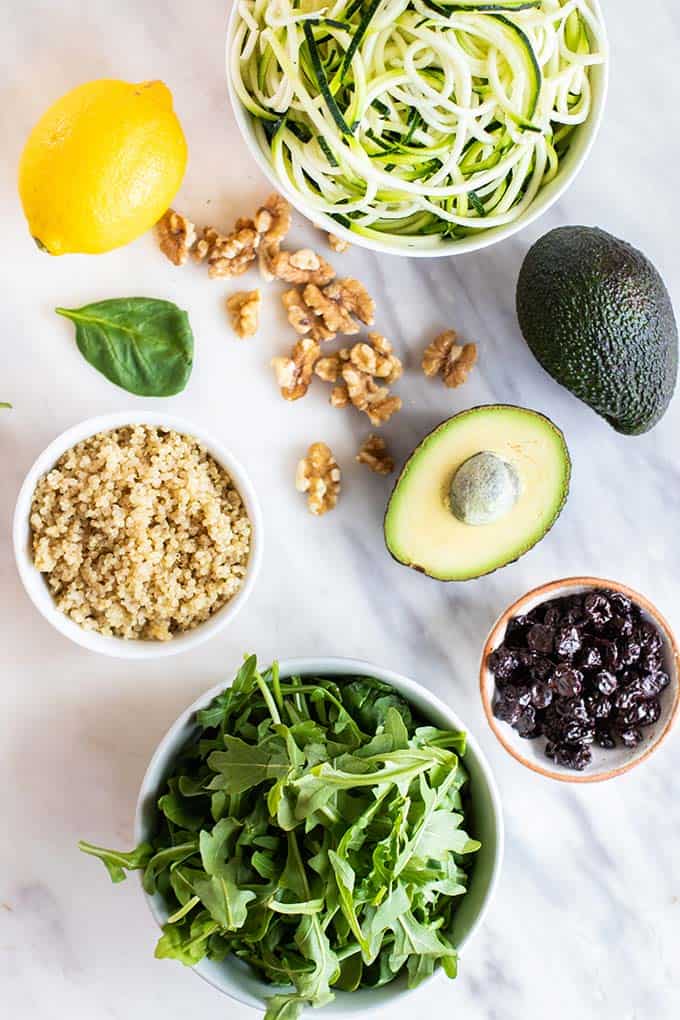 This salad is vegan as written, but if you need a higher protein meal, swap the quinoa for chopped chicken breast, or split the salad 3 ways and serve with grilled salmon.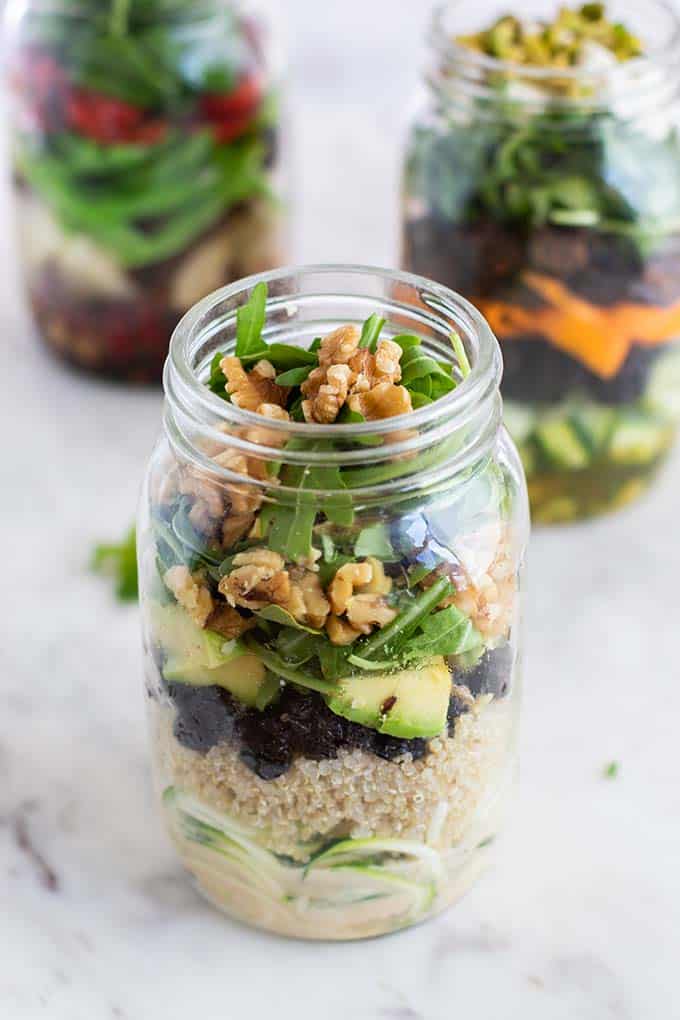 I know you'll adore the tart cherries as much as I do! They are sugar free — the only ingredient in those bags are tart cherries and water. Tossed in with a creamy tahini dressing and avocado, they add the perfect punch of sweet-tart.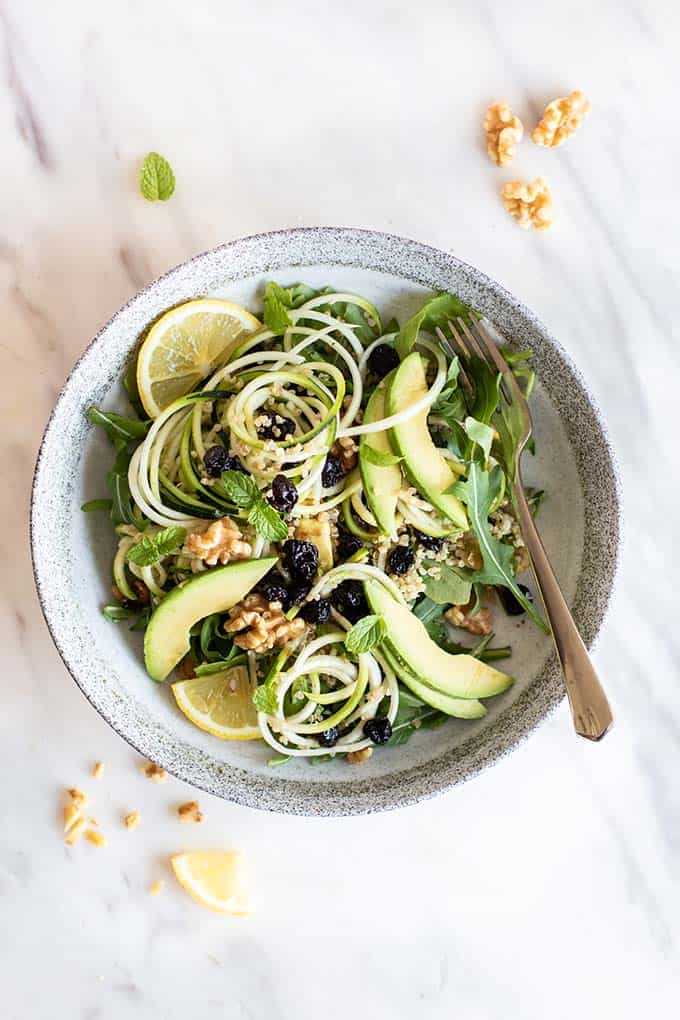 Blackberry Fig Salads
This easy combination of fruit, veggies, nuts and cheese ended up being my favorite mason jar salad.
The chewy Fruit Bliss Figs paired with the tangy lemon mint vinaigrette is a match made in heaven!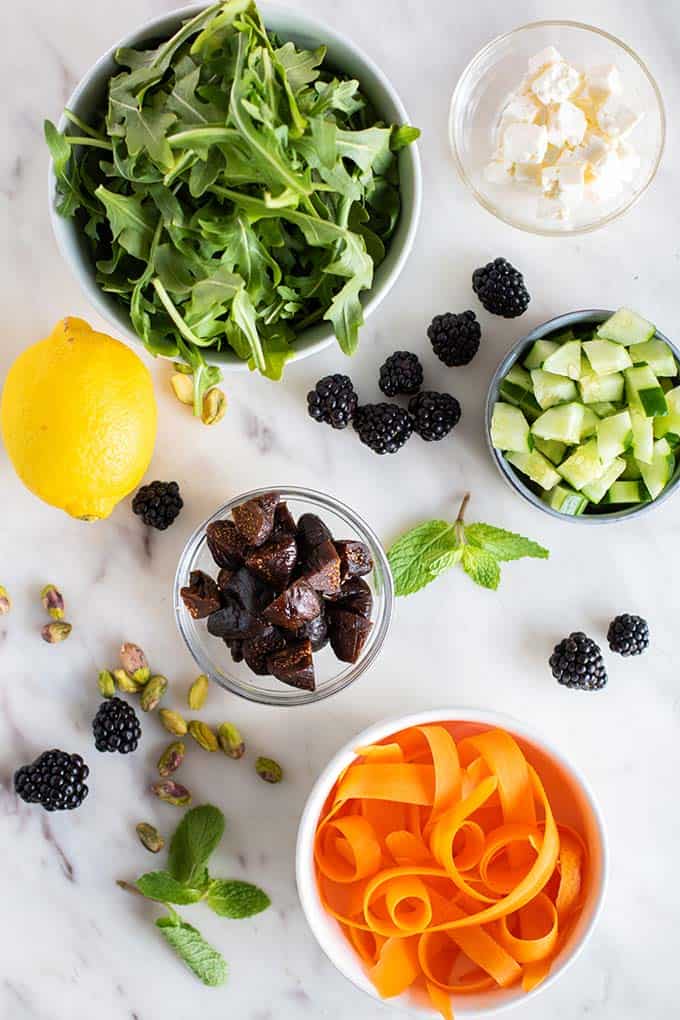 This recipe is easily adaptable. Use chopped zucchini (or even zoodles) in place of the cucumber, and strawberries or raspberries would both work in place of the blackberries.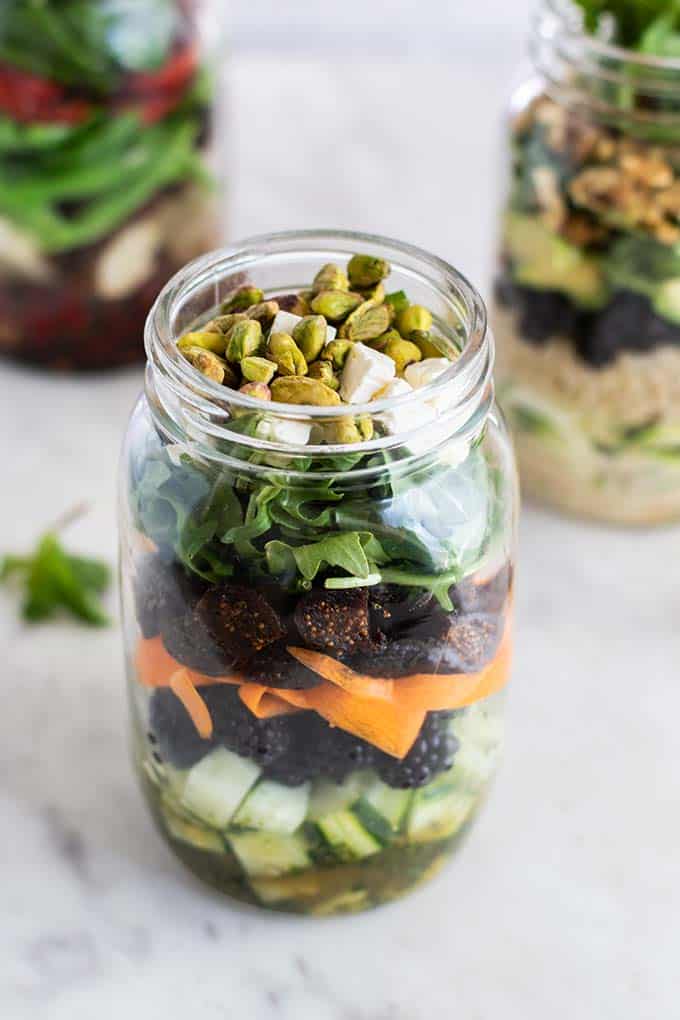 Make this salad vegan by omitting the feta cheese.
It's also easy to bump up the protein by adding chunks of chicken or some quinoa.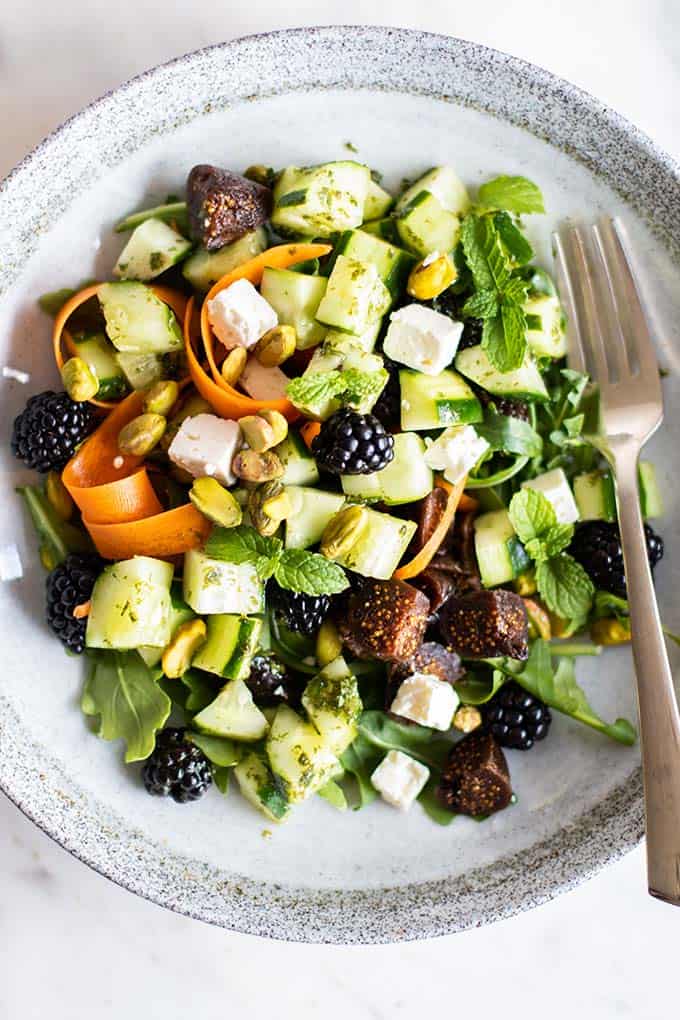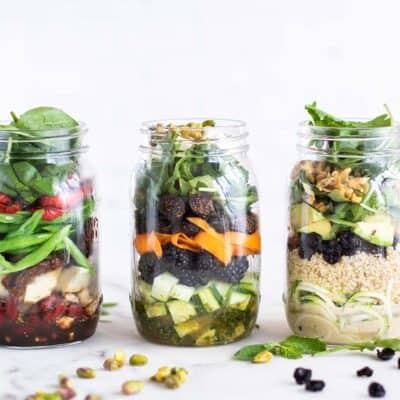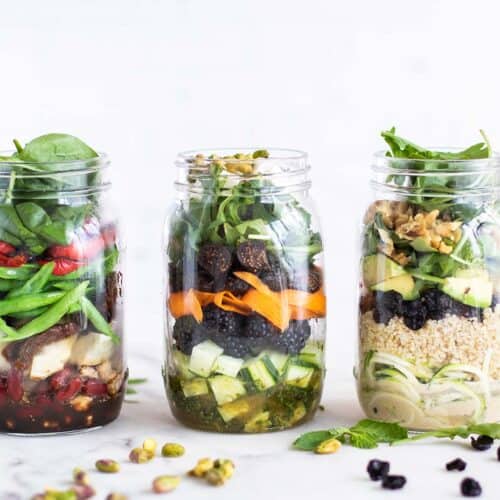 Mason Jar Salad
3 mason jar salad recipes -- Tart Cherry Quinoa Zoodle, Mediterranean 3 Bean, or a Blackberry Fig salad, all with dressing recipes. Follow the instructions below to ensure your salads last the longest! My mason jars are large and make a salad for 2 people. Use small jars and split the recipes between the two jars if needed for single servings.
Print
Rate
Servings:
2
servings per jar
Instructions
Mediterranean 3 Bean Salad
Prepare a balsamic vinaigrette by adding balsamic vinegar, olive oil, lemon juice, and salt and pepper directly into the jar, and stir to combine.

Layer vegetables in the order they are listed to ensure the salad stays fresh for up to 5 days.
Tart Cherry, Quinoa and Zoodle Salad
In a jar, add lemon juice, tahini and olive oil. Shake well to combine, and season with salt and pepper to taste.

Add dressing to the bottom of a mason jar, and then layer the ingredients in the order they are listed. This salad lasts 3 days refrigerated.
Summery Blackberry Fig Salad
Add the lemon juice, white wine vinegar, olive oil, honey, and mint to a jar. Shake vigorously to combine, and then season with salt and pepper if desired.

Add the lemon mint vinaigrette to the bottom of a jar, and then layer the rest of the salad ingredients into the jar in order. This salad will last 5 days refrigerated.
Notes
*Nutrition Facts are for the Mediterranean 3 Bean Salad.
All recipes are to fill a 1 1/2 quart mason jar. If you do not have this size, fill 2 quart sized jars for single-serving salads.
Nutrition
Calories:
423
kcal
|
Carbohydrates:
53
g
|
Protein:
16
g
|
Fat:
17
g
|
Saturated Fat:
2
g
|
Sodium:
526
mg
|
Potassium:
1035
mg
|
Fiber:
15
g
|
Sugar:
12
g
|
Vitamin A:
3600
IU
|
Vitamin C:
40.2
mg
|
Calcium:
146
mg
|
Iron:
6.5
mg
Other Meal Prep Salad Recipes:
I'd love to connect with you on social media! Find me on Facebook or Instagram where I post daily healthy eating and lifestyle inspiration.
This Mason Jar Salad post may contain affiliate links, meaning if you make a purchase, I will receive part of the sale as a commission. This helps me continue to bring you lots of fresh and inspired recipes!