This post may contain affiliate links. Please see my full
Disclosure Policy
for details.
This easy Mediterranean One-Pot Pasta is packed with flavor, healthy vegetables, convenient canned foods, and can go from pantry to table in less than 30 minutes. Everyone will love this healthy pasta loaded with canned artichokes, olives, and fire roasted tomatoes, and simmered in a creamy herb-spiked vegetable broth.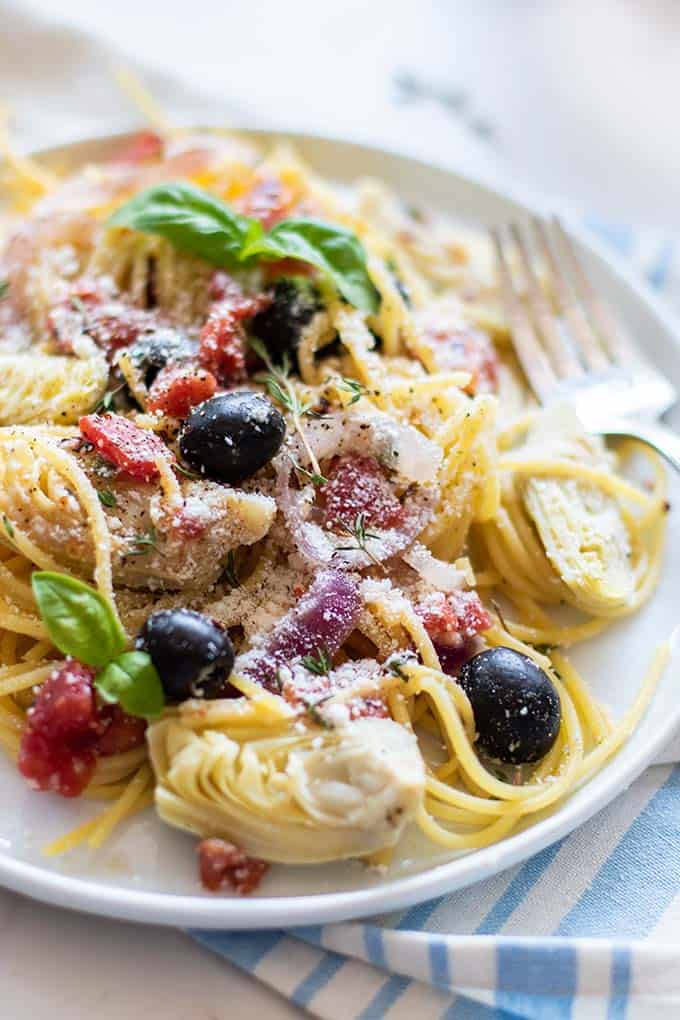 A One-Pot Pasta for a Busy Weeknight Dinner
Busy weeknights get the best of all of us.
Luckily, busy weeknights do not mean we can't get a healthy dinner on the table fast. It just takes a little creativity – and a well stocked pantry.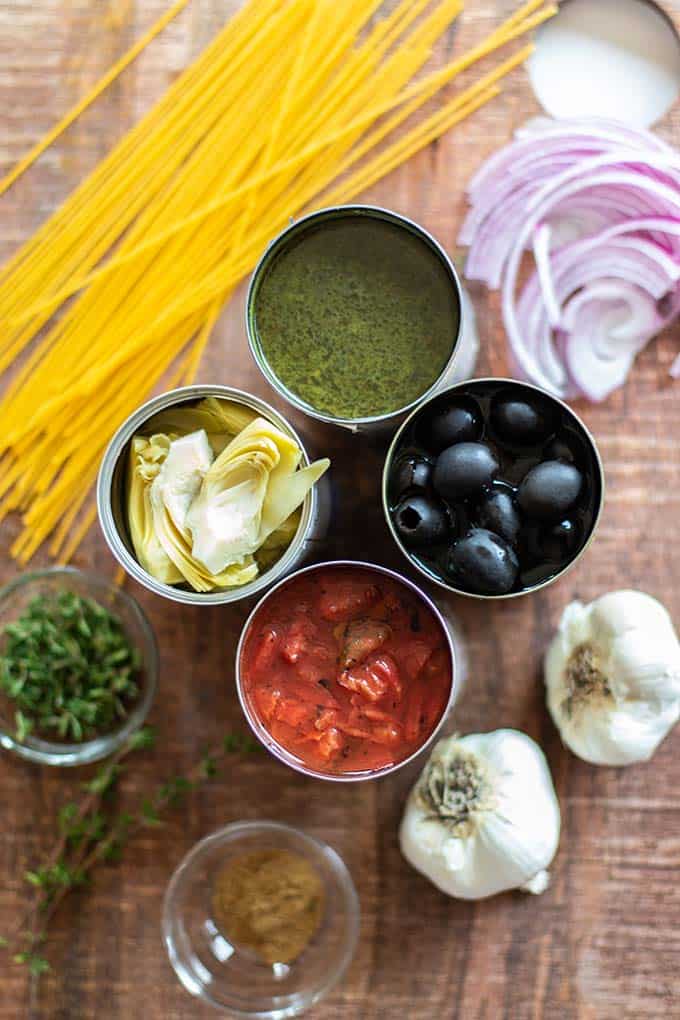 Of course I adore having fresh produce in my fridge, and in a perfect world, I'd have a magically restocked fridge every few days.
Since that isn't a reality, I make sure I have canned vegetables ready to go.
Nutrition recommendations call for 42 cups of fruit and 53 cups of vegetables for a family of 4 each week – that's a lot of produce coming in to the house! Families who cook with canned foods are more likely to meet this requirements, and have been shown to have diets higher in 17 essential nutrients, including potassium, calcium, and fiber. Plus, cans provide year-round access to seasonal fruits and vegetables and keep food fresh and flavorful without the need for preservatives and additives.
Canned foods help in getting a healthy dinner on the table a little bit faster.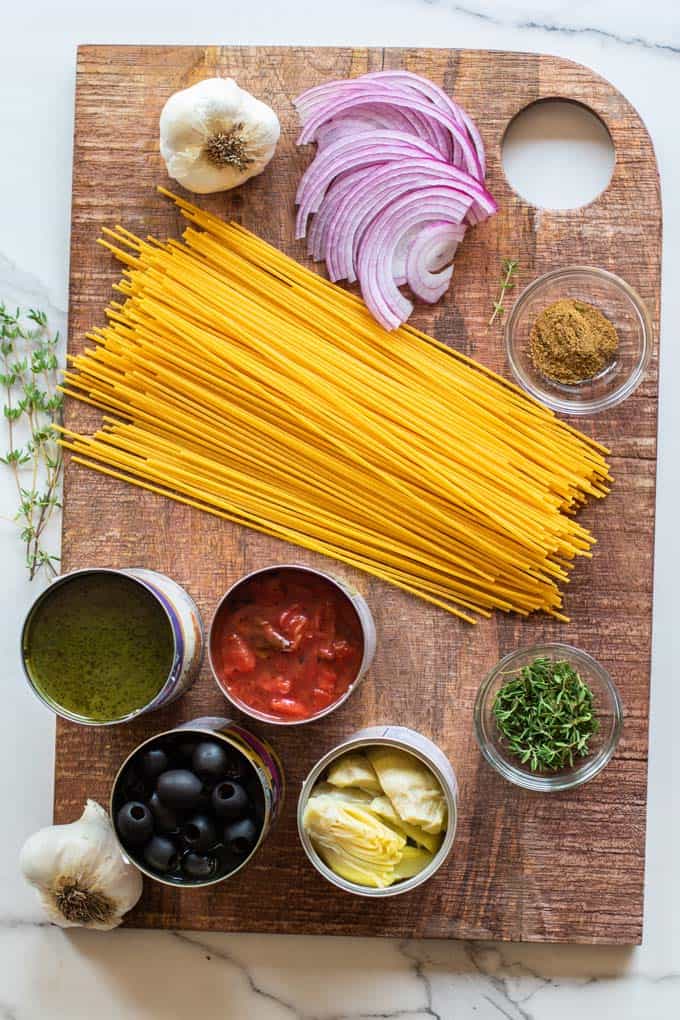 A well stocked pantry can help get you through the week with creative meals you can feel good about serving to your family.
Canned artichokes, olives, and tomatoes are some of my favorite items to always have on hand.
How to Make Mediterranean One Pot Pasta
This dish couldn't be easier to prepare. I like to add some fresh herbs and a chopped onion, to boost the Mediterranean flavors — but if you don't have those things on hand, don't stress! Just substitute some dried thyme and garlic or onion powder. You'll also need:
1 8-ounce package of gluten-free pasta: this works best with a corn/quinoa or a chickpea/lentil blend. I tested this a few times with brown rice pasta and it simply does not work with the one pot method. If you have brown rice pasta, I recommend cooking it separate and then mixing it with the vegetables post cooking.
1 can Vegetable Broth: This is key for adding tons of flavor!
1 can Artichoke Hearts: These are one of my favorite canned foods to have on hand! Super convenient, delicious, and they definitely elevate any meal!
1 can Fire Roasted Tomatoes: Another flavor booster!
1 can Olives: Everyone's favorite!
1/2 Red Onion: I add the onion for a burst of color and to flavor the broth.
Season with Fresh Thyme, Cumin, and Salt & Pepper: Simple seasonings work best in this recipe! You can also use dried oregano or Italian seasoning.
Once you have the ingredients ready, add everything to a pot of boiling water, and you're set to go!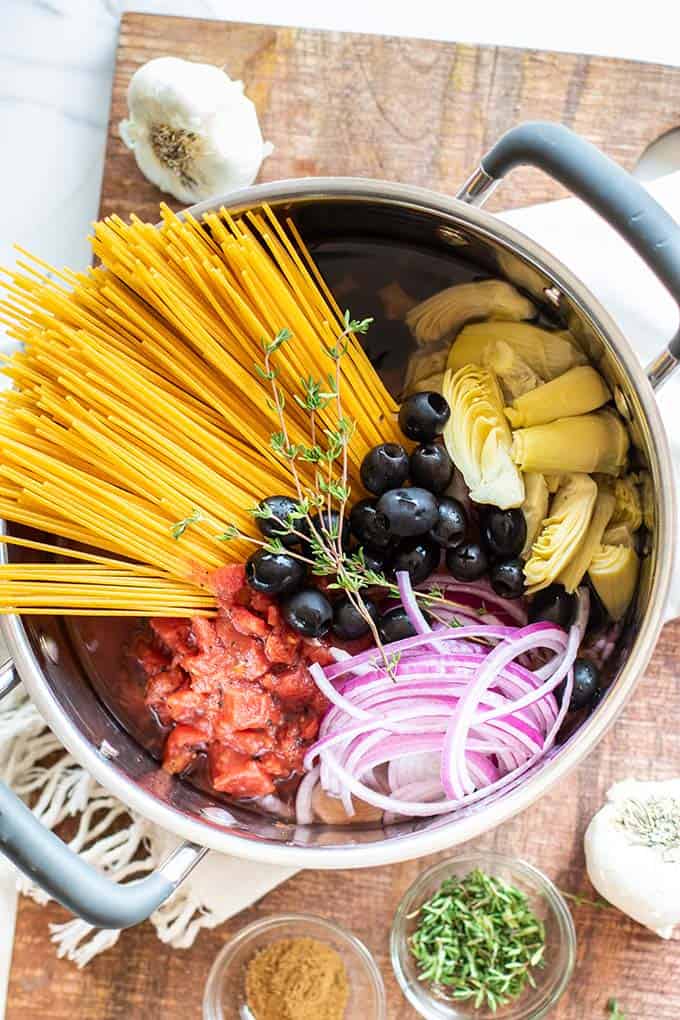 Tips for Making the Perfect One Pot Pasta
One-pot pastas are great meals for busy nights — once you have everything together in the pot, you'll need to stir the pot occasionally to keep the pasta from sticking together or sticking to the bottom of the pan.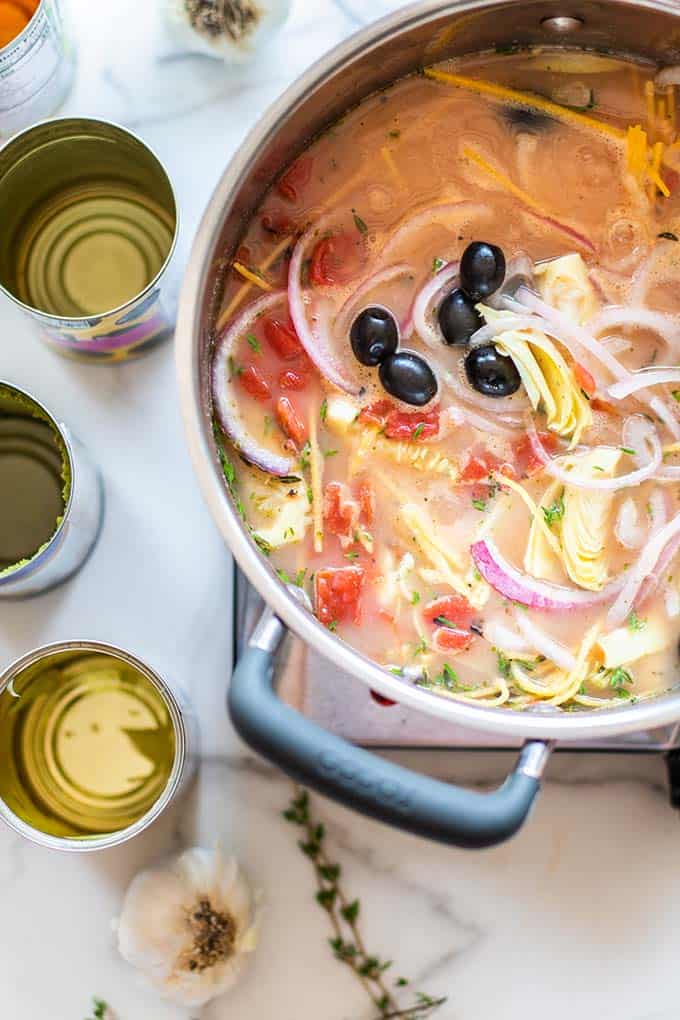 This dish is a great quick meal, and you'll want to serve it as soon as it's ready. The pasta will release starch into the water, making a creamy seasoned sauce. My son adores his pasta cooked this way!
However, if you leave gluten free pasta in the hot broth for too long before serving, it will continue to cook and get mushy. I like to finish cooking it, and then immediately put it on plates. This keeps it from continuing to cook in the hot pot and allows the broth to cool, even if the family isn't yet sitting at the table.
As the broth and water cook down into a sauce, watch your pasta carefully. You can add water to thin the sauce, or sometimes I even use a ladle to remove some of the starchy water and thin the sauce with water if I think it has gotten too thick. This depends on the type of pasta you buy.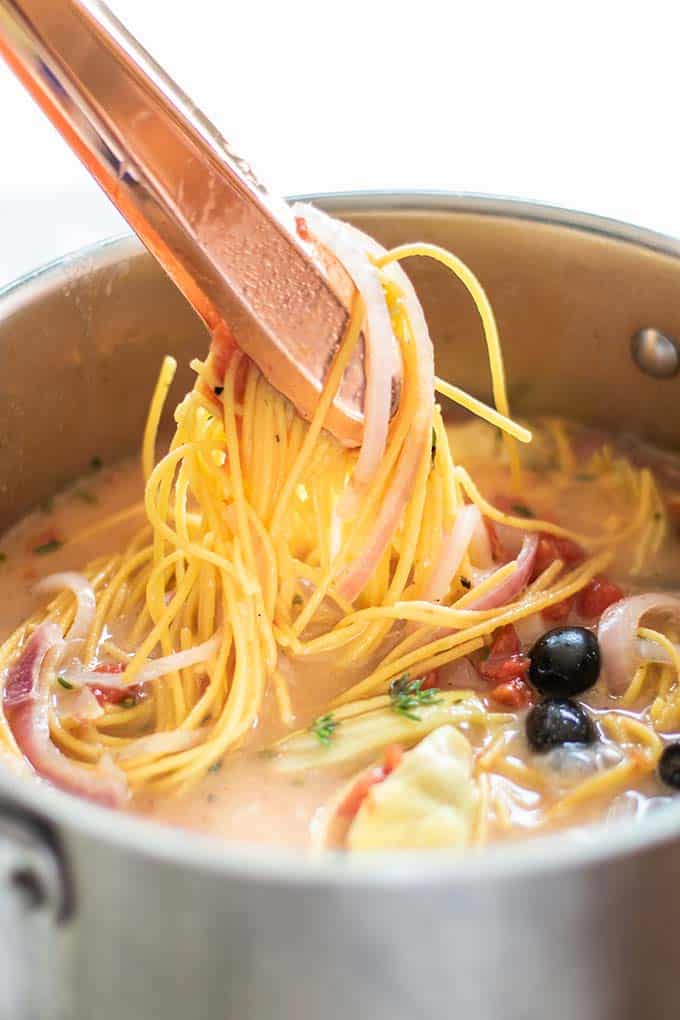 Experiment! If you make this dish, share it with us — Use #CansGetyouCooking to show what healthy dishes you are making for your family using canned foods, and be sure to check out Cans Get you Cooking for more delicious meals made with canned foods!
Other Healthy Pasta Recipes:
I'd love to connect with you on social media! Find me on Facebook or Instagram where I post daily healthy eating and lifestyle inspiration.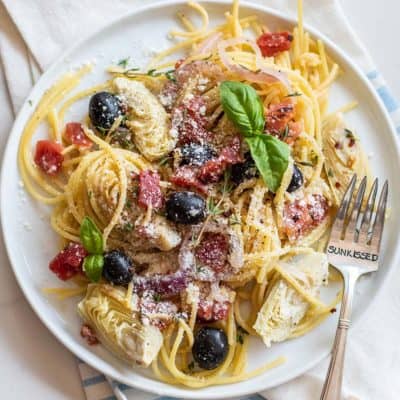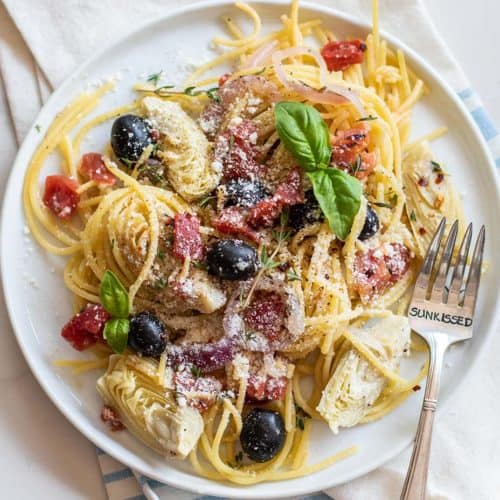 Mediterranean One Pot Pasta
A healthy pasta dish conveniently made in 1 pot - quick, and easy to clean up! This dish packs tons of nutrients and fiber from canned tomatoes, olives, and artichoke hearts, and cooks in a flavorful seasoned vegetable broth. The perfect dinner for a busy weeknight!
Print
Rate
Ingredients
1

8 ounce

gluten free pasta

corn/quinoa or chickpea/lentil*

3

cups

water

boiling

1

can

vegetable broth

1

can

fire roasted tomatoes

1

can

artichoke hearts

drained

1

cup

black olives

1/2

purple onion

sliced

2

tablespoons

fresh thyme

sub 1 teaspoon dried thyme

1

teaspoon

cumin

sea salt and black pepper

to taste

parmesan

to serve, optional

basil

to serve, optional
Instructions
Bring 3 cups to boil in a large pot. Add pasta, vegetable broth, onions, tomatoes, artichoke hearts, olives, thyme, and cumin.

Allow the pasta to come back to a boil over high heat, and stir the pasta and it begins to cook.

Keep the pasta at a boil, but reduce the heat a little as it continues to cook. Occasionally stir with tongs to keep the pasta from sticking together or sticking to the bottom of the pot.

As the water reduces and becomes a sauce, watch for the pasta to become cooked. If the pasta needs more cooking time, you can thin the sauce by adding more hot water, 1/2 cup at a time.

Once the sauce as reduced, you can season with salt and pepper.

Once the pasta has cooked, remove from pot and add to plates quickly to keep pasta from overcooking in the broth.

Garnish with fresh herbs or parmesan cheese, and serve immediately.
Nutrition
Calories:
196
kcal
|
Carbohydrates:
14
g
|
Protein:
2
g
|
Fat:
14
g
|
Saturated Fat:
1
g
|
Sodium:
1370
mg
|
Potassium:
64
mg
|
Fiber:
4
g
|
Sugar:
4
g
|
Vitamin A:
1860
IU
|
Vitamin C:
29.3
mg
|
Calcium:
96
mg
|
Iron:
2.4
mg