This creamy macaroni and cheese recipe has a blend of 4 veggies, giving this family favorite recipe an amped up nutritional profile.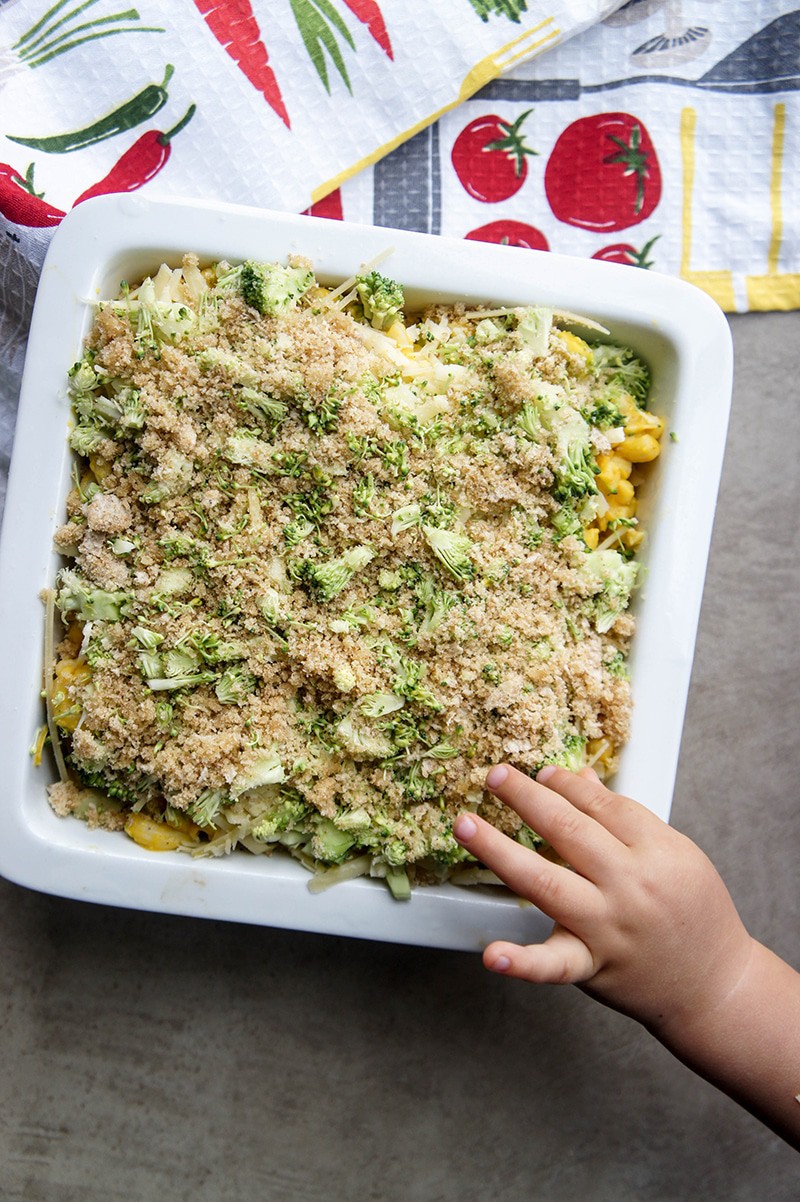 This recipe was developed recently for a partnership with BUB Society, a network for parents and families. They are just launching a great new program for families, which includes tons of perks, including opportunities for parents to connect with other families.
A really neat part of the membership is the BUB Box, which is delivered monthly to each family. The boxes contain everything needed for a fun family night, including snacks and an activity, all ready to go, to help generate conversation and create a bonding experience. BUB boxes will also include a Vitamin Sunshine recipe geared specifically towards making a healthy, family favorite meal, with the whole family included.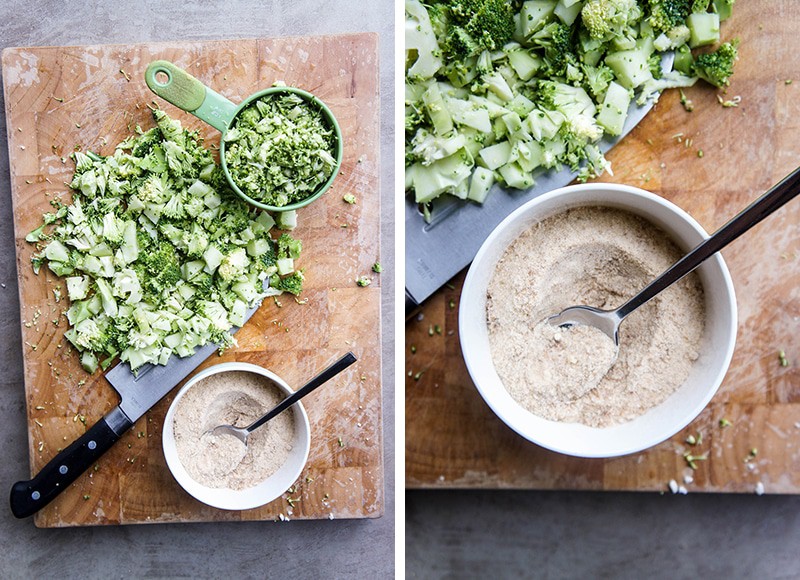 I've been making this Mac 'n Cheese recipe for a while now- and recently made it with a neighbor and her 2 kids. Xander loves helping in the kitchen, but his "helping" includes a lot of mess and chaos at this point (love him). My friend's older daughter is 3, and she had a ton of fun helping me measure the macaroni, stir the sauce into the macaroni, and add the toppings before we baked this dish.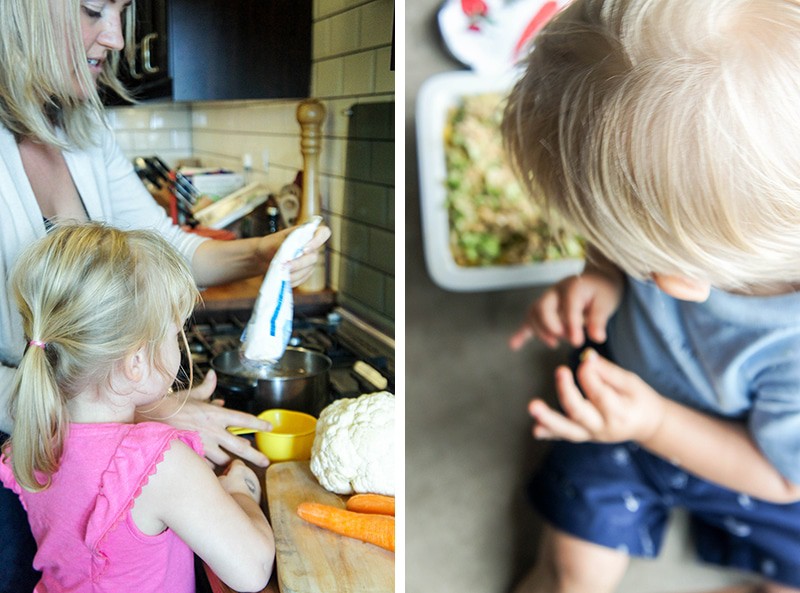 Including Kids in the Kitchen
Bringing kids into the kitchen teaches them about healthy eating and gifts them an important life skill. It's also a great opportunity to bond as a family, especially if parents work outside the home and have limited time together during the week.

Kids are more likely to be adventurous with food choices if they feel pride in helping to make a dish.

Veggies are pureed into a sauce and used to make this creamy macaroni and cheese. It's good for kids to think vegetables are a "normal" ingredient in meals. Don't hide the veggie puree!

Younger kids can help measure and pour ingredients, and love helping to stir the pot. Even making a young child the official "taste tester" is an important job.

Older kids can help peel and chop veggies, and will love getting to add the cheese, broccoli and breadcrumbs to the top of this dish. Who cares if breadcrumbs end up on the floor!
Tips for Creamy Macaroni and Cheese
This recipe works best if assembled right before baked and enjoyed. I tried assembling it during the day, and baking it in the evening, but the veggie sauce gets absorbed into the pasta. It's still delicious, but not a very creamy macaroni and cheese.
Make it Ahead: To prep this recipe ahead of time, prepare the veggie puree, cook the pasta, and prepare the toppings, but keep all the items separately until ready to bake. Right before baking, mix the puree and cheese into the pasta, and then add the toppings. This will keep the sauce from being absorbed and the dish becoming dry.
Save Time: Buying a bag of pre chopped broccoli, carrots and cauliflower will help save time in this recipe. Pre shredded cheese will also speed things along. I make my own brown rice breadcrumbs for this recipe to keep it gluten free, but any whole grain store bought breadcrumbs can be substituted.
Make is Gluten Free: I make this dish gluten free by using Ancient Harvest Quinoa Elbows. I am not sure if you can buy Trader Joe's brown rice pasta in a macaroni shape, but I really enjoy their brown rice pasta and it's a great price. It is a bit harder to work with than the Ancient Harvest pasta- it needs to be stirred often to keep from clumping together and gets gummy if overcooked. This recipe can be made with any type of pasta that works for your family, but I recommend choosing a whole grain option. I make my own bread crumbs using brown rice crisp cereal.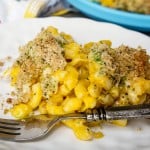 Print
Creamy Mac and Cheese with Vegetables
This nutritionally amped up mac 'n cheese recipe is a great option for a family night. I use parmesan and sharp cheddar cheeses to pack in a ton of flavor without too much cheese. I love the blend of onion, cauliflower and carrots because it yields a beautiful orange sauce that isn't sweet and doesn't overpower the cheesy flavor. Don't skip the broccoli and bread crumb topping! Both crisp in the oven and make this dish irresistible!
Ingredients
1/2

tablespoon

olive oil

1/2

onion

diced

3

cups

carrots

diced (10 ounces)

5

cups

cauliflower

chopped (12 ounces)

1 1/2

tablespoons

vegetable bouillon

1

teaspoon

paprika

4

cups

gluten free macaroni

uncooked

5

cups

broccoli

(12 ounces), chopped

1

cup

parmesan cheese

shredded

1

cup

sharp cheddar cheese

shredded
Gluten Free Breadcrumbs
1

cup

crisp brown rice cereal

1/2

teaspoon

Italian seasoning

1/8

teaspoon

sea salt

1

tablespoon

butter

melted
Instructions
Make gluten free breadcrumbs by adding brown rice cereal, sea salt and Italian seasoning to a blender, and blending until the cereal is completely crushed up. Set aside.

Boil pasta. Remove from heat and drain before the pasta is completely cooked. It will soften more when the pasta is baked. It's especially important to not overcook gluten free pastas.

Create the veggie puree cream sauce. In a large saucepan or dutch oven, add olive oil and diced onion. Sauté for 5 minutes until the onion is softened. Add carrots, cauliflower and 1 cup of water. Cover, and steam vegetables on medium high heat for 15-20 minutes, until vegetables are very tender. Add 1/4 more water if necessary.

Preheat oven to 425 degrees Fahrenheit.

While veggies are steaming, chop broccoli. Reserve 1 cup of finely chopped broccoli for topping, and roughly chop the rest.

Shred cheese, and mix Parmesan and cheddar together.

Add steamed veggies to a blender along with vegetable bouillon powder and paprika. Blend until a creamy sauce is formed, about 3-4 minutes. Season with black pepper.

In the sauce pot, add undercooked pasta, and pour the veggie puree sauce over the top. Add in roughly chopped broccoli and 1 cup of the mixed shredded cheese. Mix together, and then put into a 8x8 baking dish (or oven safe dutch oven).

Mix 1 tablespoon of melted butter into rice crisp breadcrumbs.

On top of the pasta, layer the cheese first, then the broccoli, and the breadcrumbs last. This will keep the cheese from drying out, but allow the broccoli and breadcrumbs to get crunchy.

Bake pasta dish for 25 minutes if all ingredients are still warm, and up to 35 minutes if ingredients have cooled before baking. To keep the topping crunchy, I don't cover with foil, but place a baking sheet on the rack above the casserole for the first 20 minutes to keep the topping from over-browning.
Notes
See post above recipe for ideas on substitutions and time-saving tips. *I first tried blending half of the cheese into the veggie sauce, but found that adding the veggie sauce and the cheese separately gave it a much cheesier flavor.
Nutrition
Calories:
802
kcal
|
Carbohydrates:
135
g
|
Protein:
30
g
|
Fat:
19
g
|
Saturated Fat:
10
g
|
Cholesterol:
36
mg
|
Sodium:
646
mg
|
Potassium:
748
mg
|
Fiber:
9
g
|
Sugar:
7
g
|
Vitamin A:
11706
IU
|
Vitamin C:
112
mg
|
Calcium:
413
mg
|
Iron:
4
mg
Other Sneaky Veggie Family Favorite Recipes:
I'd love to connect with you on social media! Find me on Facebook or Instagram where I post daily healthy eating and lifestyle inspiration.
This post contains affiliate links, which means that if you click on one of the product links, I'll receive a small percentage of any purchases made.