This post may contain affiliate links. Please see my full
Disclosure Policy
for details.
My favorite way to prepare chicken, this easy Balsamic Chicken has only a few ingredients. Try balsamic glazed chicken breasts sliced over salads, rice, or with potatoes. Here, I've served it over a low carb cauliflower mash with broccoli, and prepared some for my meal prep. This is a delicious Whole30 or low carb meal prep!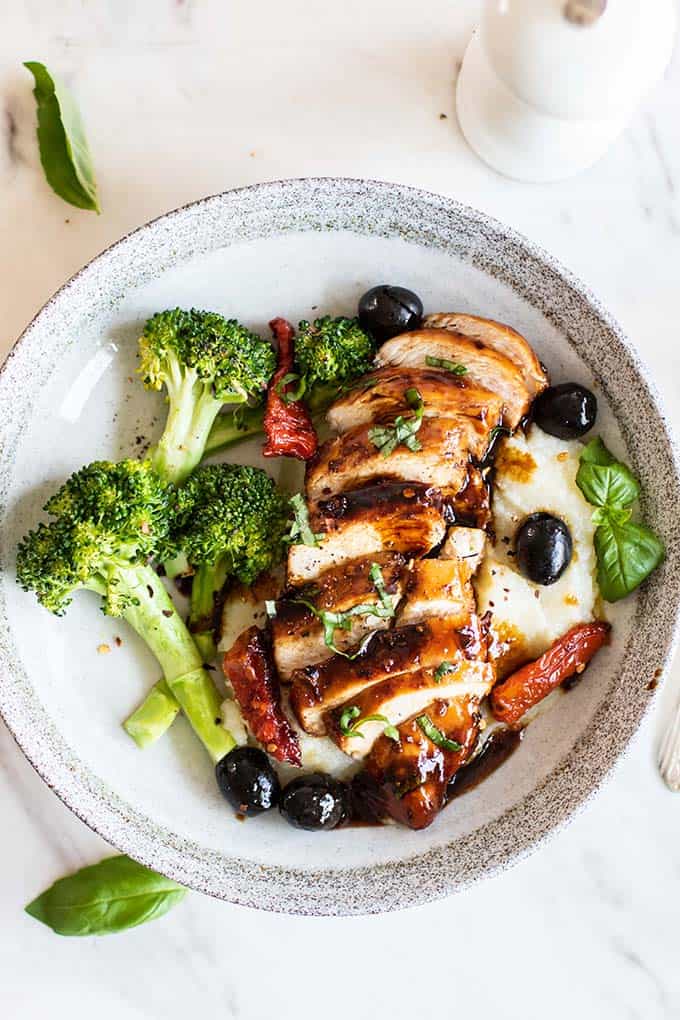 Easy Balsamic Glazed Chicken Breasts
Once you've tried this recipe, it will be one you come back to again and again. To make it even better, you won't even need to save the "recipe." It's so crazy simple, you'll remember how to make them.
Cooking chicken breasts in balsamic vinegar is an easy preparation. First, brown the chicken breasts in olive oil and season them with salt and pepper. Optionally season them with herbs like thyme and oregano or Italian seasoning. Once the first side is browned, flip and add lots of delicious balsamic vinegar!
No need to marinate the chicken first – it will cook into a super tender chicken without any prior preparation!
The vinegar cooks down and loses its bite. It becomes a sticky sweet sauce and results in chicken so incredibly moist and flavorful.
This is the perfect method for weeknight meals or cooking chicken for meal prep because the chicken breasts do not dry out. They will stay moist and flavorful for days.
The whole process takes about 30 minutes, because you'll be cooking the chicken breasts on low, but about 80% of that time is hands-off!
Ingredients for Balsamic Chicken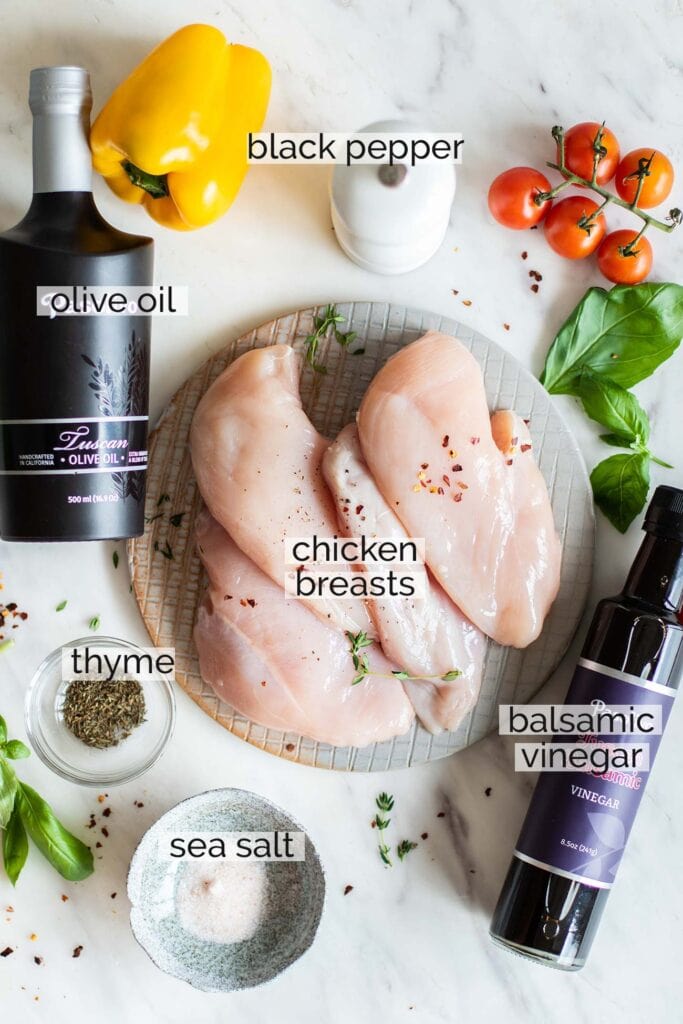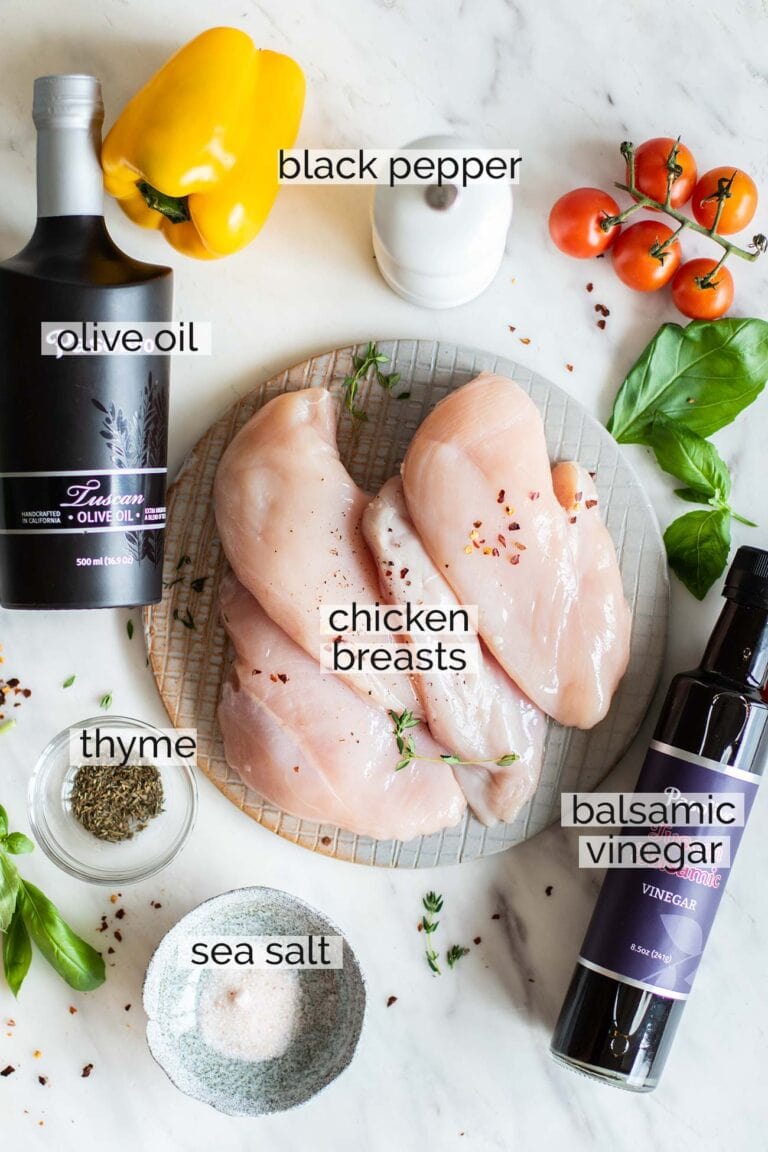 Balsamic Vinegar Chicken Recipes:
How to Make Balsamic Chicken
Step 1: Into a large frying pan, add olive or avocado oil, and chicken breasts. Heat over medium high heat. Season the chicken breasts with salt, pepper, and thyme. You can use Italian seasoning, if that's what you have on hand, or skip the dried herbs entirely.
Step 2: After about 7 minutes, flip the chicken, and season the other side with salt, pepper, and thyme. Add the balsamic vinegar, and reduce the heat slightly below medium heat. We want to cook the chicken long and slow so the balsamic vinegar reduces at the same rate as the chicken cooks. I often put a lid on my frying pan for about 10 minutes if my chicken breast are thick, but then take the lid off so the vinegar can work it's reduction magic.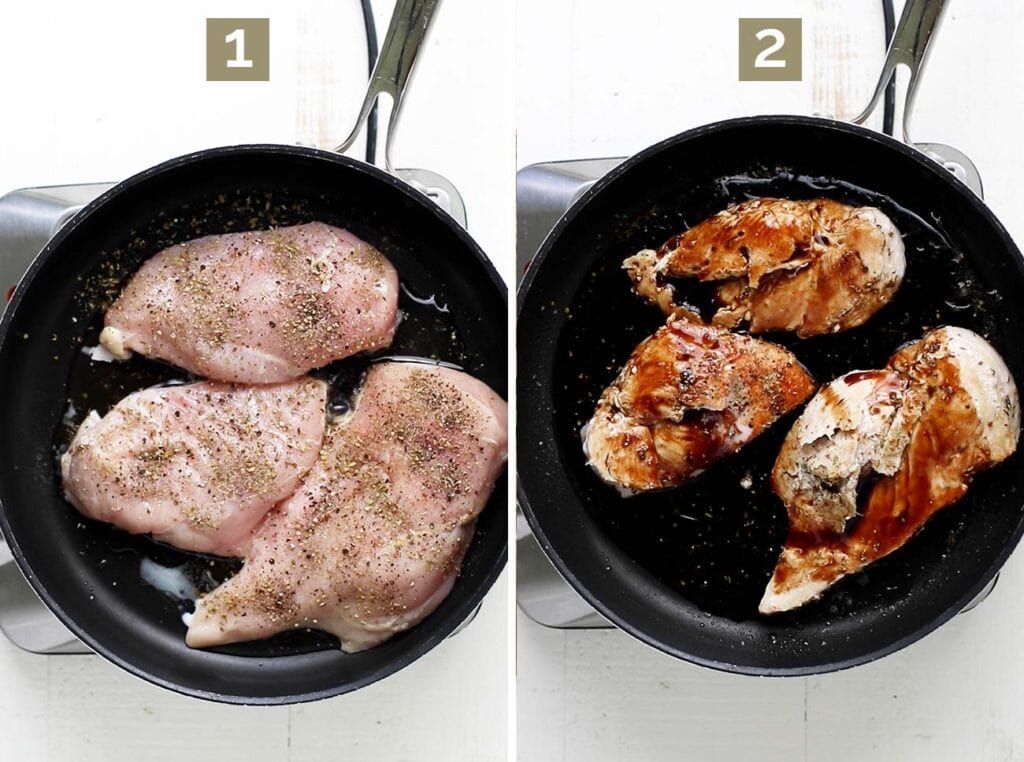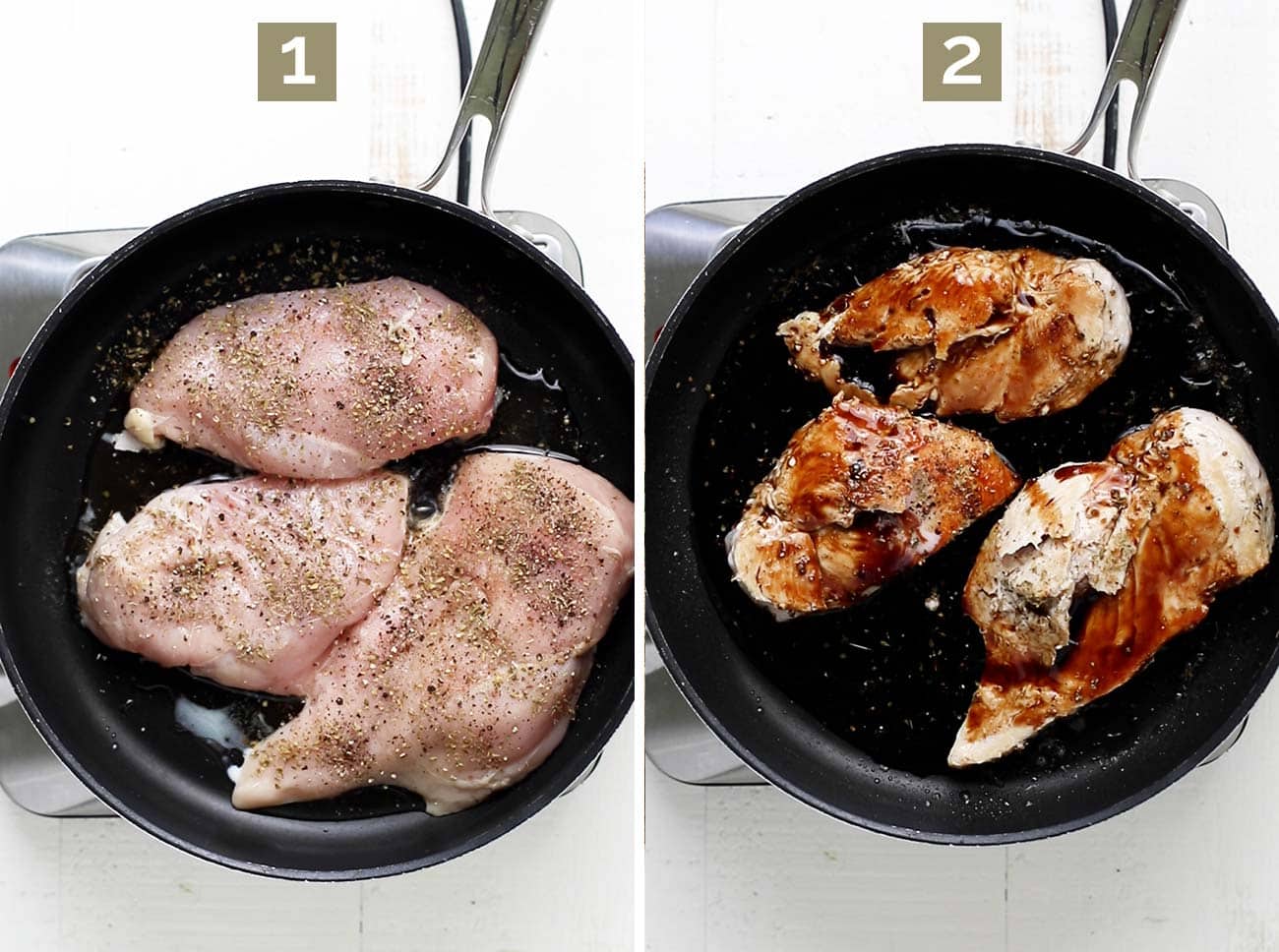 Step 3: Flip the chicken breasts a few times while they are cooking. When the balsamic vinegar is a thick, sticky glaze, the chicken should be cooked through. Chicken needs to cook to 165º F, so if you don't cook chicken breasts often, you can use a meat thermometer to check for doneness.
Step 4: Leave the balsamic vinegar chicken breasts as is, and just slice them and add to your salad or whatever you're eating, or dress it up with some delicious additions. I used sun dried tomatoes, olives, and fresh basil, and they were great flavor additions to this sticky-sweet chicken dish.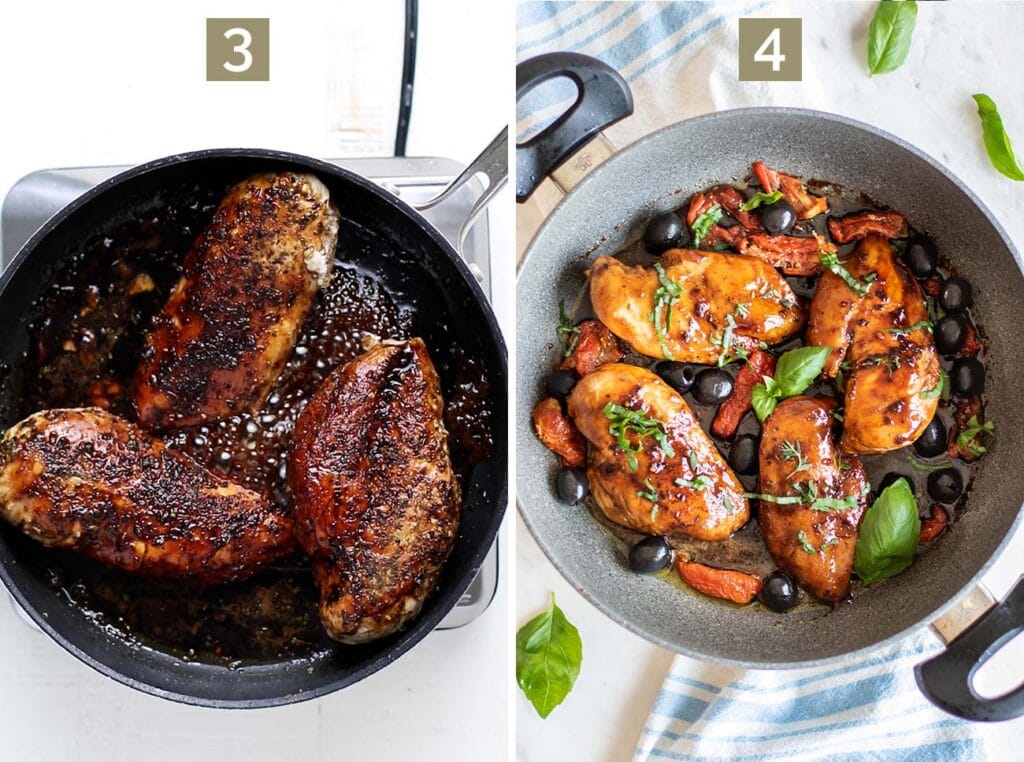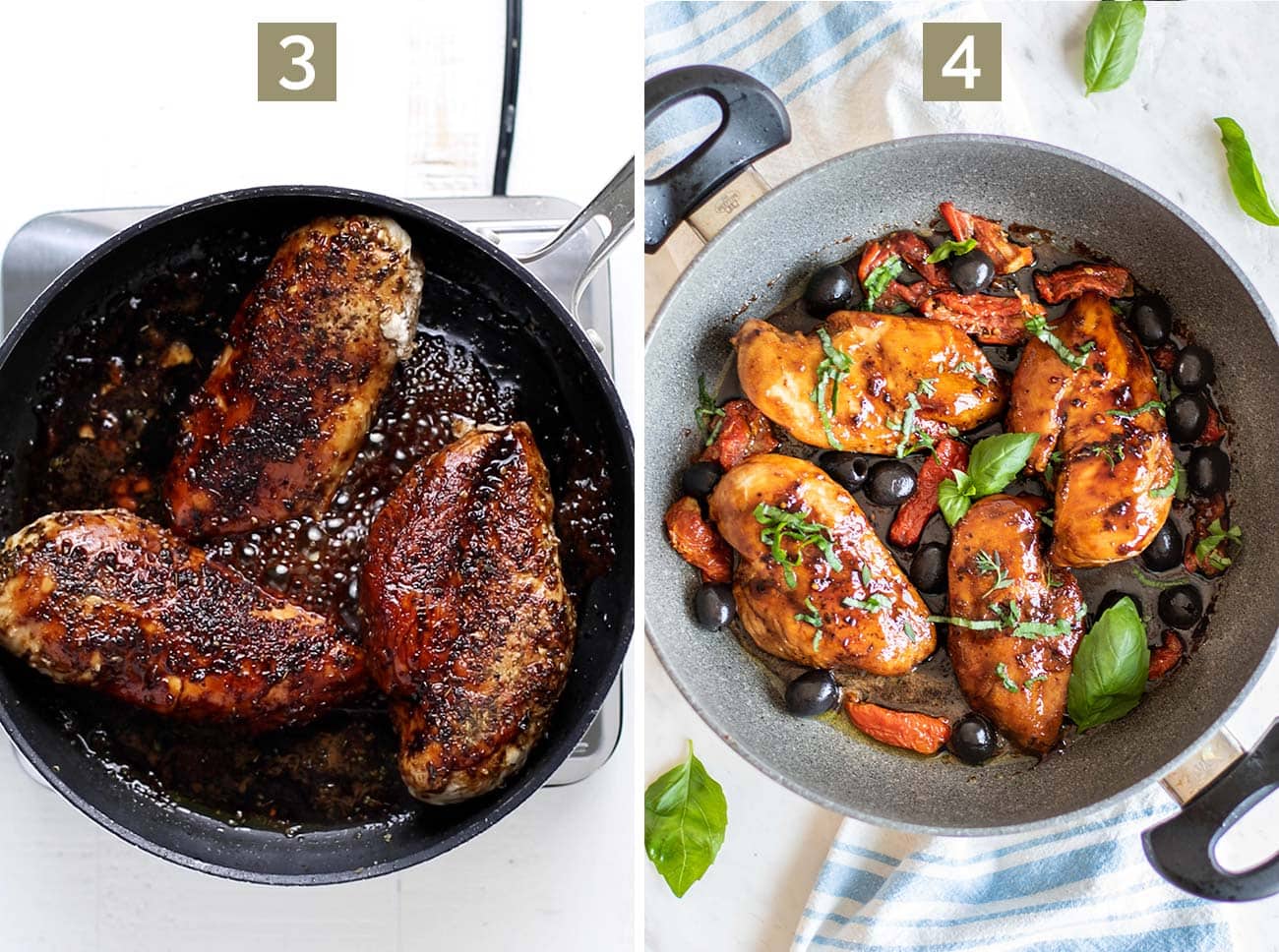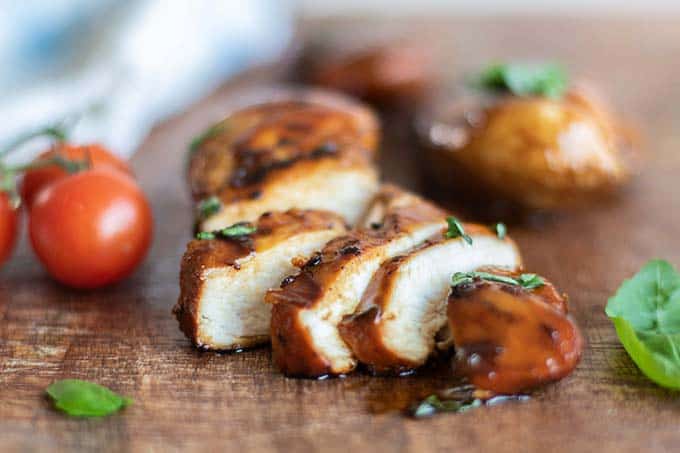 How to Serve Balsamic Glazed Chicken
Keep this meal low carb by serving it on a simple cauliflower mash along with some veggies or a salad. Use this post to make flavorful Cauliflower Mashed Potatoes to serve with a variety of low carb meals!
It's great right after making it, but also stays fresh-tasting for days, so it's perfect for meal prep and packable lunches.
Go ahead and serve it on your favorite grain — quinoa, millet, or wild rice are healthy options! Or, keep it veggie-heavy so your meal stays low in carbs and Whole30 compliant.
Whole30 sides to serve with balsamic vinegar chicken: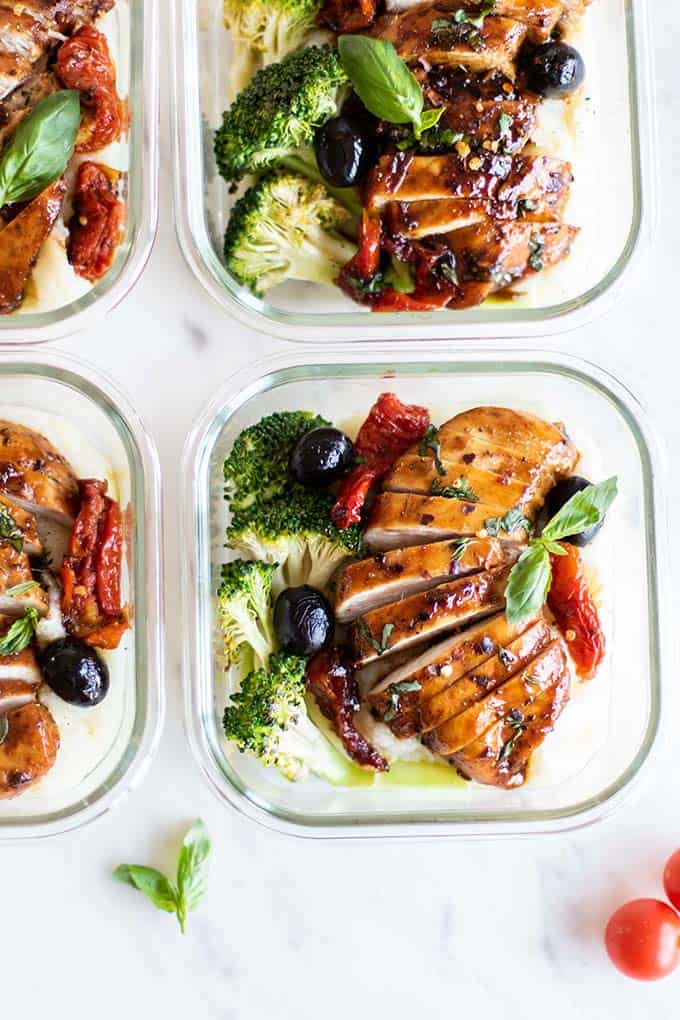 Other Easy Chicken Dinner Recipes:
I'd love to connect with you on social media! Find me on Facebook or Instagram where I post daily healthy eating and lifestyle inspiration.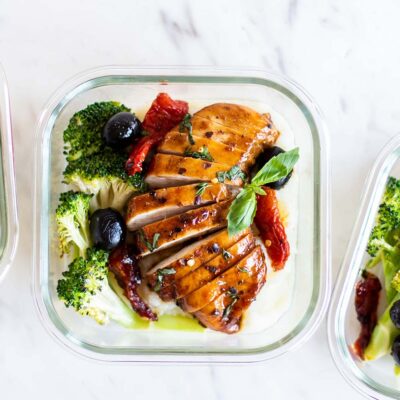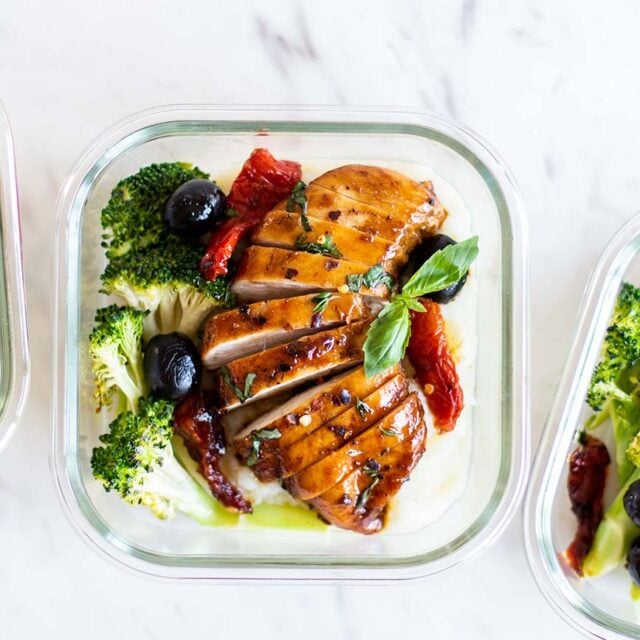 Tuscan Balsamic Chicken
An easy but extra special chicken recipe. Use this balsamic glazed chicken over a salad, on rice, or over mashed cauliflower or veggies.
Print
Pin
Rate
Ingredients
4

chicken breasts

1

tablespoon

olive oil

1

teaspoon

sea salt

more or less, to taste

1/2

teaspoon

thyme

black pepper

to taste

1

cup

balsamic vinegar

semi dried tomatoes

optional, garnish (or sun dried)

black olives

optional, garnish

fresh basil

optional, garnish
Instructions
Add olive oil to a skillet over medium high heat, and add chicken breasts. Season with salt, pepper, and thyme. Brown chicken on one side for about 5 minutes, and then flip.

Lower the heat to medium low, and add balsamic vinegar. Allow chicken to simmer in the vinegar, flipping the chicken a couple times to coat in the glaze. Once the vinegar has thickened and is a sticky glaze, about 20 minutes, the chicken is ready.

Garnish with semi dried tomatoes, olives, and basil, if desired.
Notes
*Semi dried tomatoes are a softer version of sun dried tomatoes and are available at speciality grocery stores. If you do not have access to these, use sun dried tomatoes are even fresh cherry tomatoes to liven up your dish.
The vinegar will smell very strong while you are cooking! The strong vinegar taste mellows and when this is done cooking, the sticky balsamic glaze will be sweet, almost like a teriyaki sauce.
LOW CARB: This meal is lower in carbs if you omit the semi-dried tomatoes, and don't add the extra balsamic vinegar on top of the chicken. The chicken is delicious even without extra balsamic glaze!
Meal Prep it: Balsamic chicken stays fresh-tasting for days, so it's perfect for meal prep and packable lunches.
Go ahead and serve it on your favorite grain — quinoa, millet, or wild rice are healthy options! Or, keep it veggie-heavy so your meal stays low in carbs and Whole30 compliant.
Whole30 sides to serve with balsamic vinegar chicken:
Nutrition
Calories:
216
kcal
|
Carbohydrates:
10
g
|
Protein:
24
g
|
Fat:
6
g
|
Saturated Fat:
1
g
|
Cholesterol:
72
mg
|
Sodium:
727
mg
|
Potassium:
489
mg
|
Sugar:
9
g
|
Vitamin A:
35
IU
|
Vitamin C:
1.7
mg
|
Calcium:
23
mg
|
Iron:
0.9
mg