This post may contain affiliate links. Please see my full
Disclosure Policy
for details.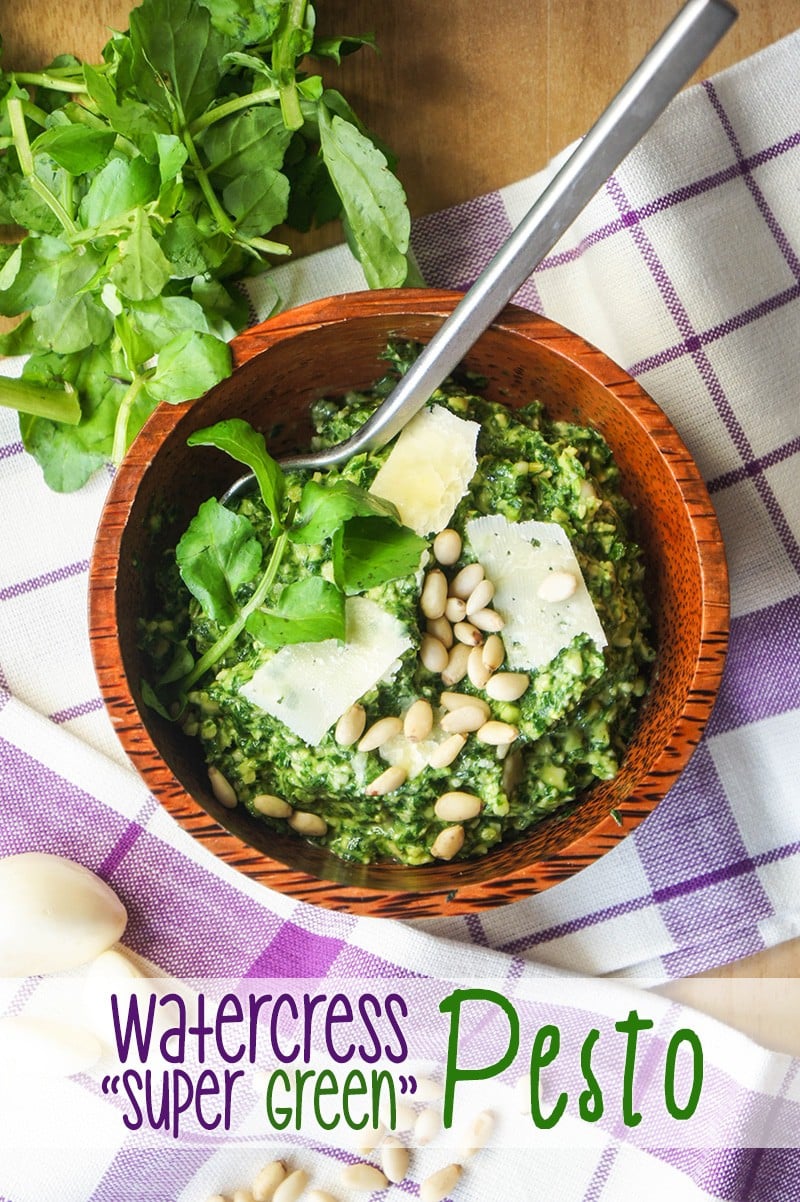 A week at home from work is such a luxury. A week at home, not spent in airports, on an airplane, or even in a hotel, away from all the tasks I never seem to get accomplished while I am working.
Such as getting to lots of planned recipes, like this Super Green Watercress Pesto, and actually getting to photograph them when I have good mid-day natural light.
But there's also those less-fun tasks, like finding a good grout cleaner for the tile in my bathroom.
And running to the hardware and tile stores to buy new props for photography. Driving in Kuala Lumpur has a way of ruining my day.
And then there's the "to-do" list of workouts for the week- since my workouts get whittled down when I'm working 5 day weeks, I love challenging my body, and boosting my strength when I get these breaks. I create a list with tick boxes, and check them off as I go through the week. It's really motivating, and I find it helps keep me focused when my mind might be leading me to do something else (like join friends for wine and dinner, or sit down to catch up on social media!). There will be time for those things, too!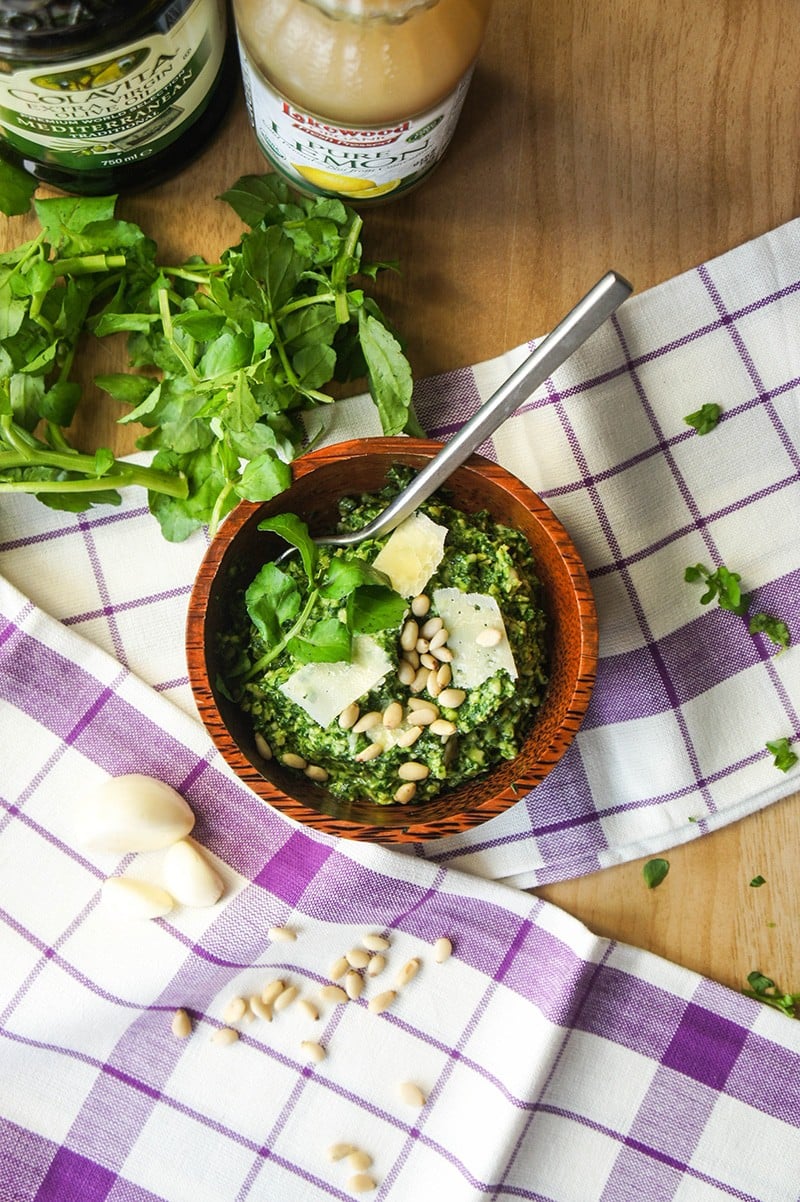 Since learning what a powerhouse green watercress is (if you missed my Fatigue Fighting Baked Salmon in Watercress Sauce– read about it's benefits here!), I've been remembering ways I've used it in the past, and brainstorming ways to work it into my weekly meal prep.
This pesto is a winner, for sure. Yesterday, Alex used it as a sandwich spread, I threw it on top of a salad, and then I used it for a pasta dish I'll be sharing with you later!
I make pesto in my food processor so it can be really thick, full of healthy greens and nuts, and lighter on the olive oil than most. It's not a "drippy" pesto, but stirs well into pastas, and makes a wonderful spread or dip. If you like to add more olive oil into your diet, by all means, add more!
Watercress tastes– green! It's pretty peppery, which is why I usually use it mixed with other greens, or mixed into grains or vegetables, to mellow it out. The lemon juice and sweet pine nuts add more dimensions to the flavor, and we both really enjoyed the bitter green flavor. I also bought basil, and in a few days, when this runs out, I am going to make it again with half watercress and half basil. I am sure it will be just as wonderful. I would suggest trying this if you're not sure you'll appreciate the pepperiness of watercress, but still want to benefit from it's superfood status.
To make the pesto, I mostly pulled the stems out, and just used the leaves. The smaller stems I held onto, and threw them into my juicer later on with some grapefruit, celery, and cucumber.
Watercress "Super Green" Pesto
Author:
Prep time:
Total time:
A peppery, nutrition-packed pesto. By using a food processor, the pesto is kept thick, and uses a minimal amount of olive oil. Feel free to thin it out with more if you prefer! The thick texture makes this a great sandwich spread or dip, but it also stirs well into pasta.
Ingredients
1 clove garlic
1/4 cup pine nuts
4 cups loosely packed watercress leaves (separated from stems)
1/3 cup shredded parmesan
1 1/2 tablespoons olive oil
1 1/2 tablespoons lemon juice
1/2 teaspoon sea salt
Instructions
Add the garlic and pine nuts to a food processor bowl. Process until both are chopped and have formed a roughly textured meal.
Add the watercress, and pulse until the watercress has formed a paste.
Add parmesan, olive oil, lemon juice, and sea salt. Pulse to combine.
Use a spoon to scrape the sides of the bowl, and pulse a few more times, until it is well mixed.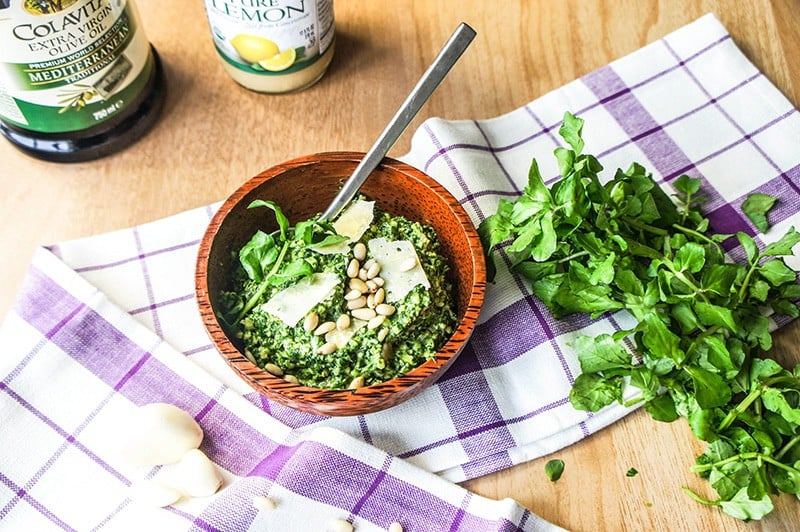 More Watercress Recipes: