This post may contain affiliate links. Please see my full
Disclosure Policy
for details.
This golden Turmeric Smoothie is packed with powerful anti inflammatory ingredients – ginger, turmeric, and coconut milk. This is the tastiest way to feed a cold and boost your immunity, but is good at fending off and even reversing many health issues.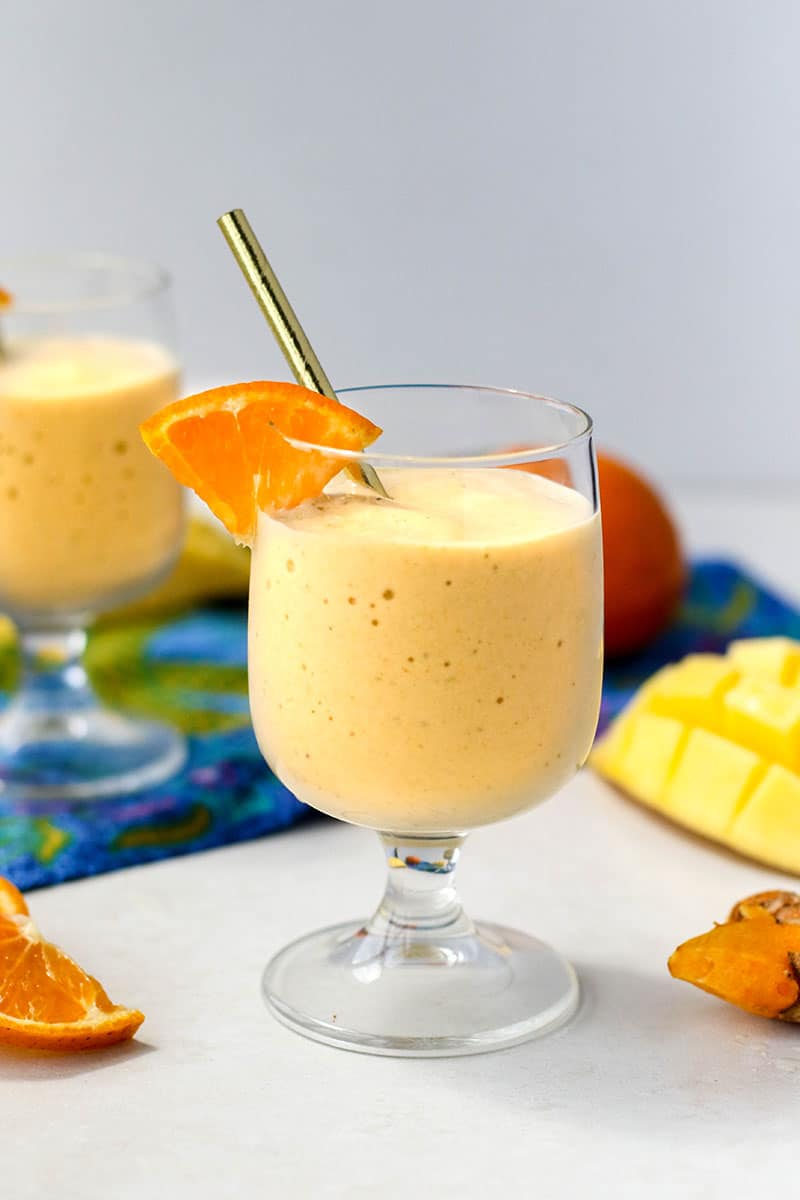 I always think of cold season as only being relevant in temperate climates, where it gets cold. But here we are in Malaysia, the tropics, and colds are spreading just as quickly as back home.
Xander and lots of his little friends from our play ground all have colds, and now I have one too.
Smoothies and green juices to the rescue!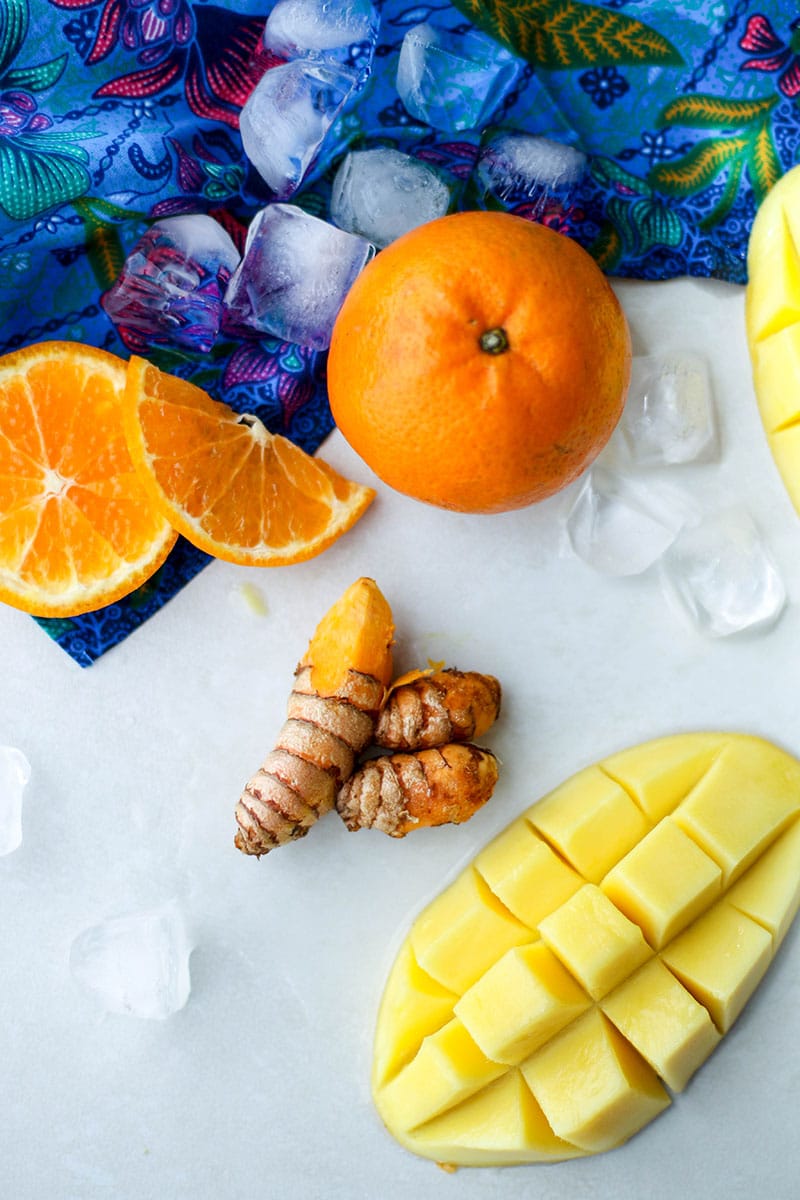 Lots of produce, fruit and veggies both, are so important to optimal health and immunity. I try to load up on these things daily (even my chili and my rice recipes are packed with extra vegetables!).
And when illness hits, I double down. The low carb movement has so many people afraid to eat fruit, but the fiber and nutrients in fruit are more than worth the sugar content. They are far from being empty calories.
This 24 Carat Gold Smoothie packs in 173% of your daily Vitamin C requirement — which aids the immune system — and 8 grams of fiber — which is 1/3 of your daily requirement. All at breakfast. Or your mid-afternoon snack. Or dessert (I can't be the only one who thinks smoothies are dessert worthy!).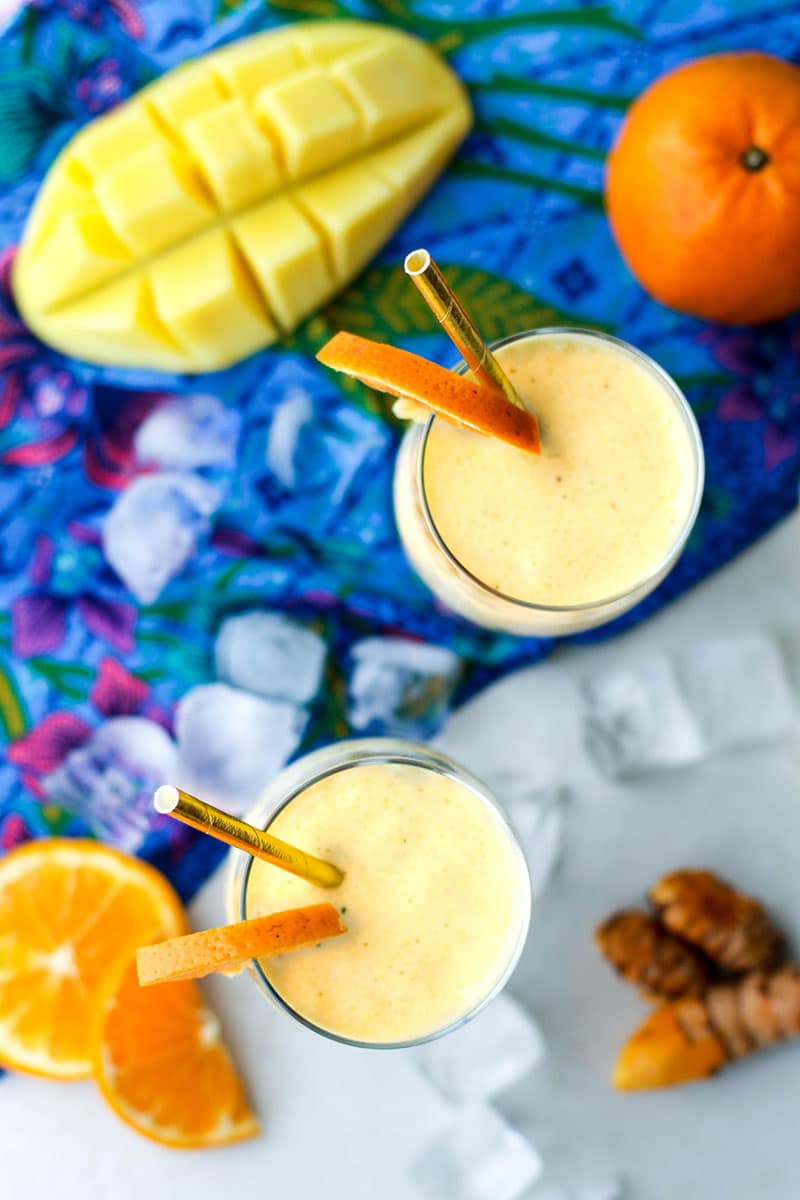 The Buzz on Turmeric
Studies claim turmeric is more powerful than some prescription drugs at treating and even reversing diseases. It's main compound, curcumin, has been found a powerful treatment for a wide range of illnesses- from depression, to irritable bowels, to arthritis and diabetes. It's also a powerful pain reliever, and has proven effective in reversing cancer.
It's super tasty mixed into curries, smoothies, and marinades, so it's easy to work into your diet. If you make only 1 small change in your diet this year, I recommend finding ways to incorporate turmeric daily.
Both powdered spices and the fresh variety work, but if you can find fresh turmeric, it has the most active compounds.
Tips for 24 Carat Gold Smoothie
Start with a small amount of ginger and turmeric, and then add more to taste. When I first starting mixing turmeric into juices and smoothies, I used way too much and was really put off. A little bit goes a long way! Plus, after you get used to the taste, you can start adding more.
Increase the Protein: Add some of your favorite unflavored, clean protein powder. I love Bichem Natural Whey Protein Isolate. It's grassfed, high quality, and tastes great.
For the Family: This is a great family-friendly smoothie. I sneak in some greens using frozen zucchini, which doesn't add a green color so is easy to hide. I made my son's first smoothie using a smaller amount of turmeric and ginger, but he was drinking mine that was pretty spicy, so now I make his the same as mine.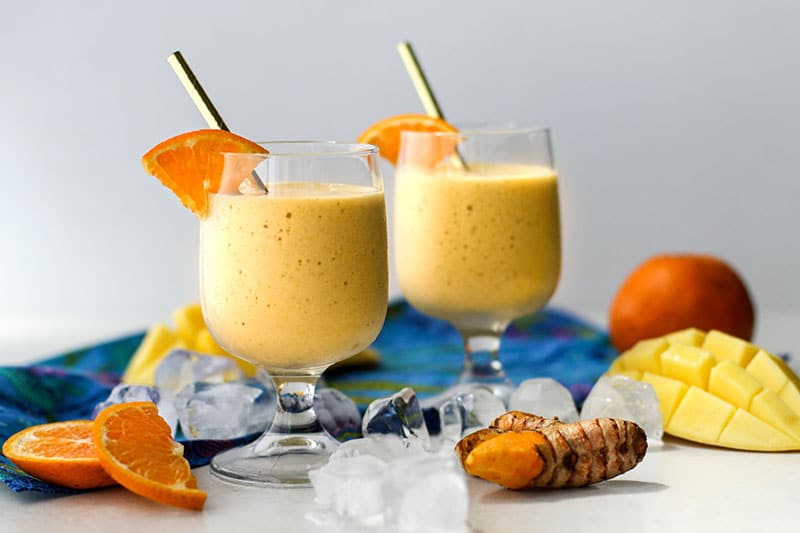 Turmeric Smoothie
A tropical smoothie with mango and orange, with bright turmeric flavors. This anti inflammatory smoothie is a great way to cool off.
Print
Rate
Ingredients
1

banana

quartered and frozen

1

mandarin orange

seedless, peeled, frozen

1/2

cup

mango

frozen

1/2

cup

zucchini

fresh or frozen, chopped

1/2

cup

water

1/4

cup

coconut milk

(full fat, canned)

2-3

ice cubes

1/4

teaspoon

turmeric

1/4

teaspoon

ginger powder

*some ginger powders are very hot - use 1/8 t

unflavored protein powder

optional
Instructions
Add all smoothie ingredients, except ginger and turmeric, to a blender. I used a standard (not high speed) blender for this, and the orange blended just fine whole!

After all ingredients are smooth, add turmeric and ginger. I've made this with both powdered spices and fresh, and I prefer powdered turmeric and fresh ginger. Fresh turmeric is the most powerful, but I don't like the strong taste in smoothies. It's possible that adding a touch of maple syrup or honey would help mellow the taste if you'd like to use fresh for the health benefits.
Notes
*You can sub 3/4 cup almond milk in place of the water and coconut milk if you don't have coconut milk. However, I prefer the creaminess of the coconut.
Nutrition
Calories:
326
kcal
|
Carbohydrates:
55
g
|
Protein:
5
g
|
Fat:
13
g
|
Saturated Fat:
11
g
|
Sodium:
24
mg
|
Potassium:
993
mg
|
Fiber:
7
g
|
Sugar:
37
g
|
Vitamin A:
1691
IU
|
Vitamin C:
75
mg
|
Calcium:
43
mg
|
Iron:
3
mg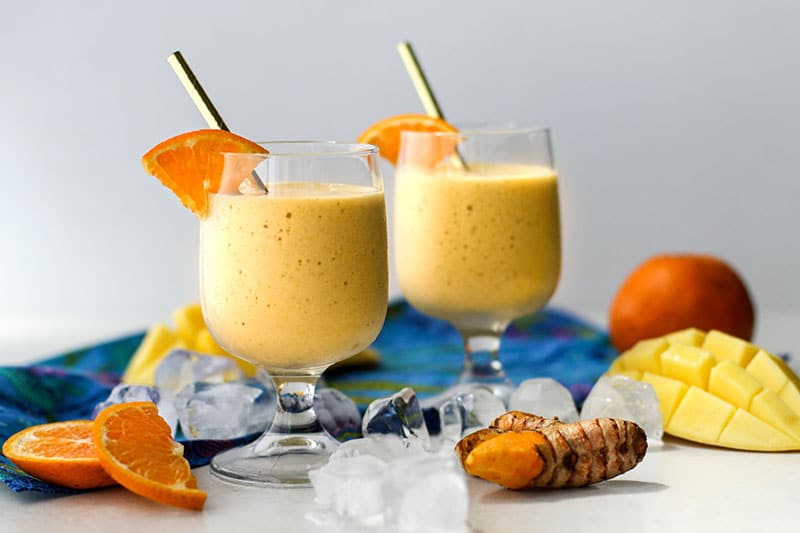 Other Anti Inflammatory Turmeric Recipes:
I'd love to connect with you on social media! Find me on Facebook or Instagram where I post daily healthy eating and lifestyle inspiration.
This post contains affiliate links, which means that if you click on one of the product links, I'll receive a small percentage of any purchases made.