This post may contain affiliate links. Please see my full
Disclosure Policy
for details.
This Slow Cooker Mexican Chicken and Brown Rice Recipe is a remake of the Mexican restaurant classic dish. This version packs in all the same vibrant flavors, but also boasts tons of fiber from vegetables and whole grains.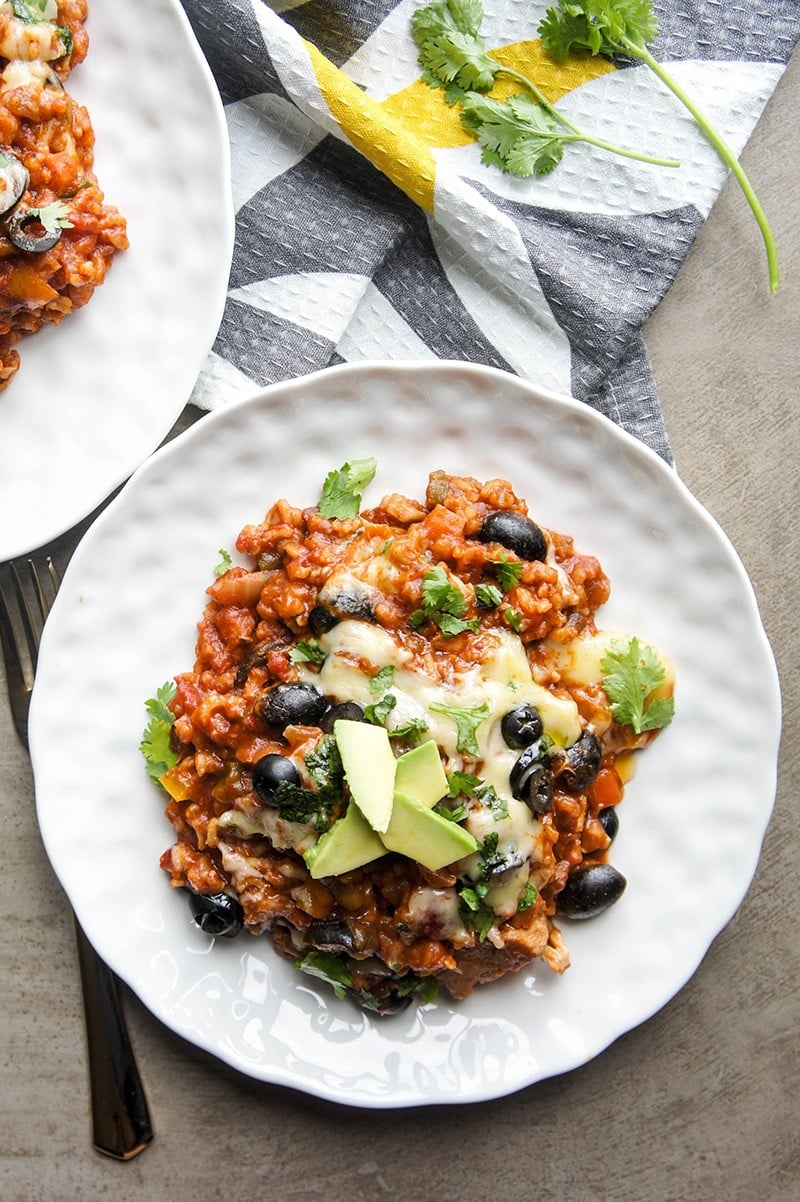 Recently a friend was looking for some super simple, healthy recipes, and asked me for recommendations. I looked through my blog and although my recipes are not difficult, most of them require more than 1 pan, and because I use so much produce, they often require quite a bit of washing and chopping.
The truth is, on most nights, the meals we have at home are very simple and don't require very much prep. I put recipes on the blog that are a little more creative, and use a variety of colorful produce because they look good in photos.
It did make me think about how creative, flavorful meals don't really need to be a ton of work. Especially when using a slow cooker.
The Moroccan Pumpkin Chicken I posted a few weeks back is one of our favorite recipes this year (and I've heard back from several reader's they've made it multiple times because their families are loving it!), and it's a very simple process. Still full of veggies, but making the chicken takes less than 20 minutes of actual hands-on time, and then the slow cooker does it's magic in bringing out all the amazing flavors.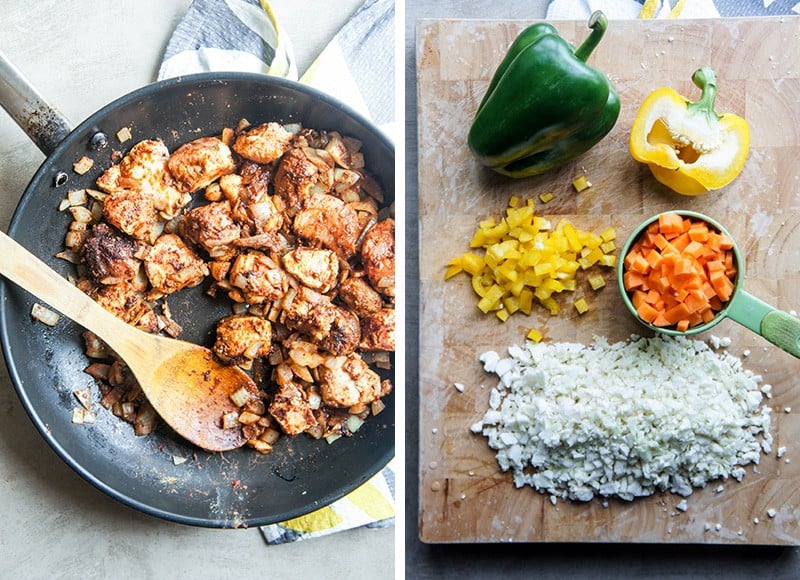 Working from home sounds like the ideal way to be more productive in both work and home life. I am strugging to prove that! What I am realizing is making food and beverages takes up a lot of my work day. When I worked out of the home, I would prepare my coffee, snacks and lunch for the day, and then while at work, all I had to do was pull something out of the fridge by my desk and eat (or drink). I typically eat while I am working (bad, I know!), because I'd rather go for a walk or go to a yoga class when I take an actual break.
I'm not about to trade in my salads and soups for instant noodles just to save time. What I can do is be more strategic. I need to wrap my brain around this work-from-home thing, and start to structure my days more similarly to how I would if I was still working out of the home. I need to prepare my breakfasts ahead of time (oh hello, chia breakfast pudding!). I am sure this pre-planning will also help me avoid eating cookies for breakfasts and snacks, like I have started doing again lately, for the sake of saving time making a real meal.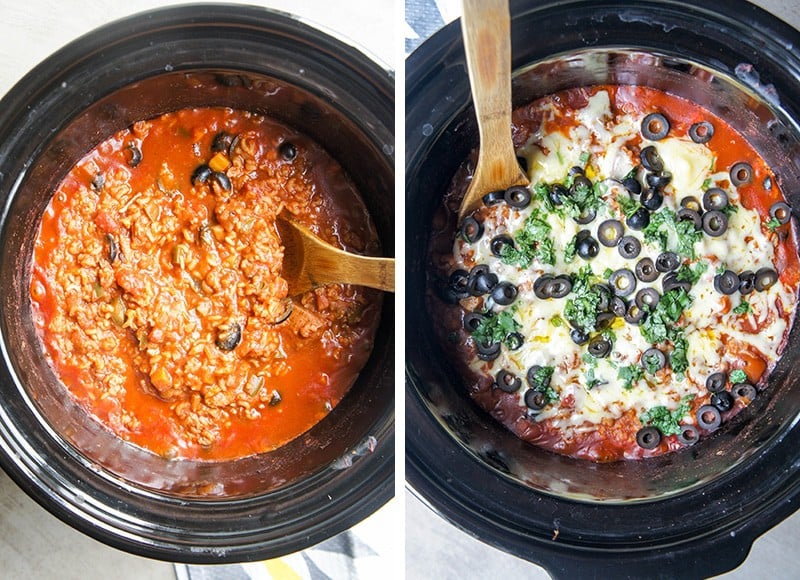 I have always loved saucy rice dishes, but have never made rice in a slow cooker before. We have been obsessed with my Slow Cooker Moroccan Pumpkin Chicken, and I knew a spin off on that would make a really tasty chicken and brown rice recipe. I thought I would add tons of Mexican spices, like my favorite Chicken Enchilada Soup recipe.
What I ended up with was a simple, healthy, giant pot of tender chicken chunks, chewy whole grain rice, and veggies, that was enough for dinner plus several lunches. And minimal prep and clean up. That's key.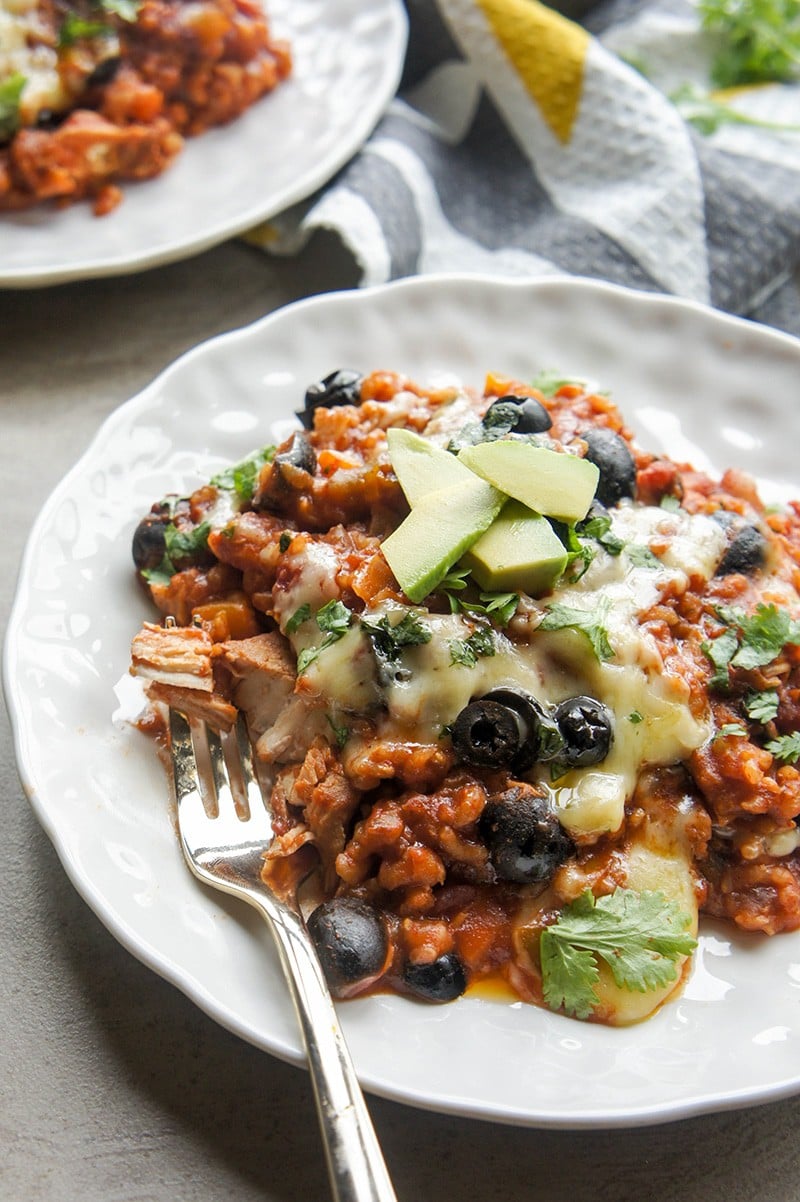 This chicken and brown rice recipe is so simple to put together – chop an onion, brown with the chicken in a little olive oil, and dump into your slow cooker with tons of spices, tomatoes, tomato paste and vegetable bouillon. A couple of hours later, add some chopped veggies, brown rice, and olives. Right before serving, top with cheese and more olives, and garnish with avocado, cilantro, or any other Mexican toppings to serve.
Serve dinner to a happy family, knowing you're providing a healthy, balanced meal, without a sink full of dishes in the kitchen.
Tips for Slow Cooker Mexican Chicken and Brown Rice
Make it Paleo/Whole30: I often use cauliflower rice in place of grain. This dish uses whole grain rice and cauliflower rice, but if you are following the Whole30 or a Paleo diet, simply use 2 times (4 cups) the amount of cauliflower rice, and up the amount of chicken to 2 pounds. Omit the brown rice and start with only 2 1/2 cups of water- add more to reach desired consistency. The coconut sugar (only 1 teaspoon) is Paleo friendly, but needs to be omitted for Whole30. I haven't used this version in a crockpot yet, but have made this on the stovetop. You might need to adjust the cooking time after adding the cauliflower rice.
Make it Dairy Free: Omit the cheese topping and add extra avocado or cilantro to up the flavor. The cheese really isn't necessary, but we enjoy it once in a while.
Up the Protein: Follow the directions for making this a Paleo/Whole30 dish!
For the Family: This recipe is mildly spicy, and is a favorite with kids. It's actually a perfect way to sneak extra veggies into your family's diets, because they are all cooked right into the rice.
Other Crockpot Chicken Recipes:
I'd love to connect with you on social media! Find me on Facebook or Instagram where I post daily healthy eating and lifestyle inspiration.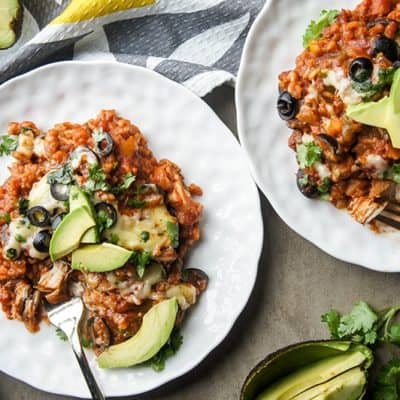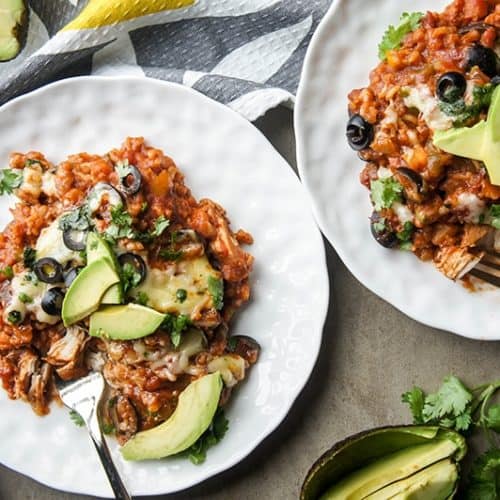 Crockpot Mexican Chicken and Rice
This slow cooker chicken and brown rice recipe is the perfect comfort food for a cold day. Packed with fiber and vegetables, with tons of spice and flavor.
Print
Rate
Ingredients
1/2

tablespoon

olive oil

1

yellow onions

diced

1 1/2

pounds

chicken breasts

cut into chunks

2

tablespoons

chili powder

2

tablespoons

cumin

1

tablespoon

paprika

1

tablespoons

oregano

1

teaspoon

coconut sugar

3/4

teaspoon

sea salt

1/2

teaspoon

coriander

4 1/2

cups

water

1

15-ounce can

diced tomatoes

1

6-ounce can

tomato paste

1

tablespoon

vegetable bouillon

2

cups

cauliflower

"riced"

2

bell peppers

diced

1

cup

carrots

about 2 large carrots, diced

1

cup

brown rice

uncooked

1

15-ounce can

black olives

sliced

2

tablespoons

lime juice

1

cup

cheddar cheese

shredded, optional

clantro and avocado

to garnish, optional
Instructions
In a frying pan, add olive oil and sauté the diced onion for about 5 minutes, until softened and translucent.

Chop chicken in large chunks, and add to the frying pan. Continue to brown the onions about chicken for about 10 minutes.

While the chicken is browning, add sea salt, cumin, chili powder, paprika, coconut sugar, and oregano. If mixture gets dry, I prefer to add a little water rather than more oil.

Add the chicken, onion and spices to the slow cooker, along with water, diced tomatoes, tomato paste, and vegetable bouillon.

Turn the slow cooker on for 3 hours on low (best option), or 2 hours on high.

1 1/2-2 hours before serving, add brown rice, vegetables, and half of the sliced olives, and allow to continue to cook on the HIGH setting.

10 minutes before serving, add lime juice, taste, and season with additional salt and add spice with optional cayenne or hot sauce. Top with shredded cheese and olives, and put the lid back on for 10 minutes to allow the cheese to melt.

Serve topped with avocado, cilantro, or other toppings.
Nutrition
Calories:
313
kcal
|
Carbohydrates:
20
g
|
Protein:
32
g
|
Fat:
12
g
|
Saturated Fat:
5
g
|
Cholesterol:
92
mg
|
Sodium:
640
mg
|
Potassium:
867
mg
|
Fiber:
5
g
|
Sugar:
5
g
|
Vitamin A:
6434
IU
|
Vitamin C:
72
mg
|
Calcium:
215
mg
|
Iron:
3
mg