This Raspberry Pear Coffee Cake is gluten free, and so beautiful it makes the perfect brunch dish. Serve with coffee or tea for the perfect breakfast or afternoon treat.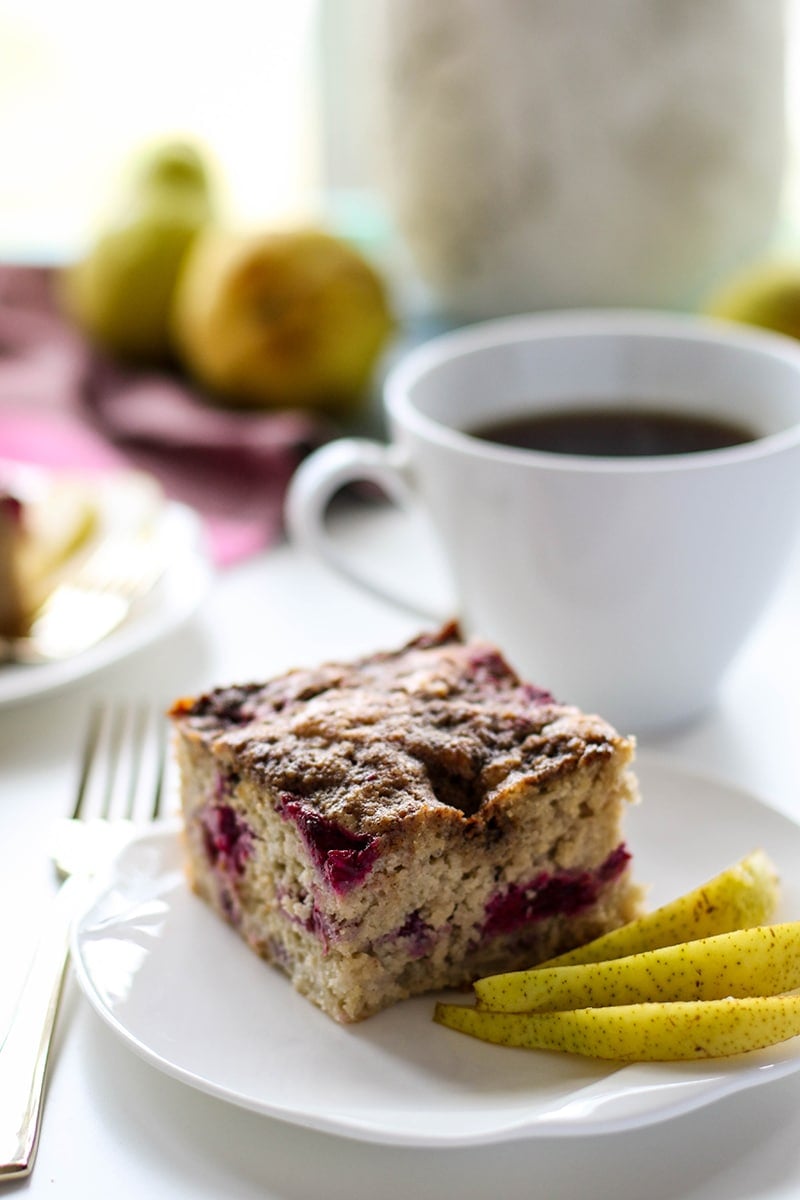 In Australia, there is a little coffee shop we go to in the center of town where my in laws live. Last Christmas, we had a pear and raspberry bread that was so good, and such a perfect combination of sweet and tart. I knew I was going to recreate it at home.
And then we were there in October visiting again, and visiting that coffeeshop, I was reminded I had never tried to recreate that beautiful bread at home.
And finally, on our last trip there in January, I made a note to myself on my phone. Make Pear Raspberry Coffee Cake! Because I knew this combination was too good to be confined to an ordinary loaf, like it was simply banana bread.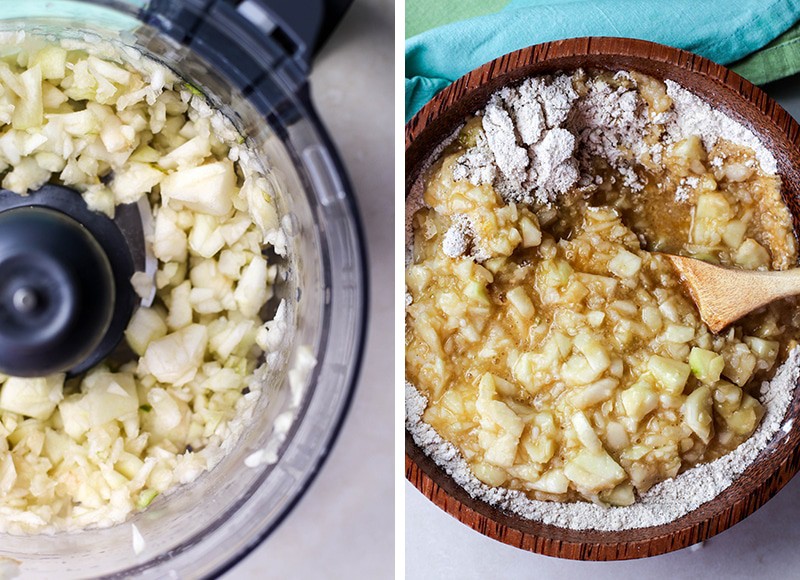 I finally did make it, and we were pleasantly surprised with my first attempt, the 2nd was perfect, and well, the 3rd and 4th (and 5th), those were just necessary recipe testing so I can be sure I am passing along a perfectly written recipe for Raspberry Pear Coffee Cake (wink! wink!).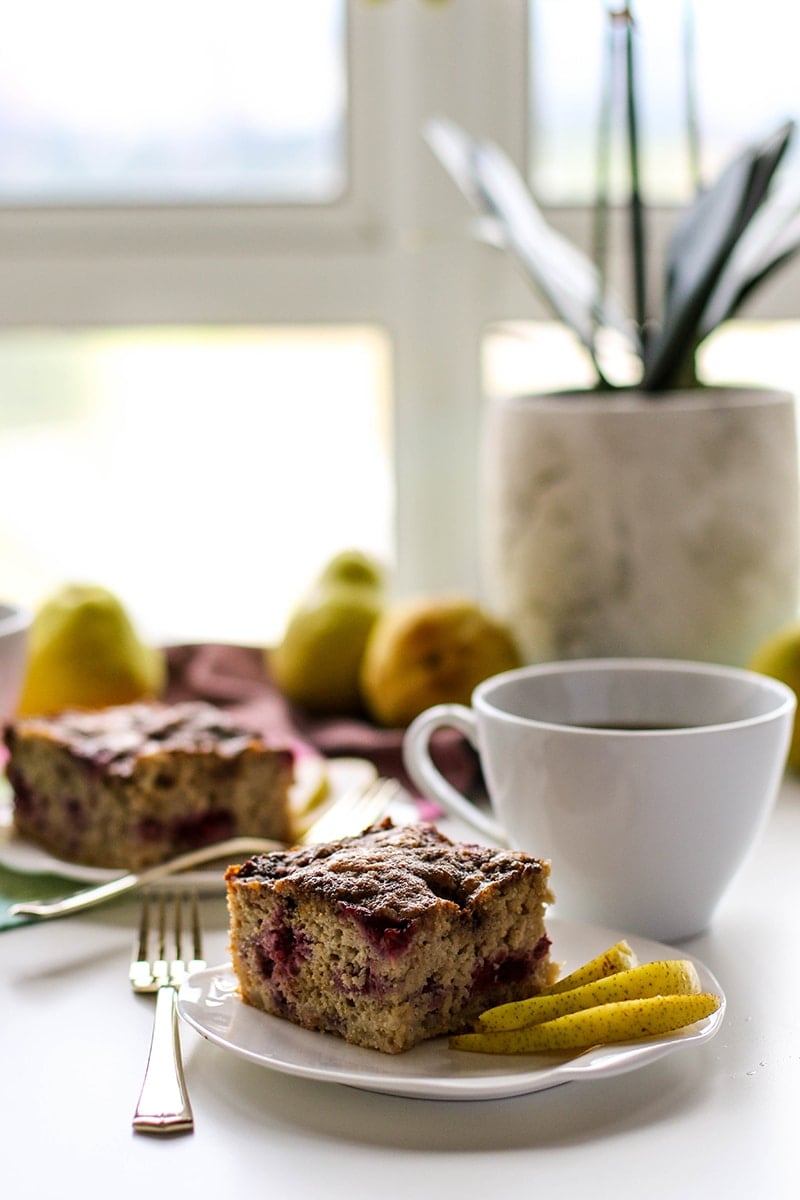 Why Use Arrowroot in Gluten Free Baking?
This Raspberry Pear Coffee Cake uses my favorite gluten free flours, oat and almond. Oat flour can become a bit gummy if used on it's own, so I've also used arrowroot powder.


Typically, I look for gluten free baked goods that are made with whole food ingredients, and steer clear of gums and starches. Arrowroot is an exception, and I use it often in my cooking.
Arrowroot is a tuber that grows much like ginger or or carrots. It's so starchy, it can't be eaten without cooking for a very long time, and although I can buy fresh arrowroot here in Asia, I have to admit I have never feel compelled to buy and prepare it.
The starch is made by peeling the tubors, mashing the starchy pulp, and removing the fiberous bits (you can picture this if you've ever made homemade almond milk). The result is a silky smooth nutritionally dense starch that can be used in baking, or as a substitute for corn starch (which is usually GMO and subjected to a harsh chemical process to extract the starch).
Arrowroot starch has B vitamins, zinc, copper, manganese, magnesium, phosphorus and zinc (it's not exactly a nutrient dense food, but the nutrients present are at far higher levels than other starches), and is the highest protein starch you can buy.
So, don't be shy when it comes to using this in your cooking and gluten free baking. I actually prefer it to corn starch when thickening sauces and making gravies because it doesn't clump– it thickens well, and has no taste, making it the perfect substitute.
Clean Eating
Do you want to learn even more about Clean Eating, and how it can affect your health? I'm so excited to announce I've release my new eBook, The Clean Eating Detox, and am giving it away for free!
If you're interested, sign up to receive your copy here.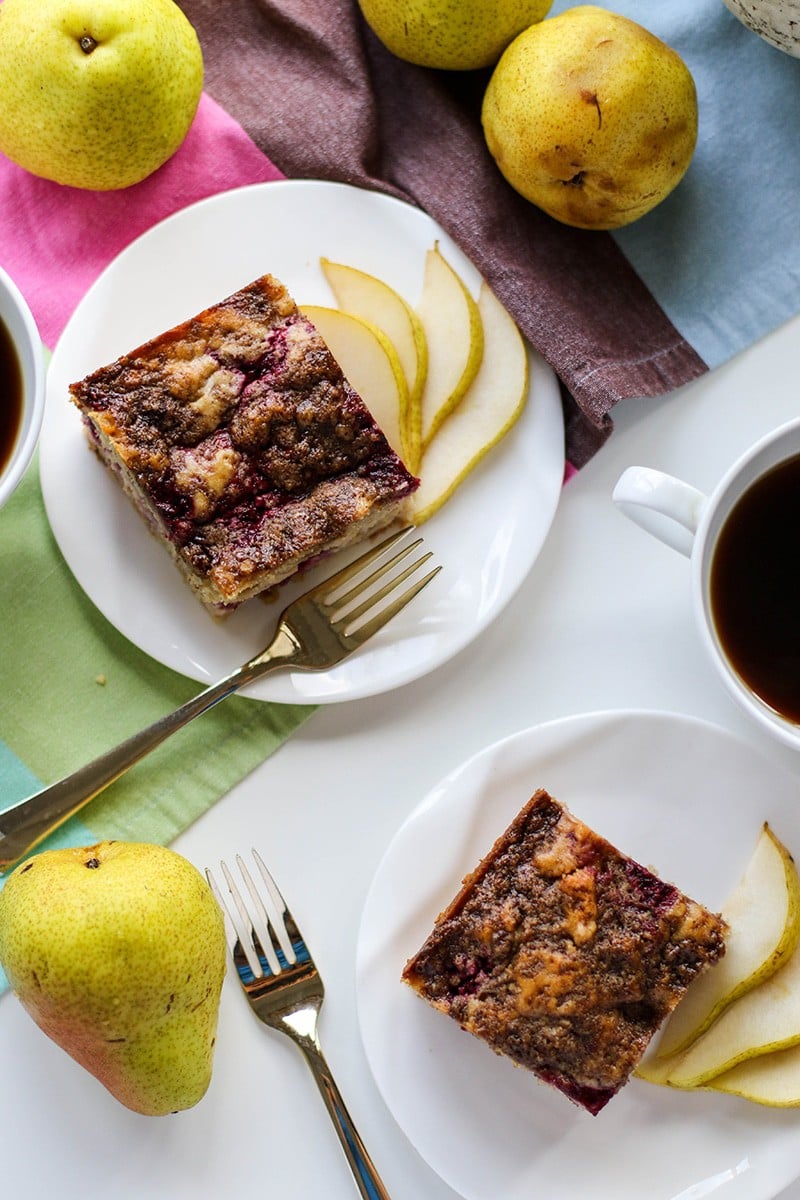 Tips for Raspberry Pear Coffee Cake
It is important to note that the ripeness of the pears you use will effect the outcome of this cake. I've made it with unripe (just barely softened) pears, and had the best results. If you use ripe or over ripe pears, the cake will be a bit overly moist. I've made it both ways, and we enjoy it either way, but using the under ripe or just ripened pears lends the best cake texture.
With some recipes, I prefer to grind my own oat flour, but this is a recipe that really benefits from a very fine store bought oat flour. I buy Bob's Red Mill and am always happy with it.
Make is Gluten Free: Be sure to purchase gluten free oat flour. It's sometimes difficult to find in stores, but you can order it off Amazon for a very good price (link above there!). When I'm using starches in gluten free baking, I prefer to use arrowroot because it's higher in protein than typical starches, and has relatively high nutrient content.
Michelle @ Vitamin Sunshine
Yields 9 slices
Raspberry Pear Coffee Cake (Gluten Free)
This sweet and tart coffee cake is as beautiful as it is delicious. It would make an amazing brunch addition, and I am planning on making it for our Easter breakfast.
20 minPrep Time
50 minCook Time
1 hr, 10 Total Time
Ingredients
Dry

1 1/2 cups oat flour (100 grams)
1/2 cup almond flour (55 grams)
1/4 cup arrowroot starch (28 grams)
1 teaspoon baking powder
1/2 teaspoon baking soda
1/2 teaspoon sea salt
1/2 teaspoon cinnamon

Wet

1/4 cup coconut oil
1/4 cup honey
2 eggs
1 teaspoon vanilla
2 small pears, peeled and chopped (about 260 grams)** (see note)
1 teaspoon lemon juice
2/3 cup raspberries (I used frozen)

Streusel Topping

2 tablespoons oat flour
2 tablespoon coconut sugar
1 tablespoon coconut oil
1/2 teaspoon cinnamon
pinch of sea salt
Instructions
Preheat oven to 350 degrees F.
Line an 8x8 baking pan with baking paper, or grease with coconut oil.
Add all the struesel topping ingredients to a small bowl, mix to combine, and set aside.
Add all the dry ingredients to a large mixing bowl, mix to combine, and set aside.
Add the coconut oil, eggs, honey and vanilla to a bowl, then set aside.
Peel and chop pears. I roughly chopped them, then added them to my food processor to get smaller, but this can easily be done by hand. You want chopped pears, not pear sauce.
Sprinkle the pears with the lemon juice, then add to the bowl with the wet ingredients.
Pour the wet ingredients into the bowl with the dry ingredients, and then stir until most of the dry ingredients are incorporated, being careful not to overstir. Just 10 stirs should be plenty.
Add half the batter to the baking dish, sprinkle with 1/3 cup of raspberries, and then add the other half of the batter to the top. Sprinkle the top with remaining 1/3 cup of raspberries, and then with the struesel topping. I like to gently press the topping into the cake with a fork.
Bake the cake for 40-55 minutes (start at 40 if your raspberries are fresh, and at 50 if your raspberries are frozen), until the center is set and the cake is golden.
Allow to cool for at least 15 minutes before slicing. If the cake is fully cooled in the refrigerator, it makes perfect slices. We enjoy eating this cake warm and cold, with a dollop of plain yogurt.
Notes
** IT IS IMPORTANT TO NOTE THAT THE RIPENESS OF THE PEARS YOU USE WILL AFFECT THE OUTCOME OF THIS CAKE. I've made it with unripe (just barely softened) pears, and had the best results. If you use ripe or over ripe pears, the cake will be a bit overly moist. I've made it both ways, and we enjoy it either way, but using the under ripe or just ripened pears lends the best cake texture.
7.8.1.2
64
https://sunkissedkitchen.com/raspberry-pear-coffee-cake-gluten-free/
Michelle @ Vitamin Sunshine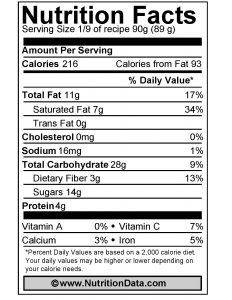 Nutritional data for Raspberry Pear Coffee Cake and images courtesy of www.NutritionData.com.
Other Similar Recipes:
I'd love to connect with you on social media! Find me on Facebook or Instagram where I post daily healthy eating and lifestyle inspiration.
This post contains affiliate links, which means that if you click on one of the product links, I'll receive a small percentage of any purchases made.