This protein bar recipe is full of toasted coconut flavor, whole grains, and is sweetened with just a touch of honey. You will have a hard time eating the store-bought chalky ones after you've tried these!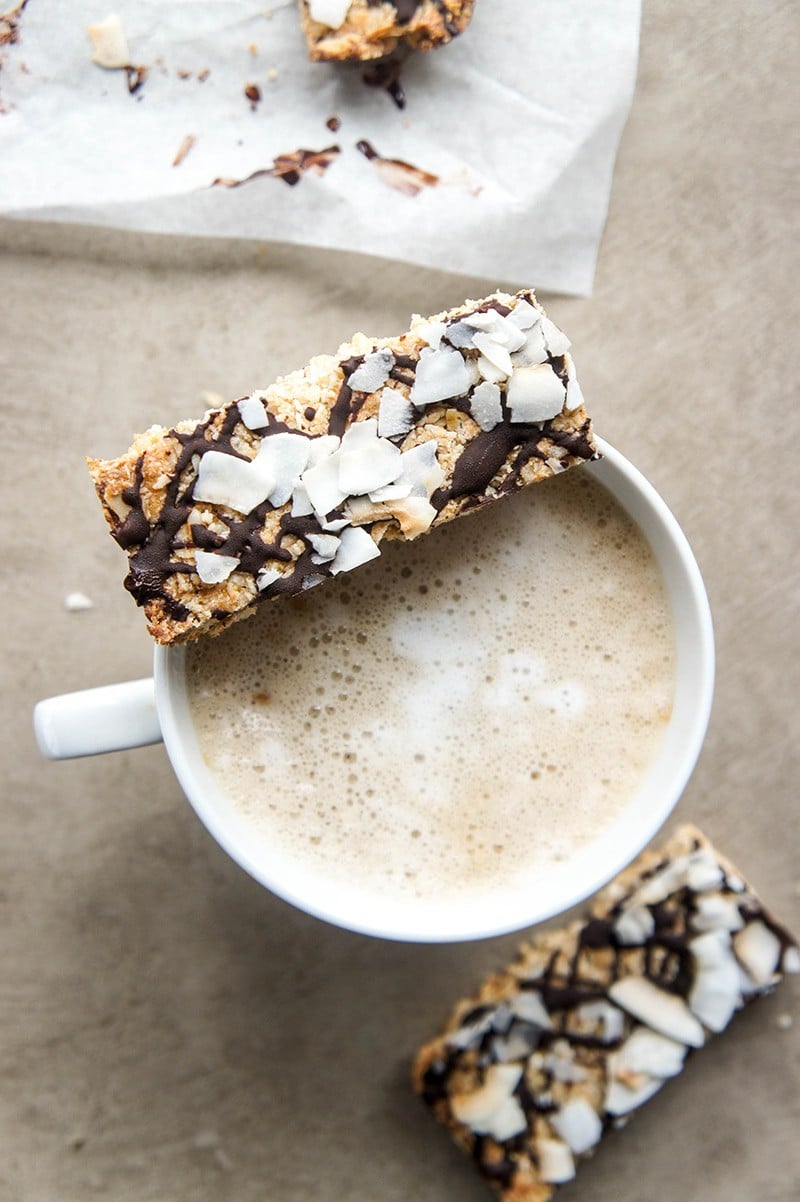 The holidays are near (yay!) — which for many of us means travel! We are getting ready to make the 30+ hour trek back to the United States right before Thanksgiving.
I can't handle airplane food. I always make sure I have fresh snacks (fruit and veggies) to snack on for the first half of the trip, and rice crackers and protein bars for the next part. Now that I have a little one following along, that means twice (no, 3 times!) the snacks. He has one healthy appetite.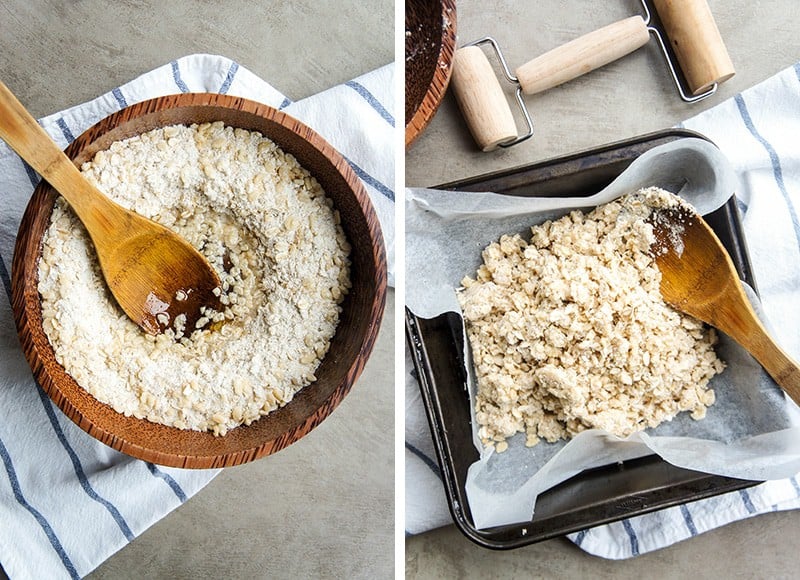 I always feel so much better getting to my destination if I've taken the time to make sure I eat right on the way. Traveling is hard enough on our bodies without also throwing in sugar crashes and hard to digest processed foods.
Another thing that really helps– drinking water rather than coffee and flavored beverages (or alcohol). I've never been one for drinking on flights– just adds to the jet lag, plus extra trips to the extra dirty toilets! I am actually really bad at drinking water on flights too, because I try to avoid having to use the bathrooms. I'd rather hold it to the next airport. Not a healthy habit.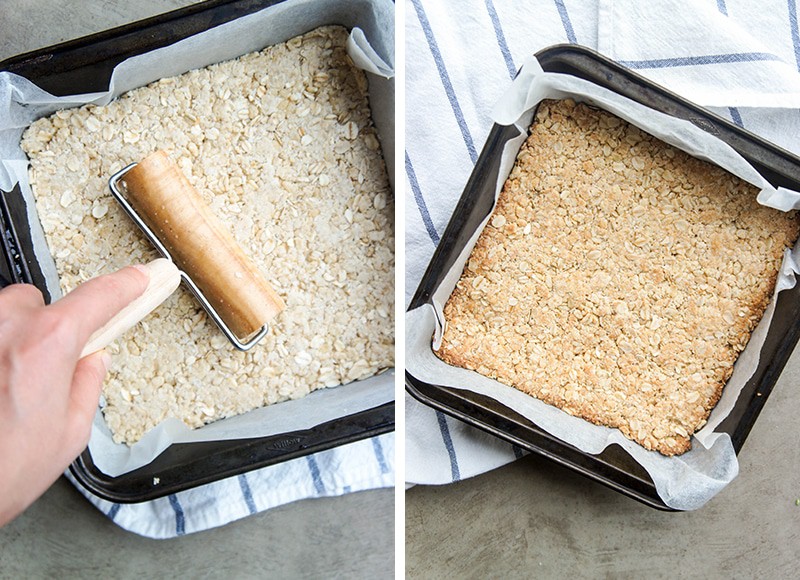 Travel Friendly Snack Recipes
If you're looking for some airplane or car friendly snacks, and want real food that's also tasty, skip the store bought granola bars and chips and try some of these ideas: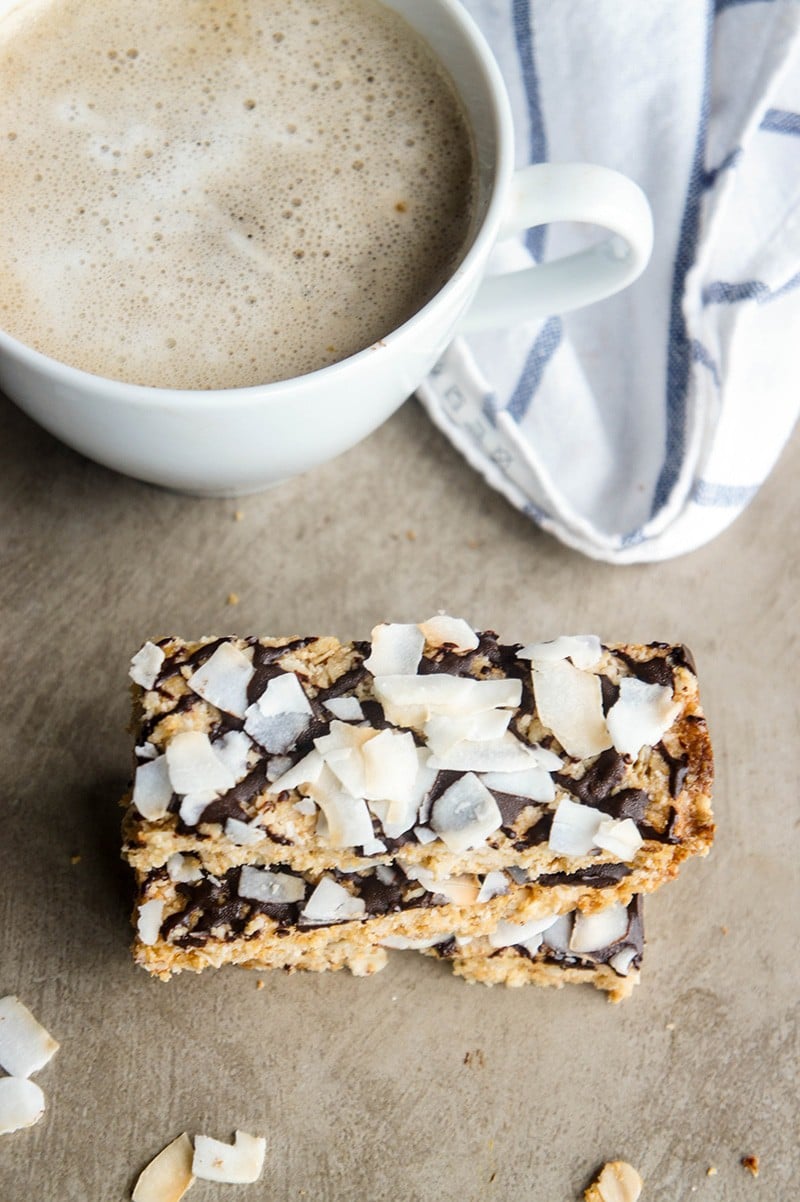 Tips for making Toasted Coconut Protein Bars
Mix-ins would work great in this recipe! Mini chocolate chips, raisins or nuts would all work well.
Make it Gluten Free: Be sure to use certified gluten free oatmeal and brown rice crisp cereal.
Save time: I don't take the time to top these bars with chocolate and toasted coconut flakes! They are just as delicious without it.
For the Family: I don't like to give my son protein powder. For one, he doesn't need additional protein in his already healthy diet. Two, protein powders can be hard to digest for many people, and are doubly-difficult to digest for tiny bellies. If you'd like to make something similar like this for your child, the base (just the crispy oatmeal part) of this recipe is a great kid-friendly recipe.
Vitamin Sunshine
Yields 10 bars
Toasted Coconut Protein Bar Recipe
These granola-bar style protein bars are a delicious and healthy snack. Forget store-bought, chalky bars - once you've tried these you will never go back! Plus, these are a huge money saver. Make a batch of 12 for a few dollars, compared to paying $2 plus for a store bought bar.
5 minPrep Time
12 minCook Time
17 minTotal Time
Ingredients
1 1/2 cups oatmeal (divided)
3/4 cup crisp brown rice cereal
1/2 cup shredded coconut, unsweetened
1/4 cup + 2 tablespoons unsweetened whey protein powder
1/4 teaspoon sea salt
1/4 cup coconut oil
1/4 cup honey
Instructions
Preheat oven to 350 degrees Fahrenheit.
Take 3/4 cup oatmeal, and process using a blender or a food processor until oats form a flour.
Add oat flour, oatmeal, brown rice crisp, coconut, whey protein, and sea salt to a bowl, and mix together.
In a microwave safe bowl, add coconut oil and honey. Microwave for 20-30 seconds (or longer, if coconut oil was solid), until mixture is warmed but not too hot.
Pour liquid, warm coconut oil and honey mixture into the dry mixture, and mix together well.
Line an 8x8 pan with baking paper or grease with coconut oil.
Pour protein bar mixture into the pan, and use a pastry roller to press down into an even layer. A pastry roller really helps make a nice looking, compact layer. If I didn't have one, I would use a pint glass or something similar.
Bake for 12-14 minutes, until the bars are lightly golden brown.
Cool completely, and then slice into bars. I store these and enjoy them right out of the freezer (they get really crunchy when frozen), but cut them before they freeze. Frozen bars are difficult to cut and will split.
Notes
The flavor of the honey really comes through in these simple bars, so I like to use a high quality honey.
7.8.1.2
35
https://sunkissedkitchen.com/protein-bar-recipe/
Michelle @ Vitamin Sunshine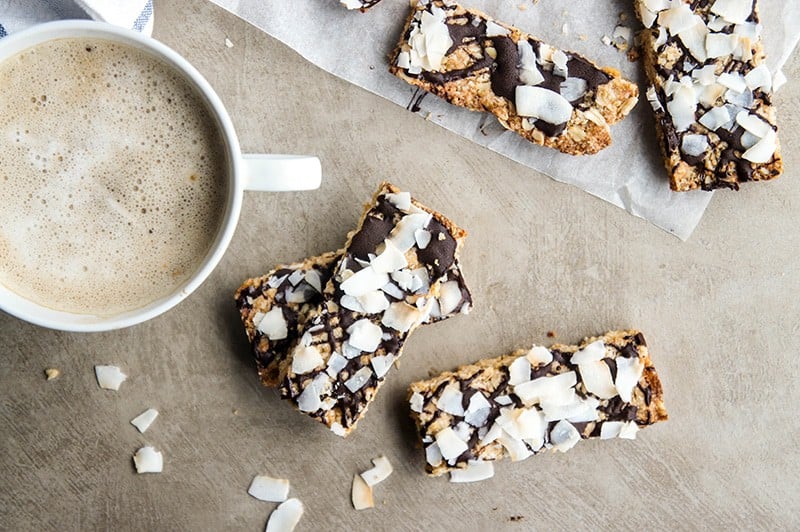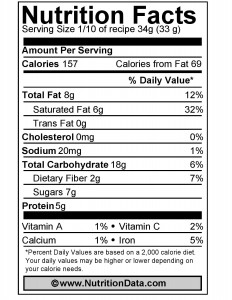 Nutritional data for Toasted Coconut Protein Bars and images courtesy of www.NutritionData.com.
Other Homemade Energy Bar Recipes:
I'd love to connect with you on social media! Find me on Facebook or Instagram where I post daily healthy eating and lifestyle inspiration.
This post contains affiliate links, which means that if you click on one of the product links, I'll receive a small percentage of any purchases made.