This post may contain affiliate links. Please see my full
Disclosure Policy
for details.
This flavorful and healthy Broccoli Salad is the perfect side dish for summer picnics and cook outs. We love this the most after it's sat in the dressing for the day (or overnight), making it great for meal prep. Kids and adults alike will love this healthy broccoli salad recipe with no mayo!
Love healthy recipes? Mix up your summery side dish recipes with this Broccoli Salad with Bacon or this Simple Strawberry Spinach Salad.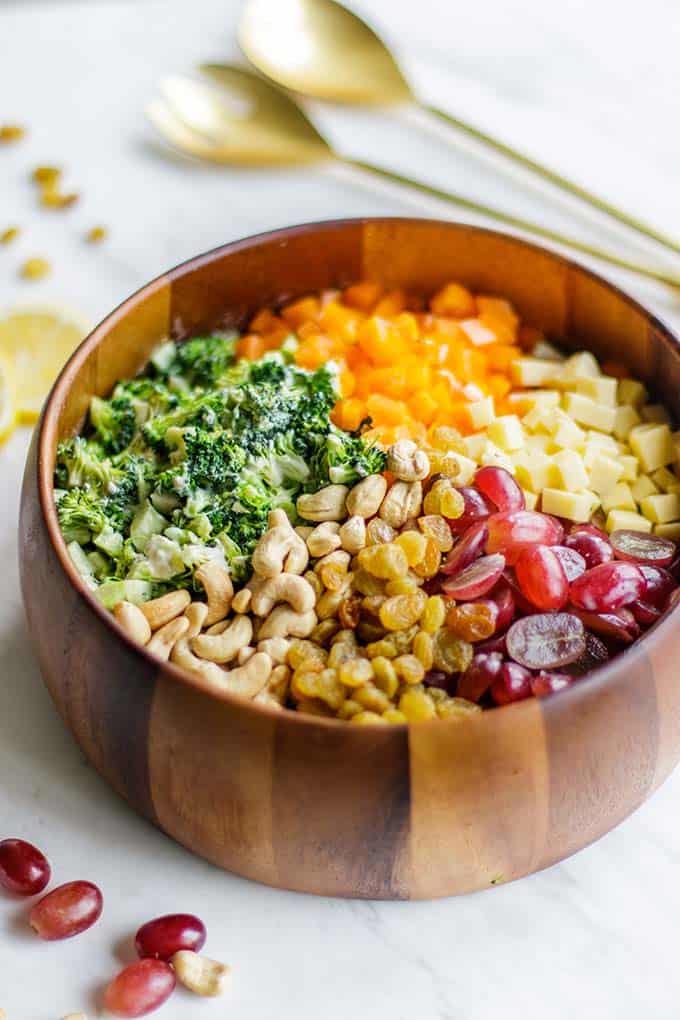 A Healthy Broccoli Salad without Mayonnaise
This healthy broccoli salad without mayo is the perfect combination of crunchy and chewy, savory and sweet, healthy and indulgent.
Traditional broccoli salads use a thick, mayonnaise based dressing. This one is so good, you'll forget you ever used mayo in your broccoli salads.
Picture this: crunchy broccoli mingling with cashews, grapes, and peppers, all coated in a zesty dressing that's so good, you'll want to lick the bowl clean. And to top it all off, there's chunks of cheddar cheese, because let's be real, everything's better with cheese. It's the best thing!
Trust me. The simple ingredients in this salad are a game-changer. If you've never tried a tahini based dressing, you're in for a treat! Shake up the flavorful sesame paste with lemon juice, vinegar, and oil, and it becomes a creamy, flavor packed sauce you'll want to use on everything.
This creamy broccoli salad is loved by all! It's the perfect thing to take to picnics and potlucks!
If you're a fan of this healthier take on broccoli salads, you'll also love my Broccoli Cauliflower Salad.
Tahini and lemon juice is my favorite simple tangy dressing — when I am making a quick lunch for myself, just a little drizzle of both adds all the flavor I need, plus tahini is packed with Vitamin E, and even adds a dose of protein and fiber to whatever you drizzle it on.
What You'll Need
Broccoli Salad Ingredients
Raw Broccoli
Red Grapes
Orange Bell Peppers (yellow or red work too! I was going for a "rainbow" of toppings)
Cashews (toast these with a little sea salt and olive oil ahead of time!)
Golden Raisins (or regular raisins! Be sure to buy organic raisins)
Cheddar Cheese (omit for a dairy free or vegan broccoli salad!)
Red Onion (optional but a great addition!)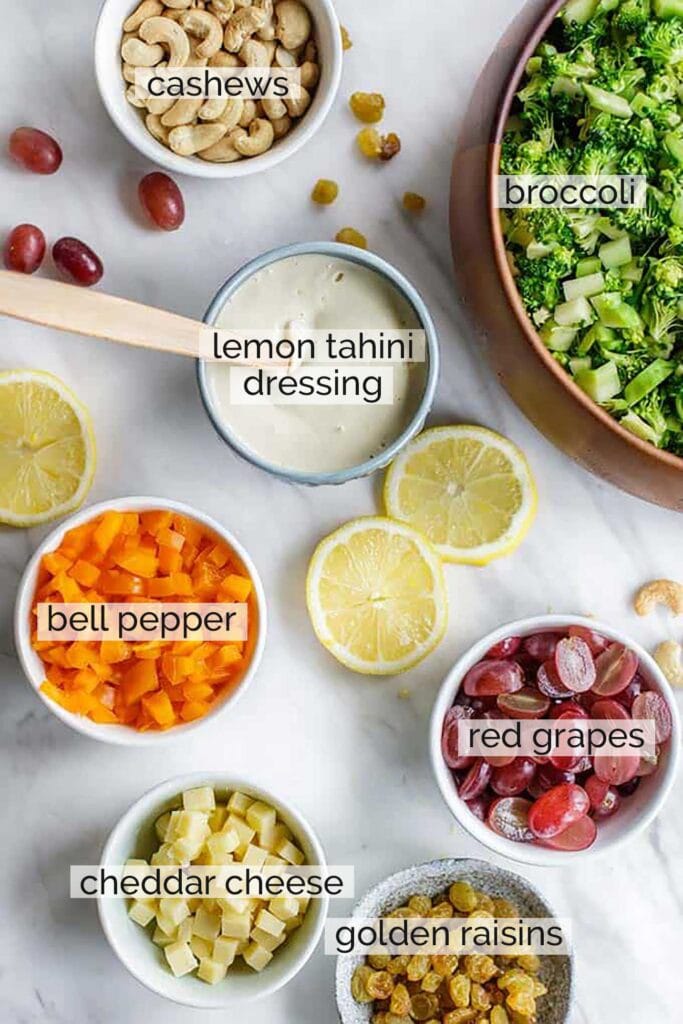 Lemon Tahini Dressing
Tahini (this a sesame paste)
Lemon Juice
Red Wine Vinegar (or use apple cider vinegar, if that's what you have on hand!)
Olive Oil (avocado oil is a great swap)
Raw Honey or Maple Syrup (optional. This adds a little bit of extra flavor but isn't necessary!)
Dijon Mustard
Sea Salt & Black Pepper
Make this Easy Broccoli Salad Recipe Ahead of Time
This recipe is simple, but spectacular in its own right. Broccoli is one of those veggies it's hard not to love — it's typically a favorite among kids also, making this salad ideal for summer gatherings.
Broccoli is a sturdy vegetable that holds up well to dressings, so you can make this the morning before, the evening before, or even keep this salad around for a few days, and it actually just gets better!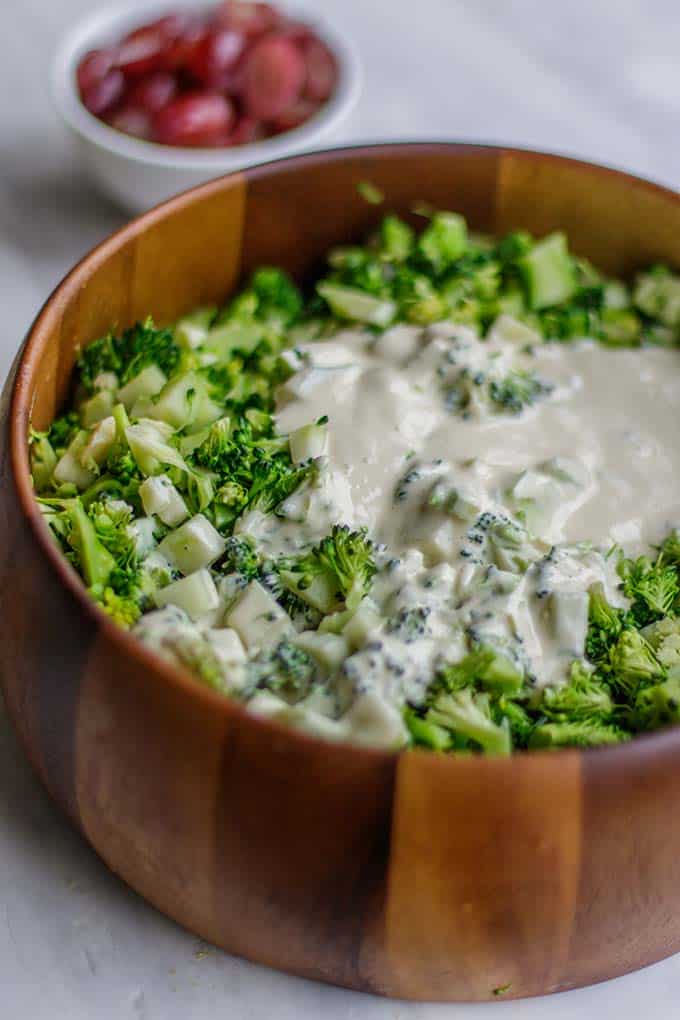 I like to mix the creamy dressing into the broccoli, and prepare the rest of the ingredients and keep them separate. Right before serving, I mix everything together. This keeps all the ingredients the freshest.
How to Make a Healthy Broccoli Salad with No Mayo
Step 1: In a jar, combine the tahini, lemon juice, red wine vinegar, olive oil, salt and pepper. Shake up well to mix into a creamy dressing, and set aside.
Step 2: Chop broccoli into very small pieces. Add to a large bowl, and toss with the creamy dressing. Use hands to work dressing into broccoli. Cover with plastic wrap and refrigerate until ready to serve. (Pro tip: I love to dress my broccoli a day before serving this salad to really let the flavors soak in and to soften the broccoli!)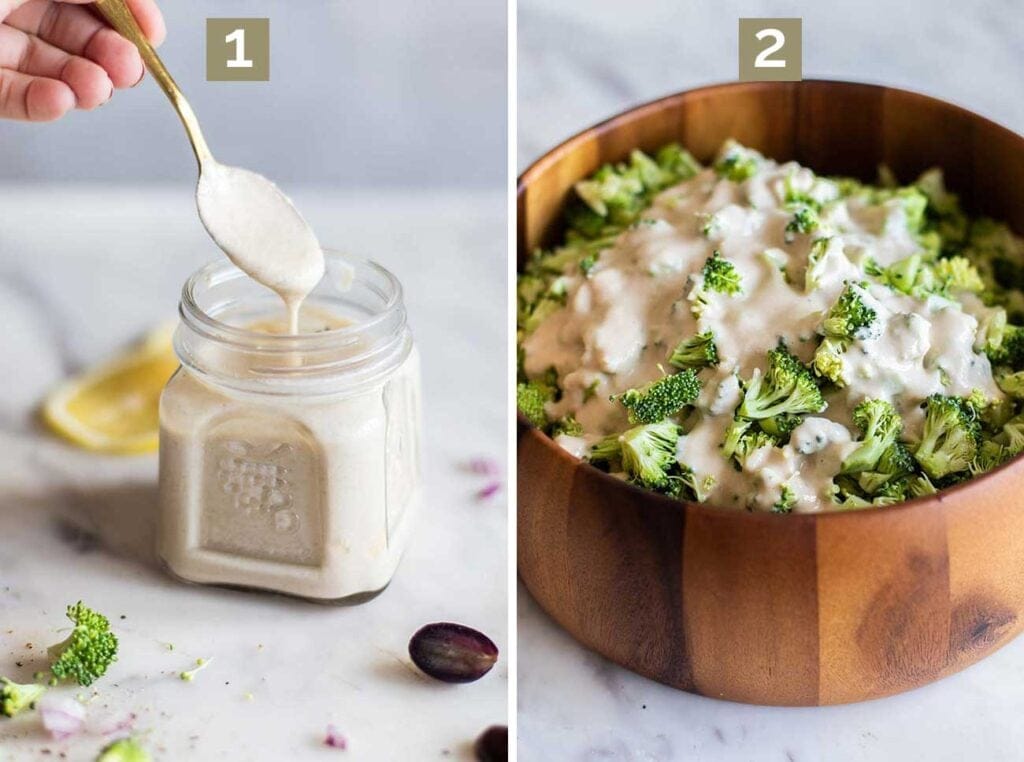 Step 3: When ready to serve, add the toppings to the broccoli salad. You can add the toppings to the salad and cover it in plastic wrap until ready to serve if you're making this ahead of time.
Step 4: Right before serving, toss the salad together to mix in the cashews, grapes, peppers, raisins and cheese!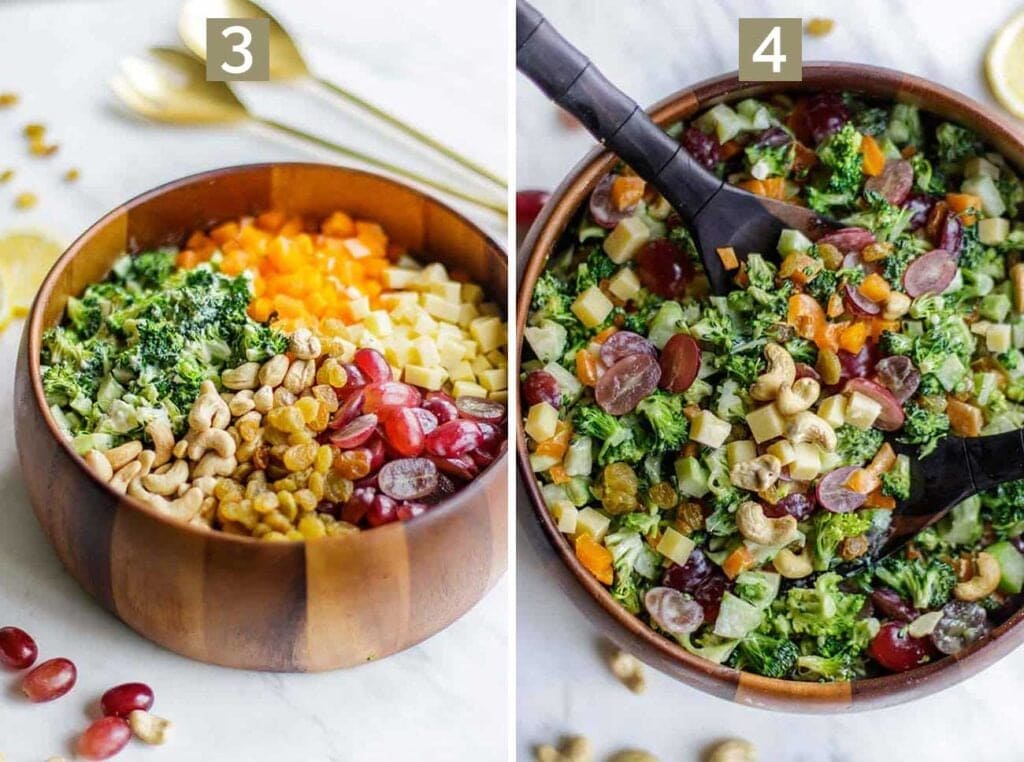 Adapt this No Mayo Broccoli Salad
Vegan Broccoli Salad
Make this classic side dish a vegan broccoli salad by subbing a dairy free cheese in place of the cheddar, or simply omitting it.
Paleo or Whole30 Broccoli Salad
This salad is easily adapted to be suitable for dairy free or Whole30 diets! The only ingredient in it that isn't Whole30 is cheese. Omit the cheese, or substitute crumbled bacon.
Optional Additions
Use this healthy broccoli salad recipe as a template for your favorite version! Try adding:
Bacon Bits (cook bacon until crisp and crumble! Or use turkey bacon, if you have that on hand!)
Crunchy Sunflower Seeds (toast your own in olive oil and sea salt!)
Feta Cheese or Goat Cheese in place of the cheddar
Blueberries
Apples or Pears
Sweet Cranberries
Cherry tomatoes (in place of the grapes)
FAQ & How to Store
How to Store Broccoli Salad without Mayo
Dress the broccoli, and chop the toppings, but keep in separate containers. When ready to serve, add the toppings into the broccoli salad and toss to combine the ingredients.
Store leftover broccoli salad in an airtight container in the refrigerator for up to 5 days.
The cheese, cashews, and raisins get soggy when mixed in the dressing, so if I am not sure I will need to whole salad, I add toppings to half the broccoli, and keep the other half of the salad stored separately in the refrigerator. When ready to enjoy the salad again, I add toppings to individual servings.
Because this broccoli salad doesn't have mayo in the dressing, it holds at room temperature longer! It's a safe one to leave on the buffet table during summer potlucks!
Meal prep it for a healthy lunch by keeping the toppings separate from the broccoli and dressing!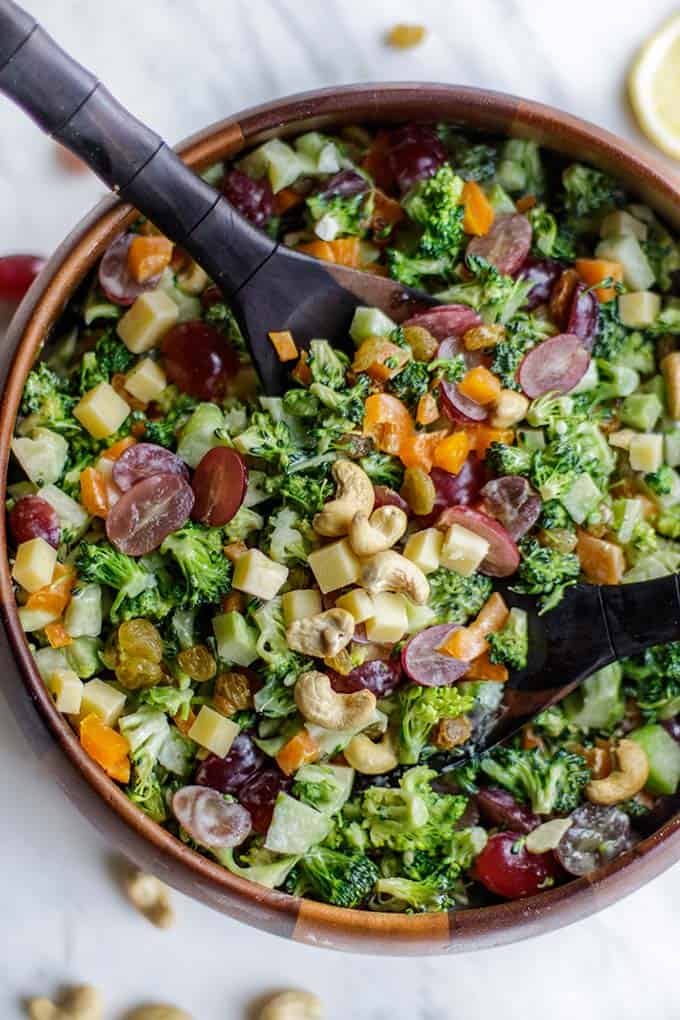 Is Broccoli Salad Healthy?
Broccoli is an incredibly nutritious food! It's high in vitamin C and K, and also has compounds called sulforaphane, known to help detox the body.
What makes a broccoli salad unhealthy is using dressings or mayo with seed oils, sugars, and preservatives.
Skip the conventional broccoli salad recipe in place of this recipe – the best healthy broccoli salad recipe!
Other Healthy Summer Salad Recipes:
I'd love to connect with you on social media! Find me on Facebook or Instagram where I post daily healthy eating and lifestyle inspiration.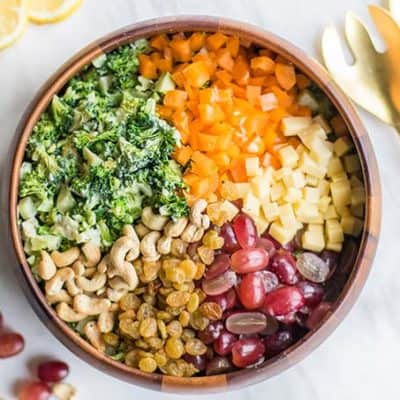 Broccoli Salad No Mayo
This healthy broccoli salad gets all the creaminess it needs from a tangy tahini and lemon dressing. I love to top this with grapes, raisins, peppers, toasted cashews, and cheddar cheese, but if you love bacon, throw that in as well!
Print
Pin
Rate
Ingredients
6

cups

broccoli

chopped small

1

bell pepper

orange or red

1

cup

red grapes

halved

1/3

cup

cashews

toasted

1/4

cup

cheddar cheese

cut into small cubes

1/4

cup

golden raisins
Instructions
Mix all the dressing ingredients together. They can be whisked together, but for the creamiest dressing, add to a blender and process for a minute.

Add the chopped broccoli to a colander, and then pour boiling water over the broccoli to quickly soften it. Rinse it with cool water afterwards.

Mix the dressing into the broccoli and stir to fully coat.

Right before serving, add the rest of the ingredients. It's okay to add the raisins, grapes, and peppers, but keep the cheese and cashews reserved until serving.
Notes
Make it Vegan: This can easily be made into a vegan broccoli salad by subbing a dairy free cheese in place of the cheddar, or simply omitting it.
Make this Paleo or Whole30: This salad is great for the Whole30. Omit the cheddar (it doesn't need it!), and omit the small amount of honey in the dressing as well.
Optional Additions: Bacon is delicious is broccoli salads! Add it to this salad, or try this Paleo Broccoli Salad with Bacon.
Nutrition
Calories:
179
kcal
|
Carbohydrates:
17
g
|
Protein:
5
g
|
Fat:
11
g
|
Saturated Fat:
2
g
|
Cholesterol:
3
mg
|
Sodium:
57
mg
|
Potassium:
394
mg
|
Fiber:
2
g
|
Sugar:
8
g
|
Vitamin A:
940
IU
|
Vitamin C:
83.9
mg
|
Calcium:
74
mg
|
Iron:
1.5
mg