This post may contain affiliate links. Please see my full
Disclosure Policy
for details.
These Oven Baked Pancakes are a great weekend family breakfast! Forget serving 1 person at a time — with this sheet pan pancake recipe, everyone can enjoy hot pancakes at the same time. These gluten free pancakes are made with whole grain oat flour.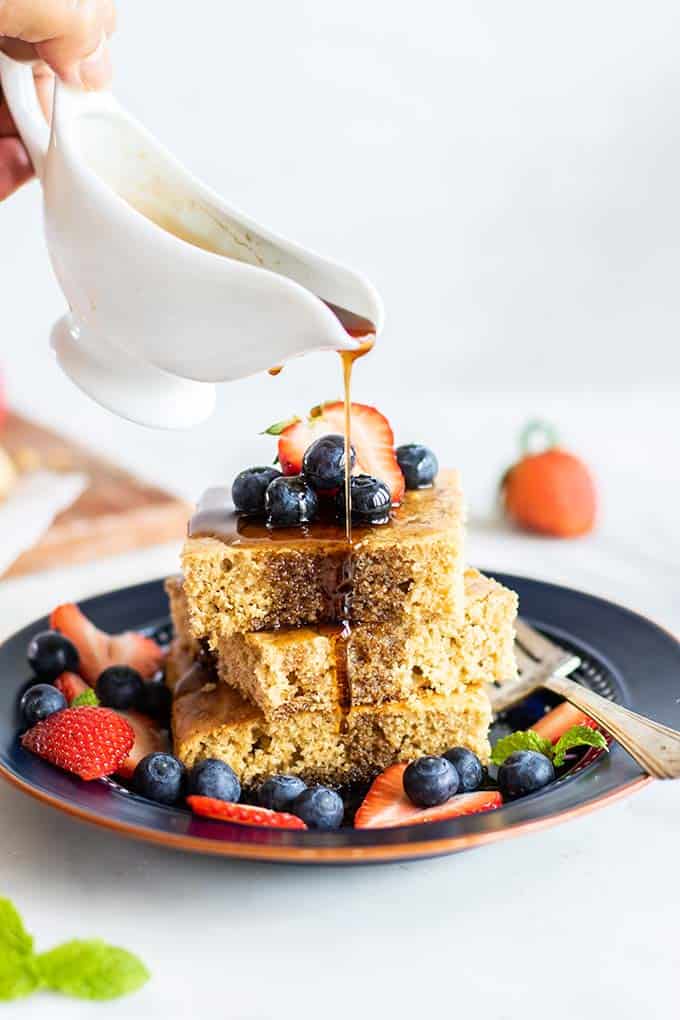 Sheet Pan Pancakes
Pancakes are one of those things — everyone loves them, EXCEPT the person making them. Right, moms?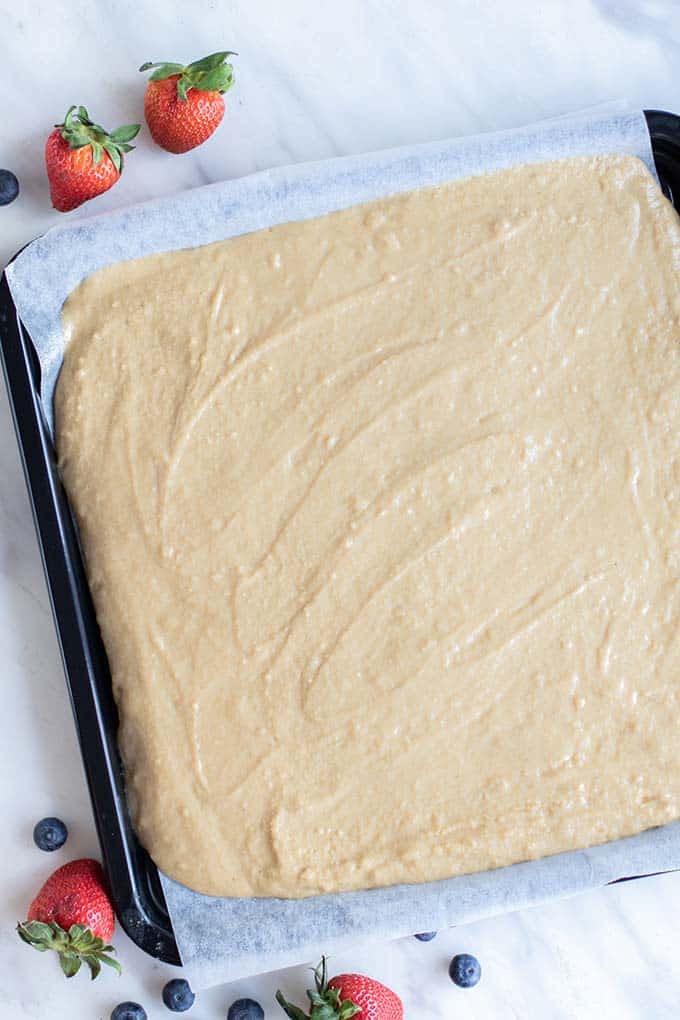 Typically one person eats at a time, and when yours are ready, you put a few more on to finish cooking up the batter, and they inevitably burn while you're trying to enjoy your stack.
This is the first time I've ever tried baking the batter, and I am a convert! These golden brown beauties are like a lightly sweet oatmeal cake, and make a perfect canvas to build a breakfast masterpiece.
Berries are in season right now, so of course those are going on every meal I can squeeze them into.
The batter is made with a few simple ingredients:
Oat Flour
Eggs
Coconut Oil
Coconut Milk
Maple Syrup
Baking Powder & Salt
It takes about 5 minutes to stir them up in a bowl, and then simply pour it over a sheet pan lined with parchment.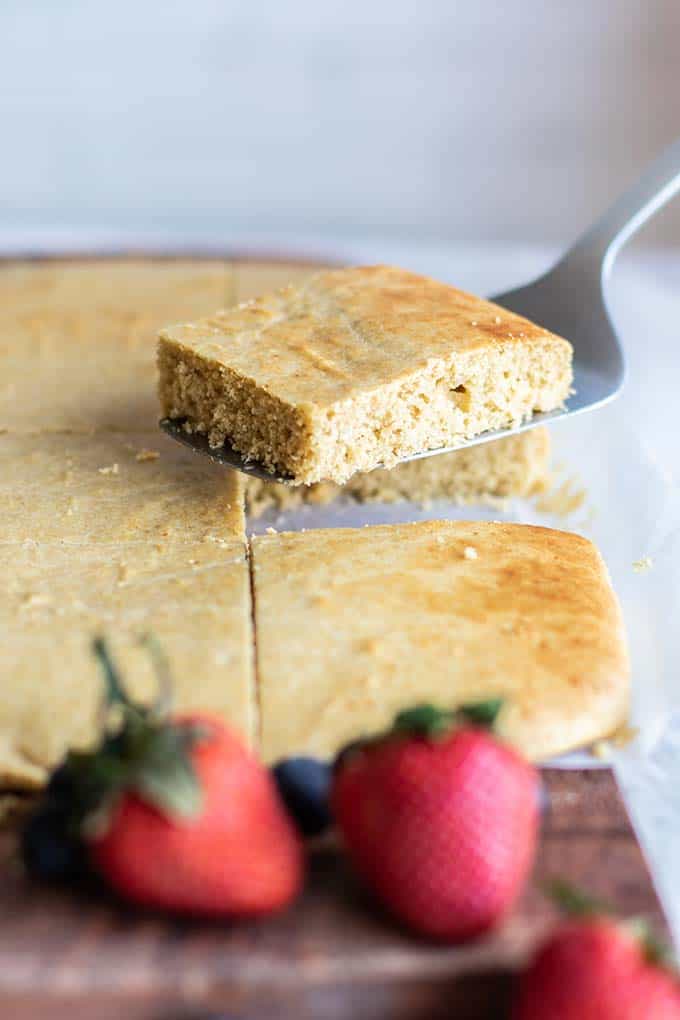 Gluten Free Pancakes in Record Time!
These perfect baked pancakes are great for a lazy weekend. They are so easy, and within 20 minutes, the whole family is brunching together.
Once these are poured onto the baking tray, pop them in the oven for about 12 minutes. While they are baking, slice up some berries, peaches, or bananas. I am showing them covered in maple syrup (because, YUM!), but they honestly don't need any additional sweetener!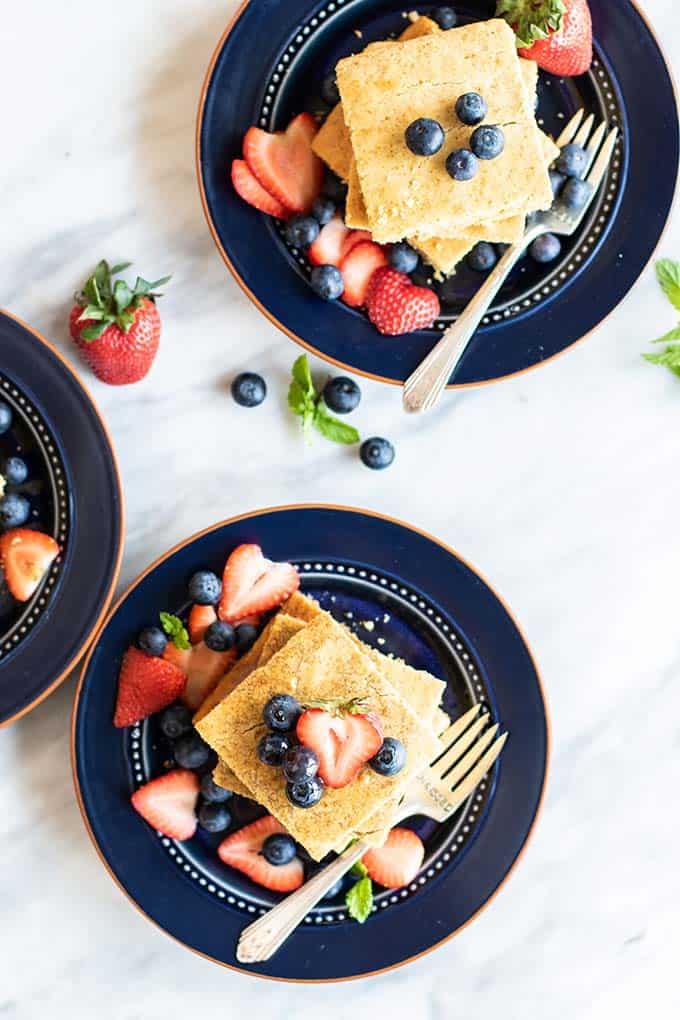 How to Serve Oven Baked Pancakes
With fruit, these oven baked pancakes make a complete meal.
To turn this easy recipe into a full brunch, try serving with:
Bacon or sausage
Scrambled Eggs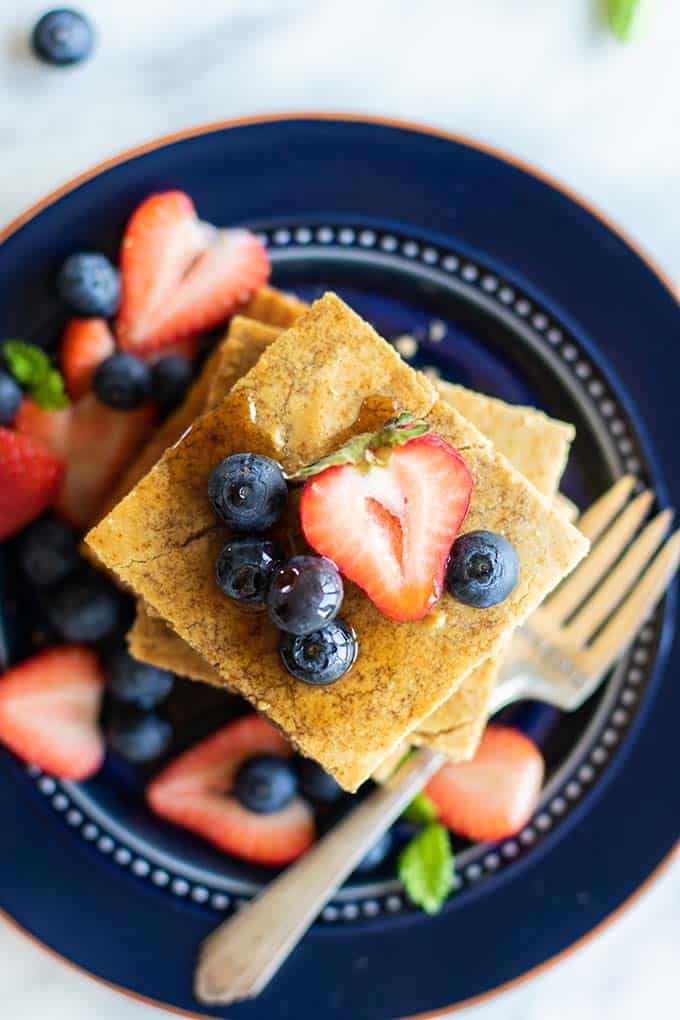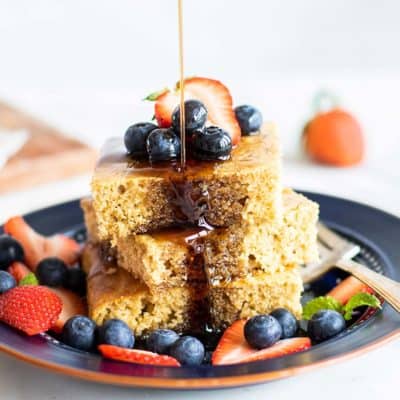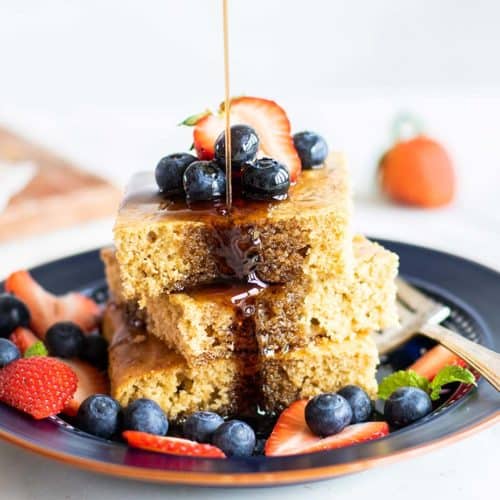 Oven Baked Pancake
A GIANT oven baked pancake -- so the whole family can sit down and enjoy a weekend breakfast together! This gluten free pancake is high in protein and is like eating oatmeal cake or breakfast!
Print
Pin
Rate
Instructions
In a large mixing bowl, add eggs, coconut milk, maple syrup, and coconut oil. Mix well.

Add baking powder and salt, and then continue to beat the mixture to fully combine.

Add the oat flour, half at a time, and mix until the flour is incorporated but a few lumps remain in the batter.

Use a piece of parchment paper to line the Crisper Tray, and pour pancake batter into the center.

Use a spatula to spread pancake out to the size of the Crisper Tray. The batter is thick, so there shouldn't be an issue with it spilling over.

Add to the Sharp Superheated Steam Countertop Oven on the Bake/Reheat setting at 375º F for 9 minutes.

If baking in a conventional oven, preheat to 375º F, and bake pancake for 12 minutes, or until the top begins to turn golden brown and the top begins to crack slightly.

Cut baked pancake into squares and serve immediately. If frozen, these can be reheated in the Sharp Superheated Steam Countertop Oven, or a frying pan. I found they really dried out using a microwave.
Nutrition
Calories:
474
kcal
|
Carbohydrates:
53
g
|
Protein:
11
g
|
Fat:
24
g
|
Saturated Fat:
16
g
|
Cholesterol:
81
mg
|
Sodium:
264
mg
|
Potassium:
405
mg
|
Fiber:
3
g
|
Sugar:
12
g
|
Vitamin A:
120
IU
|
Vitamin C:
0.2
mg
|
Calcium:
102
mg
|
Iron:
3.3
mg
Other Gluten Free Breakfast Recipes:
I'd love to connect with you on social media! Find me on Facebook or Instagram where I post daily healthy eating and lifestyle inspiration.
This Oven Baked Pancakes post may contain affiliate links, meaning if you make a purchase, I will receive part of the sale as a commission. This helps me continue to bring you lots of fresh and inspired recipes!