This post may contain affiliate links. Please see my full
Disclosure Policy
for details.
This healthy Greek Yogurt Fruit Dip has a tempting swirl of caramel. It's perfect for dipping apples, bananas, strawberries, or your favorite fresh fruit. See below how we used it for a festive Halloween fruit platter!
Looking for other fun and healthy dip recipes? Also try this Roasted Carrot Hummus and my Creamy Avocado Salsa Verde.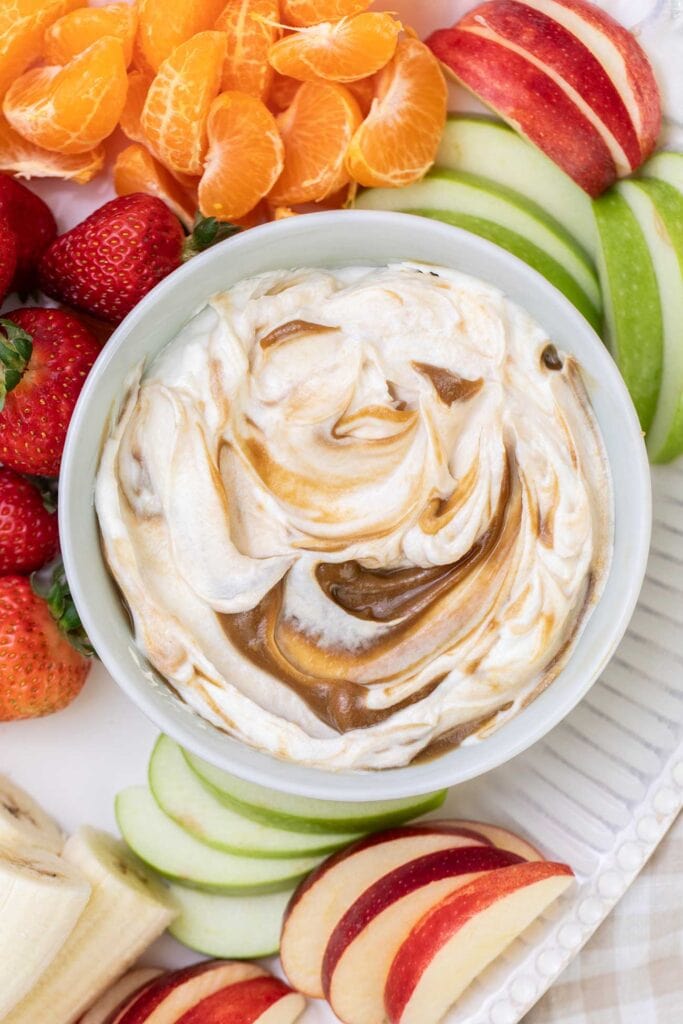 *This post is sponsored by SunButter, a sunflower seed spread perfect for allergy-safe baking and cooking! Thanks for supporting the brands that keep Sunkissed Kitchen running.
High Protein, Greek Yogurt Dip!
If you're looking for a healthy, but still fun, party appetizer, this is the one! It's great for kids, but adults love it too.
Serving a healthy fruit dip is not only delicious (a perfect sweet & sour blend!), it also helps make it a more satiating snack. Greek yogurt has 15 grams of protein in a half cup serving, which helps mitigate the blood sugar response to the sugar in the fruit.
You'll LOVE this recipe because:
This EASY recipe is thrown together in about 5 minutes.
It's a great way to encourage kids to eat more fruit.
The platters are beautiful, perfect for Halloween gatherings, birthday parties, play dates, or even to prep for a delicious snack after-school!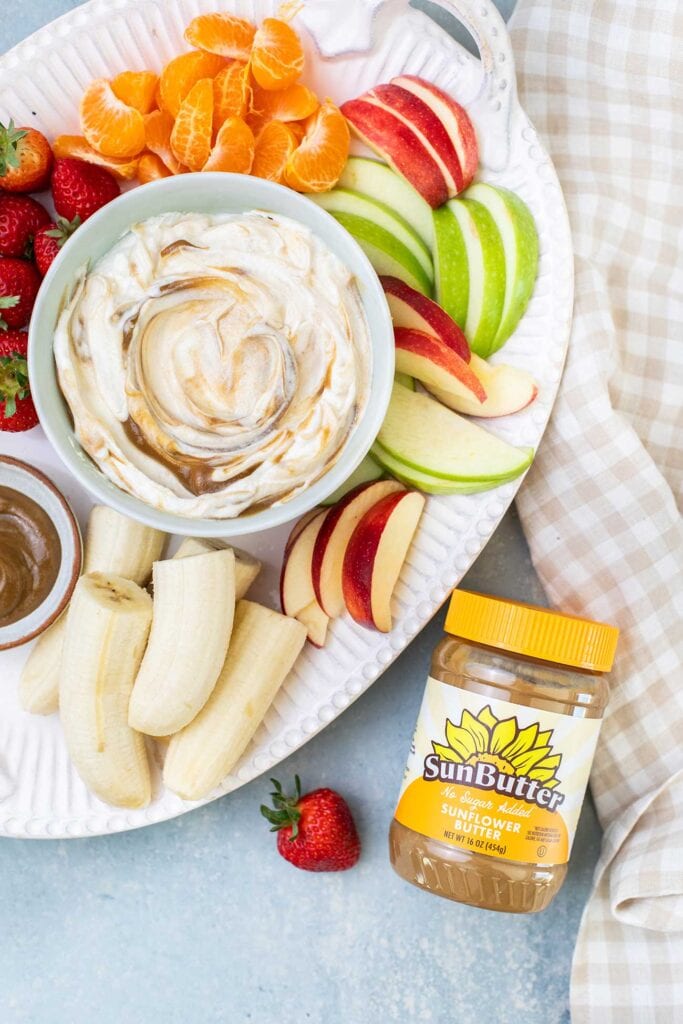 For Halloween this year, I wanted to make a caramel dip for our apples. My favorite easy "caramel" sauce to make is a combo of SunButter sunflower seed butter and maple syrup. SunButter is salted, and when mixed with maple syrup, it has the consistency of a caramel sauce!
SunButter is a source of healthy fats and protein. Even though we are sweetening up this dip, it's still a balanced choice.
I use SunButter No Sugar Added and that way I can choose my own sweetener. I love maple syrup, but honey or date syrup will both work here!
SunButter is great for baking and for making sauces. It's a great choice to use for gatherings because it's nut free and allergy friendly.
Hop on over to SunButter's website to see where you can buy it near you!
What You'll Need
This simple 3-ingredient dip comes together in 5 minutes!
Plain Greek Yogurt (I use non-fat since I swirl in SunButter, but use whatever Greek yogurt you love!)
SunButter No Sugar Added (or any variety you use!)
Pure Maple Syrup (honey or date syrup make good substitutions here!)
Vanilla Extract or Cinnamon (optional, for additional flavor)
Fresh Fruit to serve (apples, bananas, strawberries, mandarins, persimmons, pears, or use skewers to serve with grapes, blueberries, or raspberries)
Also try: graham crackers, mini cookies, marshmallows (especially with the chocolate dip!), or make fruit kabobs with kiwi, grapes, and berries!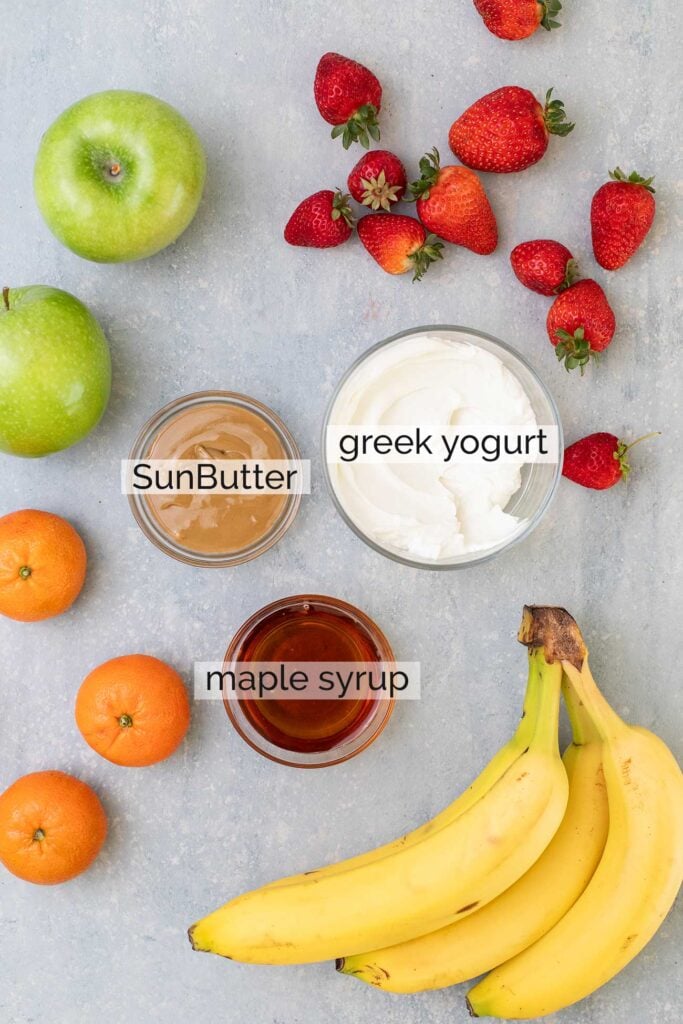 How to Make a Yogurt Fruit Dip
Step 1: Into a small bowl, mix together maple syrup and SunButter. At first, the mixture will appear coddled. Continue stirring to fully mix, and a caramel consistency will form.
Step 2: In a mixing bowl, add half of the caramel mixture into the Greek yogurt. Fully stir if desired, or leave it swirled like I did. If desired, add vanilla extract or cinnamon at the same time.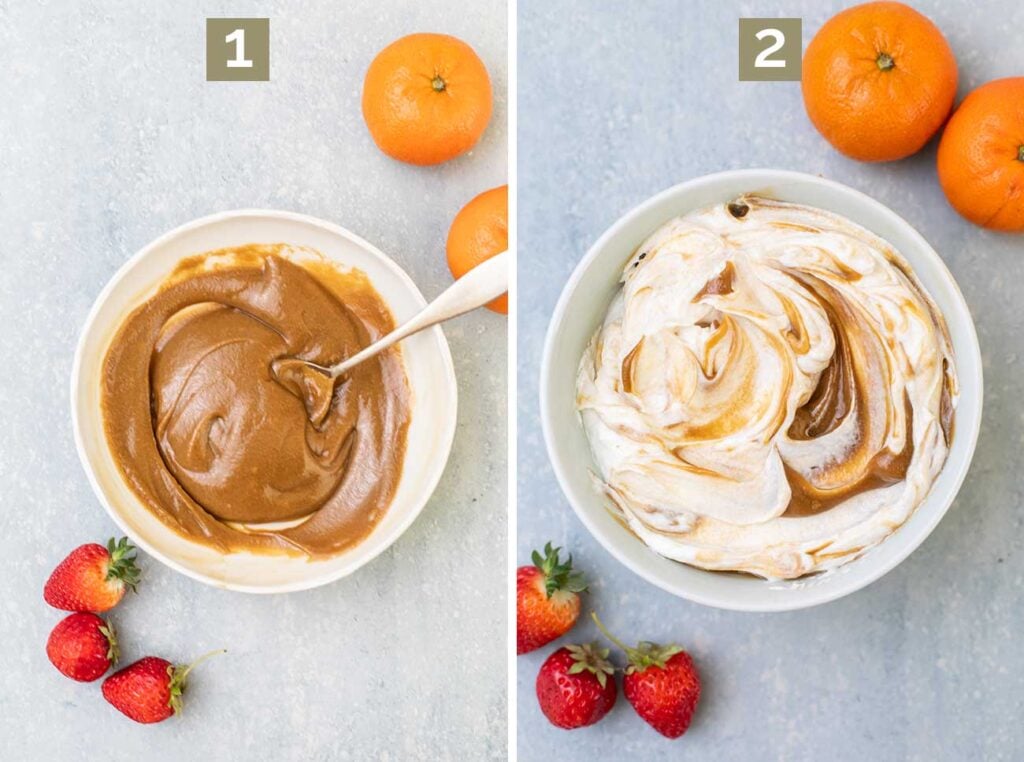 Step 3: Slice or chop fruit and place it on a large platter with the creamy dip. Serve the fruit tray with another small bowl of the remaining caramel sauce.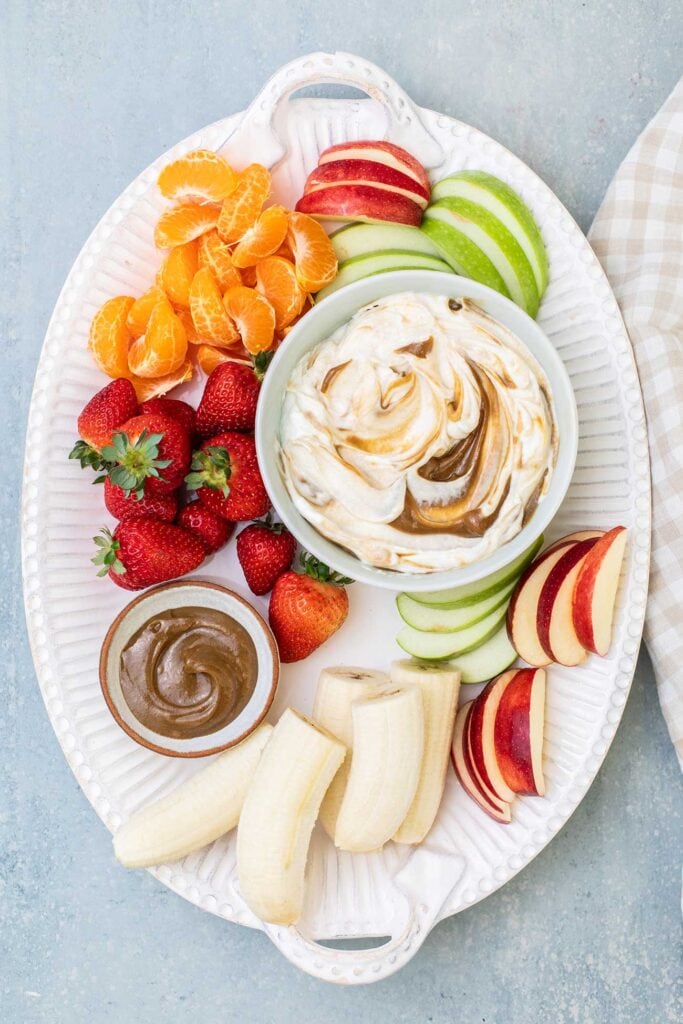 How to Store Leftover Fruit Dip
Store leftover yogurt fruit dip in an airtight container in the refrigerator for up to a week. Water will separate from the yogurt and settle on top. Either stir it in or drain it off prior to serving with more fresh fruit.
Variations & Tips
Chocolate Yogurt Fruit Dip
Make a chocolate flavor version of this fruit dip!
1/4 cup Maple Syrup
1/4 cup Chocolate SunButter
3 tablespoons cacao powder (or natural cocoa powder)
1 teaspoon vanilla extract
2 cups Greek yogurt
2 tablespoons mini chocolate chips (to sprinkle on top, optional)
Step 1: Into a small bowl, mix together the maple syrup, Chocolate sunbutter, cacao powder, and vanilla, until a smooth chocolate sauce forms.
Step 2: Swirl the chocolate sauce into the Greek yogurt. This is especially delicious served with fresh strawberries and bananas!
Honey Yogurt Fruit Dip
Keep is simple with this healthy yogurt fruit dip sweetened with honey and vanilla.
1/4 cup raw honey
1 teaspoon vanilla extract
2 cups Greek yogurt
Garnish with lemon zest or orange zest for extra flavor!
Step 1: Into a small bowl, mix together the honey and vanilla, until a smooth consistency forms.
Step 2: Swirl the honey sauce into the Greek yogurt.
Cream Cheese Yogurt Dip
1/4 cup raw honey
1/4 cup SunButter (optional)
1 teaspoon vanilla extract
1 cups Greek yogurt
1 8-ounce package of cream cheese, softened to room temperature (I recommend reduced-fat cream cheese, since the SunButter will add in healthy fats)
Step 1: Add the cream cheese to a food processor, and process until light and fluffy.
Step 2: Scrape the sides of the food processor bowl, and add the yogurt, honey, SunButter, and vanilla. Process to mix, being careful not to over mix (the yogurt will get watery if mixed too long).
Should I use Vanilla Yogurt?
If you have vanilla Greek yogurt, the dip will end up being very sweet. Plain yogurt is my preference. I recommend using only 2 tablespoons of the maple syrup to make the caramel sauce to make it less sweet and have less sugar overall.
Can I use regular yogurt?
Yes, you can swap a plain, regular yogurt in place of the Greek yogurt. Greek yogurt makes a thicker dip and has more protein.
Regular yogurt will make a thinner dip but will still be delicious!
Nut Butter Swaps
Instead of SunButter, use another nut butter you have on hand.
A natural peanut butter, almond butter, or cashew butter will work to make the caramel sauce!
Festive Halloween Fruit Platter
We made this Greek yogurt fruit dip for a party in October, and wanted to add a festive Halloween vibe! This is perfect for anyone who wants to be a "Pinterest Mom," but doesn't have the time!
I made 3 simple Halloween-inspired fruit snacks to add to the platter:
Mandarin "Pumpkins": Peel the mandarin oranges. Cut a celery stalk into thin strip about 1/2 inch long, and press it into the top to be the pumpkin stem.
Banana "Ghosts": I bought candy eyes and pressed them into half of a banana. Use mini chocolate chips if you don't want to buy the eyes!
Scary Apple Mouths: Cut a green apple in quarters and carefully remove just a small portion of the seeds. Cut a wedge into the green skin so the apple slice looks like an open mouth. Add some SunButter into the "mouth," and use a strawberry slice for the tongue. Use pine nuts (or sunflower seeds!) to add teeth.
Add this yogurt fruit dip recipe into a bowl, and serve surrounded by apple slices, strawberries, Mandarin Pumpkins, Banana Ghosts, and Scary Apple Mouths. Everyone will be excited to dip away!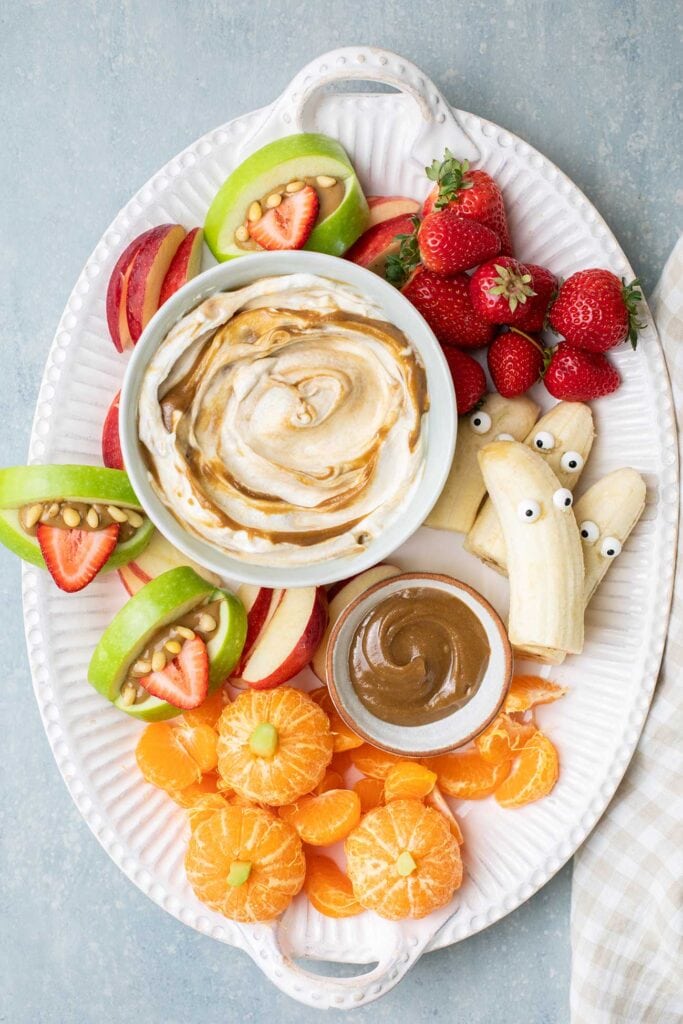 Other Healthy Snack Ideas
If you make this recipe, be sure to share it with me! Find me on Facebook or Instagram and be sure to tag #SunkissedKitchen @SunkissedKitch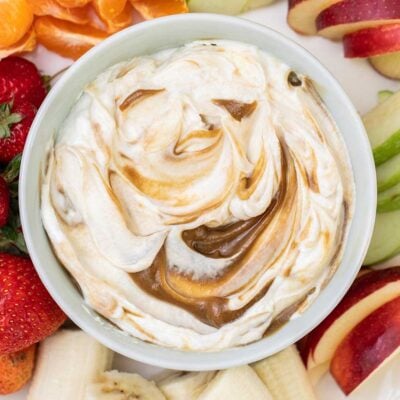 Greek Yogurt Fruit Dip
A healthy yogurt fruit dip recipe, made with Greek yogurt for extra creaminess! We love it swirled with a SunButter "caramel" sauce — so indulgent! See notes below for variations, from chocolate to a simple honey yogurt dip!
Print
Pin
Rate
Ingredients
Fruit
apples

sliced

bananas

cut in half

strawberries

mandarins

peeled and segmented
Instructions
Into a small bowl, combine the SunButter and maple syrup. Stir until a very smooth, caramel-consistency forms.

Add half of the caramel sauce into the Greek yogurt, and stir to combine. Leave a swirl like I did, if desired!

Add the yogurt dip to a platter surrounded by your favorite fruit! Serve with the additional caramel sauce in a separate dish for dipping.
Notes
*nutrition facts is for the dip without fruit.
Nutrition
Calories:
105
kcal
|
Carbohydrates:
11
g
|
Protein:
7
g
|
Fat:
4
g
|
Saturated Fat:
0.5
g
|
Polyunsaturated Fat:
0.01
g
|
Monounsaturated Fat:
0.02
g
|
Trans Fat:
0.003
g
|
Cholesterol:
3
mg
|
Sodium:
19
mg
|
Potassium:
99
mg
|
Sugar:
8
g
|
Vitamin A:
6
IU
|
Vitamin C:
0.2
mg
|
Calcium:
76
mg
|
Iron:
0.4
mg