Indulge your Valentine with this creamy and rich (vegan & Paleo!) healthy hot fudge. We love it over frozen yogurt and also use it on nice cream!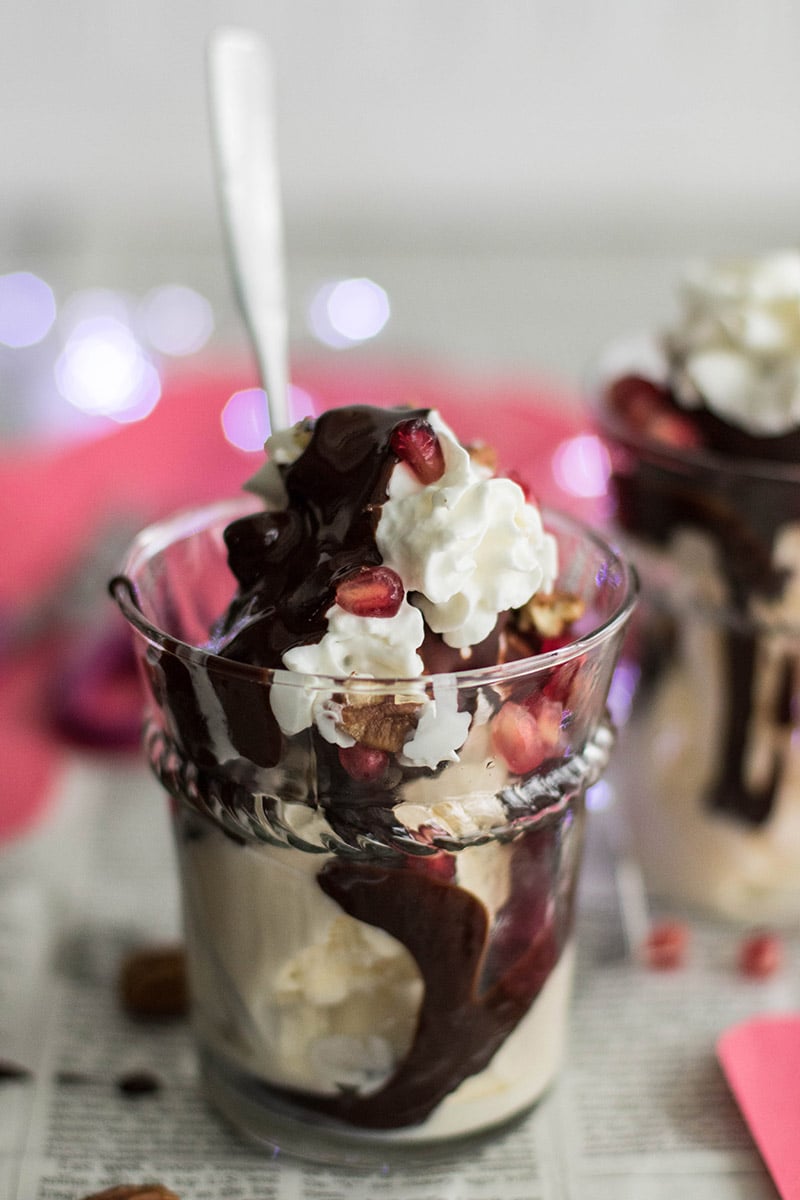 This beautiful sundae was photographed in Oregon during a snowstorm. We are now in Australia in 100 degree temps, enjoying walks around the lake, BBQs, and ice scream in town.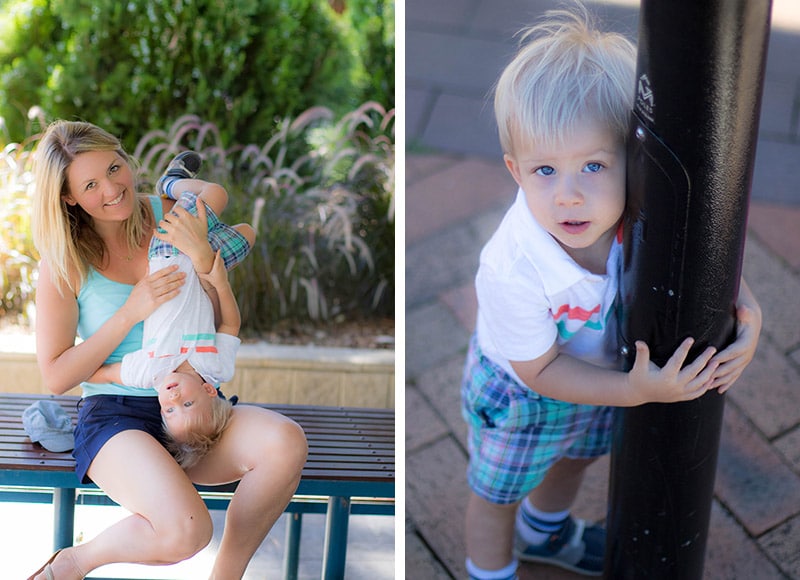 I've been busying myself with learning portrait photography — lots about lighting and composition, but I think the biggest difference between portraits and food is the editing process. The two photos above I just edited using some of the techniques I learned from a Lynda.com course I watched yesterday. Lots to learn, but I'll get there! I have been asking all my friends if they will bring their babies over and model for me. It's very difficult to take photos of Xander and this stage- 17 months is a very busy age. Most of the photos I've taken lately are of the top or back of his head, or blurred with activity.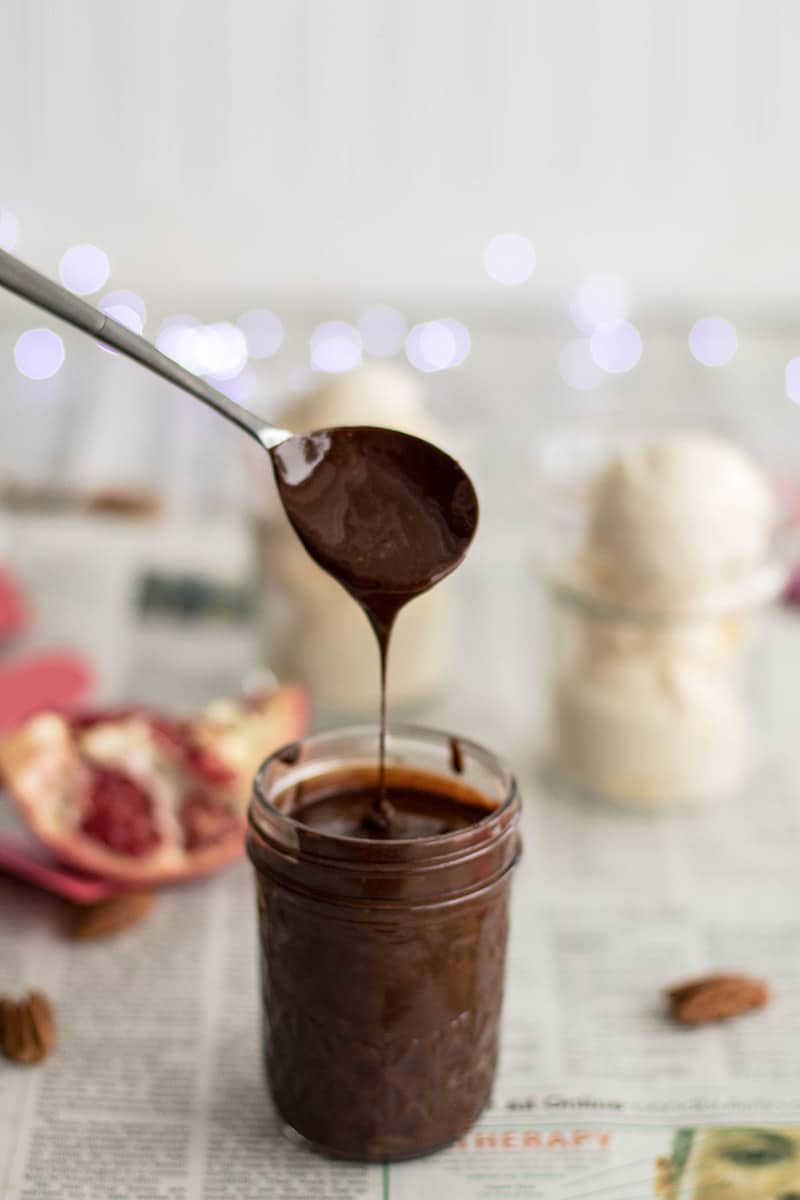 One thing Xander will always sit still for is ice cream. He usually gets homemade "nice cream" (processed frozen bananas), but we occasionally buy frozen yogurt. After making this incredible Paleo Fudge for the holidays, I was inspired to make a healthy hot fudge.
The first few attempts weren't perfect- a little too much coconut oil resulted in more of a magic shell effect than hot fudge. But we finally did get it just perfect — look how it poured!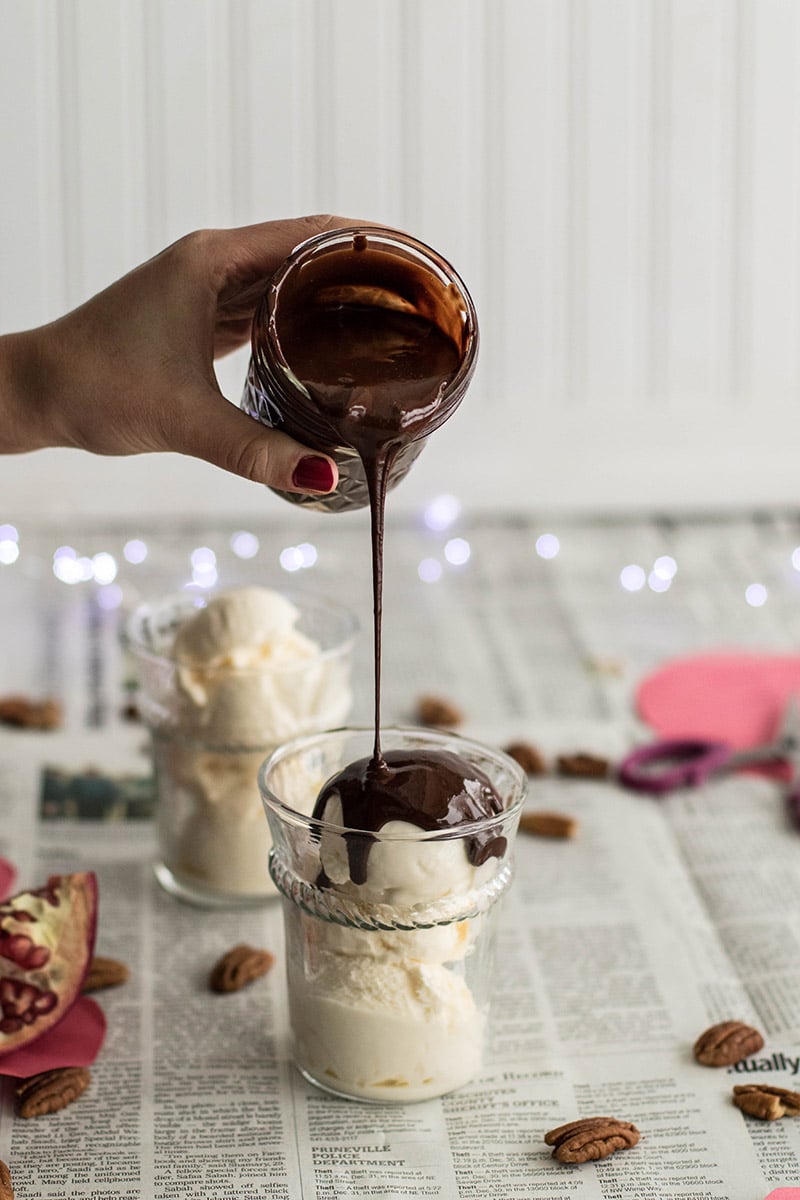 These frozen yogurt healthy hot fudge sundaes are definitely on our menu this Valentines Day.
Being a mom is such motivation for celebrating even the "little" holidays. For Valentine's Day, my friends and I have planned a party for the toddlers. I am putting together a cookie decorating station, one friend is doing an art project, and another friend will lead a game. We will invite all the kids from our neighborhood. We have a lot of young kids in our area! I will post photos afterwards.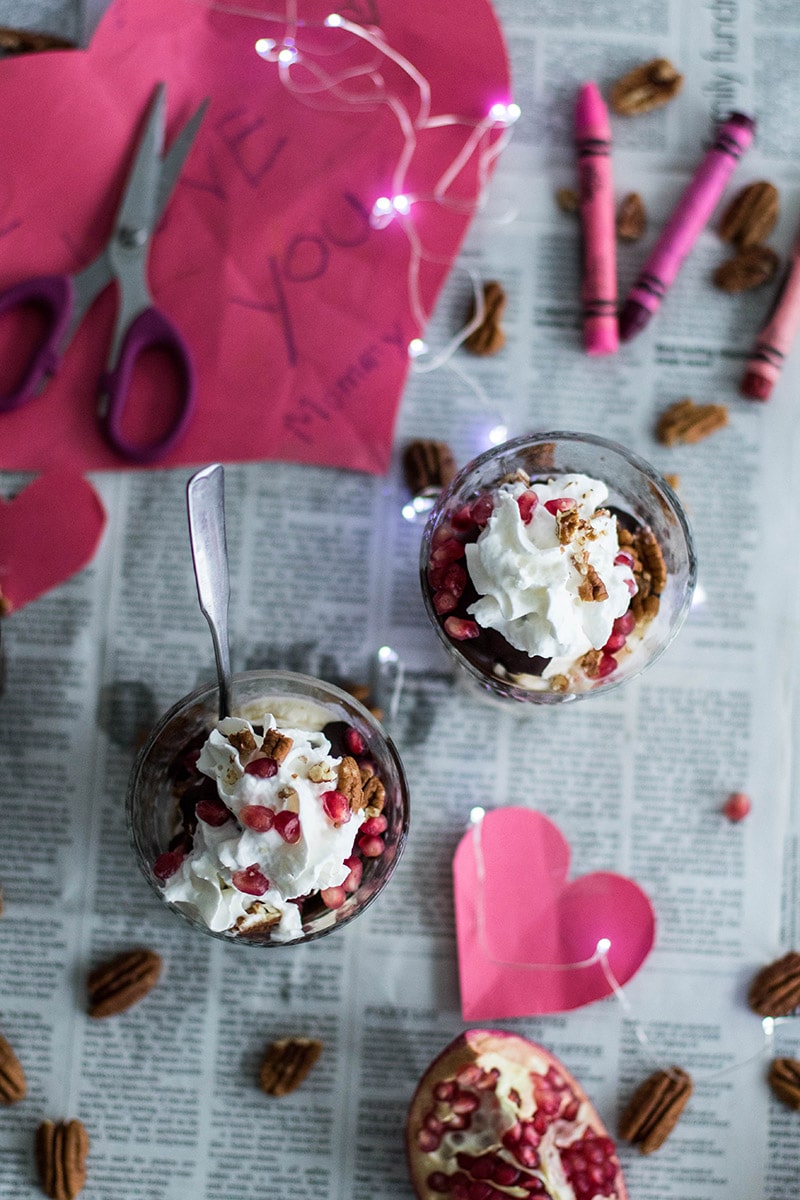 Other ideas for Valentine's Day? This Fruit Pizza would be amazing with red and pink fruit. And of course, these Valentine's Love Truffles (a box of chocolates made with fruit, nuts, and dark chocolate). I posted this recipe for the Christmas season, but there is absolutely no reason not to make these Coconut Mint Truffles for V-Day.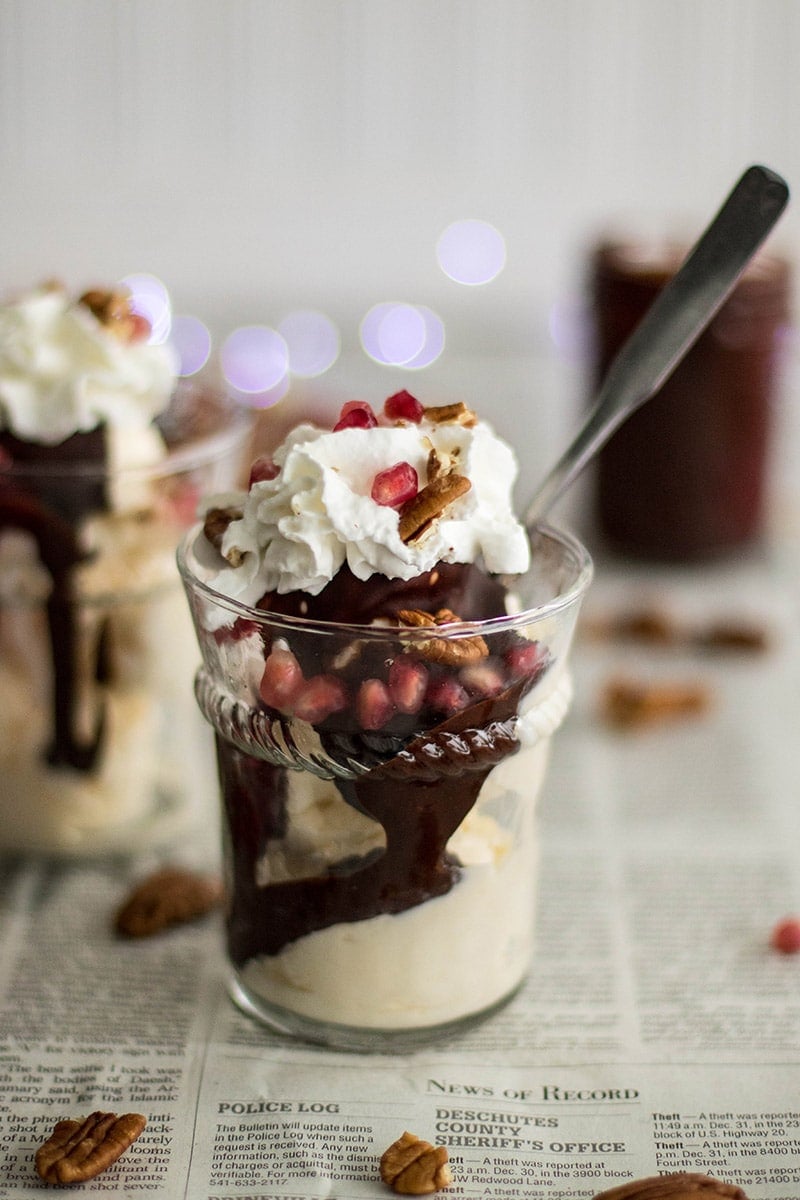 Tips for the Healthy Hot Fudge
I use cashew butter in this recipe because I find it has the mildest flavor of the nut butters. This sauce doesn't really taste nutty or have a cashew flavor because the chocolate overpowers the nut butter. If you have almond butter or sunflower butter, both of those will work as subs, but those sauces will have more prominent nutty flavors <– which definitely wouldn't be a bad thing!
To keep this sauce "fudgey" instead of turning into a magic shell, I use a combination of coconut oil and walnut oil. Only walnut oil can be used, but all coconut oil will harden the sauce when poured over a frozen treat. Grape seed oil and extra light olive oils (not extra virgin) both would work in place of the walnut oil because they have neutral flavors.
For the Family: This sauce is high in fat, but they are healthy fats. I am much more concerned about sugar than healthy fats, so this is the type of recipe I like to give my son. Simply lightly sweetened with honey, and no weird ingredients.
Ingredients
Instructions
Add all ingredients to a bowl and mix well until sauce is glossy.
I used really runny cashew butter. If your cashew butter isn't runny, add 1 tablespoon of grape seed oil, walnut oil, or extra light olive oil instead of adding more coconut oil (more coconut oil will result in a magic-shell type sauce rather than leaving the sauce fudgey).
Gently warm sauce in a saucepan.
If microwaving, microwave in 10-15 second intervals. This sauce will burn very quickly.
Pour over frozen yogurt, "nice cream," or use as a drizzle over cakes or fruit.
7.8.1.2
58
https://sunkissedkitchen.com/healthy-hot-fudge/
Michelle @ Vitamin Sunshine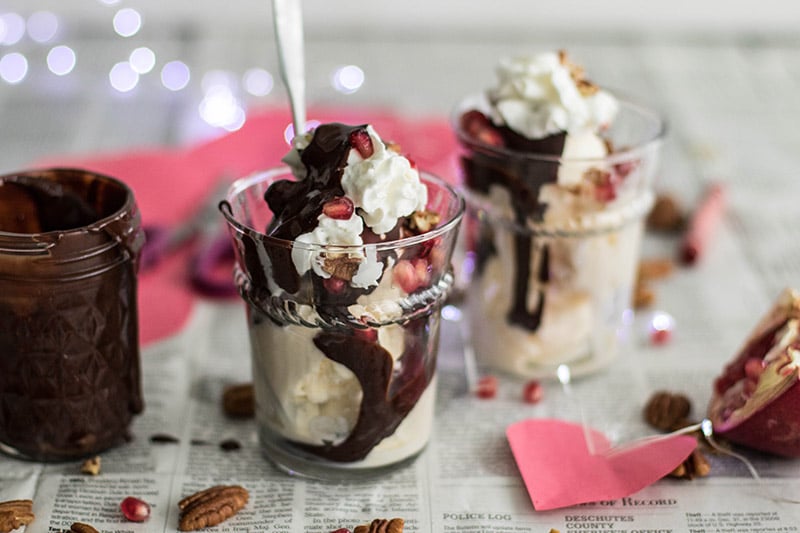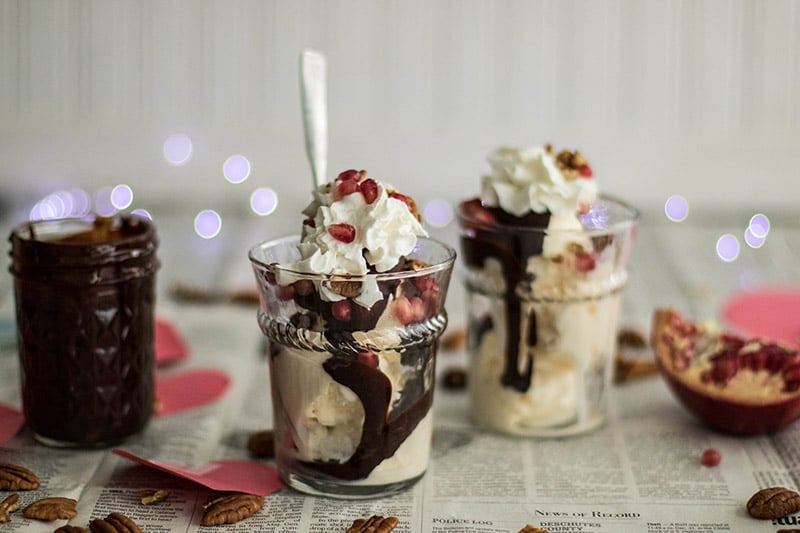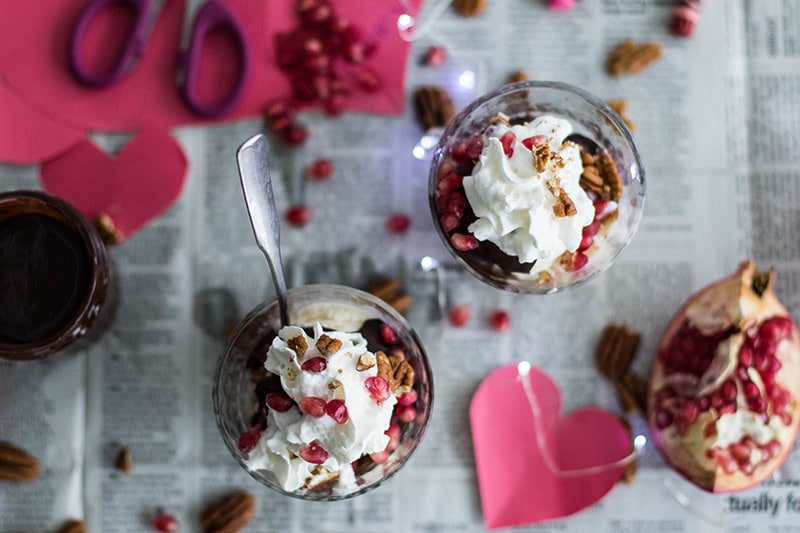 Other Healthy Valentine's Treats Recipes:
I'd love to connect with you on social media! Find me on Facebook or Instagram where I post daily healthy eating and lifestyle inspiration.
This post contains affiliate links, which means that if you click on one of the product links, I'll receive a small percentage of any purchases made.