This post may contain affiliate links. Please see my full
Disclosure Policy
for details.
These healthy, baked Pistachio Crusted Chicken Fingers bake to golden perfection, and are sure to be a new family favorite! We serve ours with a homemade chili orange sauce – a tangy (clean eating) version of sweet and sour sauce.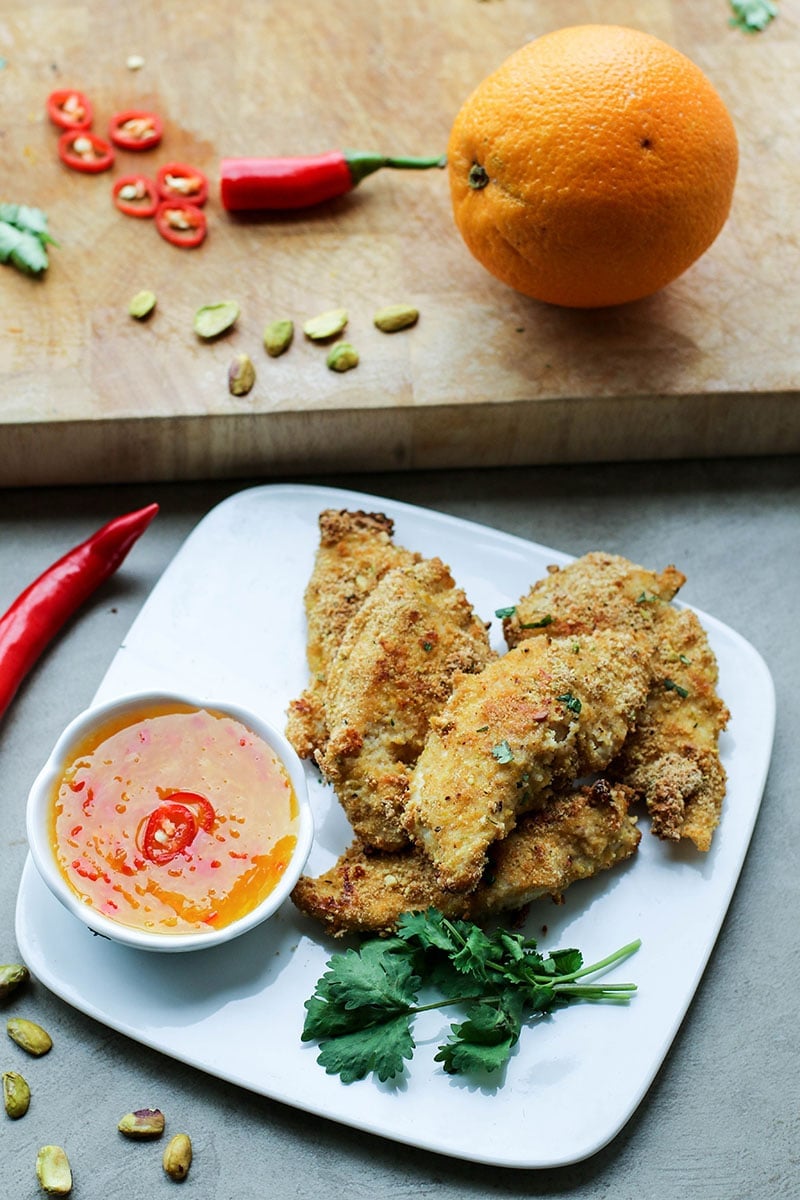 Baked Chicken Fingers
One of the reasons I encourage others who aren't intolerant to gluten to try more gluten free recipes is because they offer a wider range of nutritional benefits.
The SAD (standard American diet) is wheat-heavy. If you think about a typical, non-gluten free day, it's so easy for wheat to account for half of someone's daily calorie intake. Two slices of toast at breakfast (along with eggs or fruit), a sandwich for lunch (more bread), a cookie or muffins with your coffee in the afternoon, and then pasta for dinner. Wheat, wheat, wheat, …and more wheat.
If you're choosing whole grains, wheat isn't terrible for you. However, modern wheat is grown to increase yield, not nutrition density, and the crops that are most widely grown (dwarf wheat) is has vitamin densities 20-30% lower than ancient varieties.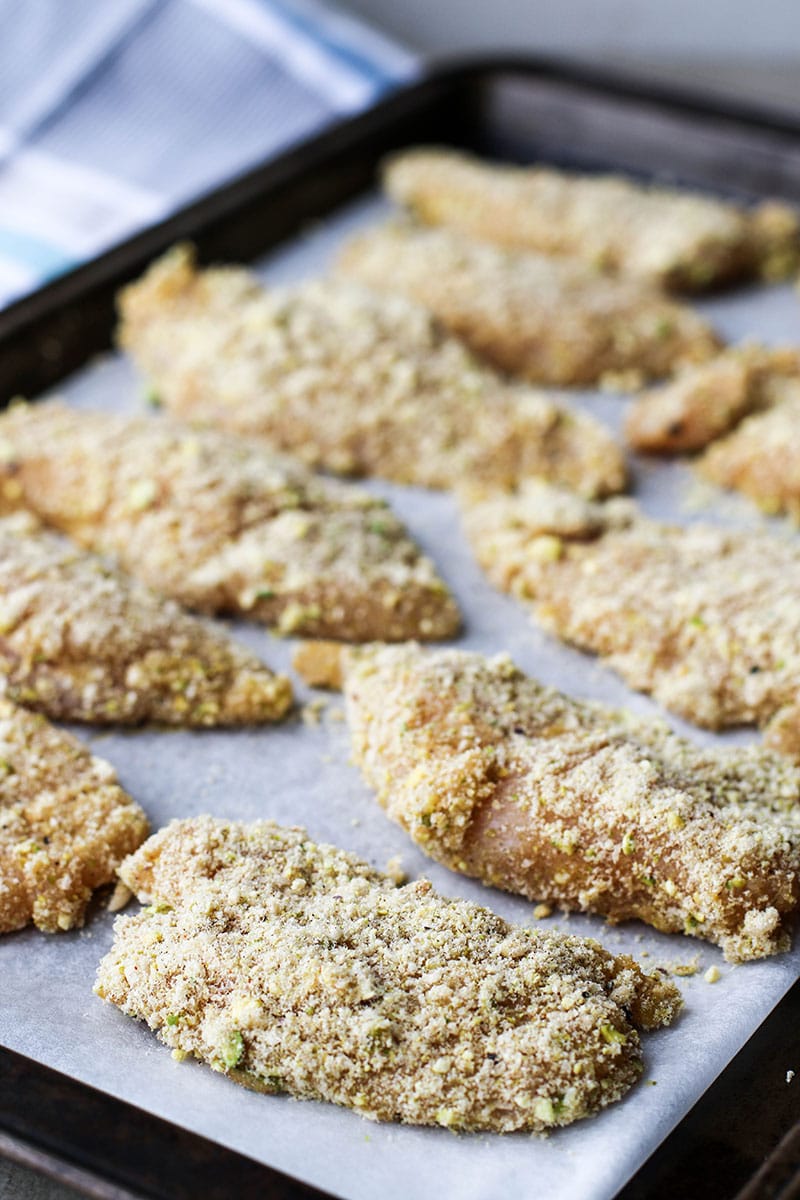 On top of that, grains themselves are already less nutrient-dense than foods such as nuts, seeds, and vegetables, so relying too heavily on grains also deprives your body of valuable nutrients.
Replacing some of your typical fare with (healthy) gluten free alternatives is a great way to counteract that. Gluten free goods aren't always better for you– if you check the ingredient labels of a lot of the supermarket options, they are packed with starches and gums.
A big reason I make mine at home. The same reason I prefer homemade salads to the ones in most restaurants (packed with cheese and bacon and mayo-laden dressings, rather than the good stuff– veggies, fruit, nuts and seeds).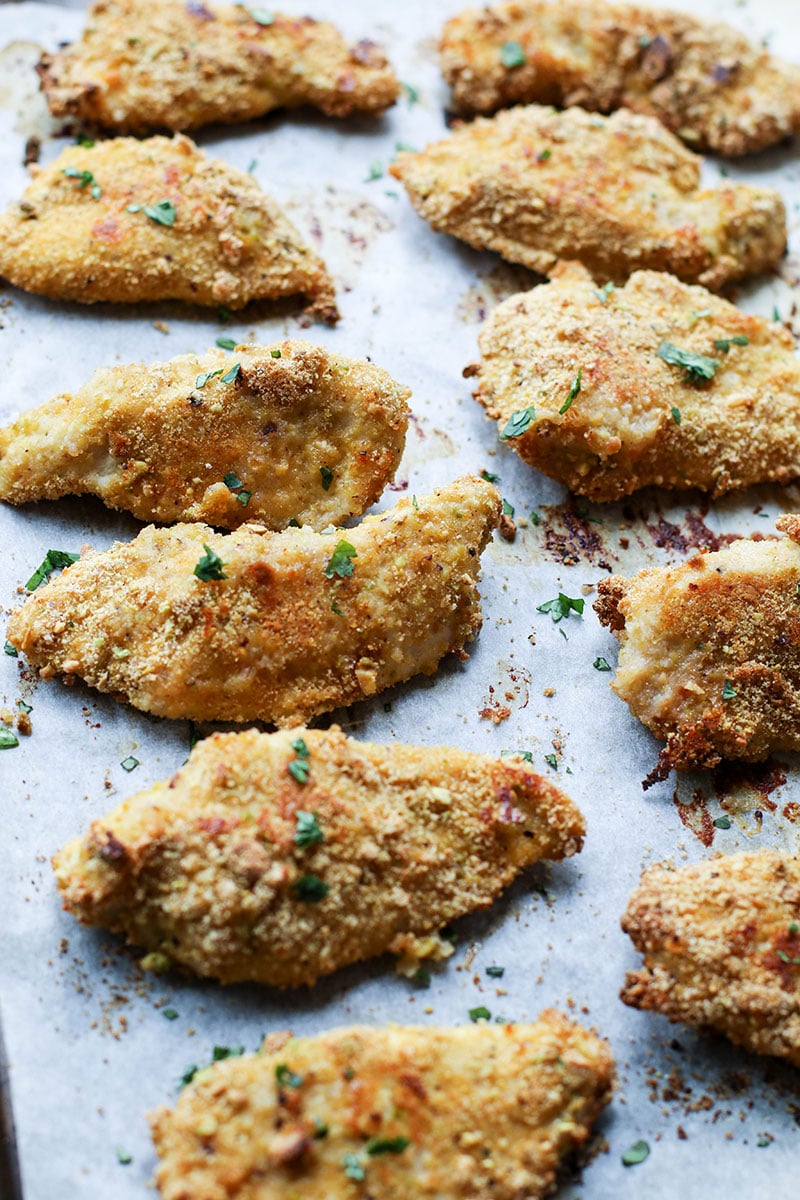 These baked Pistachio Crusted Chicken Fingers pack in the nutrients. Pistachios are such a nutritional powerhouse. One of the lowest calorie nuts, they are full of fiber, protein, and antioxidants. They are recommended for people who want to lose weight and have been found to reduce belly fat.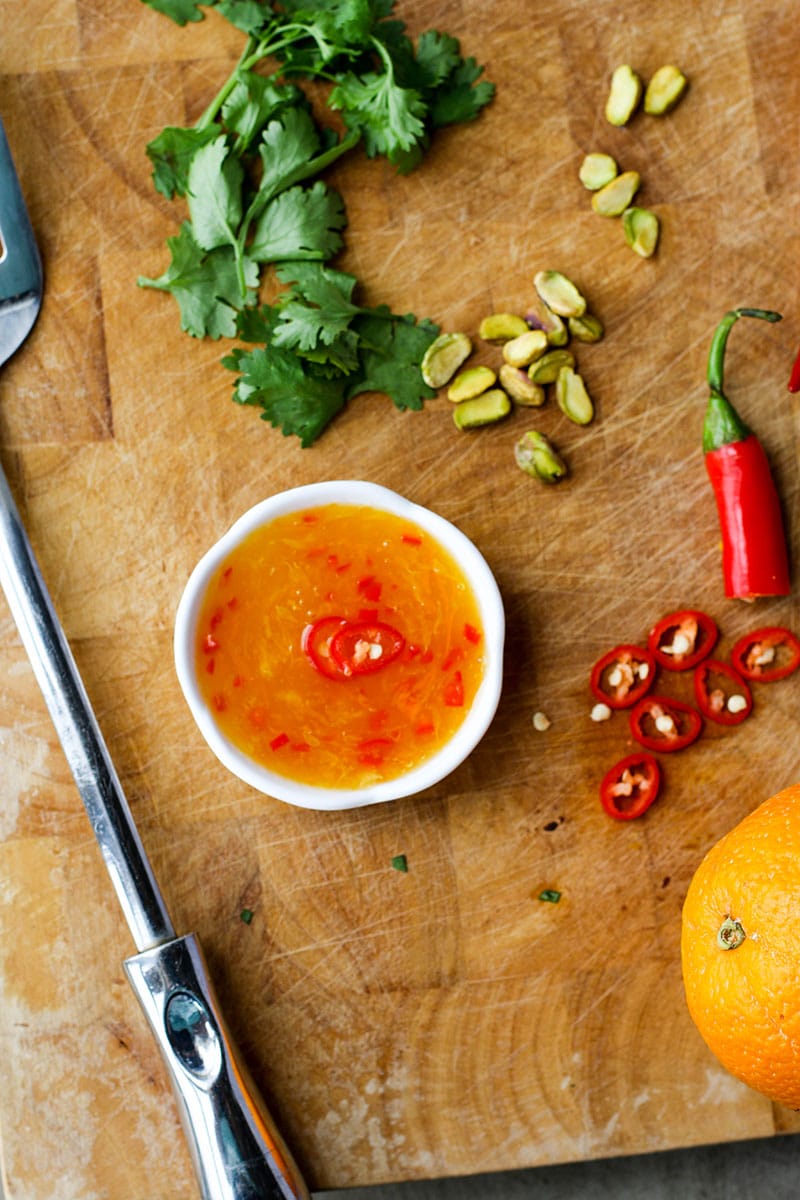 Little changes, like swapping the breading on your chicken, add up to a clean eating lifestyle that improves overall health (without sacrificing your favorite meals!).
If you love these green nuts as much as I do, I also use them on my Pistachio Crusted Salmon and in this delicious Roasted Beet and Carrot Quinoa Salad.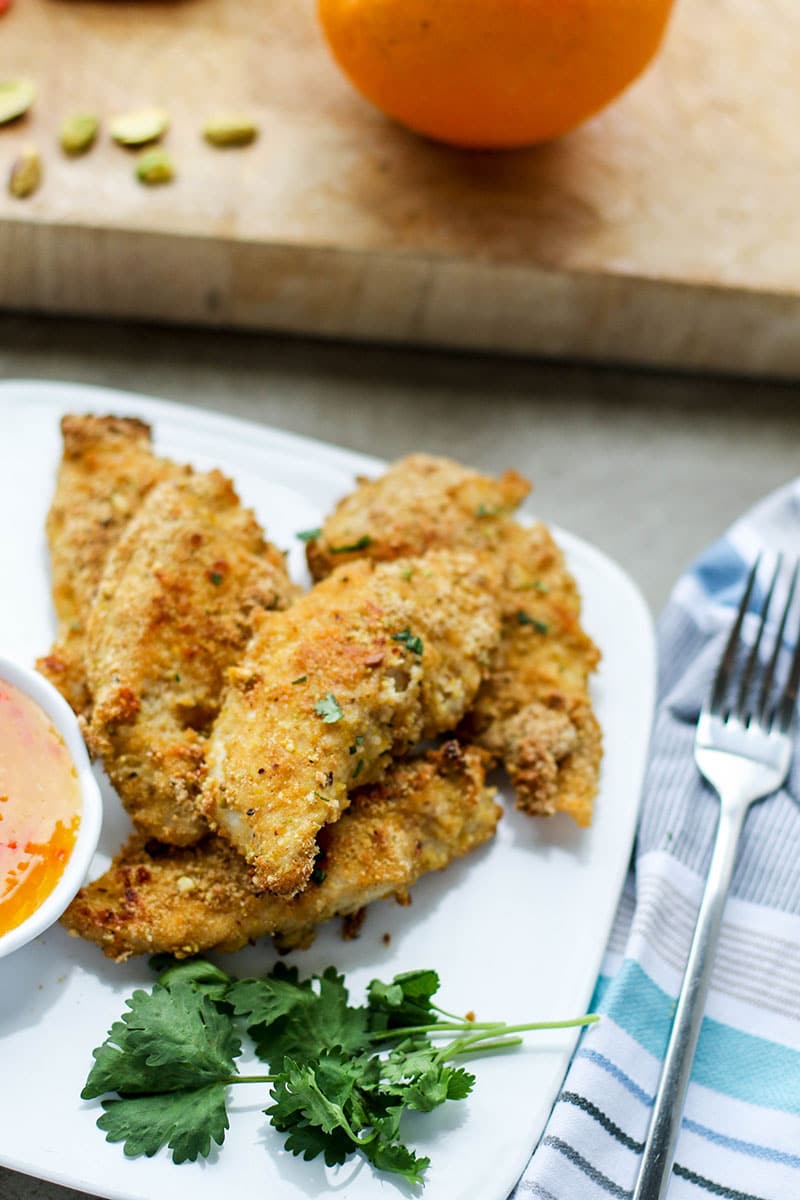 Pistachio Crusted Chicken Tips
Make is Gluten Free: Be sure to buy certified Gluten Free Brown Rice Crisp Cereal.
Make it Ahead: These are delicious the next day cold! I haven't tried freezing this recipe yet, but imagine they would be just fine – I do freeze my oven baked chicken nuggets, halfway thaw them, then reheat at 425 degrees for 10 minutes and we love them.
Make it Paleo/Whole30: You can omit the brown rice crisp cereal and double the amount of pistachios in this recipe to make these Paleo, however, they don't get as crunchy.
For the Family: Xander isn't the biggest chicken fan, but he loved these- he even was dipping his in the chili sauce! This baby loves flavor.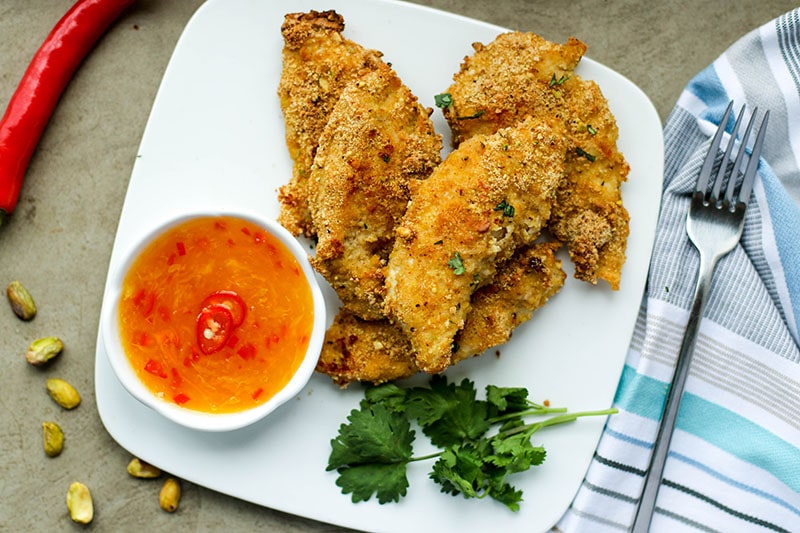 Pistachio Crusted Chicken Fingers
These healthy, baked chicken strips have tons of nutty flavor, and bake perfectly golden brown. This is sure to be a new family favorite recipe! We love this chili orange dipping sauce as a healthier, clean alternative to sweet and sour sauce.
Print
Rate
Ingredients
2

pounds

chicken breasts

or chicken breast tenders

1/2

tablespoon

olive oil

3/4

teaspoon

sea salt

2

eggs

beaten

1 1/2

cup

brown rice crisp cereal

3/4

cup

pistachios

shelled

1/2

teaspoon

sea salt

1/2

teaspoon

paprika

1/2

teaspoon

onion powder

1/2

teaspoon

granulated garlic powder

black pepper

to taste
Instructions
Preheat the oven to 425 degrees F.

Line a baking tray with white parchment paper (or baking paper). The coating sticks to baking trays, even when sprayed with cooking spray.

Prepare chicken by cutting into thin, somewhat uniform strips. I use my knife to cut diagonally down through the chicken to make the strips flatter than a typical chicken breast.

Add chicken strips to a bowl, and drizzle with olive oil and sea salt, and mix to evening coat.

Prepare the coating by adding the brown rice crisp cereal to a blender, and processing until a flour is formed. Add pistachios and spices, and process until pistachios are broken up, but some pieces remain, and then add to a bowl.

Dip chicken strips into beaten eggs, and then fully coat in pistachio mixture, then place on baking tray. Repeat until all chicken strips are coated, making sure to leave a little space between each strip on the baking tray.

Bake for 13-15 minutes, and then flip, and continue to bake for another 12 (or until chicken is fully cooked).

The chicken won't looked browned yet when you flip it, but both sides brown beautifully after it's fully cooked.

While chicken is baking, prepare dipping sauce by adding all ingredients (except arrowroot and water) to a small saucepan. bring to a low boil, and whisk in arrowroot mixed with water. I recommend starting with 1 teaspoon of chili, and adding more to taste, depending on how spicy your chilis are and how spicy you like your dipping sauce.
Nutrition
Calories:
333
kcal
|
Carbohydrates:
15
g
|
Protein:
38
g
|
Fat:
14
g
|
Saturated Fat:
2
g
|
Cholesterol:
151
mg
|
Sodium:
779
mg
|
Potassium:
779
mg
|
Fiber:
2
g
|
Sugar:
6
g
|
Vitamin A:
312
IU
|
Vitamin C:
17
mg
|
Calcium:
34
mg
|
Iron:
2
mg
Other Baked Chicken Recipes:
I'd love to connect with you on social media! Find me on Facebook or Instagram where I post daily healthy eating and lifestyle inspiration.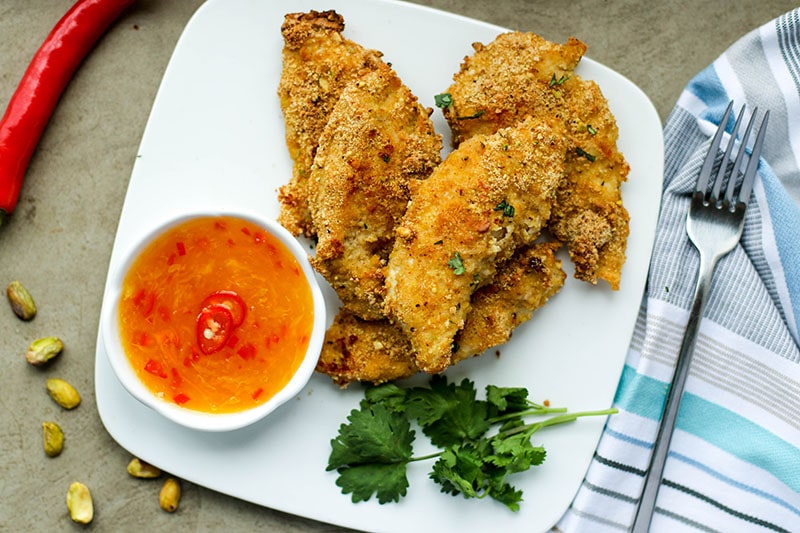 This post contains affiliate links, which means that if you click on one of the product links, I'll receive a small percentage of any purchases made.